Travel pillows can make all the difference when it comes to getting some much-needed sleep while crammed into a tiny airplane seat. Unfortunately, not all travel pillows are created equal. There are hundreds of models and styles on the market, from zany to classic, but you only need one reliable option. That's where we come in. We tested five popular neck pillows on recent flights to bring you the only travel pillow you'll ever need.
Editor's Note: Prices are accurate at the time of publishing and may have changed.
The Daydreamer inflatable neck pillow is a strong contender for the best travel pillow. It inflates in about 30 seconds, thanks to a push-button pump that is easy to use (unlike having to blow up a pillow with your mouth). It was simple to adjust how much air I wanted in the pillow without removing it from my neck, which was convenient. The material is velvety soft and it's washable — a very important cleanliness detail. After the flight, a second pump quickly deflates the pillow down to the size of about two softballs, and it fits neatly inside a small pouch with a carabiner clip for easy transportation. The one downside was that I couldn't quite get the neck support I wanted, even with the pillow blown up all the way.
Admittedly, I was most excited about testing the Huzi infinity pillow. The minimalist, infinity circle shape looks much more chic than the traditionally bulky C-shaped travel pillows. Plus, the bamboo fabric reminded me more of a spa visit than a flight. While it's true that the bamboo fabric was soft and cool to the touch, I found that the interior microfiber didn't allow for enough support. I tried to wrap the pillow around my neck and shoulders, but the comfiest I could make it was by balling it up and jamming it against the window. As for transportation, it's meant to be neatly folded into a circle and wrapped with Velcro to retain its shape, which takes up a fair bit of room.
The GOSLEEP travel pillow is doing too much. The sleep kit comes with a black pillow, foam earplugs, a sleep mask with adjustable cords, and a carrying case. As a head bobber (when your head falls forward in your sleep and you wake yourself up), I was keen on trying the sleep mask. It's designed to fit over the headrest via expandable cords, essentially strapping your head into place. In reality, my Delta airplane seat didn't have a built-in headrest and the seat itself had a slight taper that didn't allow the cords to stay in place. Instead, I propped the pillow behind my head, put in the earplugs, and wore the mask. The mask was so large around the nose that it allowed light to peep in. The pillow was nice, but small, and worked better tucked behind my back than behind my head. The foam earplugs were useless, as they didn't fit into my ears. And the carrying case was much too large, adding unnecessary bulk. The pillow does have a convenient zippered interior compartment, and on a future flight, I'd use this for stashing a quality set of silicone earplugs and a smaller sleep mask.
The AirComfy inflatable travel pillow is less of a traditional pillow and more of a cushion for neck and lumbar support. It's easy to inflate, with a quick twist of the air valve, and it deflates down to the size of a fist. This accessory is definitely the easiest to pack and store. However, it's not machine washable. Instead, it can be wiped clean with a damp cloth. It's designed to strap around the headrest and keep your head in place, but again, my airplane seat didn't allow for that. This pillow was nice for strapping around my waist for a bit of back support, but the shape is less than ideal around the neck. It might have worked nicely against the window, but I was stuck in the aisle seat.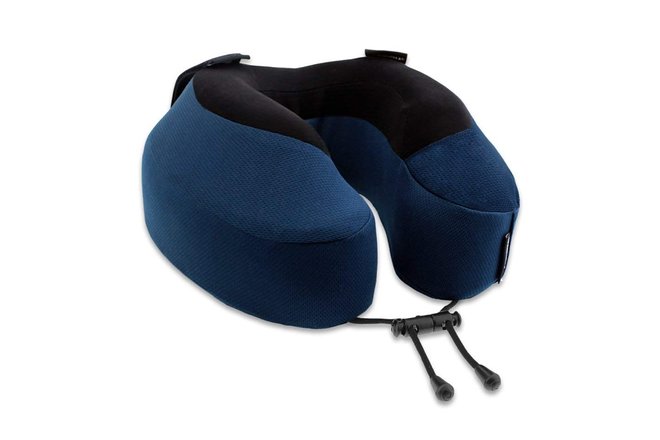 This is the winner! I put on the Cabeau Evolution S3 travel pillow and slept soundly for three glorious hours. This pillow is designed with premium memory foam that shapes around the neck (providing more cushion than the inflatable versions). An additional raised layer and front toggles allowed me to turn the pillow for better support along the jaw and chin. It's also made from quick-dry fabric that stays cool and is machine washable. I had to work to fold this up into the travel bag, but it does collapse down to about half of its size, making it portable and easy to store once you've wrestled it back into the bag. Overall, this is the best bang-for-your-buck travel pillow and I can see myself using it for years to come.
You'll Also Like:
Oyster.com is a participant in the Amazon Services LLC Associates Program, an affiliate advertising program designed to provide a means for sites to earn advertising fees by advertising and linking to Amazon.com. Oyster also participates in the SkimLinks and SkimWords affiliate programs.
All products are independently selected by our writers and editors. If you buy something through our links, Oyster may earn an affiliate commission.