Wizard schools, flying nannies, Engelbert Humperdinck -- it's a fact that no one does "quirky" quite like the British. And that hallmark quirk comes out to play in some of London's trendiest hotels. Properties in this cosmopolitan capital like to tweak their presentation a little, or a lot, with design-conscious flourishes that throw aside buttoned-up seriousness for merry, off-center ornamentation. Best of all, it's an attitude that can be found in all price points, from budget hostels to lavish boutique hotels. Take a look at our eight favorites.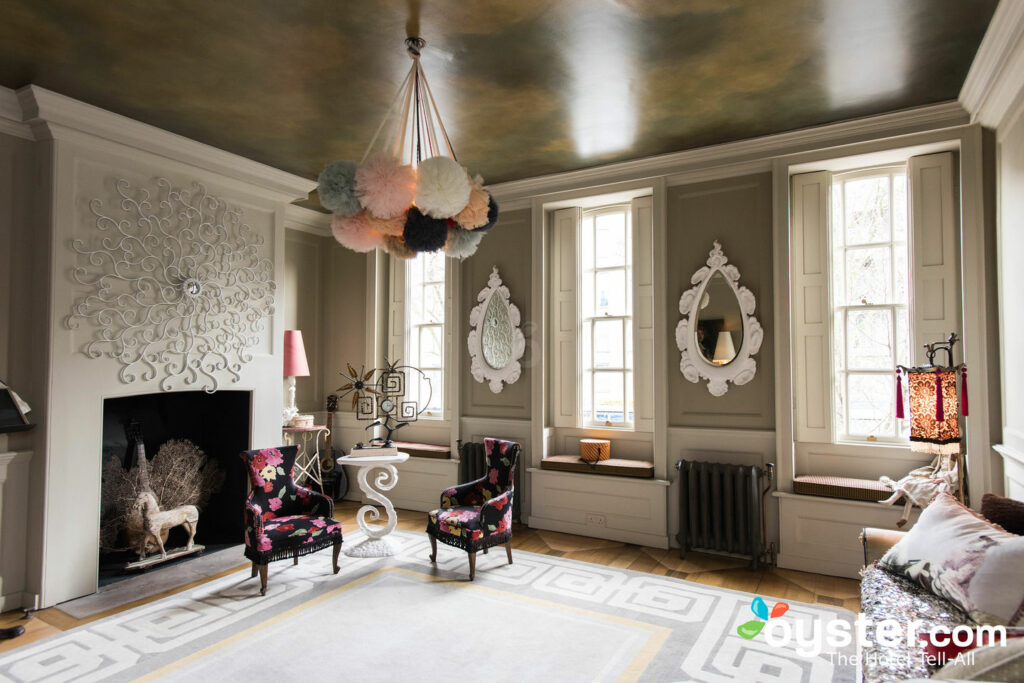 Looking every bit like the townhouse of a mad-capped uncle, this boutique property has an eclectic mishmash of decorative influences that somehow hang together. A lobby heavy in chinoiserie leads to a music room with teardrop-shaped mirrors, and in the garden out back, moss-covered Grecian statues sit next to Balinese-style heads and kitschy ceramic geese. Surprisingly, the effect is elegant, especially in the guest rooms that contain romantic extras like etched-glass vanities or "Alice in Wonderland"-themed cushions.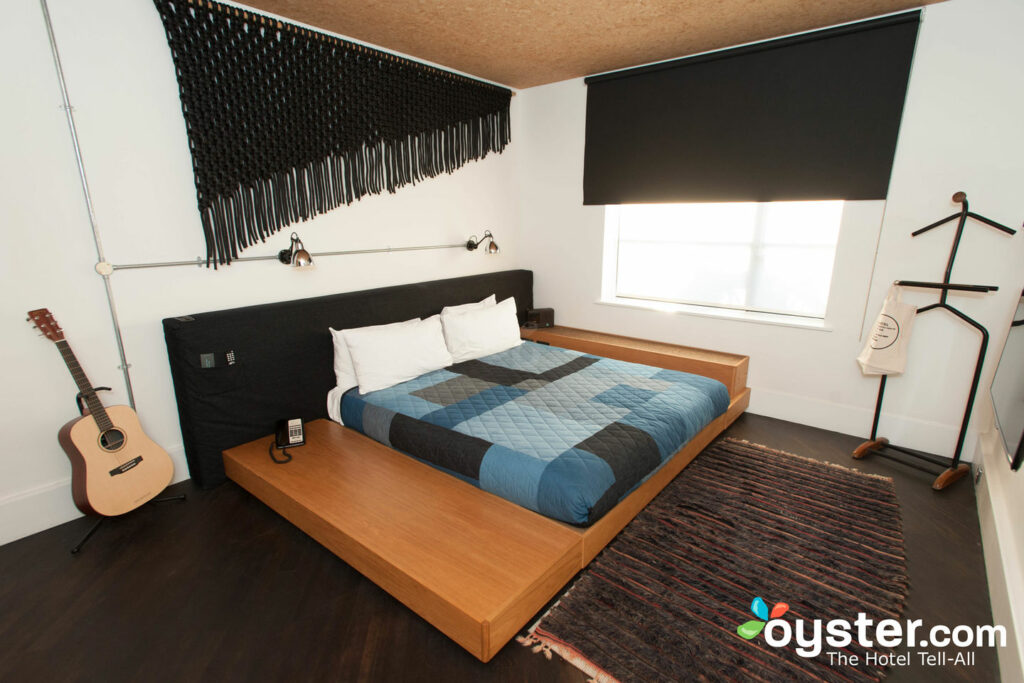 An antidote to London's fussy, old-fashioned formality, the Ace Hotel has a low-slung, indigo look reminiscent of broken-in blue jeans. In rooms, platform beds and nightstands made from wooden crates give a stylish take on student living. Some rooms also include record players or acoustic guitars, adding to the vibe. Public spaces are streamlined and slightly industrial, but a few whimsical touches — a vintage photo booth in the corner or a retro, sherbert-colored bike — invade the landscape. And DJ and live music nights give a soundtrack to the scene.
The Hoxton is hipness itself. From the lobby that's furnished with wire shelving and a double-long Chesterfield sofa to the public computers set on steamer trunks, it seems that everything has been embellished for maximum impact. And whimsy is also in heavy supply, as is evident by the Victorian-style portraits with animal faces, which you'll find in the hallways. Guest rooms keep it up with lavish leather headboards and armchairs. But it's the details here — like pillows printed with cassette tapes or neon signs reading "Let's go anywhere" — that communicate the property's true spirit. Another Hoxton outpost in Holborn is equally on trend.
The Ampersand's quirk factor is evident from the get-go. Guests enter the property and follow a flurry of winged lightbulbs up a wrought-iron staircase to the rooms. Every room category reflects a studious theme: botany, astronomy, music, ornithology, or geometry. On the way up, guests will pass by spaces like the charming drawing room, decked out in teal- and cranberry-colored seats. But even the meeting rooms here are high on personality, with a ping-pong table and wine racks taking things far out of the usual conference space.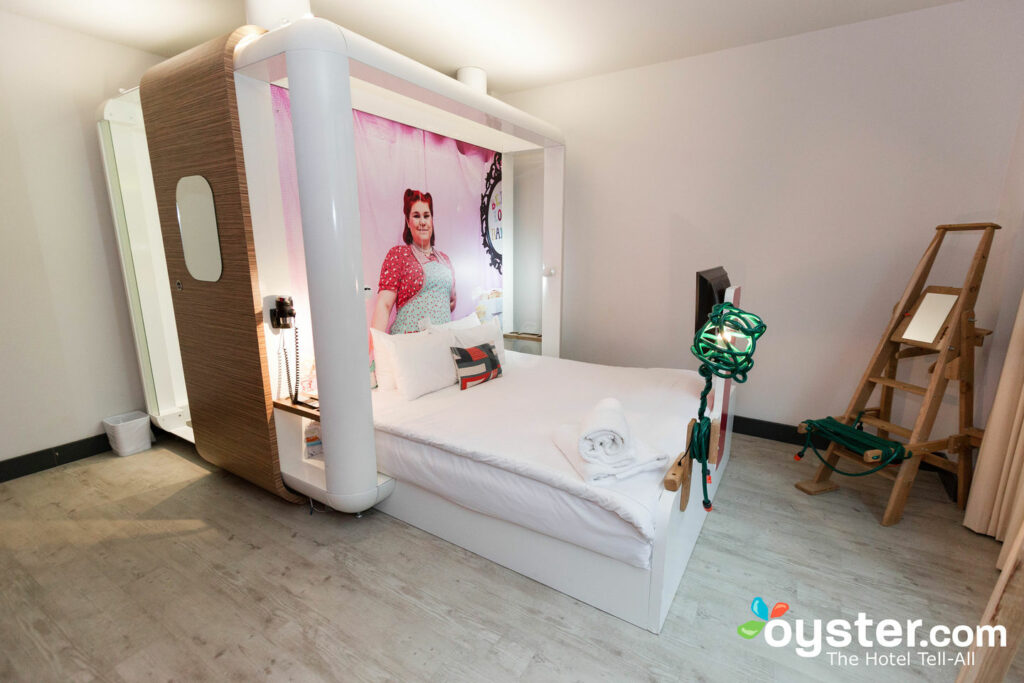 A funky modular style is embraced wholeheartedly at Qbic. Recycled items like colorful milk crates are pegged to walls and ceilings, and even the reception desk is made out of a bicycle. Industrial railing is used throughout, including in the elevator, which is backed with a cherry-red electric guitar. But it's the rooms that really ratchet up the funkiness, as most have a glossy white-laminate "cube" design around the beds. Headboards are made from giant photographs with vibrant colors, and cheeky touches, like soap in the shape of a popsicle, keep the mood light.
The Generator brand has made a name for itself by providing high design at budget prices, and this London outpost is no exception. Much of the decor is British iconography on rocket fuel — the on-site cafe is smothered in plaid, and the Generator bar has the front of a double-decker bus peeking in. Even the hallways have a cartoonish doodle of the London Guard pointing the way around the property. Being a hostel (with some private units), the rooms are fairly stripped down. That being said, they still sport boldly colored walls in a geometric design.
Sometimes it's the little things that make a hotel's atmosphere, but at Megaro, it's the big ones, like the living wall of greenery climbing up the side of the on-site Karpo restaurant, or the faux floor-to-ceiling mosaic of "windows" showing the city skyline in the hotel bar. Rooms are a bit more restrained, but patchwork bed runners and shower/tub combos incased in wood remind guests that this is not chain-hotel turf. Those looking for a bit more space can book an apartment that includes details like vintage radios and bright fuchsia bathrooms.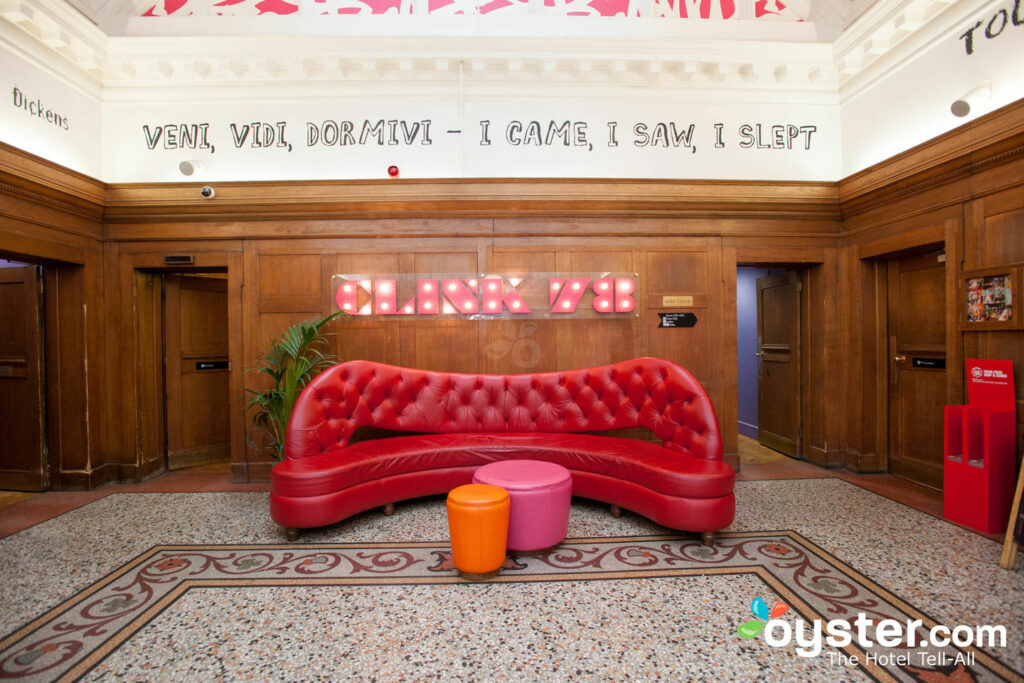 A former courthouse (complete with prison cells), Clink78 would be a quirky spot even if it was done up in dull beige. But the riot of graffiti that surrounds these walls make its interiors rowdier than a punk concert — appropriate given The Clash famously went to trial here back in 1978. The lobby features the hotel's name in marquee lights as well as a lipstick-red front desk sitting under a stained glass skylight. But it's the courtroom itself that has seen the most flamboyant transformation. It's now a lounge, topped with a vintage chandelier that has been refashioned into a hybrid plastic and wire mobile with stencil shapes. Plus, above the judge's seat, there's a teal sign that reads "Guilty."
NOW WATCH: The Best Things to Do in London
https://www.youtube.com/watch?v=WHURZ1CwVeA
You'll Also Like:
All products are independently selected by our writers and editors. If you buy something through our links, Oyster may earn an affiliate commission.