I have an earnest and unabashed love for all things kitsch. So on a recent Palm Springs trip, where better to stay, I thought, than the storied Riviera Palm Springs? Surely the kitsch flag flies high at this famous mid-century icon, the onetime crash pad of celebrities like Frank Sinatra, Marilyn Monroe, and Elizabeth Taylor.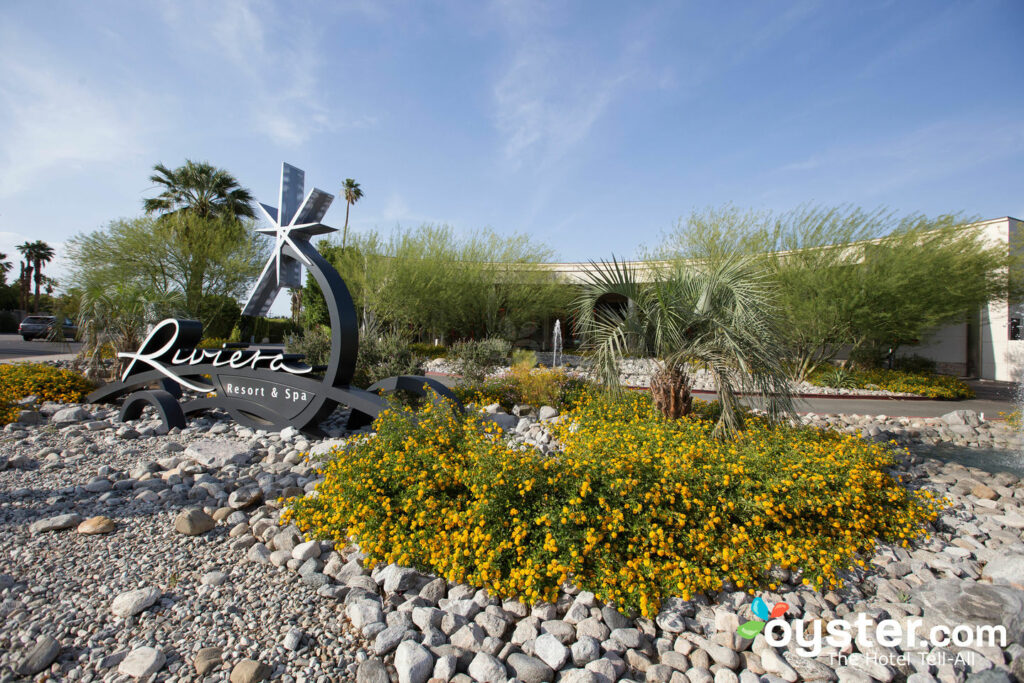 The road to Palm Springs is miles and miles of dust, monster windmills, and billboards advertising Las Vegas casinos, so when the landscape finally gave way to specks of greenery and low-slung, 60s-style homes, I felt the "at last, we're here" thrill with even more intensity than usual. Even Google Maps seemed to be excited about our impending approach to the Riviera, directing us off of North Indian Canyon Drive (the road that the resort is on, actually) and onto a back route that turned sharply into the resort's wraparound driveway, causing the main entrance to rush into view. It was as if even the GPS imparted a sense of showmanship for the Riviera.
Built in 1958, the Riviera was a nerve center of the swinging 1960s Palm Springs party scene. It attracted pop-culture luminaries of the era: Frank Sinatra, Dean Martin, Marilyn Monroe, Elvis Presley, Desi Arnez, and Bob Hope. The hotel received a $70-million renovation in 2008 and underwent more renovations last fall, after it became part of Tribute Portfolio (part of Starwood Hotels & Resorts Worldwide).
Our check-in process was a little bumpy, though. The reception area was overseen by a single employee, so the one grumpy guest ahead caused a 10-minute wait. This allowed ample time to inspect the wide, curved entrance hall at least. (A silver lining to all hotel investigators.) On one end was a baby grand piano, booths with latticed back-lit walls, lacquered white tables surrounded by studded club chairs, and a five-seat (unmanned) bar with a backdrop of flat-screen TVs showing Perry Como's "I Wonder Who's Kissing Her Now." Somehow, it didn't all add up to the gloriously old Hollywood vibe I was hoping for — individual pieces seemed too cheap and contemporary up-close — but the overall look scored high on the kitsch-o-meter, so far.
Past the reception area is the lobby proper, a mirror-brick-lined hall fringed with separate seating areas that feature shag area rugs, low studded sofas with matte metallic finishes, crystal chandeliers — even a rhinestone-encrusted pool table. Every side section is centered around a Pop Art-style mosaic of a former legendary guest, like Sinatra and Lucille Ball. It's all very dark and fanciful and disco-y.
The Riviera's six two-story, motel-style buildings have the '60s vibe I was missing in the entry areas. They radiate around the central courtyard in a classic "spoke-wheel" design (which the Riviera allegedly pioneered), enclosing the puzzle-piece-shaped pool, whirlpool, pool bar (part of the new owner's rehaul), and restaurant terrace.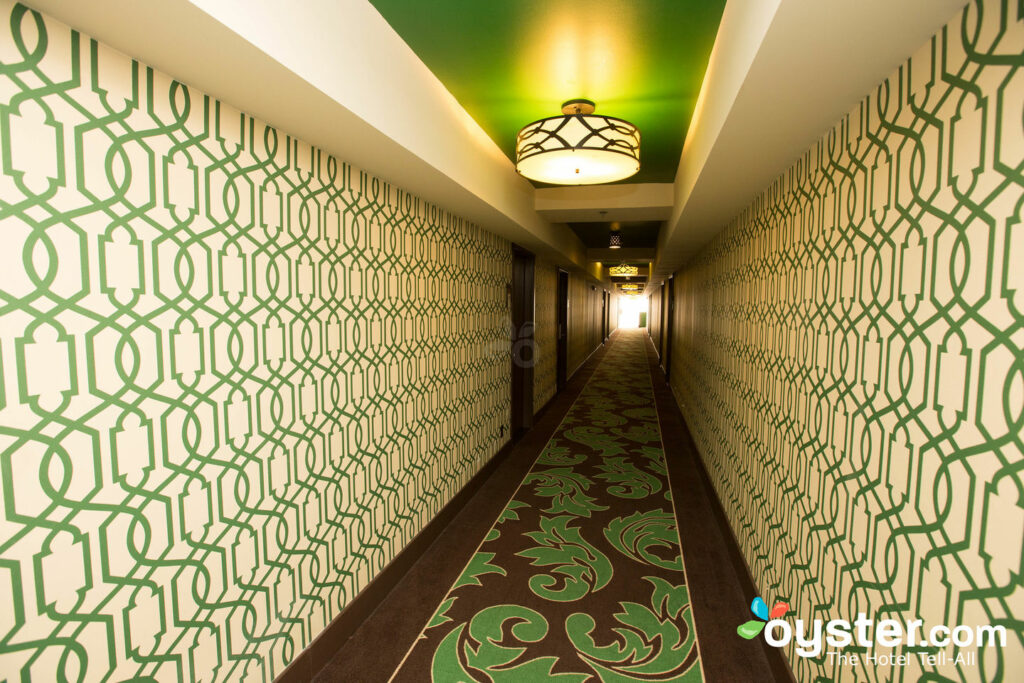 The halls are dizzingly, delightfully retro, with green-and-white trellis-patterned wallpaper and green-and-brown tropical-print carpeting.
Though not quite the temple to mid-century taste I was envisioning, the room was nonetheless a visual knockout, with a super-high, white-leather headboard with nailhead trim, another Warhol-esque mosaic, a modernist brass bubble mirror, and lots of lacquer and lucite details. It was the same whimsical-retro look as the one in the common areas, but brighter and lighter. It still struck me as more cartoon-y than cool, but I was ready to play along.
Plus, the hotel's wagon-wheel layout allows all 398 rooms to have balconies or terraces that look out onto the pool area or the well-manicured side yards dotted with palm trees and fire pits. Our Junior Suite view mostly looked over the roof of the walkway connecting the buildings, but we could crane our necks to see a glimpse of the pool. Plus, the San Jacinto mountains were, like, right there.
Although I had a hard time imagining Rat Packers swilling martinis in the retro-nouveau rooms and lobby, the pool area had significant old-school glitz, making a step back in time a bit easier. (Sadly, I was there midweek, so I missed a visit to the property's The Starlite Lounge, which presumably retains the most glamour from the hotel's golden age.) The large, curvy pool and nearby hot tub were heaven for my weary limbs, fatigued after a day of hiking at Joshua Tree. In my nearly three-hour late-night reign over the whirlpool, I met what seemed to be a snapshot of the hotel's typical guests: a mix of families, older couples, and girls-night-out groups.
When I was there, I remember thinking that some of the design choices felt like a shiny veneer slapped over an awesome vintage frame. The Riviera I stayed at earlier this month was almost the mod masterpiece I wanted it to be, but not quite. The Riviera I envisioned was a trippy, Vegas-style desert hideaway that stylistically tipped its hat to its former self, a glam Hollywood haunt where the party never stopped. Of course the party fizzled by the time I showed up, but when I think back on my night there, it was nonetheless the perfect Palm Springs pitstop; it demonstrated Palms Spring today, and reminded me that we can remember the '60s, but can never really do them justice. As Bob Hope would say (or sing, rather): Thanks for the memory.
Related Links:
All products are independently selected by our writers and editors. If you buy something through our links, Oyster may earn an affiliate commission.