Sometimes, great food on a vacation is closer than you think -- as in, right downstairs in the hotel restaurant. In fact, numerous iconic dishes of the 20th century were invented in hotel kitchens. Read on to find out which hotels might have been responsible for some of your favorite foods. Plus, we added in a few more modern signature dishes at a couple of our favorite hotels that you just can't pass up.
The Hot Brown Sandwich at the Brown Hotel in Louisville
Pictures of Hot Brown sandwiches are enough to make our mouths water, and we can thank the Brown Hotel in Louisville, Kentucky for that. The namesake sandwich was created by the hotel's then-chef Fred K. Schmidt in 1926. To create this magnificent dish, he piled turkey breast, tomato slices, creamy Mornay sauce, and thick-cut bacon onto Texas toast. According to the hotel, the recipe has barely changed since it was dreamed up nearly 90 years ago.
Since Boston Cream Pie was first introduced almost 160 years ago at the Boston Parker House Hotel — now the Omni Parker House — the beloved dessert has inspired a boxed cake mix, and a donut flavor — and we're sure many other homemade interpretations as well. The layers of sponge cake filled with creamy custard and covered with chocolate icing were first known as "Parker House Chocolate Cream Pie," and though we know it now by a different name, the dessert is still proudly served at the hotel.
Originally introduced in Japan in the 20th century, shabu-shabu first made its way to the U.S. via the West Coast, and we've found one of our favorite renditions of the dish at Mum's at Hotel Tomo. Shabu-shabu — which means "swish-swish" in Japanese and refers to the sound of meat in boiling water — features thinly sliced beef in broth, with noodles and various vegetables. Diners are often served the ingredients raw and cook them at the table on personal burners.
Lobster Thermidor contains lobster, butter, and cheese — um, yum. It's a menu staple at the Cape Cod Room in Chicago's Drake Hotel. Though the Drake didn't invent it, the indulgent French dish is a classic that harkens back to the grandeur of the early 20th century when the historic hotel was first built.
The Tarte Tatin at Hotel Tatin in Lamotte-Beuvron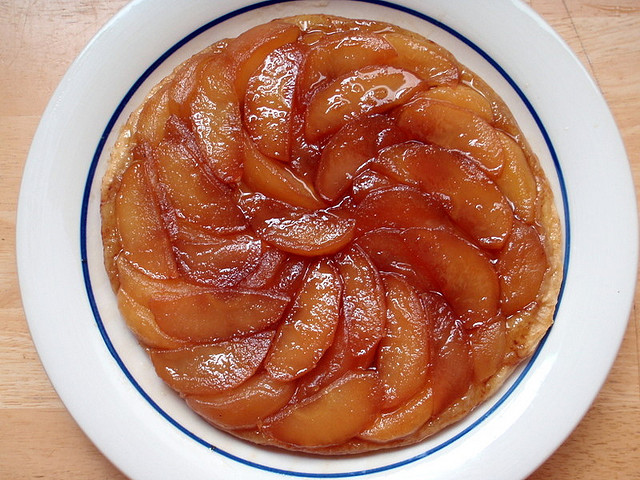 Apple tarte tatin is still served at the Hotel Tatin in Lamotte-Beuvron, France, which was responsible for popularizing the dessert, if not creating it, in the late 1800s. Rumor has it that Stéphanie Tatin, one of the sisters who ran the hotel, had intended to make a traditional apple tart, but baked it upside down instead. The dessert was a hit, and became known throughout the area, eventually reaching menus in Paris by the 1930s.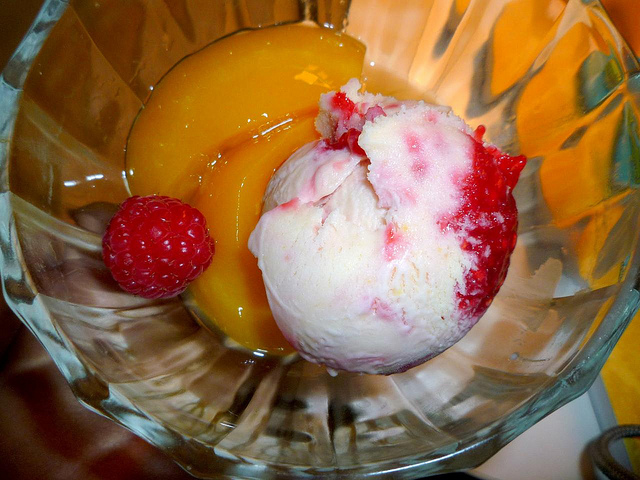 Peach melba — the iconic preparation of peaches, vanilla ice cream, and raspberry sauce — was created as one chef's tribute to the opera singer Nellie Melba. Leading French chef Auguste Escoffier worked at London's Savoy, where Melba was a frequent guest, when he dreamt it up. Inspired by her performance one night, Escoffier presented Melba with peaches over vanilla ice cream served in an ice sculpture of a swan. Now that's what we call classy! Raspberry sauce was an extra touch he added to the recipe later on.
If one stockbroker's claims are to be believed, Eggs Benedict was always meant to be the quintessential brunch food after a night of drinking. According to the New Yorker's story, Wall Street man Lemuel Benedict went into the Waldorf-Astoria in search of food to nurse his hangover. That sustenance ended up being buttered toast, poached eggs, and crisp bacon with a pitcher of Hollandaise sauce. There are differing accounts, though, and Delmonico's Restaurant in New York also lays claim to the dish.
Sleepovers, birthday parties, school lunches, and late night snacking would not be the same without the brownie. The all-American baked good was created at the Palmer House Hotel in Chicago, at the request of the hotel owner's wife Bertha Palmer. She tasked the hotel's kitchen to create a dessert for the lunch boxes of women attending the Chicago World's Columbian Exposition in 1893. The Palmer House Hotel still serves the original "Bertha's Famous Brownie" at its Lockwood Restaurant.
Pie a la Mode at the Cambridge Hotel in Upstate New York
Pie a la Mode is now ubiquitous in diners everywhere, but putting a scoop of ice cream on a piece of pie was once an unprecedented stroke of genius. The origins of the dessert are disputed, but two popular accounts both attribute the creation to hotels: one, popularized by the New York Times, claims pie a la mode was born when Professor Charles Watson Townsend ordered ice cream with his apple pie at the Cambridge Hotel (now closed) in upstate New York. Another says it was invented at the Hotel la Perl (also closed) in Duluth, Minnesota, when its Swiss owner John Gieriet served blueberry pie and ice cream together, calling it Pie a la Mode.
The Reuben Sandwich at the Blackstone Hotel in Omaha
The origin of the Reuben sandwich is disputed, but one legend has it that the iconic sandwich came to life at a poker night at the Blackstone Hotel, now known as Blackstone Center, in Omaha, Nebraska. The hotel owner's son reportedly made the sandwich after one of his father's poker buddies requested corned beef and sauerkraut on bread. Thanks to the addition of Thousand Island dressing and Swiss cheese, a star was born.
Wolfgang Puck's CUT restaurants are renowned for their premium selections of beef, and the outpost at the Beverly Wilshire in particular is sought out for its Wagyu beef rib eye cut that hails from Miyazaki Prefecture, Kyushu. Servers showcase the raw cuts of meat so diners can select just which piece they'd like, which can be topped with various condiments such as blue cheese and caramelized onions, and served alongside delicious sides.
All products are independently selected by our writers and editors. If you buy something through our links, Oyster may earn an affiliate commission.