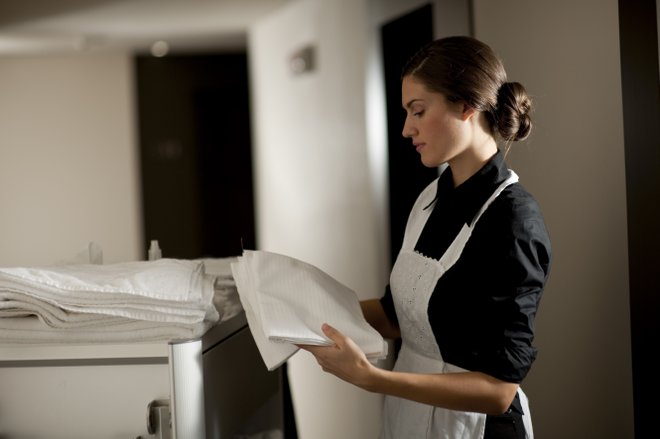 For many, vacation is a
time to indulge. It's a bona fide excuse to treat yo'self to that room
upgrade, sign up for the once-in-a-lifetime safari, or sit by the pool sipping
all-inclusive daiquiris. The only thing you want to work on is your tan. With stale office walls,
overexposure to fluorescent lighting, and constant desk-slumping, it's no
wonder that some of the most popular vacation destinations are escapes into the wide-open arms of nature or on top of sunny, sandy beaches. Point-in-fact: TripAdvisor's Traveler's Choice awards named Mexico's Boho-chic beach town of Tulum, home to both the beach and the jungle, as this year's #1
Destination on the Rise.
Not surprisingly, other well-trodden spots showing up repeatedly on top 10s and best-of lists are warm, back-to-nature places in the Caribbean, Asia, and Africa. Since many of these favorite destinations tend to have high hotel rates yet overall low economic profiles, it got us thinking again about how many hotel workers around the world are getting stiffed. So we busted out the calculators, focusing on some of the most popular and more expensive destinations with noted lower local incomes. We've even chatted to a few hotel owners and hotel workers to get the inside scoop!
Note: Much of this data is self-reported, rather than the result of scientific studies. And for our purposes, wages are represented in terms of per month.
Mexico and The Caribbean
First we explores the disparities in Mexico and the Caribbean.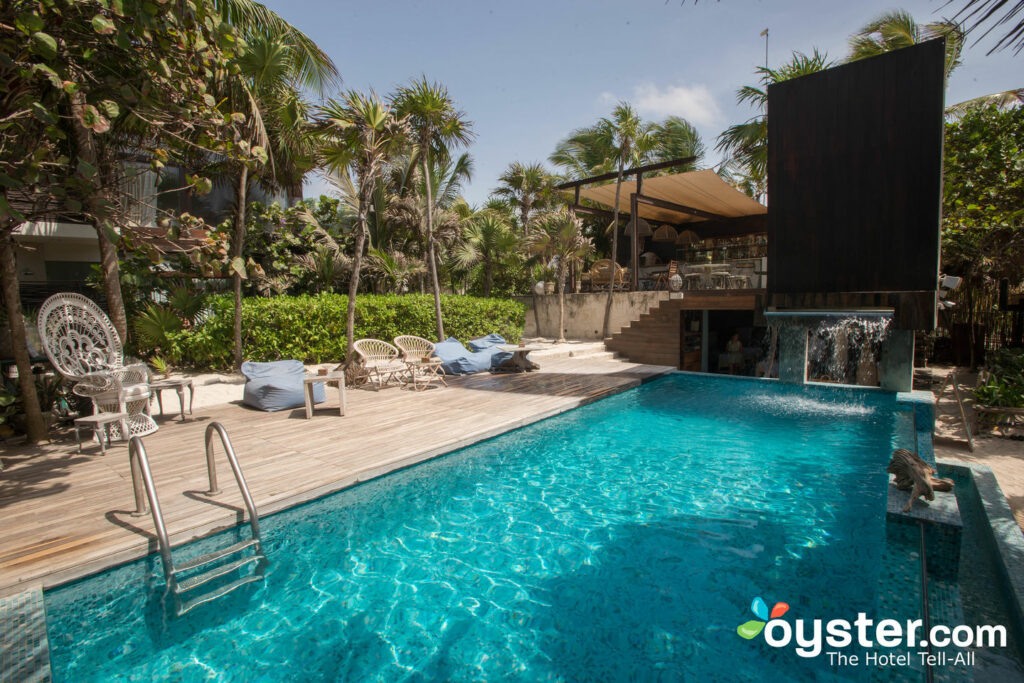 Since Tulum is TripAdvisor Traveler's Choice for fastest-rising destination this year and home to the #21 beach on the TripAdvisor Traveler's Choice Top 25 Beaches in the world, let's start here. Don't let this coastal town's breezy beach scene or eco-friendly attitude fool you, this is one of the most expensive spots in Mexico. Believe it or not, the cost of living in Tulum has even eclipsed that of Cancun.
The heart of Tulum's tourism can be found lining the narrow dirt road of Carretera Tulum. Specifically catered to tourists, here you'll find a steady stream of restaurants, shops, and hotel after hotel after hotel. Prices are similar to what you'd find in big-city America; think Los Angeles or New York. Prices in town are slightly cheaper, but still shockingly high for Mexico, with cocktails costing up to $8 USD. Back by the beach, burgers can cost you double-digits at high-end spots like Be Tulum (pictured above). Looking for a night at this four-pearl joint in February? You better be ready to shell out over $750.
No matter the cost of your room, we were told by a local hotel worker, Lulu, that Tulum's hotel workers, on average, aren't making much more than $2,400 MXN as housekeepers, $6,000 MXN as front desk receptionists, and $26,000 MXN if they are a manager. This equates to roughly $137, $335, and $1,451 in US dollars — per month, respectively. Lulu's bosses, Jimmy and Sam, who own a small specialty lodging property in the area, also emphasized that hotel wages are at their absolute minimum when you are talking mega-resorts: "The larger resorts certainly do not pay above the minimum wage. The smaller and more boutique hotels will generally pay more." They say larger resorts will argue that the wage is low because these resorts "also pay social security and health coverage (which is actually minimal in this country) and that they are able to make tips (which at the larger resorts is not great by any means)." Sam and Jimmy pay their employees double to triple the average amount and they split tips between all workers equally estimating, that all together, their housekeeper makes about 13,000 MXN a month — which is well above the average.
To put everything into perspective, Jimmy and Sam said that the the Mexican minimum wage is is about $2,400 MXN a month, though the average wage is more like $5,000 to $6,000 MXN — even though both Lulu and her bosses agree that the actual cost of living is somewhere between $15,000 to $20,000 MXN. Lulu says it would take around $15,000 MXN a month to achieve a "comfortable" quality of life.
Bearing all of this in mind, the most shocking thing is that these low-paying hotel jobs, especially in flourishing tourist areas like Tulum, are highly-sought-after positions for all Mexicans simply because, as Lulu puts it, "The salaries here are better. We have more opportunities to find a job that meets our expectations. For example, in Cornibaca [where Lulu is from] we have only three or four big places to work. The positions are always taken. We choose hotels because the work is consistent. One of the things working in tourism is we can take extra money for tips. We live off of these tips. In any other profession around Mexico, there is no opportunity to make more."
This sort of Catch-22 of hotels paying low wages, though still being some of the most reliable and higher paying positions, seems to be a common thread delicately weaving itself into the hotel rate versus wage disparity debate.
Our Hotel Pick: Be Tulum Hotel
A super-chic, adults-only luxury property, Be Tulum has an excellent location in the middle of the Hotel Zone. A design-conscious, BoHo-chic look is present throughout the grounds and in the 20 guest rooms, outfitted with plunge pools or hot tubs, indoor and outdoor showers, hammocks, and modern comforts like air-conditioning and 24-hour electricity (not a given in this area). There's also an attractive beach club, a small infinity pool, a large restaurant with raw bar and grill, two bars with mezcal selection, and a fashionable spa compound across the street.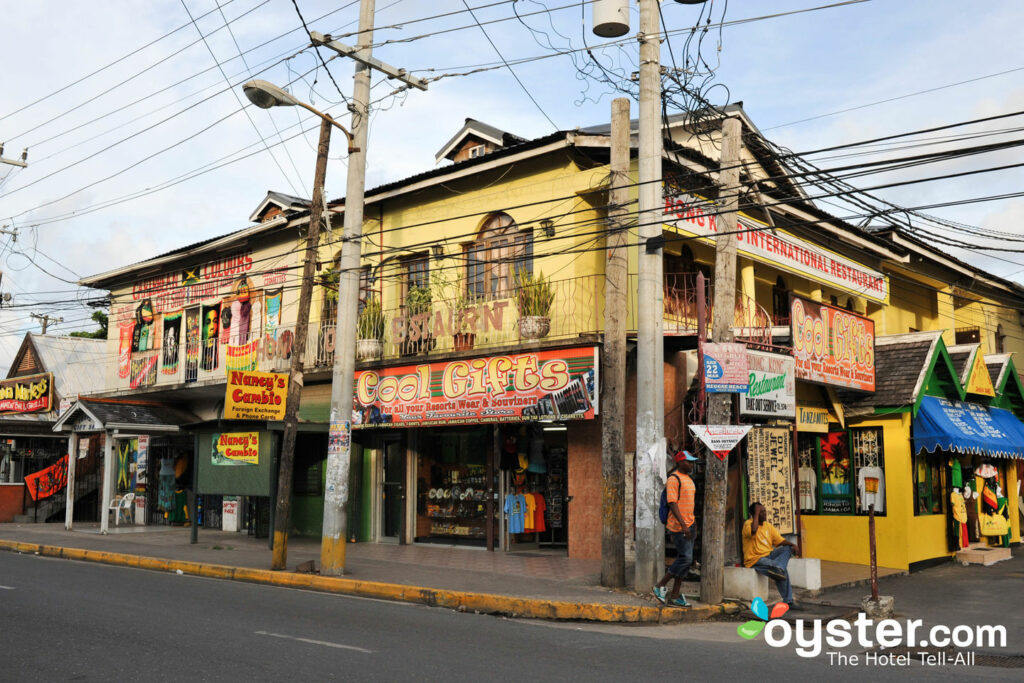 We witnessed firsthand what rural life in Jamaica looks like during our drive to Negril and it was shocking by western standards; people sleeping on wooden planks by the side of the road, cattle running amok, tin shacks, and school children walking along the thin edges of weather-worn roads as cars zoomed past. According to Salary Explorer, in Jamaica the average
monthly salary is $149,105
JMD or roughly $1,241 USD — though it can be as
excruciatingly low as only $16,667 JMD (just $138.72 in USD) a month.
However, as Jamaica is a huge mecca for sun-lovers and beachcombers, we again found that some of the higher paid jobs in the country are positions within hotels, which pay a self-reported average of $315,000 JMD or $2,628.50 USD per month. This may not seem too shabby — and it's not; some hotel managers in Jamaica make more than paralegals in Tampa, a city with a comparable cost of living to Montego Bay.
Though, when you consider that hotel prices are fairly simliar (you could be coughing up close to $700 a night in February at the all-inclusive Secrets Wild Orchid in Montego Bay and $569 for a non-inclusive night at the Seminole Hard Rock Hotel Tampa) and that we found that the median salary for Tampa hotel managers is about $3,000 higher a month than a self-reported Jamaican hotel manager with 20 years of experience, things start to feel uneven. Yet still, these positions are hard to get, as competition can be fierce, and many Jamaicans are left selling crafts, soliciting for currency exchange outside shops, or living the simple life as farmers.
When you are deciding whether or not to leave that tip consider this: a Jamaican waiter with 10 years of experience, working six days a week, reported earning just $40,000 JMD, or roughly $332.93 a month.
Our Hotel Pick: Secrets Wild Orchid Montego Bay
The sprawling Secrets Wild Orchid is one of the more luxurious adult-only all-inclusive resorts in Montego Bay, and has a laundry list of property features, including 10 restaurants and cafes and eight bars, and a host of activities: a theater, a spa, a water sports and dive center, a shopping center, and a casino.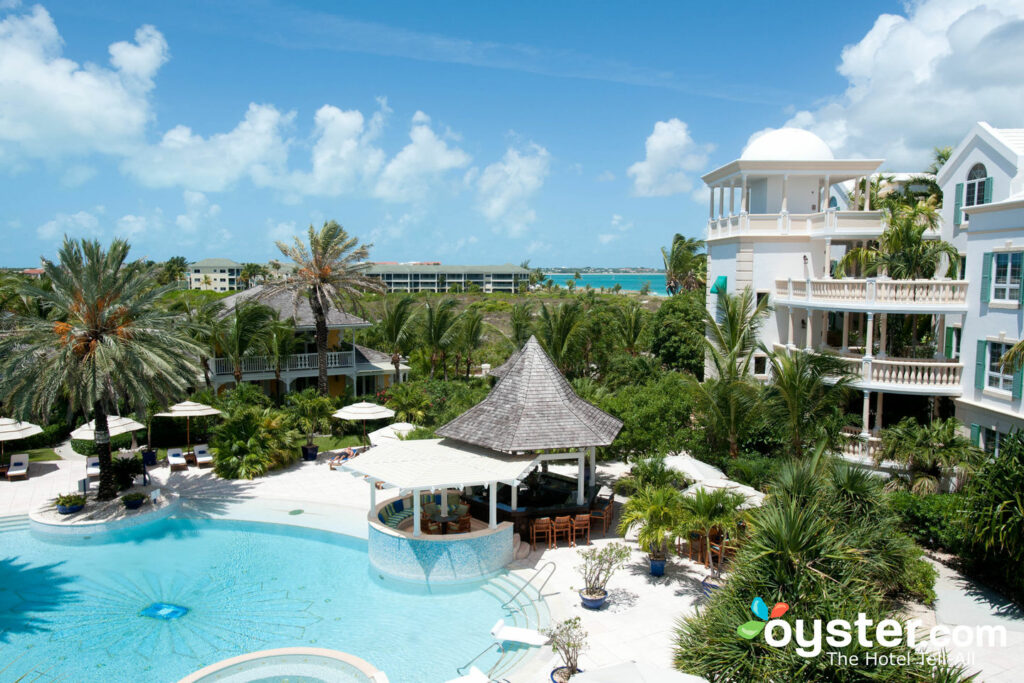 While visiting Turks and Caicos, a honeymooner mecca, we didn't see any outright poverty like in the small villages of Jamaica, but we were astounded by the extremely high "island prices". In the grocery store, we saw standard boxes of cereal topping $7, rotisserie chickens for around $10, and a packet of bacon for $13;that's the price you pay, literally, when you live on a remote island. But how can locals survive with food prices this high, one-bedroom apartments renting at around $1,200 a month, and a minimum wage of $6.25? A local souvenir shop owner in Providenciales put it to us straight: "We can't."
With a single night in February at the four-pearl Point Grace costing upwards of $1,800, you may start to wonder where your money is going.
This upscale boutique is heavy on style and refinement, with British Colonial design and 28 huge multi-room suites featuring full kitchens and large furnished terraces. The gorgeous Grace Bay location on a stunning stretch of beach is within walking distance of a couple of restaurants — but there are two on-site that serve delicious Caribbean fare: a casual breakfast/lunch restaurant and a romantic spot for dinner. Other property highlights include a tranquil pool, personal beachfront service, and a spectacular thalassotherapy spa.
Africa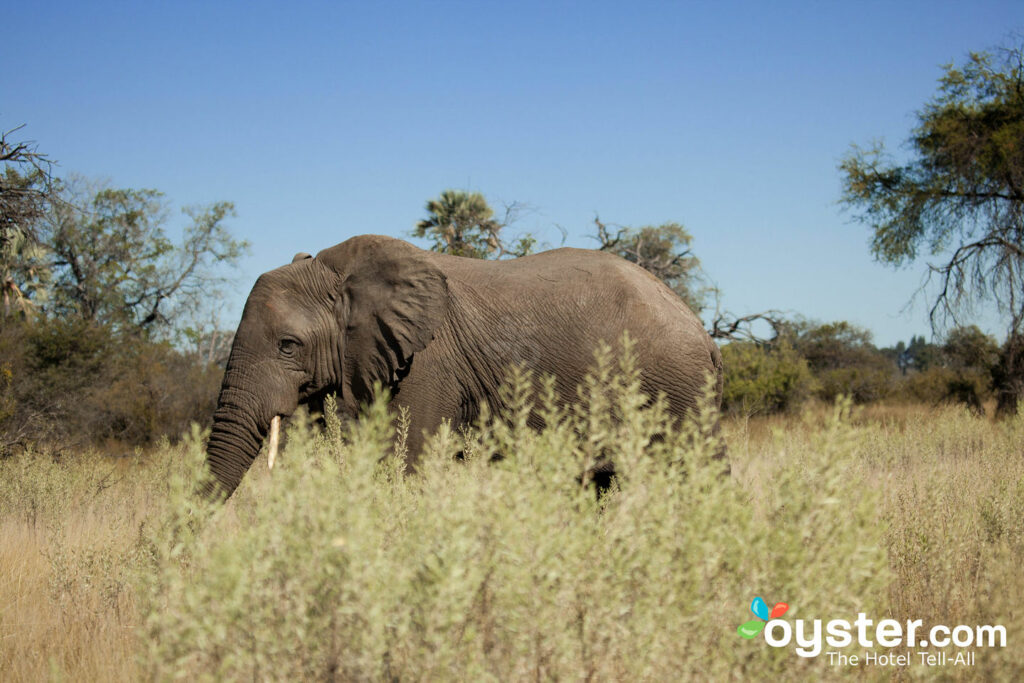 Africa is widely known as having some of the poorest locals. In fact, according to a wealth and poverty study conducted from 2009 to 2013 by the Global Finance Magazine, 19 out of the 23 poorest countries in the world are in Africa. So, it's not surprising that the most disparity between hotel rates and local quality of life and wages can be found across this large continent. Rich in wildlife and expansive horizons of natural, open space, Africa is the top destination for travelers looking for an exotic science-book-come-to-life experience — but it comes at a cost. For Americans, return flights to any part of Africa are often well over a thousand dollars, and comfortable to cushy four-pearl-plus accommodations can often be just as expensive per night.
Our Hotel Pick: andBeyond Nxabega Okavango Tented Camp
This luxurious safari lodge in Botswana delivers everything you'd expect from the excellent &Beyond chain: amazing tents with plush beds, phenomenal service, tasty food, and safari excursions with first-rate guides. It's located in the Okavango Delta region, but on land, so you won't need to take a boat to and from the camp. Its peaceful location, beautiful delta views, lovely communal pool, and rustic-luxe design inspired by traditional African hut construction (complete with rich woods and thatched roofs) help make it a truly special place.
The Democratic Republic of Congo (DRC)
The Democratic Republic of Congo (DRC) ranks as the poorest country in the world with an average income of $394.25 per year. The DRC is a popular (yet still very politically volatile) spot for lowland gorilla trekking; a day pass into the national park will cost a foreigner $400, flights are between $775 to a whopping $3,488, and accommodations can run you up to $450 for double-occupancy. There are special local rates for both park passes and accommodations, but at $90 for accommodation and $150 for the park pass, it's still out of the question for most Congolese.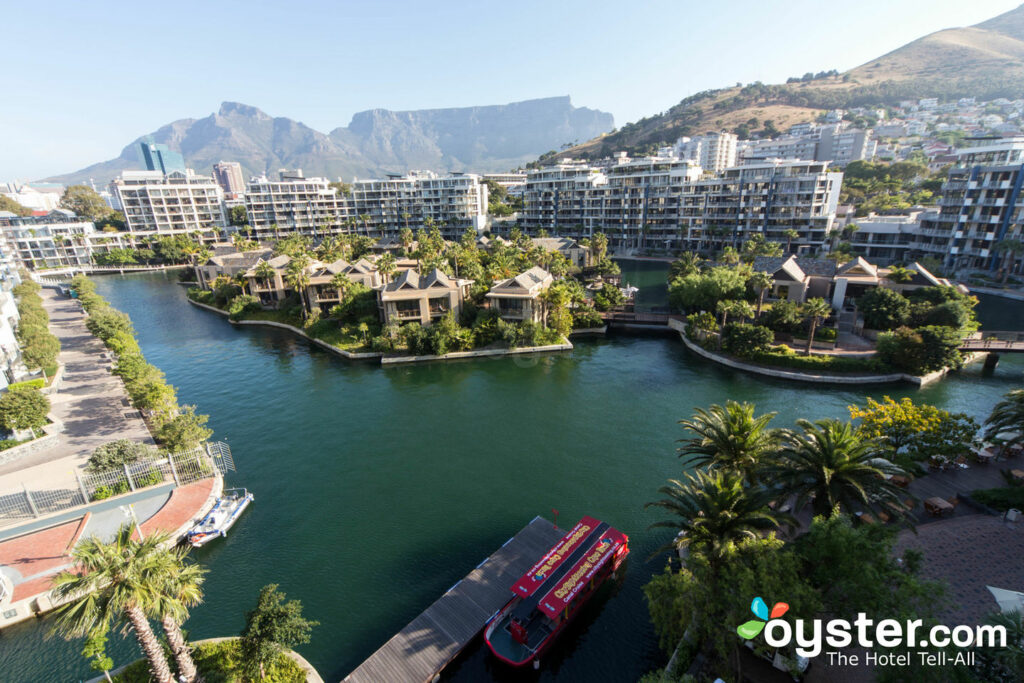 Since the country hosted the World Cup in 2010, tourism in South Africa has been on the rise. But don't let the beautiful views of Table Mountain, the $1,399/night price tag at Cape Grace, or winding winery roads fool you, this is very much a city full of economic disparity. While Cape Town's center may be full of shops, museums, parks, tasty restaurants, and lively bars, it is surrounded by several townships that are flush with overcrowded shacks, poor living conditions, and economic struggle. In fact, we heard an unsettling rumor during a 2011 visit to the Mother City that involved the government building housing facades along the section of interstate that runs from the main airport, through the townships, and into the city, to block tourists from seeing the townships.
According to self-reported earnings on SalaryExplorer.com, the average wage for hospitality workers is 11,769 ZAR (around $706.14 USD) a month and the minimum wage is roughly 1284 ZAR to 9025 ZAR or $77.08 USD to $541.70 USD a month, making it easy to believe that well over half of the city's population live in townships.
Located on the marina and a short drive from many of Cape Town's most popular attractions, Cape Grace is an elegant hotel with 120 rooms and suites. All rooms have an array of high-end amenities as well as beautiful marble bathrooms with separate showers and tubs. The on-site restaurant serves an extensive buffet (for a fee) as well as a la carte hot items. The spa has a range of treatments and massages along with a sauna, and there's a gym that, while small, offers modern equipment.
Zambia
Located in southern Africa, Zambia is a tourist favorite thanks to its proximity to Victoria Falls, exotic wildlife, and the hippo-filled waters of the Zambezi River. Though the 2016 rates at the luxury riverside Royal Chundu Island Lodge go as high as $1,073 per night, the Lonely Planet guide book states that the Zambian minimum wage gapes between $30 USD and $220 USD per month. The majority of locals here live in shanty towns or hut villages, and are widely unemployed. Hotel jobs have fierce competition and are mostly reserved only for those who already have money and a basic education. We spoke to a housekeeper who told us that in addition to completing regular schooling, she had also taken hospitality courses at a special vocational-type school to become a more attractive employee prospect.
Our Hotel Pick: Matetsi Victoria Falls
Matetsi Victoria Falls is located on a massive game reserve by the Zambezi River, about 40 minutes west of Victoria Falls. The lodge's 18 suites are intimate and surprisingly luxe — each suite has its own plunge pool, patio, and a large bathroom with a separate shower and tub.
South and Southeast Asia
The disparities in South and Southeast Asia are perhaps the most shocking.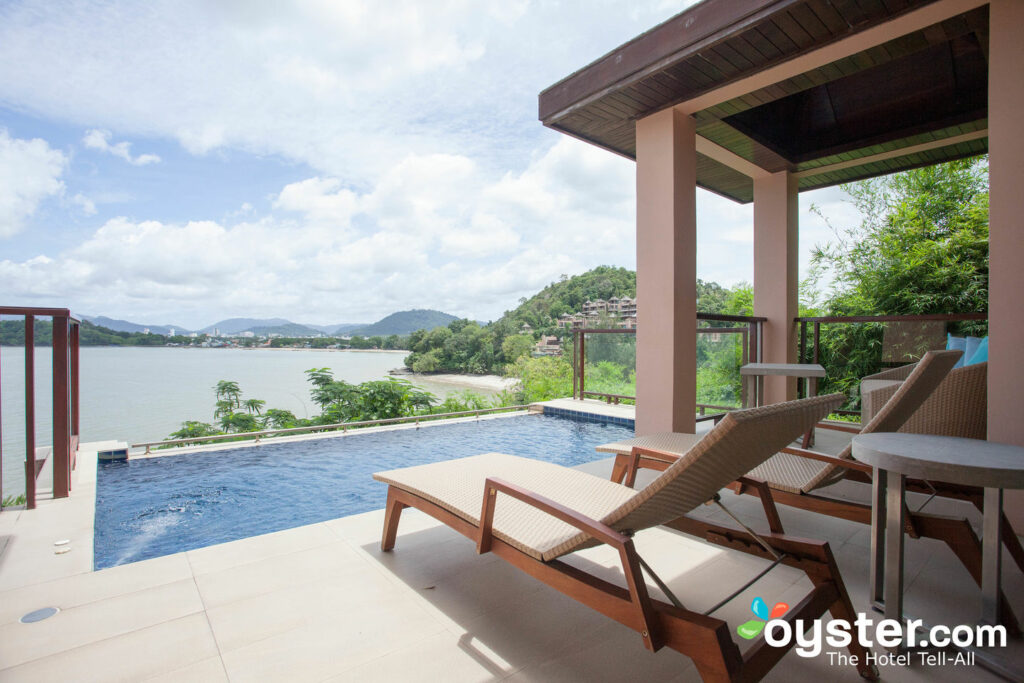 It's no secret Southeast Asia is a favorite among travelers — places in Thailand, Cambodia, and Indonesia keep popping up on travel trend and top destination lists year after year. While you can grab a dorm
room-style bed at a hostel in Phuket for about $10 to $15 a night in high season, four-pearl stays at places
like Movenpick Resort Bangtao Beach Phuket can cost near $450/night.
Truth-be-told, even for a westerner, this can be a hefty sum, but
when you consider that the average monthly wage for a lower-level hospitality worker in
Thailand is only about 20,000 THB ($550) and that, in Phuket, a gallon of milk costs around 189.90THB ($5.22), the disparity becomes huge.
Our Hotel Pick: Movenpick Resort Bangtao Beach Phuket
The 40-room Moevenpick Resort Bangtao Beach Phuket is an upscale boutique resort a two-minute walk from Bangtao Bay beach. The Moevenpick offers a large infinity pool with a sunken hot tub, a fitness center, and a full-service spa, as well as a kids' club so parents can take a break. The rooms and suites at the resort are enormous, most with with full kitchens, balconies with garden or lagoon views, and luxurious bathrooms; some suites have private pools and outdoor hot tubs.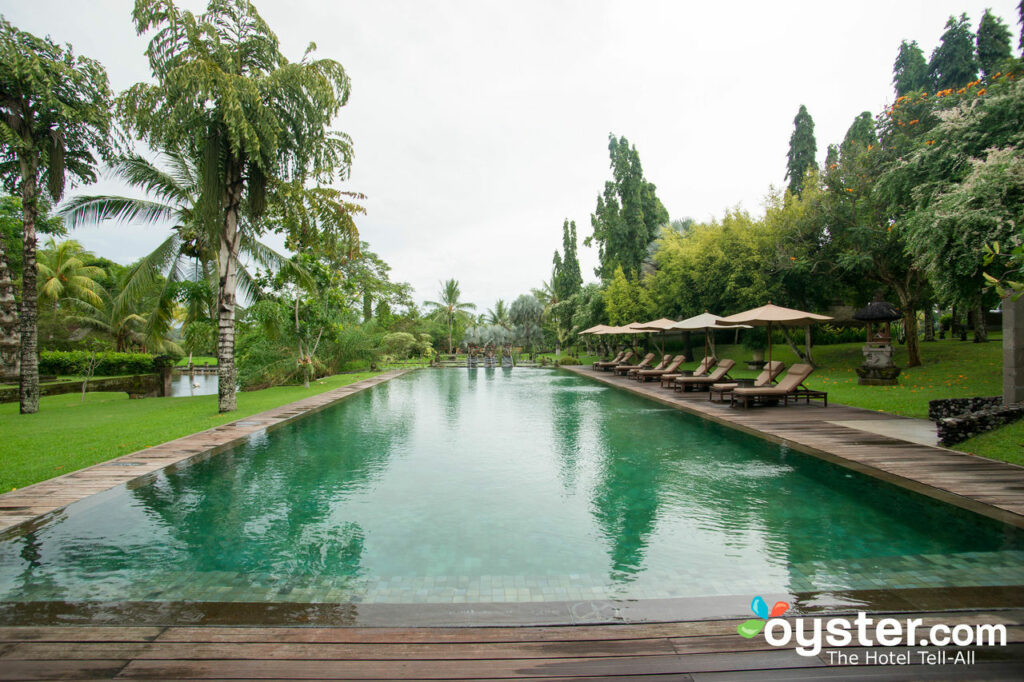 Bali is another popular tourist spot. Thanks to Elizabeth Gilbert's 2006 travel novel, Eat, Pray, Love, millions of people have made their pilgrimage to the once-quiet and serene village of Ubud, checked out the already pumping tourist hot spots in Kuta, and explored nearby spots like Nusa Lembongan, a small island where many non-hospitality locals make a living by collecting seaweed from the ocean, live in barebones huts with their families, and seemingly struggle to survive. For the gainfully employed, the minimum wage in Bali is 1,807,600 IDR a month, roughly $130 USD. This is nearly half the average cost for a
one night stay at Nusa Lembongan's four-pearl villa property Lembongan Island Beach Villas or Ubud's The Royal Pita Maha — and a fifth of the rate at the luxe Melia Bali Indonesia on Nusa Dua.
Our Hotel Pick: The Royal Pita Maha
The luxurious Royal Pita Maha is a sprawling hillside resort about 15 minutes from downtown Ubud. With 52 beautiful villas that have private gardens and pools, an expansive spa, and three gorgeous shared outdoor pools that include a lagoon-style pool and one fed by spring water, this resort truly provides a relaxing atmosphere. While some guests deem the food unimaginative, the views from the restaurants — overlooking the rushing Ayung River and surrounding countryside — are hard to beat.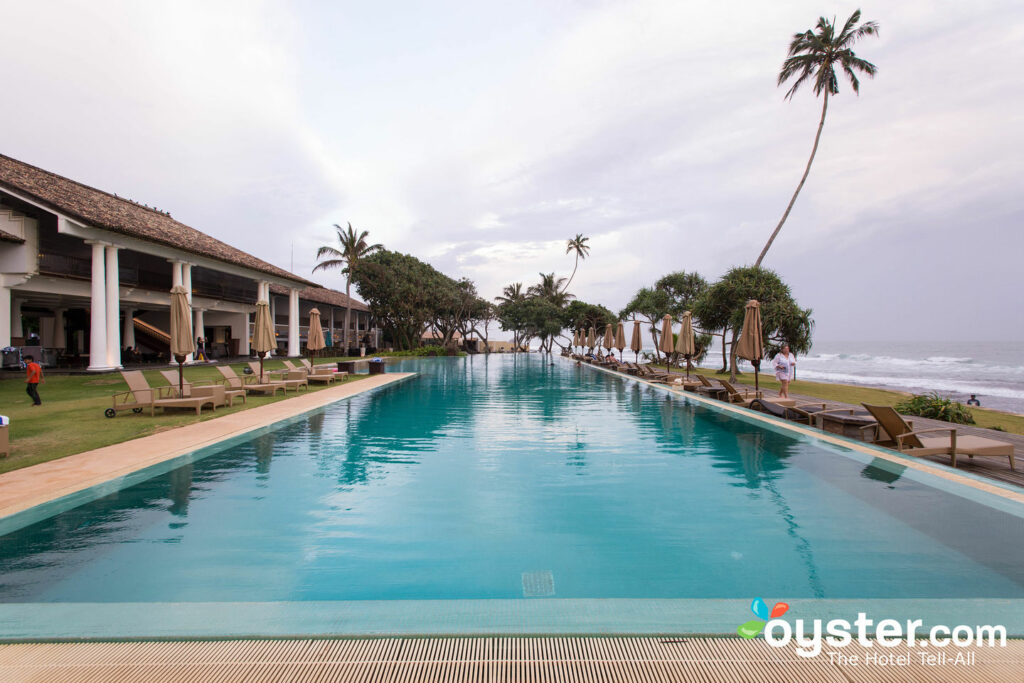 In South Asia, Sri Lanka has experienced a massive boom in tourism, almost faster than the island can adapt. From 1983 to 2009, this island nation struggled under a massive civil war that damaged the economy and killed tens of thousands of citizens. Looking through western eyes, it's easy to paint the picture of a poor country with a low living condition for its locals, but Sarah and Hassan, husband and wife expats who live and operate a guesthouse in Sri Lanka, say it's not necessarily the case.
Sarah says that the Sri Lankan minimum wage is just over 12,000 LKR a month, or roughly $83 USD, but that the average worker in Sri Lanka makes around 20,000 LKR ($139 USD) a month and has a general cost of living of about 21,300 LKR if living alone — which isn't common. Culturally, Sri Lankans tend to live in multi-generational homes with multiple earners, lessening the burden a bit. But still, we find a fairly big gap in the $255 nightly rate at Jetwing Blue Negombo or $384 a night at Bentota's Saman Villas and the $139 average monthly wage.
Like Chris and Sam in Tulum, she says that large hotels tend to pay less: "Staff will get a low basic [wage] because there are a huge amount of holidays [paid at] double time, and then overtime
is paid any workers clocking over 45 hours per week. Hotels will tend to pay 12,000 LKR for a
housekeeper and then they'll get between 25 and 100 percent of the service charge. Hotels
take between 10 and 40 percent of the service charge to cover some of their payments." (To put it in perspective with other industries, she says that it's typical for an office worker to make about 15,000 LKR for bookkeeping, bankers make around 20,000 LKR, and high-level directors make about 100,000 LKR a month.)
Sarah and Hassan assert that the biggest difference in Sri Lanka, compared to western job markets and even what we've heard from other interviewees, is that hotel jobs are not highly-sought after in Sri Lanka — that no job really is. Sarah says, "People don't think about
career paths unless they are highly educated. There is hotel school training
but most people enter hotel jobs from school and then get trained. Training is
good in big hotels." As we chat longer, we learn that hotels in Sri Lanka, big or small, bear a big brunt of the cost — whether it be operational overhead, overtime, shelling out holiday pay for over 25 national holidays, pension contribution, training, and retraining. Because of the work ethic here, hotels will often have to hire two to three Sri Lankans to match the productivity of a western worker of the same age and experience. And, "family always trumps work, so you can never guarantee loyalty."
Unlike Lulu back in Mexico, Sarah says that Sri Lankans don't consider themselves a poor people, but reminds us that they "are less exposed, less educated, and in general, have a lower standard of living" that they are used to, and know. She says she sees how western tourists could get the wrong idea. "Why wouldn't they? They base their opinion on what they see every day and know and then compare. You cannot compare. Also, culturally you cannot compare…it's just two different worlds apart in two different times."
Stretched out on Negombo's beige sand beach near the Colombo airport is this modern, upscale 112-room hotel and spa. Restaurants include one with an open kitchen and impressive tasting menus; guests are also within walking distance to cafes and restaurants for more choice. Spacious and modernly simplistic rooms have bold blue-green tiles against crisp white linens, and a respectable eco-friendly mission, hence LED lights and solar panels. Vendors wander around the beach and sun loungers near the infinity pool, but they're a part of the local culture.
The Carry-On from Away is perfectly sized for an easy overhead stow, while containing the room for everything you need. With 360 degree spinning wheels, a TSA-approved lock, and a hard exterior shell, this will be the last carry-on you'll ever have to buy.
What do you think? Let us know in the comments!
Related Links:
All products are independently selected by our writers and editors. If you buy something through our links, Oyster may earn an affiliate commission.