The Caribbean is home to spectacular beaches, many of them hidden away in secret spots most tourists will never find. But some of the best beaches are right on resort property. Take a look at our 10 favorite hotel beaches, and plan your ultra-convenient stay on some of the Caribbean's nicest sand.
Built from a historic sugar plantation, this profoundly serene 166-room resort sits on 170 acres of a protected national park dotted with seven remote beaches. Even with a quaint pool and rustic rooms that lack TVs and phones, Caneel's attentive service and unparalleled setting make it one of the Caribbean's best resorts.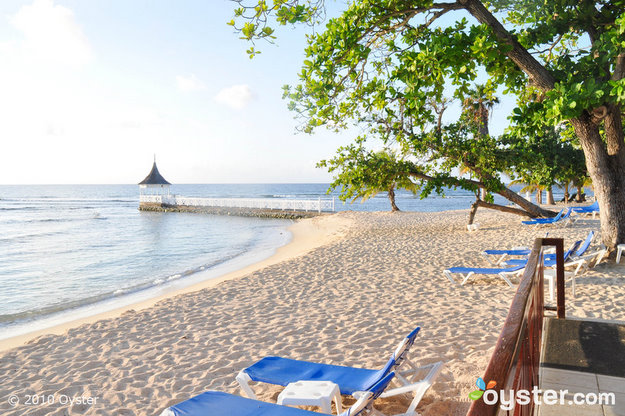 Half Moon takes its name from the two miles of spectacular, crescent-shaped beachfront — with soft, white sand and warm, clear water — that span the 400-acre property. Drawing everyone from Queen Elizabeth to 50 Cent, Half Moon strives for timeless, understated luxury (even at the swim-up bar). The 400-room resort offers attentive service, quality cuisine, and seemingly limitless activities like golfing and horseback riding.
Private to the resort, Minitas Beach is immaculate — there was not a single piece of garbage to be found anywhere. The sand is soft, and a man-made reef several hundred feet out keeps the water especially calm and safe for young children. Even better, lifeguards are on duty from 9 a.m. to 6 p.m. daily. In addition to the immaculate beach, Casa de Campo's 7,000-acre property comes with three world-class golf courses, an on-site horse stable, a luxurious spa, 20 restaurants, and even a replica of a 16th-century Mediterranean villa.
Bringing tranquility to otherwise-crowded Paradise Island, the 105-room Ocean Club's personal butlers, beautiful pools (one for adults, one for families), private, well-attended beach with gorgeous turquoise water, restaurant from Jean-Georges, and access to Atlantis' water park, casino, and other attractions make it one of the Caribbean's best resorts. But its small standard rooms, and, at times, less fawning service can be disappointing for the price.
The 70-room Treehouse is about the most relaxed hotel in Jamaica, almost to a fault. There's only a skeleton crew on staff at night, and the rooms feature nothing but an old TV and a bar of soap. But most guests don't seem to care, once they're swinging on a porch hammock overlooking Jamaica's best beach. Plus, great bars and restaurants are right next door.
Offering eco-friendly bungalows in a lush, friendly setting, Natura Cabanas is a taste of serene, northern coast luxury for a remarkably fair price. Guests enjoy delicious, fresh food, a clean, daily yoga and Pilates classes, and a fabulous spa. The beach, with no crowds, plenty of chairs, clear water, and soft sand, is the best on the north coast.
One of three beachside Marriott resorts side-by-side, the safe, family-oriented Surf Club has clean, comfortable rooms, an excellent gym, a huge waterslide, a teen lounge with Nintendo Wii video games, and the winding "Lazy River" pool (possibly the best pool in Aruba). The beach in back of the hotel begins where the pool ends, and has soft sand, clear eater, and plenty of shade.
Kids' activities galore, including a water park and "Sesame Street"-themed activities, makes this one of the best family resorts in Jamaica. (Guests seem to prefer it even to the cheaper Beaches Sandy Bay.) Both adults and kids will appreciate the location on one of Jamaica's best beaches.
The Punta Cana Hotel's huge beach has shallow, calm water with only negligible seaweed and fine, smooth white sand. There are few guests, so finding quiet is easy. The 202 suites are steps away from the ocean, on a giant property that includes the La Cana golf course, Six Senses spa, a nature preserve, eight restaurants, horse stables, and more. La Romana's Casa de Campo is nearly identical, unless you're a pro golfer — Casa de Campo's Teeth of the Dog beats La Cana.
It's the top lodging on Grand Bahama — immaculate grounds; great beds; a convenient, scenic location; and a beautiful white-sand beach. The long, picturesque stretch of sand features beach chairs (free for hotel guests) and plenty of activities (snorkeling, Jet Skis, kayaks, banana boats, parasailing, and more).