Costa Rica's pristine beaches, lush rain forests, and majestic volcanoes make it a prime destination for a winter getaway. And these stunning resorts are the best spots to enjoy its natural wonders while staying in the lap of luxury. If you're dreaming of rustic-luxe rooms, endless ocean views, pampering service, and world-class cuisine, look no further.
Easily among the most luxurious resorts in Central America, The Four Seasons is as close to perfection as it gets. With two beautiful beaches, ocean views from each one of the sumptuous rooms — decorated in materials including wood, bamboo, and stone — and an 18-hole golf course, the resort makes it possible for guests to spend their whole vacation on-site. Those who do choose to explore beyond Peninsula Papagayo should note that the roads in Guanacaste are in poor condition.
The JW Marriott is one of the top luxury properties in Guanacaste, with beautiful, hacienda-style architecture (think: lots of wood and stone, romantic white hammocks, wrought iron light fixtures and indigenous art). The stunning free-form pool is the largest in Central America, and the tranquil spa is world-class. The only main downside is the extremely rough, hour-long drive from Liberia Airport.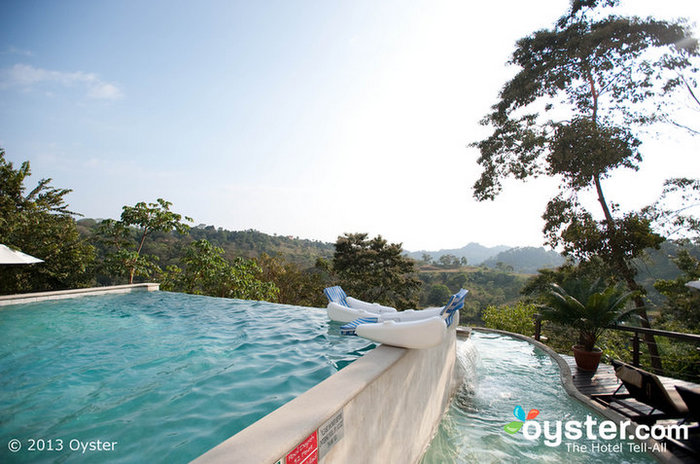 Guests will feel truly pampered at this adults-only, 29-room luxury hotel. Tucked into the hillside of a 14-acre nature reserve, Gaia feels appropriately exclusive and private, and has the attentive, personalized service to match. Rooms are spacious and airy; the great views are never-ending; and the freebies abound: breakfast, Wi-Fi, a mini spa treatment (to name a few). Keep your eyes peeled for iguanas, sloths, and the like.
Arenas del Mar is proof that staying at an eco-resort doesn't mean roughing it: Its 38 contemporary rooms are among the nicest in Manuel Antonio, its restaurant is excellent, and its public spaces embody rustic luxury. The property's lush rainforest, two beautiful white-sand beaches on site — a rarity in the area — and diverse wildlife allow guests to truly connect with the nature that the resort's design so painstakingly preserved. But the 11-acre property is steep, so you'll need to call for a hotel golf cart to go just about anywhere.
This ultra-remote, rustic luxe hideaway is worth the bumpy, two-and-a-half hour drive from Liberia Airport. The rooms aren't as impressive as those at larger luxury resorts in the region, but the unparalleled views, stunning infinity pool, and ruggedly beautiful (if rocky) beach more than compensate. Plus, this is a hotel with a heart: Punta Islita is environmentally friendly, and gives back to the local community.
Los Altos' condos — all 2,300-square-foot, three-bedroom luxury units — are probably the most luxurious accommodations in Manuel Antonio. The hotel is ultra-convenient — the elevator opens up right into your condo — but the grounds aren't as lush or wildlife-rich as at sprawling, less convenient properties like Arenas del Mar and Buena Vista Luxury Villas. And the on-site beach is rocky, so you'll probably want to head elsewhere for some sand time.
The beautiful Arenal Nayara's 44 individual bungalows, restaurant, wine bar, and spa are all tucked into incredibly lush grounds. Some of the amenities are small (pool, spa, fitness center), but guests come here for the private bungalows with special touches like an outdoor garden shower and a deck with a Jacuzzi and hammock. It's more luxurious than nearby Arenal Kioro, but Kioro's rooms have better volcano views.
To learn more about Kelsey Blodget, visit her on Google+