This post originally appeared on Yahoo! Travel.
Traveling can be expensive. After all, hotels, transportation, dining, and sight-seeing add up quickly! But one way to lessen the financial load is to opt for hostels over hotels; these budget-oriented spots have an undeserved bad rap. Sure, they're usually bare bones when it comes to accommodations, but they often offer a fun, vibrant scene that can really add to a guest's overall traveling experience. Primarily geared toward young, party-oriented travelers who don't mind sharing rooms with strangers, hostels can be a great option for a cheap place to crash -- that also has a fun atmosphere. We've found eight hostels around the world that fit the bill. Expect hopping bars with alcohol flowing, lounges with pool and foosball tables, and guests from all over with whom you can dance and take a shot of Jägermeister.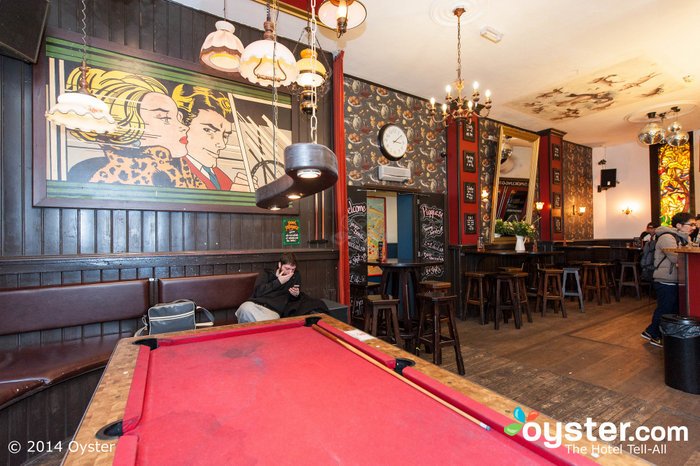 The Flying Pig Downtown is a friendly, fun-focused Amsterdam hostel. Located on a busy, central shopping street, this hostel is surrounded by many of the city's nightlife hot spots, while also being a short walk to popular sights and the Red Light district. Private rooms are available in addition to the secure and tidy dorms, and the property is frequented by a mainly backpacking clientele. There is a modern guest kitchen, cozy smoking lounge, and lively bar on-site. One of two Flying Pigs properties in Amsterdam, this (in)famous landmark hostel is unashamedly geared towards the younger party crowd. Housed in an 18th-century townhouse, its bright colorful lobby attracts backpackers and weekend revelers looking for good times with like-minded spirits. Decor is fun and funky in common areas with colorful murals, eclectic furnishings, and a whiff of cannabis. The atmosphere, unsurprisingly, is relaxed and friendly, especially in the cozy, cushion-scattered smoking room. Things liven up in the evening in the busy bar with regular DJ sets.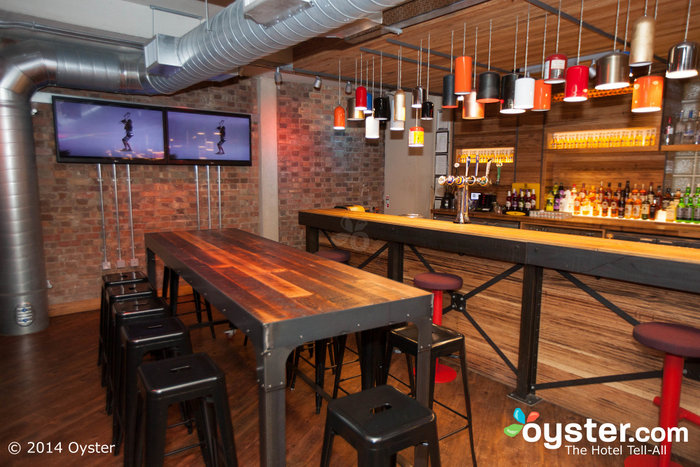 The Generator Hostel represents a new type of high-end hostelling with a real emphasis on a fun, chilled-out atmosphere conducive to interaction between guests. It's a good choice for both young solo travelers and groups, offering dorms for up to 12 people and private rooms, though some are cramped. The cafe, bar, and cinema room are all great spaces to relax, and the hostel's event program is a nice touch. While it's not perfect, nor the cheapest hostel in the capital, there are few budget options with as good a central London location that promise such a snazzy vibe. Inside, the low-lit lobby is super hip but welcoming, with murals, art installations, and quirky signage in bold, bright colors. The emphasis is on a laid-back, sociable vibe, with the ground floor chill-out space encouraging intermingling among guests. Unsurprisingly, clientele tend towards international, young backpackers looking for a good time and a solid value. The Generator Bar is a fun drinking area with an industrial-meets-college-dorm aesthetic: exposed pipes and unfinished wood, bar games, cheap cocktails, and a London bus that doubles as a DJ booth make up the decor. A cinema room shows movies, and the hostel has a program of live music and other events, like game nights and open mic nights.
Le Village is a budget-friendly property located in the heart of Montmartre, blocks from the metro and Sacré Coeur. It offers all the basics of a hostel — including both private rooms and dorms with bunk beds, competitive prices, and a lively bar open late. There are a few nice perks, as well, including free breakfast, a fully-equipped kitchen, and a small terrace with Sacré Coeur views. The quirky lobby (think: funky lamps, a mix of contemporary art and artifacts, and chalkboards for guests to leave messages) sets the vibe for a young, party-oriented stay. The front desk is just an extension of one of the pub's bars, and the lobby doubles as extra sitting space at night, when young backpackers fill the pub.
Catering towards international travelers and groups, the Hostelling International – New York is a well-run budget property with numerous on-site features, including a theater, large business center, and several lounges, all of which are equipped with free Wi-Fi. Guests can opt to spend a bit extra on private rooms with amenities such as flat-screen TVs, coffeemakers, mini-fridges, and private bathrooms, or choose the very budget-friendly dorm rooms with small bunk beds, which can fit up to 12 guests. There is no fitness center and some find the Upper West Side location removed from major sights, but the hostel is within walking distance of Central Park and the subway. Staff, who are on-site 24/7, organize events such as tours and pub crawls for those looking to explore the area and meet other guests. It's also easy to meet fellow travelers in the hostel's many communal areas; it features multiple lounges (one with a pool table), a small cafe, an outdoor patio, and a theater room.
Converted from a hotel, the six-story Generator Hostel Dublin can accommodate up to 540 guests. Located within walking distance of major tourist attractions, the property features everything from bare, basic dorm-style rooms with multiple bunk beds to private suites with their own showers. This property appeals to both the young and the young at heart, with a lively social scene in a popular artsy neighborhood. Though it may appear average on the outside, Generator Dublin is by no means a typical hostel and is quite famous for its young, hip social scene. Inside, there's a bar fitted with inventive light fixtures, a lounge with pink and orange seating, and a cafe wall covered with funky graffiti art. Generator Dublin is similarly priced to comparable hostels, including the Dublin International Hostel, but has way more amenities and a vibrant social scene.
Pedro's Hotel is a well-known destination in San Pedro that's popular among budget-minded, party-hearty travelers. If it feels like a hostel, that's because it partially is. The non-hostel half of the property is located across the street and offers 31 low-priced private rooms. Rooms in both sections are as barebones as it gets, but many guests who stay here are just looking for a cheap crash pad after hitting the town. The staff — mainly, Peter (a memorable British fellow who owns the joint) — rents golf carts, bikes, and diving gear during the day, and tends bar by night. This is when the sports pub springs to life, and there's plenty of good pizza, drinks (ahem, Jagermeister), live music, and conversation to be had before stumbling into bed. The pub across the street is usually hopping as well. There's an outdoor pool table and band area for live music, while the inside is adorned with flags, sports memorabilia, and a wall of Jagermeister bottles. Drinks and pizza are served to a lively mix of travelers and locals exchanging stories.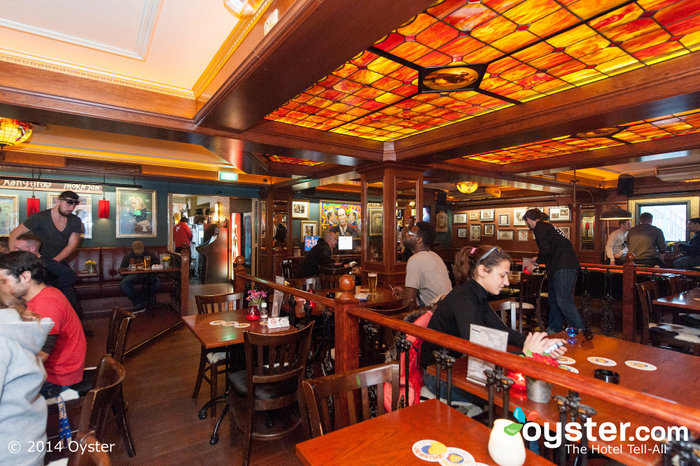 The Bulldog Hotel is a hostel-style property right in Amsterdam's Red Light District that caters to a party crowd. It offers a range of room types, including dorm rooms with en-suite bathrooms that include two shower stalls and double sinks, private rooms that include king-size and single beds, and nearby apartments with kitchens, separate bedrooms, and flat-screen TVs. The hotel offers a relaxed party atmosphere and seems to cater to a young crowd — this isn't a property for families (minimum age for guests is 18) or couples seeking a romantic getaway. A bar with a pool table and a lounge are both located next to the front desk, where it's not uncommon to see people drinking and smoking — cannabis included. There are also happy hour specials each night.
This 100-room modern hostel is a great place for young adults to save some money and meet new friends. It is a bit pricey for a hostel, but most find its features and cleanliness compared to other hostels makes it worth the extra cash, especially for guests who take advantage of the free tours and events. Each room has a clean hallway bathroom just for that room, which is a rarity among hostels. Entering the building you will likely notice that it has a young hipster vibe with modern industrial decor to match. The common areas are spacious with lots of seating. With a library, pool table game room, TV room, computer room, and lounges, there is something for everyone to do when not out and about. Although there's a no-alcohol policy, scheduled events and activities include brewery tours and there are ample bars and restaurants in the immediate area.
Not a typical bare-bones hostel, the fun and funky Generator Barcelona pulls out all the stops with thoughtful touches and exuberant and colorful decor and design. The features list is long for this type of accommodation, and includes a tapas bar, cocktail bar, continental breakfast (for a fee), TV lounge, reading and game room, social events with DJs, and art exhibitions. The hostel is actually a combination hotel and hostel, with the hotel wing having its own elevator. The hostel section has both shared dorm rooms and private rooms, while the hotel has private singles and doubles. The five-floor Generator is located in the Gracia District of Barcelona, not far from the Casa Mila, and about a 15-minute walk from the Sagrada Familia. It's an excellent value for budget travelers who want a little extra pizzazz from their hostel — or hotel. A winding staircase leads to a colorful reading room with a photo booth, boom box stereos, board games, a large flat-panel TV, and pool and foosball tables. It's a terrific spot to mix and mingle with the other international guests. Another spot to congregate is at the Generator's regular social events, which include DJs, art exhibitions, and fashion shows.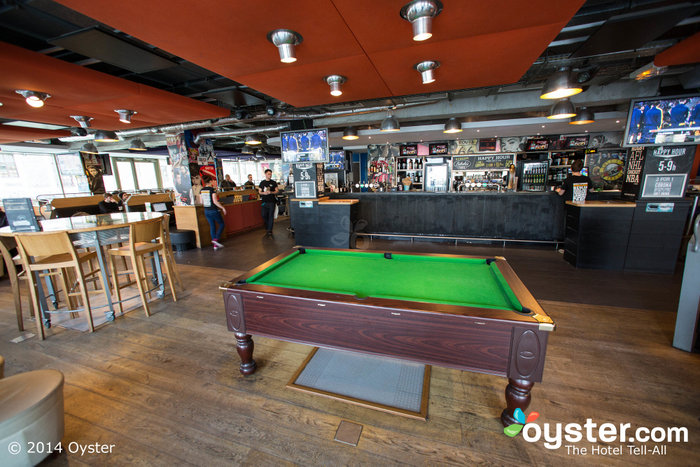 Situated on the banks of the Ourcq Canal, the St Christopher's Hostel is a pleasant and inexpensive alternative to Paris' other youth hostels. It offers a wide range of room categories , from a 10-person dormitory to individual bedrooms with private bathrooms (and everything in between). This hostel has a welcoming atmosphere for young backpackers but is unlikely to satisfy those who expect more than the most basic comforts. The main attraction of this hostel is the young, convivial atmosphere, which is particularly present in the bar. There are international beers on tap, regular concerts, foosball, and billiards. There is a sense that everything has been thought out to facilitate conversation and hanging out among young, international guests.
MORE FROM YAHOO! TRAVEL:
RELATED LINKS:
All products are independently selected by our writers and editors. If you buy something through our links, Oyster may earn an affiliate commission.