It's time to get wet, y'all! With Spring Break just around the corner -- and the rest of us here dying for a warm-weather vacation -- we thought about where we'd wanna party in the sun. Check out the hottest pool parties around the globe, and then tell us: Which is your favorite pool party?
WHY SPLASH AROUND HERE: Easily one of the most popular with the bachelor-and-bachelorette set, the weekly Sunday Rehab Pool Party is notorious for bringing in huge (but sexy!) crowds. An eight-hour affair (it starts at noon), the party is known to bring in top party DJs from around the globe including Paul Oakenfold and Bad Boy Bill who spin tunes that range from Top 40 pop hits to banging house beats.
Check out more sexy hotel pool parties after the jump!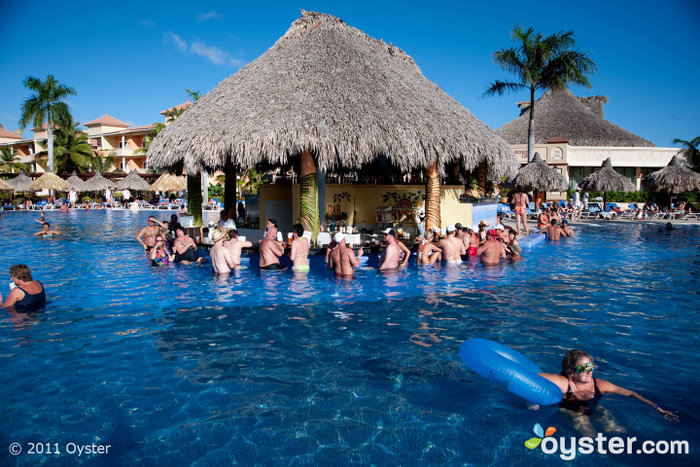 WHY SPLASH AROUND HERE: Party-seeking, money-saving folks flock to this vibrant all-inclusive resort in the middle of nowhere — which doesn't seem to bother its guests. In addition to its lively pool activities, the hotel features regular karaoke and a bitchin' disco where plenty of people boogie down.
WHY SPLASH AROUND HERE: Well, for starters, Room Mate Grace offers New York City's only swim-up bar — practically in the lobby. (There's also a 24-hour steam room and sauna to enjoy, too.) But the party to check out here is on Wednesday nights for the gay-friendly crowd; tales from nights here have been legendary. The hotel's location isn't so bad too, located smack in the middle of the city: The heart of Times Square.
WHY SPLASH AROUND HERE: This iconic, literal LA landmark is not only situated on Hollywood Boulevard and the Walk of Fame, but is also a serious celebrity haunt, particularly so for its nightly pool parties. The velvet rope is difficult to get past, but if you do, expect to see more than one starlet making out in a cabana with her boyfriend of the week. Drinks are pricey, but alas, so is fame.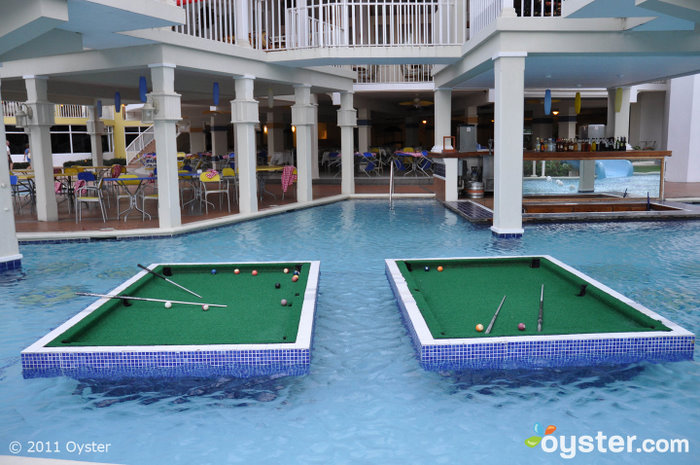 WHY SPLASH AROUND HERE: This value-minded resort (OK, the rooms are a bit dingy and dated) places its emphasis on its killer pools — including a kids-only one with an 84-foot waterslide. The all-inclusive spot has mediocre food, but lots of fun in the sun — the family pool features in-water billiards, tables, and other resort-organized activities. Head to the lobby bar at night to keep the party going.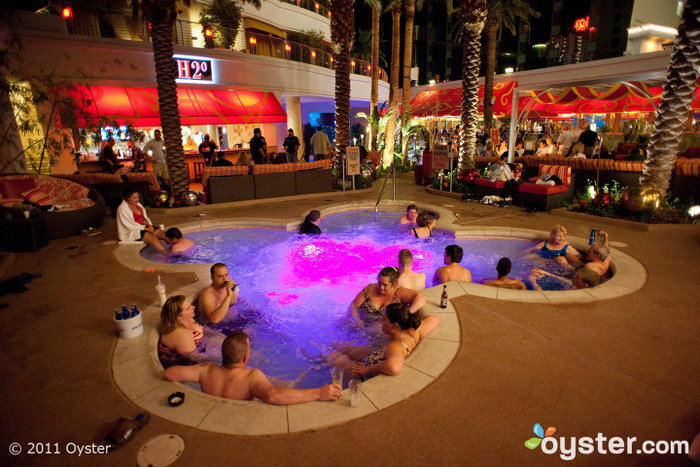 WHY SPLASH AROUND HERE: Off the strip location aside (it's actually in the older Downtown area), the Golden Nugget boasts all the bells and whistles of its mega-resort counterparts, but at a more reasonable price, too. Since its 2005 renovation, the pool's become the main attraction: Known as the Tank, it's three stories tall and features a large waterslide that winds through a massive shark tank. Don't worry, though, you won't get bit.
WHY SPLASH AROUND HERE: The adults-only (14+) Standard is about a mile from the beach, but it's still super hip. The 24-hour pool attracts a sexy following — probably because the hot tubs stay open, too. Did we mention the 24-hour sauna is coed, too? While the hotel itself may have a lower-key vibe, the full South Beach glitz scene is only a $12 cab ride away, should body paint and bottomless drink pool parties not suffice.
WHY SPLASH AROUND HERE: For whatever reason, the Riu Negril attracts one of the friendliest, party-focused crowds out of any hotel we've reviewed. Maybe it's the very solid buffet food, but likely because of the lively scene — the pools are packed with revelers at pretty much any hour. And although rooms are sparse, a beach vacation here is well worth the not-so-hefty price tag.
RELATED LINKS:
All products are independently selected by our writers and editors. If you buy something through our links, Oyster may earn an affiliate commission.