From those we walk upon to those we would never set foot on, chances are you've marveled at the engineering feats of some very cool bridges in your lifetime. And if not? Follow this list to some of the coolest bridges from all corners of the world -- and where you should stay to get the best chance to view them all.
Puente Nuevo Bridge, Spain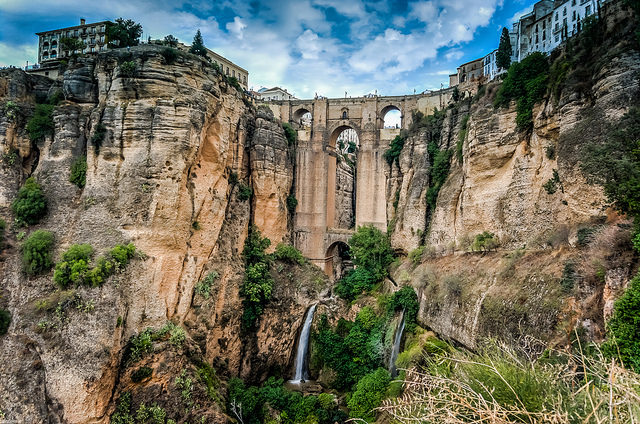 The Andalusian town of Ronda is a photographer's dream — especially if that photographer is into bridges. Set high above a canyon and connected by three gorgeous bridges that span the length of the 100-meter drop, the Moorish town and its bridges have history that date back to the 15th century.
Where to Stay: Spend plenty of time snapping pictures of this wonder as well as wandering through the town's small streets and famous bullfighting ring. When you're done, venture back to Polo Hotel for more of those insane views.
Royal Gorge Bridge, Colorado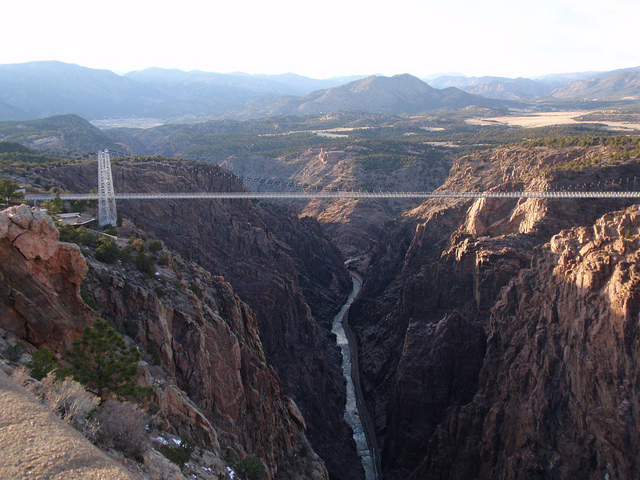 One of the world's highest suspension bridges, Royal Gorge Bridge in Cañon City, Colorado hangs 956 feet above Colorado's Arkansas River and spans a quarter mile across the canyon. Built in 1929, the bridge is located in Royal Gorge Bridge and Park, which offers some other thrilling ways to take in the sights — by gondola, Skycoaster, or zip line, which has you zipping across the canyon parallel to the bridge.
Where to Stay: Start your adventure in nearby Colorado Springs, where you can stay at Garden of the Gods Club & Resort, a modern luxury resort that puts you front and center with the red rock formations that surround the property.
Storseisundet Bridge, Norway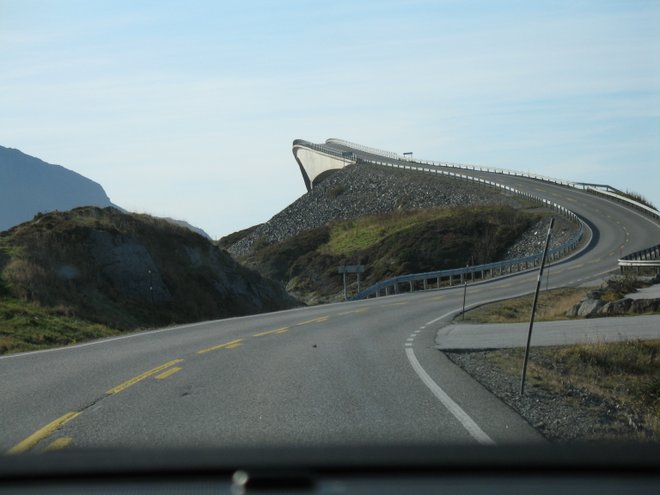 Sometimes known as "The Drunk Bridge" or "The Road to Nowhere," the Storseisundet Bridge is the longest and most famous of eight bridges that connect mainland Norway to the island of Averoy — and has been frightening tourists since it was constructed in 1989.
Where to Stay: Since this sight is a journey to get to in and of itself, we suggest either starting or ending in Trondheim (three hours away), where you can spend the night at the Britannia Hotel.
Rakotz Bridge, Germany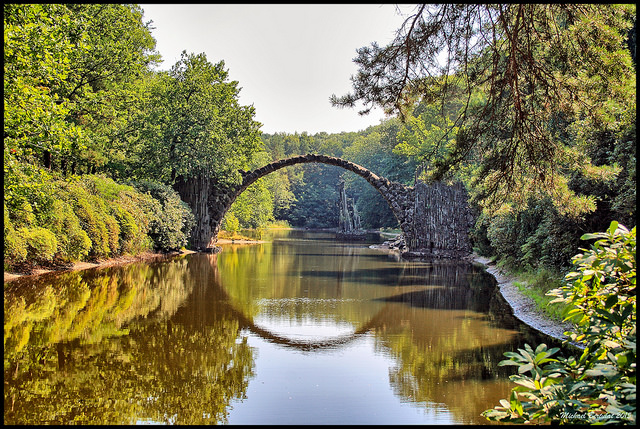 It's only a two-hour drive from Berlin, but you'll feel like you've crossed into another realm if you head to Rakotz Bridge in Kromlau, Germany. This ancient-looking structure was built in the 1860s to create the illusion of a perfect circle in the water below. Today, crossing it is prohibited, which is probably for the best — did we mention some call it the "devil's bridge?"
Where to Stay: You can access this site by heading to Kromlauer Park in Saxony. If you're doing it as a day trip from Berlin (easily done by taking public bus or train), make the uber-hip 25hours Hotel Bikini Berlin your home base.
U Bein Bridge, Myanmar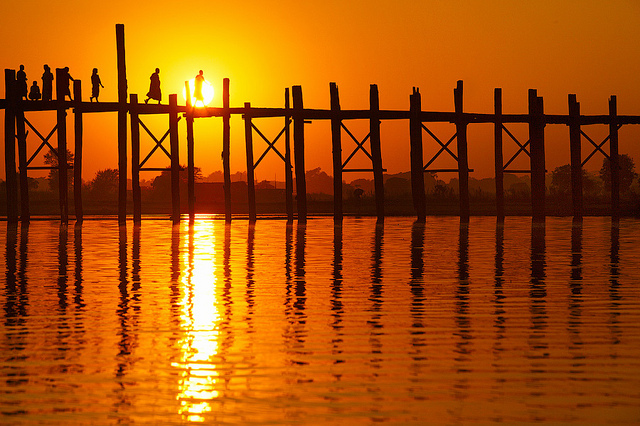 If sunset is your favorite time of day, there's no better bridge to photograph in Myanmar than the U Bein Bridge, which is believed to be the longest and oldest teakwood bridge in the world. Built in 1851 with reclaimed wood from the former palace in Inwa with over 1,000 pillars that jut up from the water, this beauty has become popular with travelers who visit from nearby Amarapura, which was once the nation's capital.
Where to Stay: Spend the night locally in Amarapura or travel to or from Bagan's Amazing Bagan Hotel (yes, that's actually its name).
Tower Bridge, London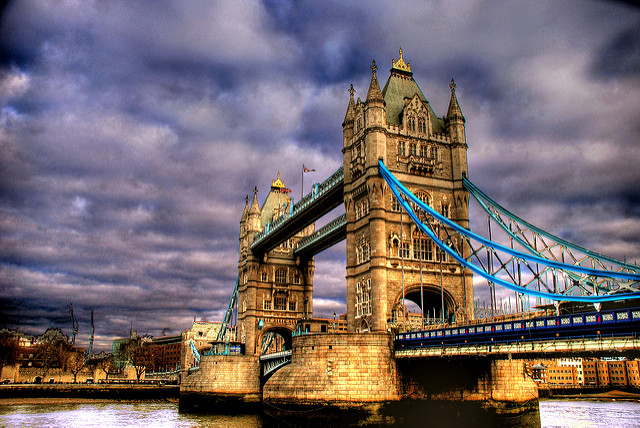 What kind of a list would this be if we didn't include Tower Bridge, one of the coolest and perhaps most famous bridges of all time? Originally designed in 1894 to allow road and water traffic to pass on the Thames River, the bridge is both photogenic and functional. If you're interested in learning more about how it was crafted, check out the Tower Bridge Exhibition, which you can access through the west side of the bridge in the North Tower.
Where to Stay: Afterward, head back to Town Hall Hotel, which is approximately 20 minutes by car in the artsy East End.
Ponte Vecchio, Italy
Get your shopping fix while passing along our next cool bridge, the Ponte Vecchio in Florence, Italy. This medieval stone structure, which sits above the Arno River, is home to shops that are built along it. Fun fact: while you'll predominantly find souvenirs and jewelry shops now, these boutiques were actually occupied by butchers in the old days.
Where to Stay: After a long day of exploring, retreat back to the Grand Hotel Minerva, where you can take in Florence's gorgeous views, poolside.
Sydney Harbour Bridge, Sydney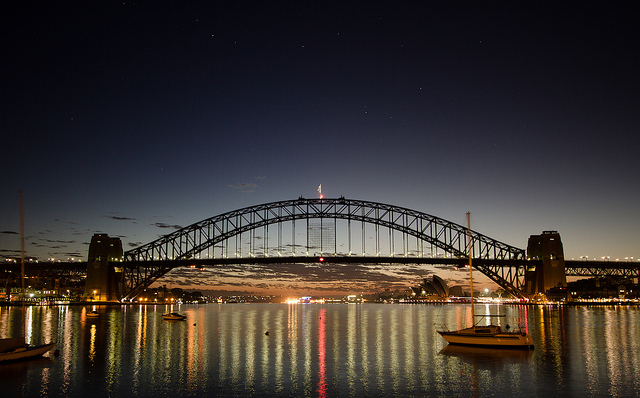 Chances are you've heard of the Sydney Harbour Bridge, which has been photographed so many times it has become somewhat of a symbol of the bustling metropolitan town. But did you know you can climb the classic structure, too? For the last 16 years, BridgeClimb has been bringing those brave enough to the summit of the bridge for some truly spectacular views of this famous city.
Where to Stay: Whether or not you opt to climb to the top, you should treat yourself to a stay at the Shangri-La Hotel Sydney, which overlooks Darling Harbour and Sydney Cove.
Related Stories:
All products are independently selected by our writers and editors. If you buy something through our links, Oyster may earn an affiliate commission.