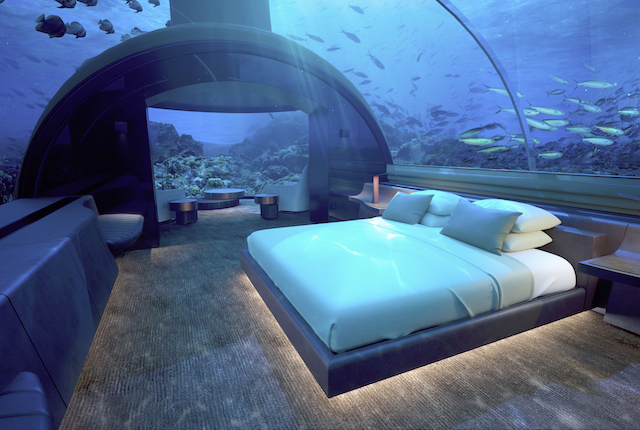 Forget overwater bungalows -- you can now spend the night underwater in the Maldives. The Conrad Maldives Rangali Island has opened the world's first-ever underwater hotel residence, fulfilling Little Mermaid dreams everywhere. Submerged more than 16 feet below the Indian Ocean, the two-story villa goes by the moniker Muraka, which translates to "coral" in the Maldivian language of Dhivehi. It was designed by architect Ahmed Saleem, who is also behind the world's first underwater restaurant, Ithaa, at the same property. Speaking of the design, the residence was built with the environment in mind. Plus, according to Architectural Digest, marine biologists are on staff to ensure it has minimal impact on the surrounding coral. And in case you're wondering, the structure will remain sturdy even in rough seas, thanks to 10 concrete piles.
In addition to the traditional hotel room features -- a bedroom, living room, bathroom, and kitchen -- the Muraka also includes a private gym, bar, ocean-facing bathtub, and an infinity pool. A personal chef and butler, who provide around-the-clock service, and a private boat are also part of the package. There's even a relaxation deck to soak in the sun and stunning views on the upper level, which lies above water. Residents can take an elevator or staircase to descend into their underwater lair to sleep among vibrantly colored fish. Some lucky guests might even spot turtles, stingrays, and sharks through the glass.
To top it off, folks are awarded Diamond Honors Hilton status after booking the suite. But this uber-luxe experience doesn't come cheap. Travelers must cough up $200,000 for a four-night package. So don't hold your breath just yet.
You'll Also Like:
All products are independently selected by our writers and editors. If you buy something through our links, Oyster may earn an affiliate commission.