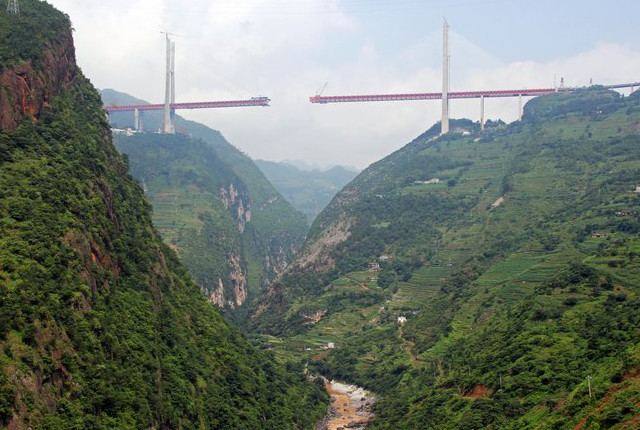 If you feel uneasy driving over bridges, you might want to steer clear of China, which opened the world's highest bridge last week. Rising a staggering 1,854 feet above the Beipan River in the mountainous Guizhou province, the Beipanjiang Bridge has claimed the title from another Chinese bridge, the 1,624-foot-high Si Du River Bridge in Hubei province. (In fact, China is now home to the four highest bridges on the planet.) To put the bridge's height in perspective, New York's famous One World Trade Center could fit beneath its four-lane, 4,400-foot-long span with nearly 100 feet to spare.
https://www.instagram.com/p/BOymPyvDSE7/
Beipanjiang was constructed to decrease driving time between the regional cities of Liupanshui and Xuanwei from five hours to just two. While it's the world's highest bridge, it's not the world's tallest—the distinction being that the former superlative's measurement is taken from the deck to the earth's surface below, while the latter's measurement is of the bridge's visible structure. The tallest title goes to the Norman Foster–designed Millau Viaduct in Millau-Creissels, which is 1,125 feet tall.
You'll also like:
All products are independently selected by our writers and editors. If you buy something through our links, Oyster may earn an affiliate commission.