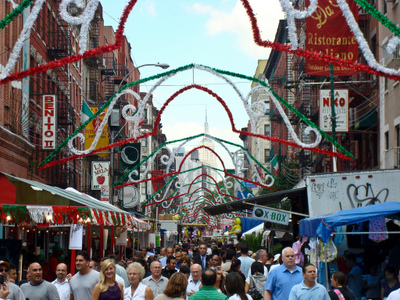 For cash-strapped tourists visiting New York, one of the most expensive cities on the planet, a hotel room in trendy Little Italy for $120/night might seem like a deal that's too amazing to pass up. But consider what those low rates may mean you're signing up for — particularly in the case of the Sun Bright Hotel. The New York Post did an expose on the property last year, calling out the hotel for renting abysmal single-unit occupancies to impoverished male tenants on the top floors. For $10 a night, these men live in filthy, animal-like conditions. Shockingly, the remaining floors of the hotel are rented out to tourists — some of them unsuspecting, others willing to put up with chicken wire ceilings and dirty communal bathrooms to save money. Trip Advisor gives the hotel one-and-a-half stars, and reviewers have described it as "a cross between a jail cell and a chicken coop," and "full of insects." Absolutely no refunds are given.
This week we called the hotel to check rates and see for ourselves what conditions are like at the notorious hotel. After being hung up on (accidentally? we think not) once, a male employee explained that the hotel was booked for the weekend but had availability the following week for $120/night, with free Wi-Fi. After that, we headed to the property for some in-person investigating.
Read up on what we found after the jump >>
The Sun Bright's entrance is on Hester Street, just around the corner from Bowery and two blocks from Little Italy, though most surrounding shops and restaurants are Chinese owned and operated. After being buzzed into the building, we walked up a flight of steps with two security cameras pointed at us. The lobby reeked of disinfectant (although we guess that's better than mold) and was completely empty except for an out-of-order soda machine, rack of brochures, and…a sharply-dressed European guy checking in. Closed doors opened to a series of rooms down two hallways. All was quiet, except for two women chatting quietly on the other side one of the doors. A male employee stepped out from behind the glass office and immediately offered assistance. Signs in several languages advised guests that refunds are not available. The European guest was advised that the Wi-Fi signal wasn't very strong. Unfortunately, there still weren't any rooms available that we could book or look at, but we didn't see anything too out of place or unsettling during the short lobby visit. Still, we'd recommend spending the extra $50 and walking four blocks up Bowery to the two-pearl Bowery House: The ceilings there are made of lattice but shared bathrooms have marble, heated floors and as far as we know, there aren't any inhumane living conditions going on upstairs.
Opening Image of Little Italy Photo Credit: Flickr Creative Commons, davidpc_
RELATED LINKS:
All products are independently selected by our writers and editors. If you buy something through our links, Oyster may earn an affiliate commission.