Though we can't speak for everyone, we'll make the assumption that when most people hear the word "beach," England isn't the first place that comes to mind. After all, our friends across the pond are better known for things like tea and crumpets, fish and chips, and, well, rainy and dreary weather. But England is actually home to some pretty spectacular spots on the sand, and after checking out these seaside hotels, you'll never leave England off of your beach vacation bucket list again. Cornwall -- located on England's southwest tip -- boasts some of the most stunning beaches we've ever seen, and trust us, we've seen our fair share. It may not get much warmer than 70 degrees Fahrenheit (even in the summer), but Cornwall's bright blue waters, rugged coastline, and fabulous beach hotels will win your heart in no time.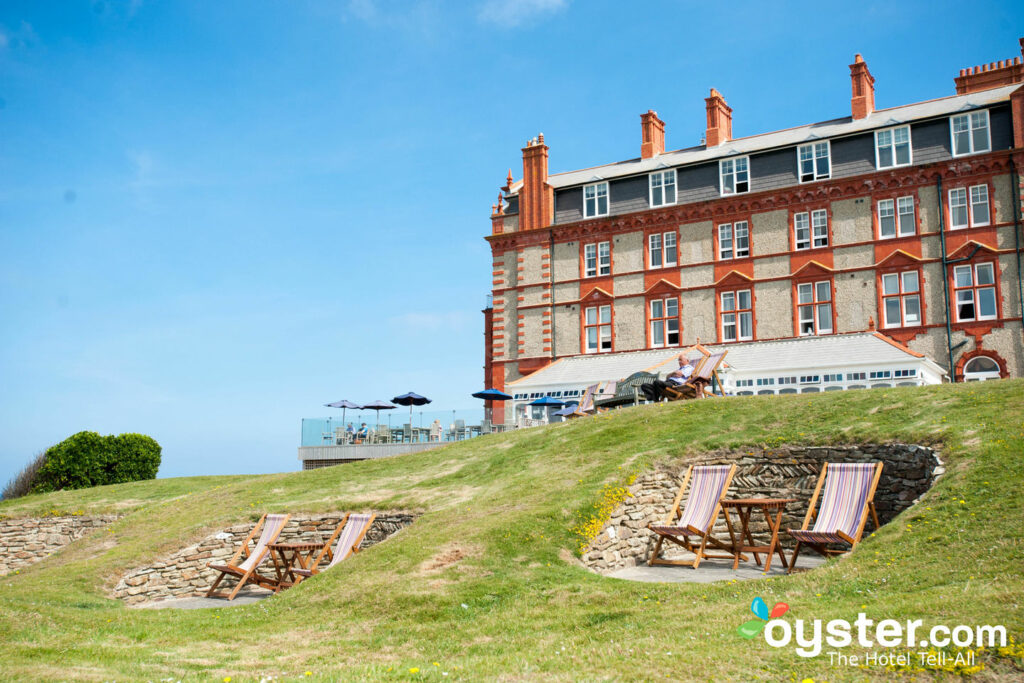 Set on a bluff overlooking Fistral Beach, The Headland Hotel – Newquay is a Victorian stunner. Built in 1900, the four-story hotel maintains much of its original character, from the red-brick and stone exterior to original moldings and beautiful hardwoods. Rooms are on the smaller side, but are individually decorated with bright colors and charming period touches. Guests looking for a little more space will appreciate the property's larger cottages with multiple bedrooms, fully equipped kitchens, and modern decor. Outside, there's a beautiful pool with ocean views, and quaint alcoves tucked into the hillside with seating for two. Potential guests should note, however, that the hotel does tend to get crowded with families during school holidays.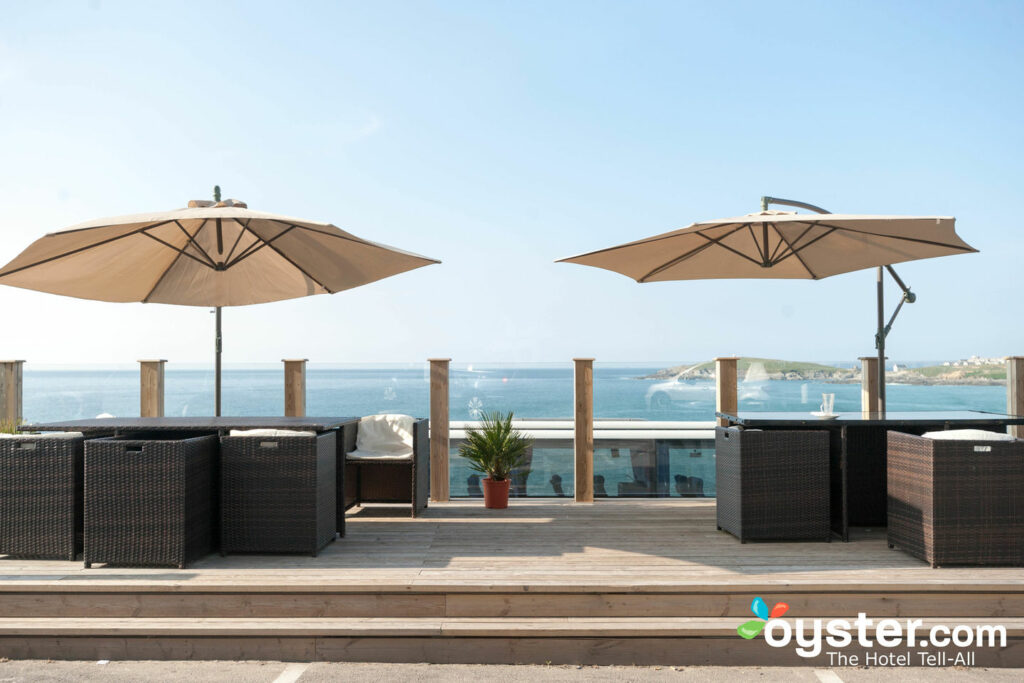 The elegant Fistral Beach Hotel sits on a quiet stretch of beautiful coastline just outside of Newquay. Here, rooms are bright and airy — beachy without being kitschy — and many have stunning sea views. There's an on-site restaurant that features these same views, serves locally sourced cuisine, and includes a lively bar area. As a result, weddings and events are popular here, which could be a turn-off to some guests. Those staying at the hotel have access to the on-site spa, which features an indoor pool and steam room. The Fistral Beach Hotel caters mostly to an adult clientele, so those traveling with children may want to consider its sister property, The Esplanade Hotel, which is right next door.
A mid-range, family-friendly hotel, The Esplanade Hotel may not have the same character and charm of some of its neighbors, but its abundant amenities make it an attractive option for those traveling with children. There's a surf school, multiple play areas, an indoor pool and hot tub, and a family-friendly restaurant — all on-site. Rooms are spotlessly clean, and nicely decorated with neutral colors and purple accents, but they lack the individuality and personalized touches of some nearby hotels. The Esplanade also gets rave reviews for its great breakfasts, including a Full English option, but they're not included in the room rates.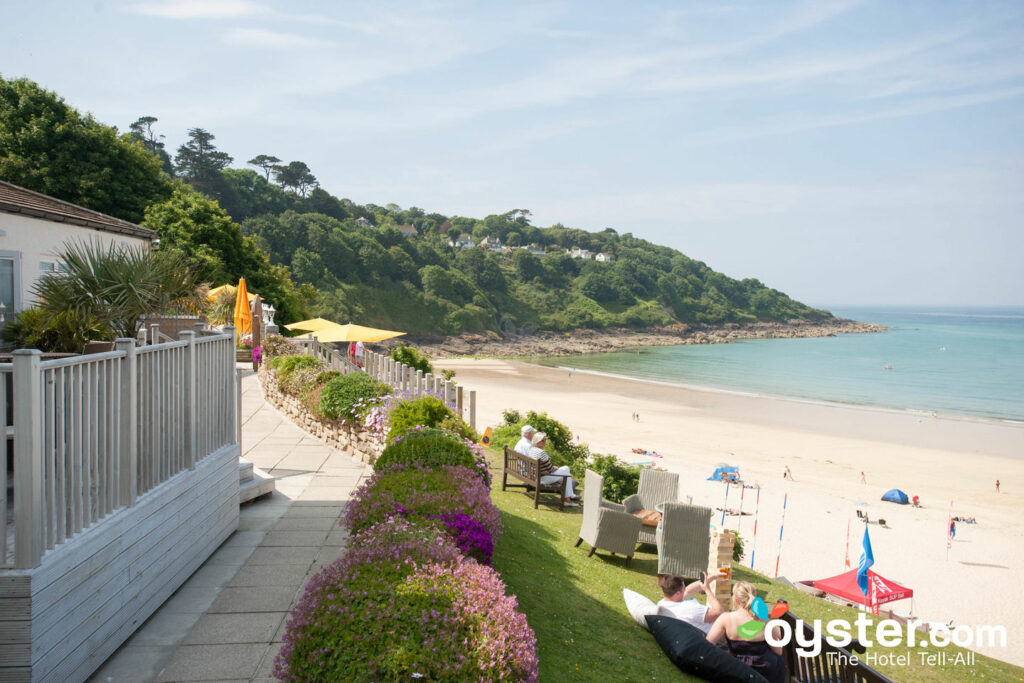 Set on one of the most gorgeous beaches in all of Britain, if not the world, Carbis Bay Hotel & Spa wouldn't have to do much to attract guests. But instead, this 47-room, mid-range B&B is stylishly decorated, features a stunning, heated outdoor swimming pool, offers free Wi-Fi and parking, and provides summer entertainment programs for both adults and kids. Rooms, most of which have beautiful balconies with sea views, are individually decorated with graphic wallpaper and elegant furniture. As its name suggests, the hotel has a spa with an outdoor sauna pod, spa pool, and couples' treatment rooms. There's even a coastal footpath that leads directly from the hotel to the Cornish town of St. Ives. There are no elevators here, however, so guests with limited mobility may want to consider another hotel in the area.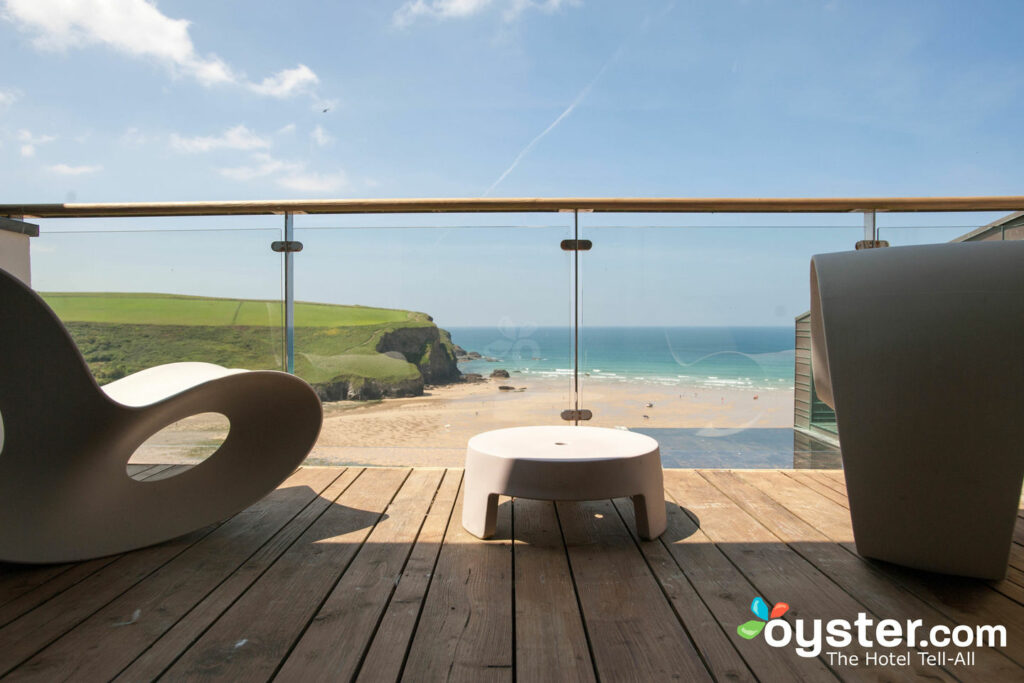 Unlike many of the beach hotels in Cornwall, The Scarlet Hotel is not a renovated Victorian. Instead, this contemporary hotel has an artsy vibe with modern furniture and sleek finishes. Its secluded cliff-top setting overlooks a beautiful cove, but it also means it's rather cut off from any nearby dining or entertainment. The Scarlet Hotel also has a "no kids" policy, making the atmosphere quiet — almost zen-like. Guests have two pool options here: one indoor, which features stunning floor-to-ceiling windows and offers incredible views of the beach, and one outdoor, which is a natural pool filtered by reeds. The on-site restaurant serves locally sourced cuisine, and there's a mod library with books and billiards, as well as free Wi-Fi and parking.
The Driftwood Hotel is everything you'd want in an English seaside cottage — gingham upholstery, white wood accents, wood-burning fireplace, and rugged coastal views. Plus, there's a Michelin-star restaurant with an extensive wine list, a large patio with lounge chairs, a children's game room, free daily breakfast, free parking and Wi- Fi, and owners who go out of their way to make each guest's stay truly memorable. The only downside is that the Driftwood is quite isolated, and there's nothing of interest nearby — though this may be just why it's so enticing to some.
We think you'll also like…
All products are independently selected by our writers and editors. If you buy something through our links, Oyster may earn an affiliate commission.