The term "hipster" has a lot of connotations these days, but we think we have a pretty good idea of what it means when it comes to travel. If you're a hipster, you're probably the type who won't want to stay somewhere mainstream -- and certainly not a major chain. You're the type who appreciates what's cool, yes, but in a way that is interesting and different. You love anything eco-friendly and organic.
Sound at all familiar? Fess up. We at Oyster have a special spot in our heart for hipster travelers. After all, they, like us, have high standards when it comes to choosing a hotel. They'll often gravitate toward spots that are uber-trendy, quirky, or extremely green, and with that in mind, we unearthed some of the best hotel options in the world for the hipster set.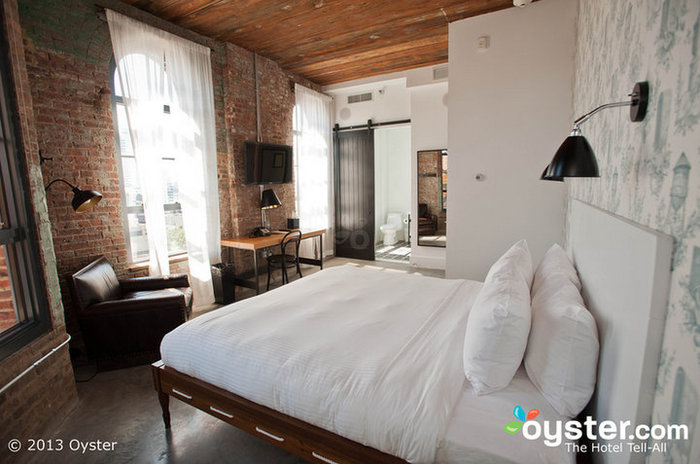 The Wythe Hotel is a hub for hipster travelers and locals alike. With a hopping rooftop bar boasting jaw-dropping views of Manhattan, a wonderful restaurant, and cutting-edge industrial design, the Wythe is a destination unto itself. It's located near the subway as well as dozens of restaurants, bars, and shops in the heart of trendy Williamsburg, Brooklyn, a neighborhood boasting one of the highest concentrations of hipsters in the country. Rooms are spacious and have high pine ceilings, reclaimed wood furnishings, and great amenities, including flat-screen TVs; local, hand-made toiletries; free Wi-Fi, and radiant floor heating.
The 40-room property, originally built as a motel in 1939, incorporates a stylish, minimalist design and sits at the center of Austin's SoCo neighborhood, a trendy area known for great music. The hotel reflects its hipster surroundings by offering lots of cool stuff on loan: an excellent music library (both CDs and pre-filled iPods), a video collection, Polaroid cameras, bicycles, and even a Remington typewriter (for writing the next great American novel, naturally). There's a small swimming pool, an outdoor lounge serving drinks and snacks, and the locally famous Jo's Coffee next door. Urban-chic rooms have modern wooden platform beds, polished concrete floors, paisley bedspreads, and flat-screen TVs.
The Michelberger Hotel is a trendy, budget-friendly option set in a former warehouse in the Friedrichshain neighborhood. Most of the 119 rooms have spare, modern decor; some have exposed cement, big windows, and open showers, while others have bunk beds and can accommodate larger groups. A big breakfast buffet (for a fee) is served daily, and food and drinks can be ordered from the outdoor terrace. Highlights at this quirky hotel include a stylish lobby full of books and magazines and a bar with live DJs. In short, it checks all of the hipster boxes — budget-friendly, hip, quirky, and in a happening neighborhood.
The Good Hotel in San Francisco is a phenomenal pick for the eco-minded and socially conscious (both of which hipsters are by definition). Situated on a somewhat desolate stretch of the artsy SoMa neighborhood, the Good Hotel earns its moniker, "hotel with a conscience." With features like a water-conserving toilet-top sink, the Good is environmentally friendly, charmingly quirky, and — for those who don't mind venturing a bit off the beaten path (which hipsters do not) — one of the best budget hotels in the city.
For outdoorsy hipsters looking for an authentic eco lodge experience, Selva Negra is the real deal. This family-run organic farm and coffee estate has accommodations ranging from hostel rooms to private bungalows, as well as a lush, cool mountain setting that's rich with wildlife (expect howler monkeys, lizards, agoutis, and all types of birds). The sustainable practices are everywhere evident, from the excellent farm-made cheeses at the restaurant to the solar water heaters. The lodge is charmingly rustic rather than luxurious, featuring buildings designed in a quaint German style, and the friendly owners help make it a truly special place.
The Ace Hotel was one of the first hotels to specifically target the hipster set, and spearheaded the hipster hotel trend. It's the flagship property of the Ace Hotel mini-chain, and it's located in Portland, arguably the country's flagship hipster city. This boutique emphasizes style over space or luxury, featuring touches such as reclaimed school chairs, nightstands made out of books or suitcases, turntables, and stacks of vinyl records. Hotel highlights include a local, organic breakfast in the breakfast room, a great happy hour scene at the Clyde Common lobby bar, and coffee at the Stumptown Cafe. This pet-friendly hotel has a great central location for exploring Portland on foot or on a bike.
Amsterdam's weed-friendly policies make it a natural epicenter for hipsters. The eco-themed Conscious Hotel Museum Square is a quirky, modern establishment within walking distance of the Van Gogh Museum, De Pijp neighborhood, and local tram stations. The lobby features an overflowing live plant wall, and there are several bikes for rent. Rooms are large, simple and clean, with soft beds, basic, white bathrooms, and flat-screen TVs. There's a bright and modern breakfast buffet, which offers a daily organic continental breakfast.
All products are independently selected by our writers and editors. If you buy something through our links, Oyster may earn an affiliate commission.