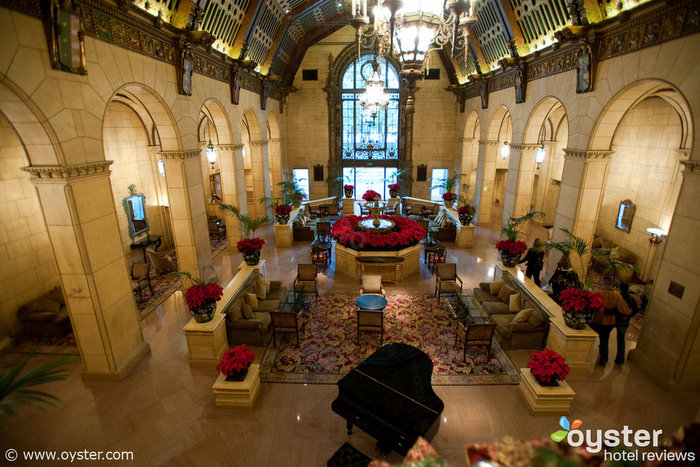 Like everyone else, we can't help but wonder who'll take home statues from the upcoming Academy Awards. Will Jeff Bridges get one? What about George Clooney?
But we're not acting aficionados — we're hotel experts. Which means regardless of who takes home Oscars on Sunday, we'll remain loyal to our favorite silver screen characters: hotels.
Hotels often play a role on the big screen. But only once in a while does one play a part in a film that takes home a golden statue on Oscar night.
Below is a list — in no particular order — of hotels we've covered that appear in Academy Award-winning flicks. (Plus, a few notables that were nominated but didn't win.)
THE WINNERS ARE…
Tom Cruise and Dustin Hoffman criss-cross the country in 1989's Best Picture winner Rain Man, and the Bonaventure provided just one of the many backdrops for their adventure. The hotel's pretty glass exterior has made it a shoo-in for roles in plenty of films. (Oscar-nominated films shot here include In The Line of Fire (1993) and True Lies (1994), in which Arnold Schwarzenegger rode a horse into the hotel's elevator.)
This historic hotel may have served as a backdrop for more movies than any other in Tinseltown, and even played host to the award ceremony eight times in the 1930s and '40s. Oscar winners that filmed here include Independence Day (1996), Bugsy (1991), and The Buddy Holly Story (1978). (Oscar-nominated films shot here include: The Bodyguard (1992), House of Sand and Fog (2003), Splash (1984), Vertigo (1958), and King Kong (1976).)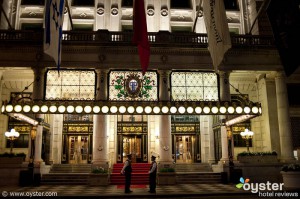 Perhaps the most famous hotel in New York, it's no surprise that The Plaza isn't camera shy. Although the hotel starred in Home Alone 2, plenty of Oscar winners filmed here too: Almost Famous (2000), The Great Gatsby (1974), Funny Girl (1968), Scent of a Woman (1992), and The Way We Were (1973) with Barbra Streisand and Robert Redford. (Oscar-nominated films shot here include: Sleepless in Seattle (1993), Barefoot in the Park (1967), and North by Northwest (1959).
This iconic San Fran hotel was a filming location for The Towering Inferno (1974), a disaster thriller starring Steve McQueen, Paul Newman, Faye Dunaway, and Fred Astaire that took home three Academy Awards. (Oscar-nominated films shot here include Alfred Hitchcock's Vertigo (1958) — the first film to put the hotel on the Hollywood map — Midnight Lace (1960), and The Rock (1996).)
Lots of movies have been filmed here (Serendipity anyone?!), but Scent of a Woman is the one that gets it onto our Oscar list: Al Pacino won for Best Actor in 1993. A blind, crabby, retired colonel (Al Pacino) whisks a high school student (Chris O'Donnell) — who is supposed to be watching after him — to New York, where they check into The Waldorf (and where they dine at The Plaza's Oak Room). (Oscar-nominated films shot here include Crimes and Misdemeanors (1989) and Coming to America (1988). Yes, that's right — the Eddie Murphy/Aresenio Hall flick grabbed two nominations.)
Because Rain Man (1988) won four Oscars in 1989 (four big ones – Best Picture, Actor, Director, Screenplay), it's only fitting that it was filmed at two of our hotels (see Westin Bonaventure up above). Tom Cruise's character uses his savant brother to count cards in the hotel's casino, and their high-roller status leads them to a bi-level suite in the Forum Tower (you can stay in the suite where they filmed!).
Woody Allen's biggest box office hit, Hannah and Her Sisters won three Academy Awards in 1987. Allen's character takes Dianne Wiest's character to a jazz performance at the Cafe Carlyle inside this grand dame. Full of hotel cameos, this movie also has scenes shot at The Waldorf Astoria and the St. Regis.
In Hannah and Her Sisters (mentioned above under The Carlyle), the characters played by Michael Caine and Barbara Hershey rendez-vous at this classy icon for their illicit affair. (Oscar-nominated films shot here include: The First Wives Club (1996), Taxi Driver (1976), and Radio Days (1987).)
The 1968 action flick Bullitt starring Steve McQueen was filmed in dozens of locales within California, and this Frisco mainstay was just one of the many on-location spots. The movie won for Best Film Editing and was also nominated for Best Sound.
This hotel was a hotspot for rockstars during the 1960s and '70s, so it makes sense that fictional band Stillwater would stop here while on tour in Almost Famous (2000). In this Best Screenplay winner, the band shacked up at the Gramercy Park Hotel while Penny Lane — banished while Russell's ex-wife cum girlfriend is in town — stayed at The Plaza, where William finds her ODed on quaaludes).
Even though we didn't cover this hotel (it's temporarily closed for renvations), it seemed unfair to leave it off the list. After all, it was the site for the filming of All The President's Men, the classic 1976 movie about the scandal that grabbed four statues for its art direction, sound, writing, and best supporting actor.
THE RUNNERS UP
Thirsting for more? Here's a list of the hotels that appeared in Oscar nominated films but never got to make an acceptance speech.
Beverly Wilshire Hotel (formerly Regent Beverly Wilshire), Los Angeles
Pretty Woman, nominated for Best Actress in 1991
Beverly Hilton Hotel, Los Angeles
Frost/Nixon, nominated five times in 2009
The Sunset Tower – Argyle, Los Angeles
The Player, nominated for three awards at the 1993 Oscars
Royalton Hotel, New York
Vanilla Sky, nominated for Best Original Song (by Paul McCartney) in 2002
The Hay-Adams, Washington, D.C.
Election, nominated for its screenplay in 2000
Las Vegas Hilton, Las Vegas
Diamonds Are Forever, nominated for Best Sound in 1971
Can you think of hotels we've missed? Tell us in a comment!
All products are independently selected by our writers and editors. If you buy something through our links, Oyster may earn an affiliate commission.