When it comes to iconic Seattle attractions, the Space Needle and Seattle Great Wheel might spring to mind first, but there is so much more to explore in this Pacific Northwest city. Whether you're looking to eat delicious food, explore the great outdoors, or learn about the history and culture of the area, we've rounded up 10 fun things visitors should experience in Seattle.
1. Make your way to Pike Place Market.
What's a visit to Seattle without a stop in Pike Place Market? Since its opening in 1907, Pike Place Market has been providing shoppers with fresh produce and bargains, making it the oldest continually operating farmer's market in the country. Today, the market is a one-stop shop for fresh, farm-grown fruits and veggies, locally caught fish, specialty food, crafts, and a variety of delicious restaurants and cafes. Don't forget to say hello to Rachel the Piggy Bank, a 550-pound bronze-cast piggy bank. Since 1986, all money placed in the piggy bank has gone to support social services at Pike Place Market. Plus, legend says that if you make a donation and rub her snout, you'll have good luck.
2. Take a ferry to Bainbridge Island.
Since Seattle is surrounded by water, visitors should take advantage of the Washington State Ferries and enjoy a day trip to Bainbridge Island. From the ferry terminal, the main strip is a short walk away and features a plethora of shopping and dining options, including Mora Iced Creamery. The island is also home to multiple museums and cultural centers for those looking to learn about the history of the area. If you prefer to be outdoors, golf clubs, marinas, and bike rentals are also available.
3. Hike to Rattlesnake Ledge.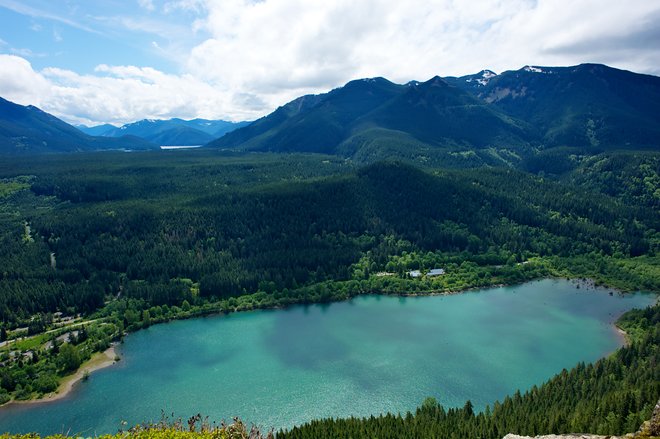 If you want to escape the city for the day, there are some great nature trails a 45-minute drive southeast. Good for both kids and dogs, the hike to Rattlesnake Ledge should not be missed. The four-mile round-trip trek is relatively easy and offers breathtaking mountain and lake views from the top. If you wish to extend your trip, East Peak is a slightly longer, more challenging hike.
4. Check out the Smith Tower.
For stellar views and delicious cocktails, head to the observation floor at Smith Tower. The 35th floor features a speakeasy-inspired bar with a creative menu that includes libations that bring you back to the 1920s and food like fresh oysters and grilled cheese sandwiches. The 360-degree views of the city and weekday happy hour sweeten the deal.
5. Visit a dispensary.
Washington is one of nine U.S. states that has legalized recreational marijuana. Even if you're not interested in purchasing anything, a trip to a dispensary is a fascinating experience. As long as you're over 21 years old, you can enter the building where, depending on the store, you will see everything from actual buds to marijuana-infused drinks, snacks, and candy.
6. Embark on an underground tour.
Did you know the original storefronts and sidewalks of Seattle were actually one floor below the streets you currently walk on? After the Great Seattle Fire of 1889, there was so much damage to the central business district that the streets in the Pioneer Square area had to be raised 22 feet, and new buildings made of wood were banned. Today, many of those original storefronts and sidewalks are entombed under the city, but can be accessed during certain tours, where you'll also learn about Seattle's rich and unique history.
7. Head to Discovery Park.
If you enjoy the great outdoors, but don't feel like driving a half-hour toward the mountains, head to Discovery Park, the largest city park in Seattle. The 534-acre park encompasses most of what was formerly Fort Lawton, and is home to tidal beaches, sea cliffs, forest groves, streams, and spectacular views of both Puget Sound and the Olympic Mountains. Seattle residents can be found taking a break from city life at this tranquil spot, while also enjoying nature and spotting wildlife.
8. Visit a museum.
Seattle has no shortage of art and culture. You can find a variety of museums that focus on art, history, pop culture, and transportation, to name a few. The Chihuly Garden and Glass exhibition at the Seattle Center, located next to the Space Needle, features Dale Chihuly's stunning blown glass sculptures. The Museum of Flight is the largest, non-profit air and space museum in the world. Visitors can tour various planes like Air Force One, a 747, and the Concorde; try out a flight simulator; and admire various artifacts. Meanwhile, the Seattle Art Museum features rotating exhibitions and nearly 25,000 works of art from around the world.
9. See a sports game.
Luckily, Seattle is home to two major league teams, providing fantastic sports games from April to December. Though the Seattle Mariners have never won a World Series, enjoying a game is a fun way to spend an afternoon or evening. And hey, at least tickets will be cheap. If you prefer football — and happen to be visiting between August and December — the Seattle Seahawks have a much more successful record, plus have set the World Record for loudest crowd noise at a sporting event…twice.
10. Watch salmon at Ballard Locks.
If you're going to be visiting Seattle between mid-June and October, head over to the Chittenden Locks (also known as the Ballard Locks) to witness the infamous salmon migration. Professional naturalists provide information following free one-hour tours of the locks, which not only see 40,000 vessels each year, but also welcome 150,000 salmon. This unique experience is why over 1.3 million people visit the locks each year.
You'll Also Like:
All products are independently selected by our writers and editors. If you buy something through our links, Oyster may earn an affiliate commission.