Most visitors to Washington, D.C., first think about monuments. After all, the city has plenty -- exalted, grand, reflective, simple, and baroque. But the United States' capital has more than just awe-inspiring, historic structures and world-class museums. For those who want to mix a little fun into their history lesson, dine at some excellent restaurants, listen to tunes at an amazing music club, and kick back in charming neighborhoods, many of which contain hidden gems, we created a list of top things to do in D.C. Spoiler alert: There's plenty more than politics happening in the Federal City.
Pay Tribute
No one wants to come home from Washington, D.C., without having seen at least a few monuments. "America's Rome," as it's known, has enough tributes and memorials to fill an entire vacation itinerary. Pick and choose what you want to see. For starters, you should know that the Washington Monument is closed until Spring 2019 while the elevator is being redone. Though there's no hidden map on the back of the Declaration of Independence, regardless of what you learned in Nicolas Cage movies, Washington's monuments do have some interesting history. For example, the designer of the Lincoln Memorial took inspiration from the Parthenon because he thought the building that represented a defender of democracy should be influenced by the birthplace of democracy. Part of the lesser-known Albert Einstein Memorial has 2,700 studs that represent the position of the planets, stars, and other celestial bodies on the day the memorial was dedicated. If you want a low-cost tour of D.C. that's also easy on the soles of your shoes, take a ride on the 30N or 30S bus route, which passes by the White House, the William Tecumseh Sherman Monument, and some of the quainter row houses of Georgetown.
Eat Well
D.C. may not be as celebrated for its food scene as other cities, but it's only logical that the town that hosts so many power lunches has a lot of excellent upscale eateries. For those who don't want to pay top dollar for a fine-dining experience, D.C. has plenty of great ethnic restaurants and down-home cooking.
Want extravagance with a touch of adventure? Métier by French Laundry alums Eric Ziebold and Célia Laurent has a seven-course tasting menu, including entrees like Japanese kuroge beef short rib pot-au-feu with Dijon mustard sorbet. Tail Up Goat is a little easier on the wallet, but still pretty innovative, featuring combinations such as casarecce pasta with pork sausage, ricotta salata, and Calabrian chili breadcrumbs as well as Fuji apple sorbet with candied lemon and turmeric. For fans of tasty, low-cost Indian food, Vikram Sunderam's Bindaas has naan stuffed with bacon, cheese, and chilis plus striped bass with tamarind and fennel. If you like Ethiopian food (or have never tried it), Addis offers traditional dishes like simmered lentils in a spicy berbere sauce and lamb meat with fresh rosemary and jalapeno. For southern flavor, head to Myron Mixon's Pitmaster Barbeque for finger-licking good barbecue.
Get Educated
D.C. easily has one of the richest collections of museums in the United States. Even better, a large number of them are free. Most famous is the Smithsonian Institution, which currently has 19 museums, including the National Air and Space Museum, National Museum of Natural History, Smithsonian American Art Museum, and Smithsonian Design Museum. The National Museum of African American History and Culture, which opened in 2016, offers an in-depth look at the struggle for civil rights in the United States, and features stories that are rarely included in American history books. The upper floors also have fun artifacts from African-American culture, such as Chuck Berry's red Cadillac and Parliament-Funkadelic's "Mothership." Interestingly, the person who provided the funds to create the first Smithsonian collection, James Smithson, was a well-off scientist who never saw America, yet had arranged to donate the money for a U.S. scientific institution in his will.
Beyond the Smithsonian, D.C. also has notable museums such as The Phillips Collection, a museum of modern art that includes pieces by Van Gogh, Renoir, and Matisse. The Old Stone House dates back to America's pre-Revolutionary War era and exhibits the early colonists' way of life. Travelers interested in more contemporary work should check out the National Geographic Museum. As you might expect, its walls are covered with beautiful photographs. Newseum focuses on the the history of U.S. journalism, including broadsheets of several vintage newspapers. The Spy Museum uncovers many cloaked tales and exhibits the tools utilized in surveillance. Kids can partake in "Spy Camp" and learn the basic skills of sleuthing.
Smell the Flowers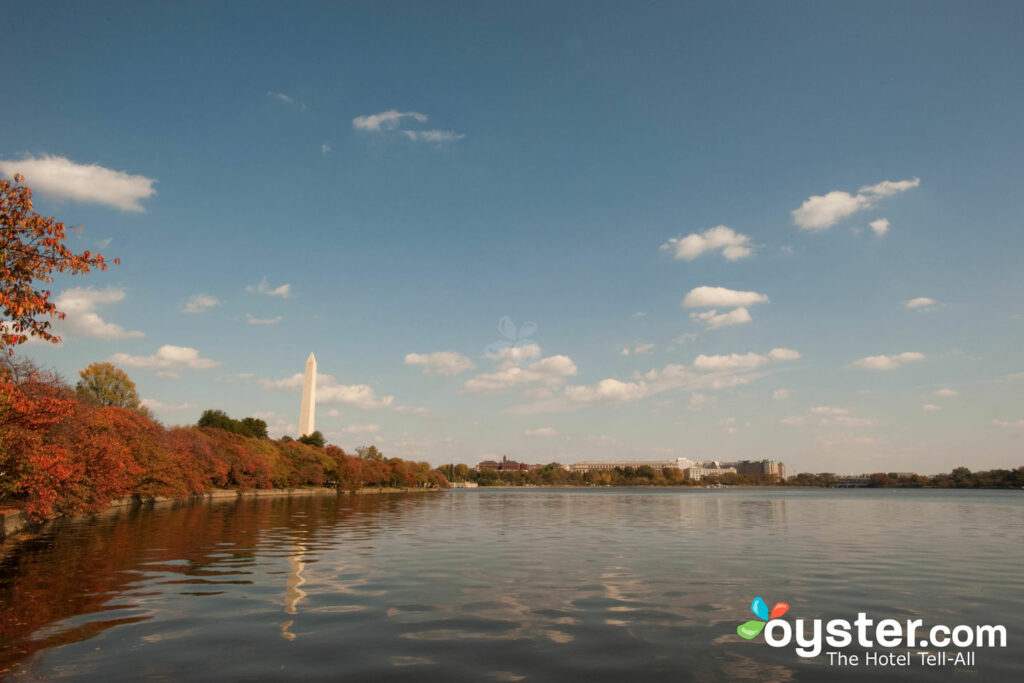 D.C. has beautiful gardens and arboretums to stroll around in. The conservatory at the United States Botanic Garden houses plants from tropical, arid, and subtropical regions, including endangered and Jurassic plants. The National Garden has an organically grown rose garden, a butterfly garden, and the First Ladies Water Garden.
Hillwood Gardens, located on an estate formerly owned by Marjorie Merriweather Post, has several themed sections that take influence from Japan, France, and Russia. Post was a particular fan of orchids and her former estate now has 2,000 specimens and hundreds of different varieties. Her Georgian-style mansion is also a museum that showcases what upscale living looked like in the first half of the 20th century. The Tidal Basin is a partially man-made reservoir in West Potomac Park that is also the location of the National Cherry Blossom Festival each spring. You've likely seen the tree-lined lake in a movie or TV show. The Tidal Basin is also adjacent to the Jefferson, Roosevelt, and MLK memorials, in case you want to swing by them as well.
Relax in Style
A town with so many movers and shakers needs stylish spas to help melt away the stress that comes with solving the nation's problems. The Petite Spa at The Jefferson hotel has treatments that include herbs and botanicals grown at Monticello. Each of the treatment rooms in the spa at the Four Seasons has a private steam shower and whirlpool.The Spa at Mandarin Oriental has a sundeck overlooking the D.C. marina and offers services like the Oriental bamboo massage. The signature massage at the Argentta Spa at The Watergate Hotel is the jade hot stone massage. Just outside of town, in Alexandria, Virginia, the spa at Kimpton Lorien Hotel features the rose quartz massage, in which warmed rose quartz stones are rubbed over your skin along with essential oils.
Catch Some Tunes and Laughs
Our nation's capitol may not have the influential indie bands it once did, but the venues that fostered that scene are still hosting great acts that crank out impressive tunes. The 9:30 Club has hosted Fall Out Boy, The Police, Smashing Pumpkins, Radiohead, and local heroes like Fugazi over the years. These days, the bookings still have an alternative mindset with artists like Alvvays, Gaslight Anthem, and Talib Kweli. Longtime rival to the 9:30 Club, the Black Cat also has a notable collection of vintage pinball and arcade machines, in addition to music. Bookings are a mix of classic and current acts, such as Superchunk and Rogue Wave, as well as DJs and comedians like Todd Barry. The Fillmore in Silver Spring, Maryland, is much newer, yet has already had many notable acts grace its stage, including rapper Ty Dolla $ign, Bullet for My Valentine, D'Angelo, and The Pretenders. If you want to mix a little history with your rocking, the DAR Constitution Hall has hosted every president since Calvin Coolidge and now books artists like G-Eazy and comedian Katt Williams.
D.C.'s comedy scene should not be ignored, as it gave the world Dave Chapelle, Wanda Sykes, and Jay Pharoah. The D.C. Improv in Dupont Circle has hosted all caliber of stand-ups, including Jerry Seinfeld, Ellen DeGeneres, and Sarah Silverman. Recent appearances include Rory Scovel and Jim Norton. Arlington's Cinema and Drafthouse regularly books national names such as David Alan Grier, Patton Oswalt and Lil Rel Howery.
Soak Up Some Culture
If you've ever watched one of the numerous shows that have been taped at the John F. Kennedy Center for the Performing Arts, you might not be surprised to hear that it has a packed schedule of opera, classical music, ballet, jazz, and film. Cutting-edge artists such as Shabazz Palaces appear here, as does the National Symphony Orchestra, Washington National Opera, and The Washington Ballet. Ford's Theatre has exhibits and tours about President Lincoln's last hours, plus new productions of musicals and dramas. For more experimental productions, the Woolly Mammoth Theatre Company is a "radically inclusive" troupe with topical shows that have traveled around the world. Some performances have pay-what-you-wish tickets and others cost $20.
You'll Also Like:
All products are independently selected by our writers and editors. If you buy something through our links, Oyster may earn an affiliate commission.