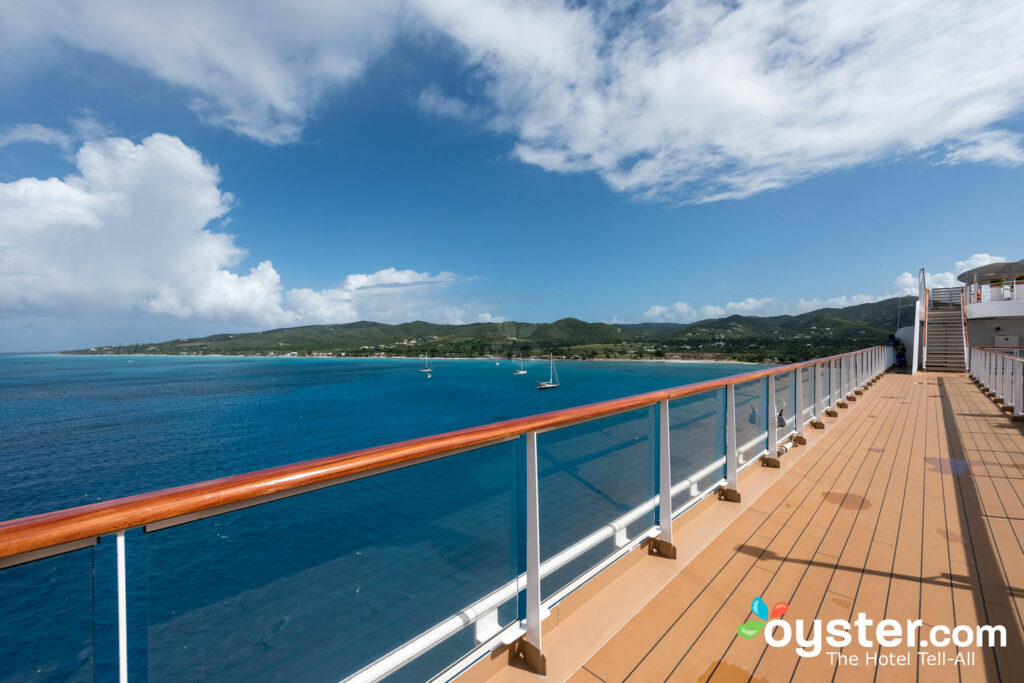 Here's a sentence I never thought I'd utter, let alone publish for the masses to see: I went on a cruise and enjoyed myself. Going on a cruise was never on the top of my travel to-do list. Actually, it wasn't on the bottom of that list either. The common concerns around setting sail on a floating hotel had me turning down opportunities to hit the high seas for years. After all, we've all heard the horror stories: The food is mediocre at best, the entertainment is cheesy, and of course, there's the risk of illness and seasickness. But somewhere between cooling down in the spa's snow grotto (more on that later) and waking up to witness a new Caribbean island outside my window every day, I found myself luxuriating in the experience of my 11-day Viking Sea cruise through the West Indies. With that in mind, there is an argument to be made about why this ocean cruise is the best way to see the Caribbean. Read on.
You'll see many popular Caribbean islands in one trip.
The advantages of cruising are clear: Visit several destinations without packing or unpacking, changing rooms, or commuting. Sure, you may not get an immersive look into a destination's local culture, but to keep your suitcase in one place, to take the guesswork out of traveling from point to point, and still see more than one place — that's an underrated luxury. Viking Sea's West Indies Explorers itinerary, which covered quite a bit of ground in the Caribbean, allowed passengers to check off several bucket list-worthy islands. Starting in San Juan, Puerto Rico, the route reached the British Virgin Islands, Antigua, St. Lucia, Barbados, Dominica, St. Kitts & Nevis, St. Martin, and the U.S. Virgin Islands before looping back and docking in San Juan.
Shore excursions are included at every port.
Most ocean cruises charge extra for shore excursions, but Viking is the exception to that rule. This line includes one complimentary expedition — think introductory island tours and beach days — in every port of call. During our voyage, we took a tour San Juan and Antigua, pausing for photo ops at famous attractions, learning about the history, and even stopping to try local food and drink specialties. Those who want to shell out extra can experience even more, such as snorkeling among spectacular marine life, kayaking in bioluminescent bays, swimming in natural freshwater pools, hiking in forests, and taking a cooking lesson, to name a few. While in the British Virgin Islands, a catamaran whisked us along the crystal clear waters, passing impressive yachts along the way, until we landed at Jost Van Dyke, a beautiful beach that's home to the famous Soggy Dollar Bar. In St. Lucia, we hit the water again, this time visiting the iconic Pitons, as well as a sugar plantation, where we got schooled on chocolate-making and fueled up on a traditional Creole lunch.
These built-in day trips allow passengers to explore the island with minimal planning, and for the included excursions, at no additional costs. It's worth noting, however, if you're the type of traveler who is averse to ambling around with a large group of tourists, the included excursions might not be for you, as they do tend to fill up. Another drawback? Our itinerary did not allow for any overnights. While waking up somewhere new each day was a treat, we got a limited scope into each island, as we sailed off into the sunset every evening.
Every room has a balcony, perfect for taking in the views.
The fresh air, the added space, and of course, the views — there are many reasons you might want to splurge on a stateroom with a veranda. Luckily, every cabin on Viking comes with a balcony, providing passengers with front-row seats to the beauty on display throughout the Caribbean. Our veranda on Viking Sea came with a table and two chairs for soaking in the surrounding scenery by day, and the starry night sky after dark. You might even get lucky and see some underwater animals swimming around. Tip: Order room service for breakfast and enjoy it while overlooking the water.
Wi-Fi is free onboard.
Most mainstream cruise lines do not include Wi-Fi in the rate, and as such, one could wind up coughing up quite a bit to stay connected while onboard. That's not the case on Viking, where Wi-Fi is free, though signal and speed may vary. So go on, post those pics to Instagram and make all of your friends and family back home jealous of your journey through the Caribbean.
The ship provides educational experiences.
In addition to complimentary shore excursions, which provide a great glimpse into each port of call, Viking offers lectures and port talks to help passengers learn about the destination before docking. That could include information about the area's wildlife, history, and local culture — tidbits you might not otherwise get so easily if island hopping in the Caribbean on your own.
Getting there can be fun, thanks to a host of amenities.
Those who say it's about the journey, not the destination, have not waited in seemingly never-ending airport security lines, missed connecting flights, or found themselves stuck in an airplane's middle seat. Sure, in-flight movies might entertain for a few hours, but cruises like Viking step it up, keeping guests occupied with activities and amenities like infinity pools, evening dance and music performances, themed food nights, the quiet Explorers' Lounge — perfect for unwinding with a cocktail after a long day in the sun — and the Nordic spa, where you can cool off in the snow grotto after sweating it out in the sauna or hot tub. In other words, take the tension out of traveling, sit back with a cocktail on your private balcony, and enjoy the soothing ocean sounds as you're transported to paradise.
You'll Also Like:
All products are independently selected by our writers and editors. If you buy something through our links, Oyster may earn an affiliate commission.