After Labor Day weekend, the crowds at campsites across the country tend to die down, the mosquitos depart, and the colorful fall foliage and autumn wildlife arrive. In other words, fall is an ideal time for hitting the great outdoors and camping. The weather is warm enough for enjoying hikes and bike rides during the day and just right for sitting around a fire and sleeping comfortably at night. To help get you in the spirit, we rounded up six U.S. destinations that are especially nice for pitching a tent during the fall months.
If you've had your fill of foliage, then fall might be the perfect time for camping in a volcanic landscape. Try Haleakala National Park in Maui. Home to the Haleakala volcano and seven-mile Haleakala Crater, the park features wilderness campsites and cabins (you'll have to hike to reach these) as well as drive-up campgrounds that go by the names Kipahulu and Hosmer Grove. Weather in the so-called Summit District can be unpredictable and harsh, with rain and storms. Your best bet for a peaceful camping experience is the coastal area, where the Kipahulu campground is perched above ocean cliffs. Keep in mind that Haleakala is among the best stargazing spots in the country, and is also a Biosphere Reserve teeming with endangered species.
Heading out to Wisconsin this time of year is a fool-proof way to experience fall foliage while pitching a tent. Try the Driftless area in southwestern Wisconsin, located about halfway between Minneapolis and Chicago. Camp out at Wildcat Mountain State Park, which is set on a ridge beside the paddle-friendly Kickapoo River, or Governor Dodge State Park, one of the state's biggest parks with more than 5,000 wooded acres plus a couple of lakes and a waterfall. Or, check out the Dells region, where the tranquil Mirror Lake showcases the reflection of changing leaves in Mirror Lake State Park. This state park also comes with more than 2,000 acres of wooded land, campsites, a beach, and picnic areas.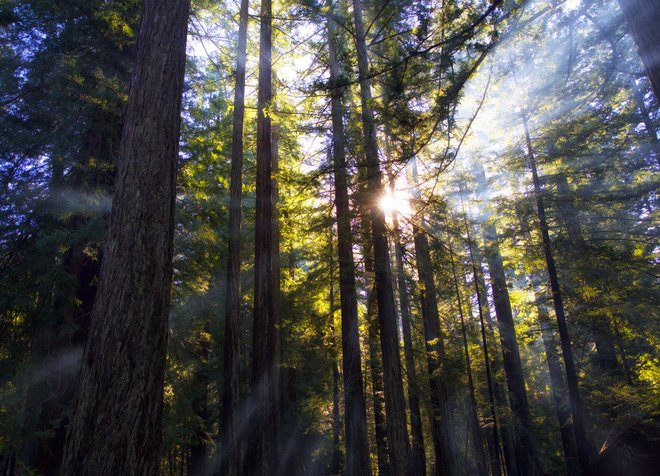 Plan a trip to northern California before the rainy winter season arrives. During the fall, camping in the middle of Big Basin Redwoods State Park, which is situated in the heart of the Santa Cruz Mountains, is the way to go. Here, you can gaze up at ancient redwoods, some of which are older than the Roman Empire and others that measure more than 50 feet around. Visitors can also explore more than 80 miles of hiking trails. The Skyline to the Sea Trail, for example, is a day-long trek that follows along Waddell Creek all the way to the beach and freshwater marsh at Theodore J. Hoover Natural Preserve. Several trails also lead to swimming holes or waterfalls, and with daytime temperatures sometimes reaching the mid-70s, it's still possible to enjoy a quick dip.
About an hour from Las Vegas lies Nevada's oldest and largest state park, Valley of Fire, which is named for its incredible red sandstone formations. The park's petrified wood and 3,000-year-old Indian petroglyphs also make for a historically fascinating camping experience. While summers can be steamy here, the fall temperatures are comfortable and mild. The park also has two campgrounds available. During the daytime, keep an eye out for multi-hued formations on Rainbow Vista Trail, striated red rock formations on Fire Wave Trail, and movie set remains from the 1966 film "The Professionals" on White Domes Trail.
5. Cumberland Island National Seashore
This year's autumn camping season is under threat from Hurricane Matthew, but fall is usually a great time to head out to Cumberland Island National Seashore off the coast of Georgia. Among the state's barrier islands, Cumberland Island is the biggest and most biodiverse, with more than 300 bird species plus wild horses, dolphins, and even armadillos. Temperatures cool down in October and the air tends to be dry with clear skies and few pesky bugs, making camping and hiking along 50 miles of trails all the more appealing. The quiet beaches, marshes, maritime forests, and federally designated wilderness area of nearly 10,000 acres also have a more isolated feeling once the summer crowds disperse. Here, five campgrounds are up for grabs and campers are encouraged to bring telescopes, as the beaches and open fields offer unobstructed stargazing.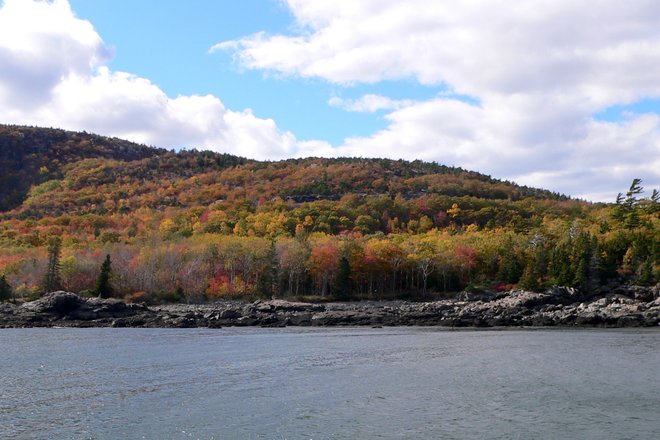 The northeast is considered prime fall foliage territory and Maine does not disappoint. Head to Acadia National Park on Mount Desert Island for camping in a landscape that also features rocky beaches and towering mountains along with the autumn leaves. Unpaved carriage roads allow for relaxing walks among the red oak, red maple, and gray and white birch trees. Hop in a car and drive the along the coastline for another perspective, or make your way to the peak of Cadillac Mountain, the East Coast's tallest mountain. There are two campgrounds on the island and Acadia National Park, including Blackwoods, which is just five miles from downtown Bar Harbor, and Seawall, which is closer to the Atlantic Ocean and Wonderland Trail.
Related Stories:
All products are independently selected by our writers and editors. If you buy something through our links, Oyster may earn an affiliate commission.