With the arrival of warm(er) weather, the Great Outdoors have officially begun beckoning and we here at Oyster can't wait to pack up some supplies and make for the trail head. The United States offers some of the most varied and stunningly gorgeous terrains in the world that make the perfect backdrop for a back-to-nature hike, whether you're looking for a one-day jaunt or hoping to make a vacation out of the entire experience. No matter your ideal trail or fitness level, we've got you covered coast-to-coast with the best trails for an awesome hiking adventure. We've even included one spot you'll have to cross the Pacific to get to! Break out the rucksack and dig up your hiking boots, because here are nine of the best hikes in the United States... as well as the best hotels nearby for each.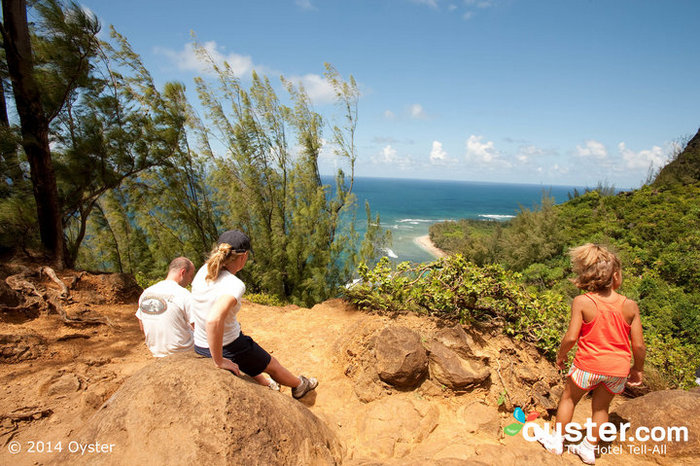 Gorgeous trails snake along Kauai's stunning coast, and the Kalalua Trail is one of the most stunning, with beautiful sweeping vistas from atop the cliffs. Visitors can choose to hike a portion of the trail for a day excursion, or make an extended trip out of it: The entire trail is about 22 miles and can take three to five days to traverse. It's often regarded as one of the finest — and most varied — coastal trails in the world, with challenging, muddy slopes and steamy tropical temperatures. Hikers can explore Kalalua Valley, home to enchanting waterfalls and lush foliage, or choose to rest up on the beach.
No TVs or phones here; instead, you get rare oceanfront views and easy access to hiking along the (practically adjacent) Na Pali Coast. The pool is small, housekeeping only comes every third day, and there's little on offer at the free breakfast aside from bagels. But the 48 two-bedroom condos with full kitchens are worth the downsized features.
About two hours north of Sedona, the Rim-to-Rim trail is often considered one of the best ways to experience the Grand Canyon. While some hardcore hikers make the trip in two days, many choose to spread the experience out over a pleasant, and more relaxed, three or four. The sunsets from Plateau Point are stunning, and Ribbon Falls, a stunning waterfall amidst the red rocks of the canyon, is a destination unto itself. There are campgrounds on either rim (North and South), but visitors can also reasonably tack this hike onto a visit to Sedona, or slightly farther-flung Phoenix.
The upper-middle-range Junipine Resort isn't a true "resort," as it lacks a swimming pool, fitness center, spa, and shops. Rather, Junipine is comprised of 50 individually-owned, creekside condos in secluded, woodsy Oak Creek Canyon — an ideal spot for some hiking, as well.
They say that Olympic National Park is, in reality, three stunning parks all rolled into one. The breadth of the park means you traverse everything from ancient forests to rugged mountaintops, from stunning valleys to coastal tide pools — all in the course of one day. The Olympic Wilderness Trail takes you through all three terrains, giving you a true taste of the country's wild side.
Olympic National Park is located about two hours west of Seattle, so making the city your base isn't a bad idea. The stylish Maxwell Hotel is a gem, hidden in an area of downtown that rarely sees a charming, full-service hotel. Guests of the hotel have the Space Needle and many major Arts venues at their fingertips.
There are many ways to hike Jackson Hole's Grand Tetons, but one of the best routes is across the Teton Crest Trail. Taking hikers past alpine lakes and over craggy summits, the trail guarantees a seriously beautiful adventure. Planning a trip in the summer means getting the chance to walk through valleys flowering with bluebells and lupine.
Set in a wildlife refuge more than 700 feet above the Jackson Valley, Spring Creek Ranch has arguably the most stunning views of the Tetons in the area. Rooms are hit-or-miss, but the delicious, popular restaurant and the excellent heated outdoor pool are lovely perks.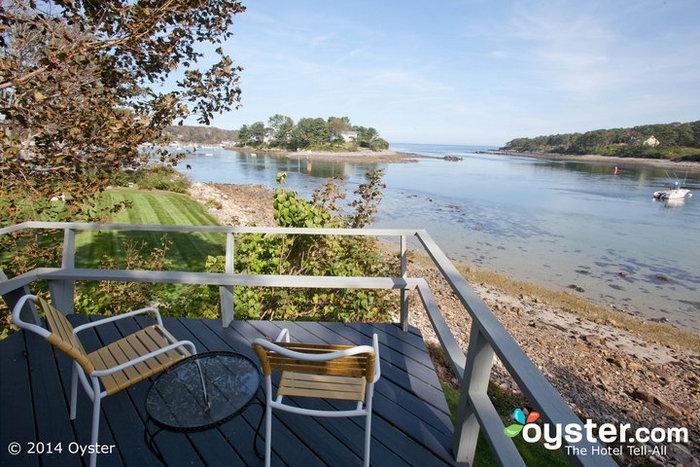 Maine's natural beauty has inspired everyone from Winslow Homer to Stephen King, and campers and hikers have long flocked to the stat's Acadia National Park. The only National Park in New England, Acadia has over 47,000 acres of untouched forest, coastline, mountains and lakes. Multiple routes vary in difficulty, and can take you through coastal cliffs or rugged forests.
The intimate James Place Inn is located about two and half hours from Acadia. Visitors can enjoy a coastal drive north that offers views almost as stunning as those you'll see in the park. The inn features polished rooms, some with fireplaces or soaking tubs. One of the most outstanding features is the extensive free breakfast.
There are dozens of trails surrounding Vail that hikers can make use of in the summer or winter months — but if trekking through over three feet of snow doesn't sound like your idea of fun, you'll likely prefer a summer excursion. Known as one of the most glamorous resort towns in the Rockies, Vail is also home to untamed natural beauty, which drew the rich and famous to the area in the first place. Vail Valley's spectacular views and rugged terrain feature lush meadows, conifer forests, and picturesque lakes — where more than one hiker can be spotted fishing for their dinner!
Stay: Vail Cascade Resort & Spa
With a beautiful creek-side setting and a private ski lift, the Vail Cascade Resort & Spa is a great overnight choice for those looking to get away and relax — while enjoying all the amenities of an upscale hotel. Highlights here include a beautiful infinity pool with adjacent fire pits, and a 78,000-square-foot fitness center and spa.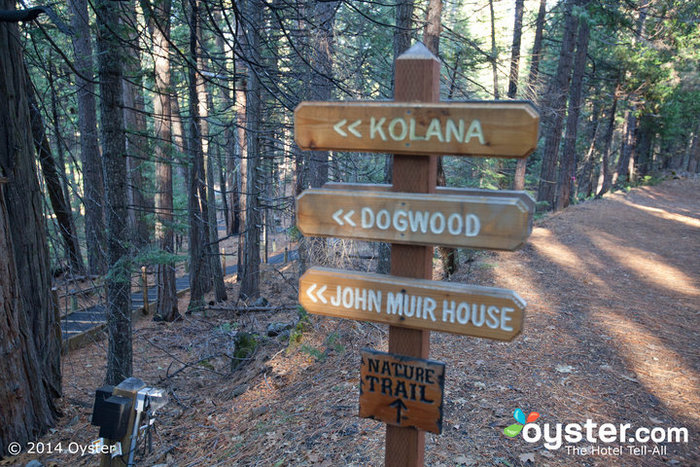 Hikers looking to explore Yosemite Valley can take a myriad of trails, but two stand out. Half Dome Hike takes you around the perimeter of the Valley, past Vernal and Nevada Falls, before leading you straight up the granite wall of Half Dome. Once you make it to the top (there are steel cables in place to help you on your way), the views will take your breath away. But the master of all trails — covering 211 miles — is the John Muir Trail. This hike is a trip unto itself, leading groups over 14,000-foot mountains, around lakes, through canyons, and up granite cliffs. It runs congruently with the Pacific Crest Trail, so if you're looking to start crossing that adventure off your bucket list as well, this is a good place to begin.
Evergreen Lodge is a 22-acre cabin resort surrounded by Stanislaus National Forest, about one mile from Yosemite National Park's western border. It's a great spot for nature lovers who want to disconnect for a bit and enjoy the serenity of the towering pines.
Part of the Appalachian Trail — which, at 2,180 miles, is one of the longest continuously marked footpaths in the world — the Taconic Highlands on the western edge of Massachusetts and Connecticut offer East Coasters a chance to get out in the wild in their own backyard. If you're not up for conquering the A.T. in all its glory, this is a lovely cross section to explore. For 17 miles, you won't cross a single road on this hike, giving you the illusion of being completely cut off from the rest of the world. You'll also see cliffs, cascading waterfalls, old-growth forests, and Mt. Everett, the second-highest peak in Mass.
About an hour from the heart of the Berkshires, the Winvian is a romantic, upscale property set on 113 acres of countryside outside tiny Morris, CT. The outstanding spa and the wonderful restaurant serving a tasty farm-to-table menu are just some of the highlights of this secluded stay.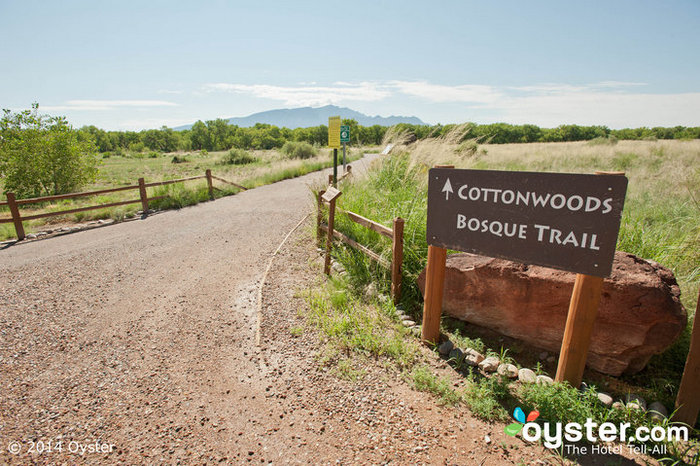 An easy hike through Albuquerque's loveliest sites, Paseo del Bosque is not only a great spot for hiking, but it's arguably even better for bicycling. You'll pass right by the Rio Grande, and make sure to keep your eyes peeled for roadrunners, coyotes, and deer. In October, hikers and cyclists get the added bonus of viewing the city's colorful hot air balloons during the festival.
Stay: Hyatt Regency Tamaya Resort & Spa
This upscale resort is a sprawling property on the Santa Ana Pueblo reservation 15 miles north of Albuquerque. Its gorgeous natural setting offers panoramic views of the Sangre de Cristo Mountains. Trails lead directly to the Rio Grande and the resort features numerous activities as well as a golf course, restaurants, and several pools.
To learn more about Kristina Fazzalaro, visit her on Google+
RELATED LINKS:
All products are independently selected by our writers and editors. If you buy something through our links, Oyster may earn an affiliate commission.