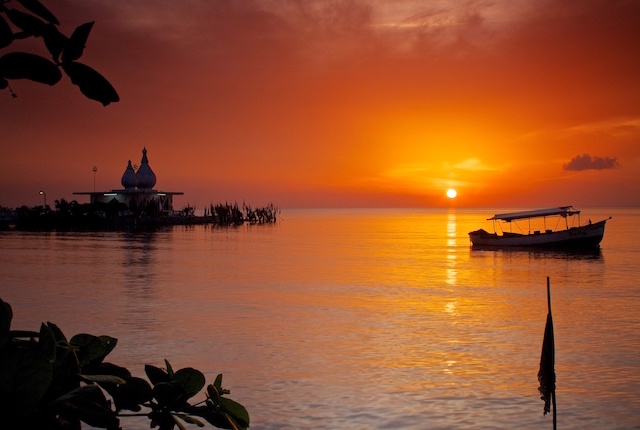 You may have already abandoned the New Year's resolutions you committed to in earnest before the clock struck midnight on December 31, but if you do only one thing for yourself this year, make sure it's catching the best free nightly shows in the Caribbean. And no, we're not talking about all-inclusive resort entertainment. Watching the sun set as a cliff diver jumps into the blue waters from Rick's Cafe in Jamaica or counting the different hues that appear in the sky at Grace Bay Beach on are unforgettable experiences. To help you decide where to stake out a viewing spot, we've scoured the Caribbean and compiled a list of the top beaches to watch the sunset.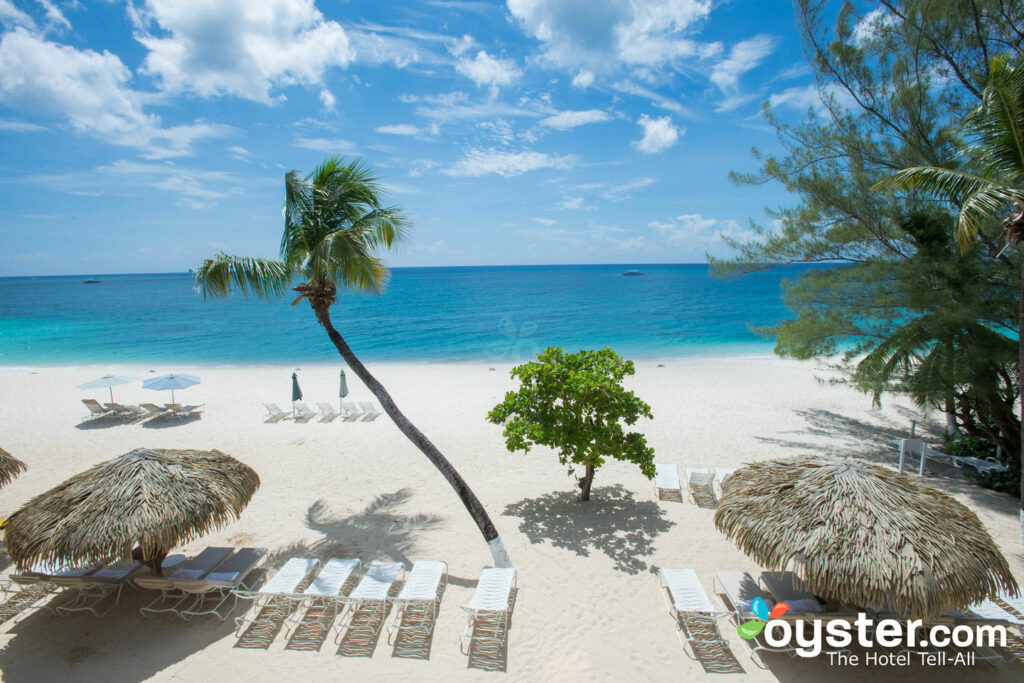 Sometimes the best attractions aren't a secret, but are nonetheless worthy of a visit. Case-in-point: , a well-known stretch of sand that's located on the western end of Grand Cayman island. Interestingly enough, the beach isn't actually seven miles, but comes close at five-and-a-half miles. Best of all, the shore forms a crescent shape — a stunning setting for sunset-loving travelers. Aside from its spectacular sunsets, the beach and its calm waters are also popular for snorkeling. Plus, tour companies take tourists swimming with sting rays, and there are plenty of restaurants to choose from along the beach.
Where to Stay:
2. Rick's Cafe, Jamaica
When the sun sets at Rick's Cafe in Negril, Jamaica, the cliff divers put on a show by jumping off the rocky cliffs or a perch high above in a tree. In 1974, Richard Hershman opened this restaurant, which is well-known and consequently often mobbed at sunset. Don't expect a traditional beach setting here, though. You won't find a sandy shore at this cliffside location, but there's a lawn area and plenty of seating along the walls for sunbathers. There's also live music, Caribbean fare, and tropical drinks (try the Jamaican Viagra and Rick's Cliffside Cooler). Tourists in beach attire often lounge along the cliff to watch the professional cliff divers flip off 10-, 25-, and 35-foot perches. And while amateurs also jump from lower tiers, the stunts are best left to the pros.
Where to Stay:
Located on the southwest coast of Great Abaco Island in the Bahamas, Sandy Point is a sleepy town with traditional Bahamian homes. The beach here is best known for its close proximity to the private island, Castaway Cay, which serves as a port for Disney cruise liners. The Flying Dutchman ship from "Pirates of the Caribbean" was even formerly on display in the area, but was removed in 2010. Sandy Point is nonetheless a quiet place that's perfect for uninterrupted sunset viewing. For a livelier atmosphere, mingle with locals in the evening at Sunset Bar & Grill, which offers live music on Sundays and serves up Caribbean food and stunning sunsets daily.
Where to Stay: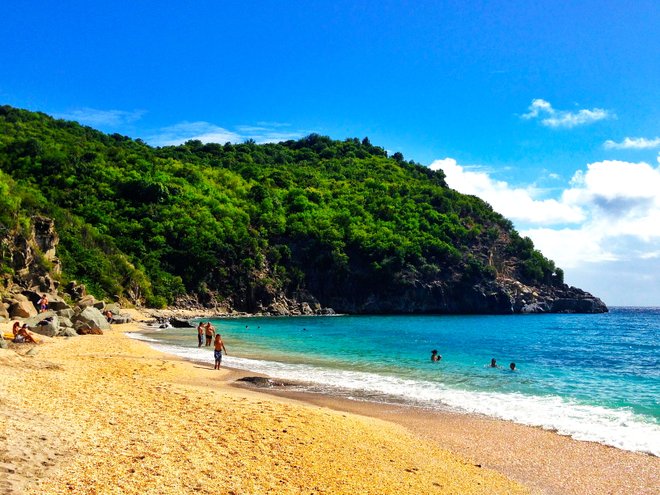 Shell Beach, a secluded stretch of sand, is walking distance from the Gustavia Harbor in St. Barts. The beach is known for its piles of sea glass and shells that are fun to collect, but difficult to traverse while barefoot. The good news is the sunsets here are amazing. Fun fact: even Naomi Watts and Liev Schreiber were spotted and photographed enjoying the beach. Boats often anchor in this little cove, where the water is typically calm enough for swimmers. Bonus: there's also a restaurant on the shore.
Where to Stay:
5. Turner's Beach, Antigua
https://www.instagram.com/p/BNVC-SRDHmy
Turner's Beach on the southwestern side of Antigua has everything you'd expect from a great beach: azure waters, white sand, and a bar and grill on the shore. Making the beach even more appealing is its easy access — it's off Valley Road, a main thoroughfare, and near Jolly Harbour, which boasts shops, eateries, and a marina. The island of Montserrat can be faintly seen in the horizon from the shores, making sunsets here extra special. Don't forget your gear because snorkeling is popular. And Turner's Beach Bar and Grill is known for its fresh catch, so bring an appetite, too. Tip: Visit Turner's Beach during the cruise ship off-season to avoid the crowds.
Where to Stay: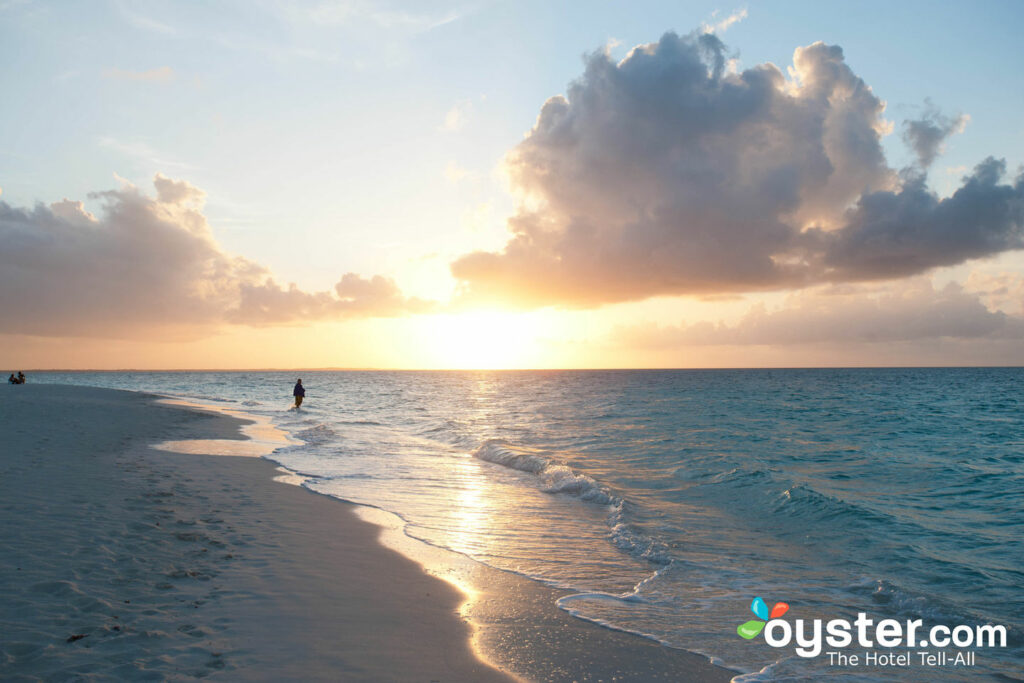 is home to the stunning Grace Bay Beach, which is known for its crystal clear idyllic blue waters, white sand beaches, and magical sunsets. The beach, which was named after Grace Jane Hutchings, the wife of the commissioner of Turks and Caicos, stretches for about three miles and is part of the Princess Alexandra National Park. Since there are no reefs, the beach isn't suitable for snorkeling, but it's perfect for sunbathing and sunset-watching. When you get hungry or thirsty, pop into one of the cafes or bars along the beach. And if you're looking for more to do, the beach also happens to be conveniently located near the Provo Golf Club.
Where to Stay: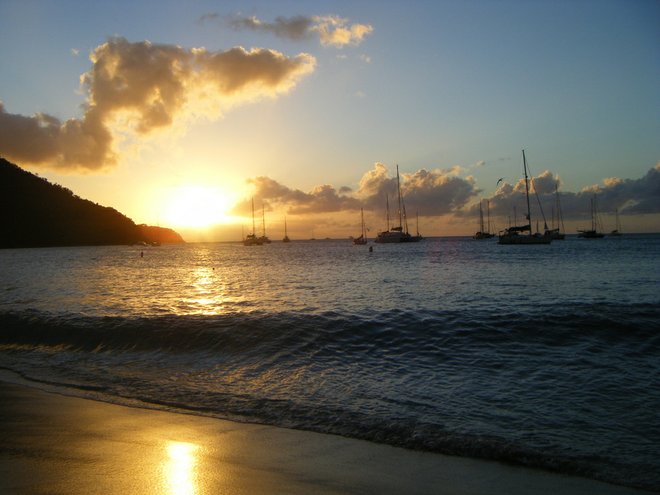 Despite the crowds that flock here during peak cruise season, Reduit Beach remains one of St. Lucia's prized beaches. The clean sands wrap around Rodney Bay, where you'll find loads of shops, restaurants, and cafes. Situated on the northern coast of St. Lucia, the beach is also near a cruise marina, so it tends to get busy, especially when vendors are peddling their wares on the shore. It's hard to find many faults with this sandy spot, particularly when you watch the sun set behind Pigeon Island National Park. The gentle waters also make it a prime spot for swimming and water sports.
Where to Stay:
Related Stories:
All products are independently selected by our writers and editors. If you buy something through our links, Oyster may earn an affiliate commission.