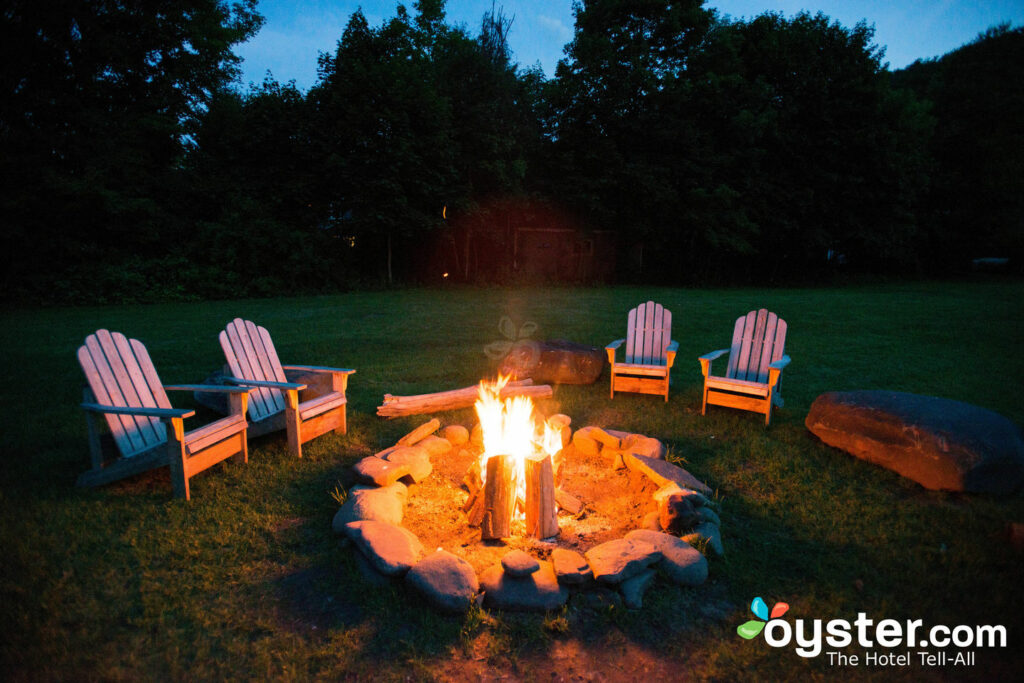 With no TVs, spotty cell service in the area, and a location surrounded by nature (but within walking distance of restaurants and shops), The Graham & Co. lets guests get away from it all. It is relaxing, clean and simple, with rooms of varying sizes (some have kitchens) featuring Tivoli radios with iPod hookups, reclaimed wood furniture, and large comfy bean bags — but little else. A small pool with mountains views; a large lawn with a fire pit, a volleyball net, hammocks and a projector for movie nights; and a covered lounge with games and music are all wonderful features. Great freebies such as Wi-Fi, loaner bikes, breakfast on weekends, and beer on check-in don't hurt either.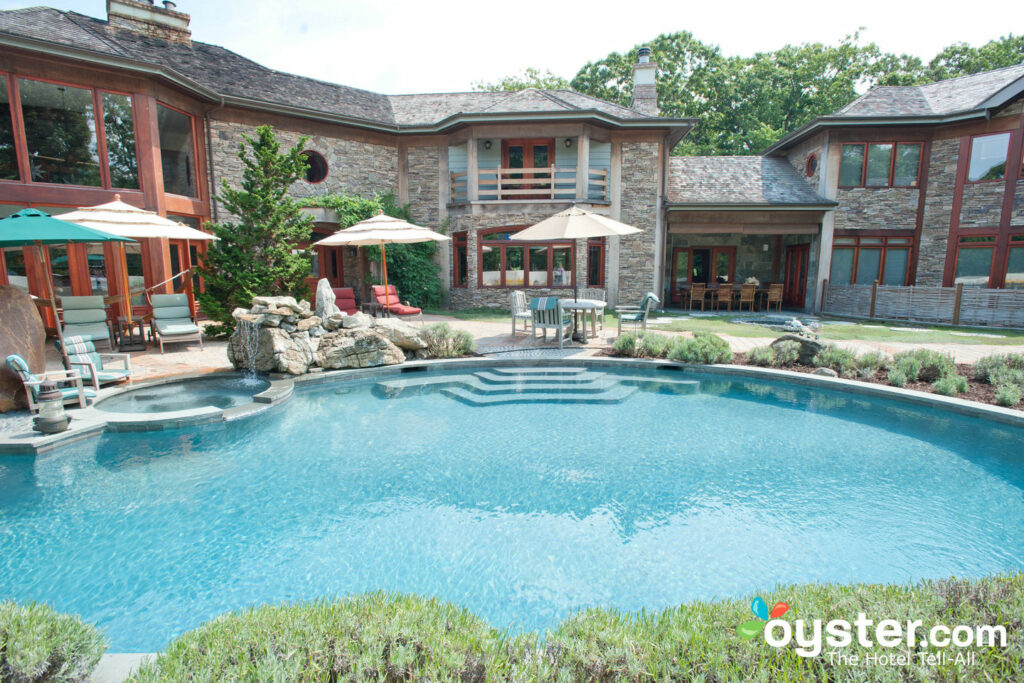 This elegant B&B in East Hampton is exactly what its name suggests: a house full of art. It was designed and decorated by the owners, Michael and Rosalind, who combine mutual talents in art and hospitality. There are only four rooms for rent, but there are all the amenities of a larger property, including endless communal spaces, an outdoor pool, and fitness center. Although big in scope, the Art House retains all of the personalized charm of staying with friends, making it a distinctive option in the Hamptons — though it comes at a high price.
The 109-room, upscale Gurney's Montauk stands out among Hamptons hotels, quite literally: It's one of the largest resorts in the area, and it also has the best beachfront location. No other Montauk resort compares in terms of features, and no Hamptons resort can match its truly terrific, and massive, stretch of sand. The free spa facilities (including an indoor pool and Roman bath) are also a highlight. Ongoing renovations have made (most of) the rooms contemporary and attractive, and many have stunning ocean views from private verandas. The elegant fine-dining restaurant also has views of the water. Just note that there have been some minor growing pains as this older property — once a time-share resort popular with local Long Islanders — transitions to a Hamptons hot spot.
This historic yet chic property in the center of East Hampton appeals to the stylish Hamptonite crowd with 16 rooms/suites, and three cottages decorated in Scandinavian design. Owned by a Swedish entrepreneur with 20 hotels around the world, this one is just steps from the village and a bike ride to the beach (with free beach cruiser loaners available). The pretty front porch, trendy restaurant, and distinct amenities (such as doggie menus and yoga classes in the Buddha garden) make this a popular choice.
This American Tudor-style hotel in Montauk is a summer hot spot that maintains an essence of "cool" without pretension. The 61 rooms and suites have a surf-chic vibe and appeal to the Manhattan set with amenities such as high-quality linens and Aveda products. Though not directly on the beach, expansive grounds include lawn games, daybeds, hammocks and an organic restaurant and bar. The outdoor pool — with live music on weekends — is popular, and the party scene has been known to carry on until the wee hours of the morning.
This 24-room boutique hotel in Southampton is geared toward the cool crowd with its famed restaurant and designer duds sold on-site. Live DJs keep the pool party scene going until late hours on Friday and Saturday — but the place becomes an oasis of calm midweek. Rooms are expensive, but they aren't the main draw; instead, steep prices give you direct access to a see-and-be-seen summer crowd (it's only open from May through September). But you'll have to drive to the beach, and the restaurants and shops in Southampton are a long walk away.
Unlike the majority of the Victorian-style bed and breakfasts in the Cape May area, or anywhere on the East Coast, the Mission Inn, built in 1912, was constructed in the classic California Spanish architectural style. Perfect for couples seeking a romantic getaway by the beach, the upscale inn includes individually designed rooms (each themed after a different California mission) and an impressive home-cooked daily breakfast
Not for the budget-minded, this hilly 11-acre lakefront lodge will feel like a vacation home-away-from-home. All of the 50 or so two-bedroom units (which fit up to six guests each) are well-decorated with lodge decor; quality is consistent despite the fact that many are owned individually and managed by the company. Expect lots of wood and plaid, as well as fully equipped kitchens with stainless steel refrigerators. Other notable features include covered porches, jetted tubs, charcoal barbecues, and laundry facilities (stores nearby sell toiletries and groceries). The Boathouse restaurant and bar provides a break from eat-in monotony, and like the property, it closes each year from November to April. Kids can keep busy at the private beach and indoor/outdoor pool, and couples will enjoy peace and quiet in the off season. Daily housekeeping comes with a fee. Wi-Fi is free.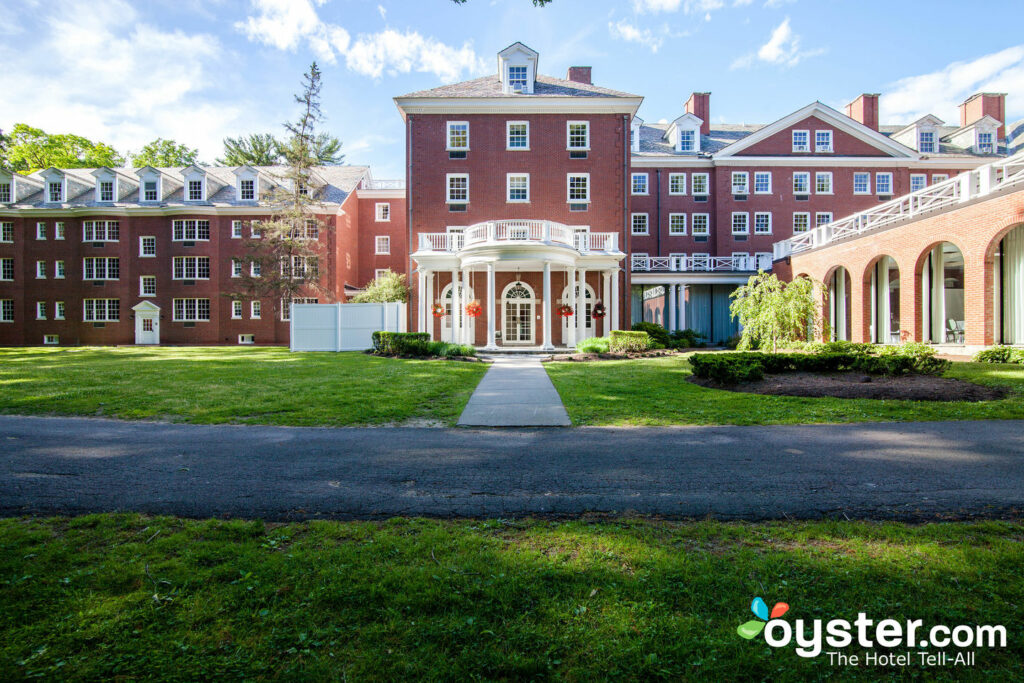 Originally opened in 1935, the upper-middle-range Gideon Putnam is a charming hotel located in beautiful Saratoga Springs Spa State Park. It's in a peaceful, wooded setting next to the park's golf course, connected to downtown via free shuttle, a nine-minute ride. Other amenities include a full-service spa, access to park pools, fitness center, and restaurant and bar. The 124 rooms are comfortable and have mini-fridges and Keurig coffeemakers. It's a solid choice for travelers seeking non-chain accommodations, although rates can spike significantly at times.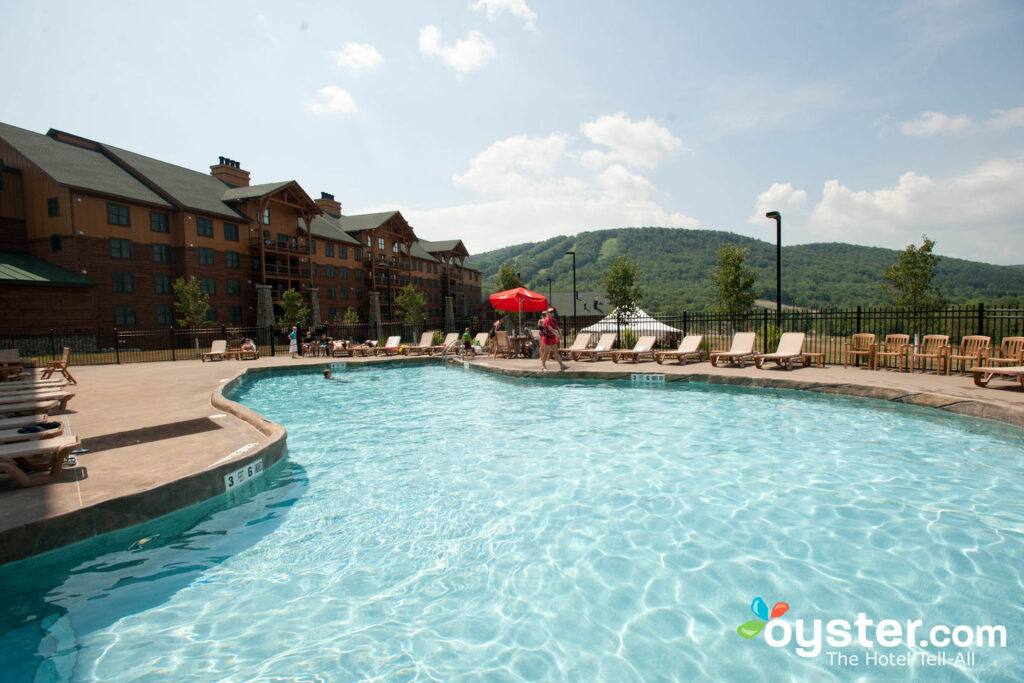 The 106-room Hope Lake Lodge is practically a town unto itself. Guests have access to an attached water park (for a fee), and free access to a pool and Jacuzzis. Ample activities in the area abound, as the property sits next to the highest point in the county — the ski resort — which is attached to a year-round adventure center for zip lining and snow tubing, to name a few. While it's easy for kids to stay entertained, adult activities include signature cocktails next to the lobby's cozy fireplace and spa treatments. The property has a Northwoods decor throughout, and many details were crafted from vendors in the area. The staff is made up of family members, students, and long-time locals, and the resort exudes a relaxed home-away-from-home environment.
The Stonover Farm Bed and Breakfast is a charming, contemporary 19th-century Berkshire retreat on 10 green acres that feature a duck pond and lovely barn for weddings. This upscale property is a six-minute drive to downtown Lenox and within walking distance of Tanglewood, an outdoor music venue where the Boston Symphony Orchestra performs in the summer. The husband-and-wife owners serve breakfast in the main house, which also has comfy fireside seating in a homey living room. There are three contemporary, country-style rooms, some with fireplaces, as well as a rustic-chic School House and a two-bedroom cottage with a kitchen. The property's small size means guests interact frequently.
Nestled near the heart of Chatham on 25 scenic acres overlooking Pleasant Bay, Chatham Bars Inn has been a local staple since 1914. The true Cape-Cod style architecture is complemented by lovely interiors to match — upholstered wingback chairs, antique-style turned-leg furnishings, and seafaring decor. But don't let the term "inn" fool you — this property is big and amenities-packed, with a beautiful spa, modern fitness center, scenic beach, fine dining, private chartered boats, and classic clay tennis courts. Thanks to the large pools (including a kiddy pool) and an extensive kids' club, the Inn is a popular choice for families — but guests looking for relaxation away from the bustling kid-friendly areas can book a room in the adult-only Spa Suites.
Carpe Diem Guesthouse & Spa is a relaxing, four-pearl escape from the party scene of Provincetown — but it's still close enough for those who feel like getting out and joining the fun. Each guest room is individually decorated in a nautical, New England fashion and is named after a writer. All come with flat-screen TVs and mini-fridges. Perks such as a delicious free breakfast, free wine and cheese hour, and a full-service spa are also draws for the adult-only crowd.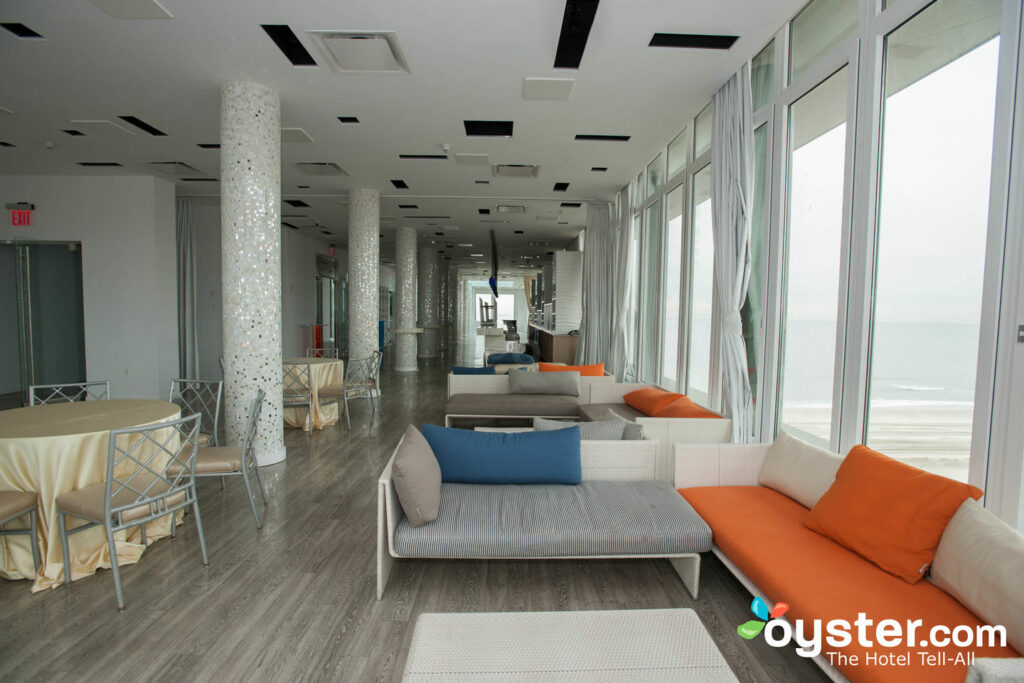 The Allegria Hotel is a chic 143-room boutique delivering a dose of Miami style right on the Long Beach boardwalk. It draws both trendy Manhattanites looking for a convenient beach getaway and business travelers attending corporate events on-site. Big rooms have light, airy decor, plush beds, and sleek limestone bathrooms; some have beach and ocean views. The restaurants serve gourmet organic cuisine and tasty cocktails, and in nice weather Atlantica restaurant opens its windows right up to the boardwalk. Hurricane Sandy hit Long Beach hard, decimating the boardwalk and flooding the hotel lobby. The hotel fully rebuilt, but some guests complain that rooms fall short of luxury expectations.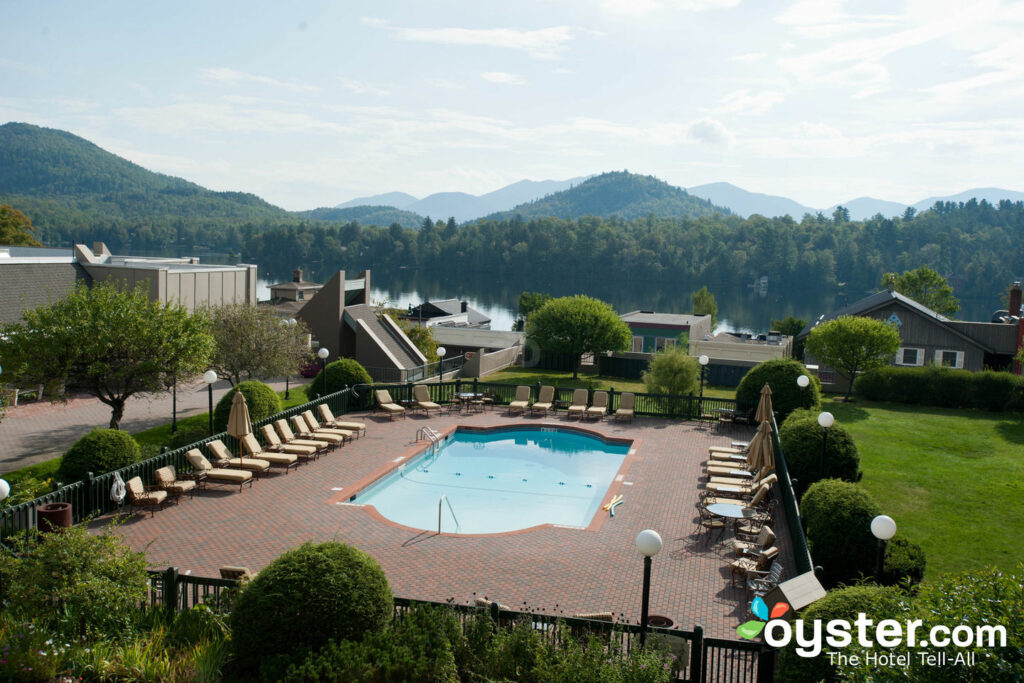 Located in the heart of Lake Placid, this lakefront resort manages to feel simultaneously central and secluded. Most rooms offer scenic views over Mirror Lake — don't miss the stunning sunrises — as well as modern amenities and noteworthy bathrooms (standard rooms have spa-like rainfall showers lined in natural stone) compared to neighboring properties. Despite the central location steps away from all of Main Street's offerings, there's plenty to keep guests occupied on-site, including two indoor and two outdoor pools, an Aveda Concept Salon and Spa, a modern fitness center overlooking the courtyard pool, and a casual restaurant with a seasonal outdoor patio. During the summer, guests can enjoy lawn games and free use of kayaks, canoes, row boats, and stand-up paddle boards.
The 121-room Mansion at Ocean Edge Resort & Golf Club is an upscale, historic Cape Cod estate with sprawling facilities. Situated in the charming town of Brewster, this property has a lovely private beach (which isn't available to guests at the sister property, The Villages). Resort features are split between the two properties — meaning that some are up to a 15-minute walk away — but are plentiful including indoor and outdoor pools, volleyball and tennis courts, an 18-hole championship golf course, fitness center, kids' activities and camps, and four on-site restaurants. But there's a daily resort fee and a fee for breakfast. Rooms are spacious and charming with separate sitting areas, furnished balconies or patios, and roomy bathrooms.
This lovely, 27-room boutique hotel is located just minutes from the ferry landing in the Ocean Beach section of the island, and is best described as a collection of lodgings versus a hotel, since there are rooms in the main hotel as well as separate cottages, bungalows, suites, and efficiencies. In other words, your stay will largely be predicated on the type of room you book. No matter what size space you end up in, however, you can rest assured that it will be clean and comfortable (though perhaps somewhat small) with comfy bedding as well as modern amenities. Some rooms have full kitchens and patios as well. There's also an interior courtyard with loungers and barbecue grills, and a private "beach" near the bay. The affiliated CJ's restaurant serves up a varied menu and strong cocktails. Bicycles and wagons — the latter used to cart luggage from the ferry or umbrellas and towels to the beach — are free for guest use.
The upscale Platinum Pebble Boutique Inn is a quintessential Cape Cod bed-and-breakfast, in a quiet neighborhood near wooded walking trails. Its eight rooms range from small but elegant, to big, stylish spaces embellished with fireplaces and rock 'n' roll iconography. Rates tend to be more affordable here than at luxury competitors, since the inn is not on the water. But the location a three-minute drive to the beach is still convenient for tourists, and West Harwich can be a good base for exploring other parts of the Cape. The grounds are lovely, with a patio and fireplace, along with a seasonal outdoor pool. Ample freebies include a hot breakfast, parking at a local beach, use of bicycles, and Wi-Fi. Kids under 16 aren't allowed.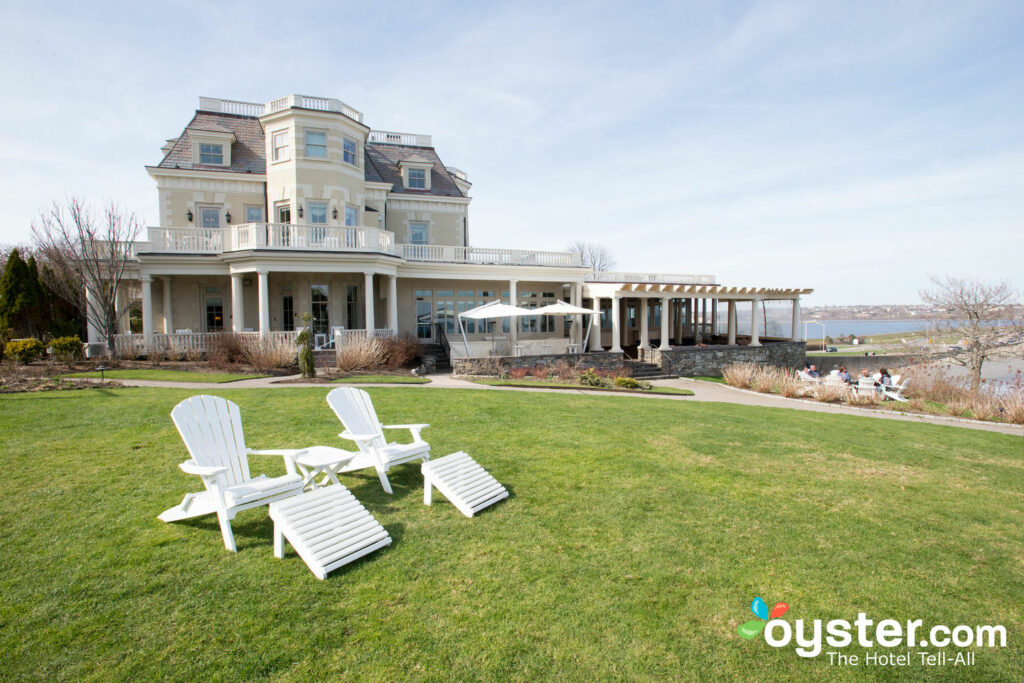 Mention to anyone in Newport that you're staying at The Chanler at Cliff Walk, and you'll likely be met with wide eyes and a serious nod of approval. The reaction is warranted: The Chanler, an upscale boutique with incredible ocean views, is nothing short of spectacular. Everything — from the hotel's mansion-like appearance, to its richly decorated rooms, to its acclaimed fine dining restaurant — is superb. However, room rates are expensive, and there is no pool, spa, or fitness center. Most rooms at The Chanler can only accommodate two people.
Vanderbilt Grace is a 100-year-old mansion built by the Vanderbilt family that has been converted into a modern, elegant hotel. It's a luxury property, so accommodations here don't come cheap, but the rooms are well-appointed, the dining is first-class, and the location is prime — close to Newport, but without the noise. A spa, a substantial fitness center, and two swimming pools round out the list of features. Plus, guests get plenty of free Champagne — when they check in, and at breakfast every morning.
This charming, elegant B&B fits in nicely with the Nantucket atmosphere, and is the only inn on the island to provide a full, hot breakfast (thanks to its commercial kitchen). The lovely rooms don't come cheap, but then again, nothing on Nantucket does. And the fact that downtown is a mere three-minute walk may make it worth the price for some.
Guests come to Natucket to get away from it all — and with a remote location away from downtown, The Wauwinet is about as away from it as you can get. The charming New England property is surrounded by both the bay and the ocean, and some (bayside) guest rooms offer amazing sunsets. One of the island's most loved restaurants is here, which is just another reason the rates are so high — especially during the peak summer months.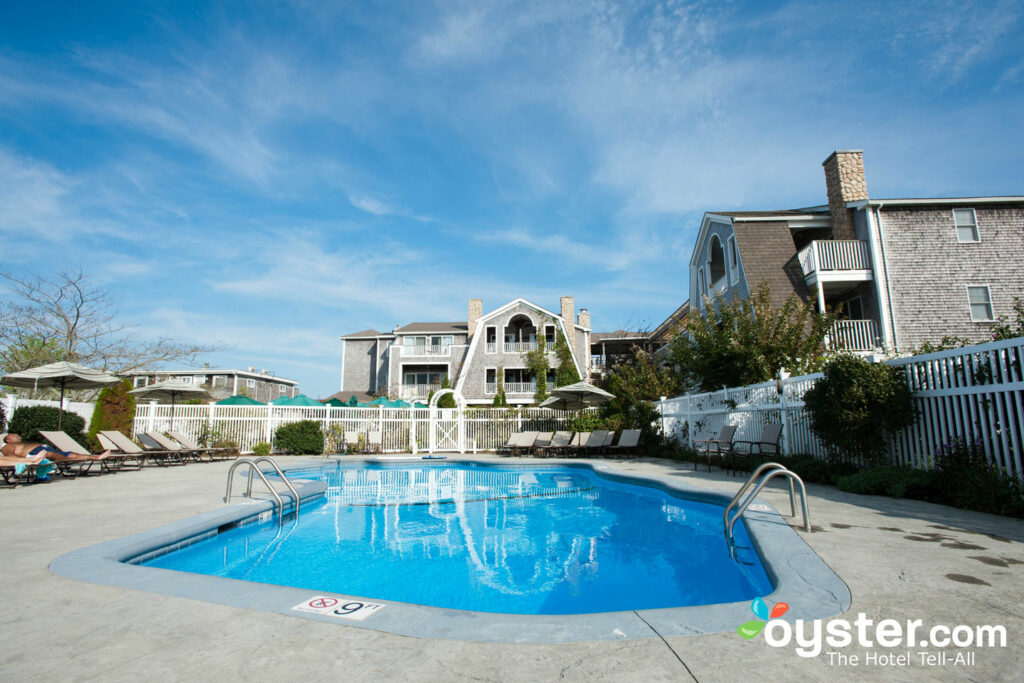 The Winnetu, a massive property (for Martha's Vineyard) with gorgeous views and a location within a quick walk of the beach, doesn't come cheaply. But families with kids will appreciate that the majority of activities are included in the room rates. The rooms are simple but comfortable, and refreshingly decorated in a colorful, coastal-cottage style. All rooms offer the amenities for cooking and dining in, but the on-site gourmet grill is a delicious option for dining out as well. Although it's a short drive (or free shuttle) to Edgartown's Main Street, the resort offers plenty to do on-site — including yoga on the lawn, weekly seasonal clambakes, two outdoor tennis courts, a heated outdoor pool, and a putting green. The resort mainly caters to families, who often opt to book the more spacious cottages or multi-bedroom suites.
You'll Also Like: