Our things-we-love-about-Japan list is long and far-ranging. It includes the culture, architecture, and scenery, and the high-tech toilets, cat cafes, and karaoke bars. Japanese onsen (natural hot springs) have a very special place on that list. After all, soaking in warm, mineral-rich water stimulates circulatory and lymphatic systems, relieves pain and discomfort, and just feels plain wonderful. Plus, many hot springs in Japan have natural backdrops so stunning (oh, hey, Mt. Fuji), they look like scenes from woodblock prints come to life. Below, check out our guide to Japan's top hot spring destinations.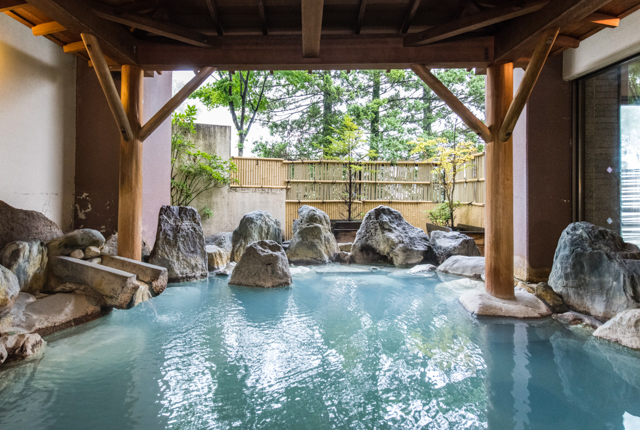 The hot springs of Kusatsu have some serious pedigree. Japanese legend places their discovery nearly 2,000 years ago, and by the 1600s, they were sought after by samurai seeking relief from all sorts of sword- and battle-related injuries. Fast-forward to 1876, when even the court physician to the emperor, Erwin Balz, paid the hot springs a visit and was utterly convinced of their far-reaching therapeutic power. Today, the Balz Kinenkan museum is a popular Kusatsu attraction — but only after the hot springs, of course. Kusatsu's hot springs are anchored by Yubatake, a huge, steaming hot pool and gathering point in the center of town.
Hotel Pick: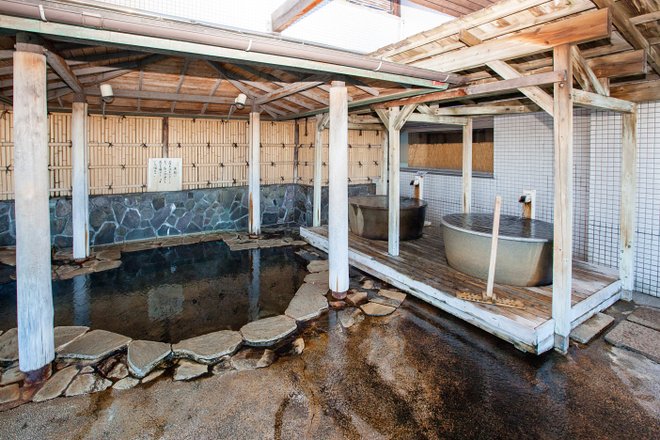 The seaside city of Atami (literal translation: "hot ocean") is set on a steep volcanic crater on Sagami Bay, under two hours from Tokyo and Yokohama. The resort town's mild climate and sandy beaches (especially with their summertime fireworks and entertainment) are big attractions, but the chloride and sulphur hot springs have been the main draw for ages. It's said that Japan's 17th-century military leader had Atami water carted 70 miles to his castle in Tokyo just so that he could bathe in it.
Hotel Pick: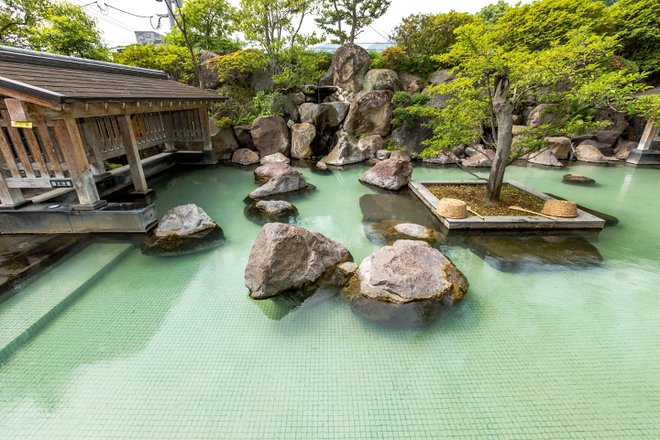 Located below volcanic mountains on the southern island of Kyushu, Beppu is a spa destination that stands out for its sheer scale (there are more than 2,000 hot springs around) and scope (in addition to the standard hot water, one can immerse themselves in mud, steam, and even sand — just try not to think about the Japanese art-house thriller, "Woman in the Dunes"). All in all, Beppu releases the most spring water in all of Japan — somewhere in the neighborhood of 130,000 tons a day. (On the world scale, Beppu's amount of water expelled is second only to Yellowstone National Park in the United States.)
There are countless ways to experience Beppu's aquatic offerings. Most visitors hit Hells (more formally, "the eight hells of Beppu"), a circuit of the eight major hot springs, all with public baths and private inns equipped with their own bathing areas. The 1879-built Takegawara Spa is one of the city's most famous bathhouses, with warm-sand and hot-water baths and an Old World aura. And as of this past summer, a "hot tub theme park" — complete with roller coasters and merry-go-rounds equipped with soapy-water-filled tubs instead of traditional seats — provides an all-new, delightfully silly way to take the waters.
Hotel Pick: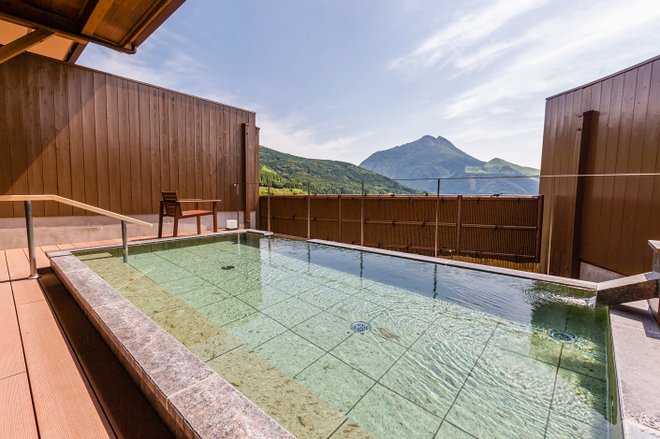 Though it's only 10 minutes away, the hot spring resort of Yufuin is the antidote to the modern and far-more-developed Beppu. Instead, the quaint onsen destination — tucked between mountains and rice paddies — feels like the low-key and lovely river village that it is. Most of Yufuin's bathhouses are for locals only, but Shitanyu, a mixed-gender bathhouse on Kinrin Lake, is open to non-residents, plus there are a handful of hotels and ryokans with on-site springs.
Hotel Pick: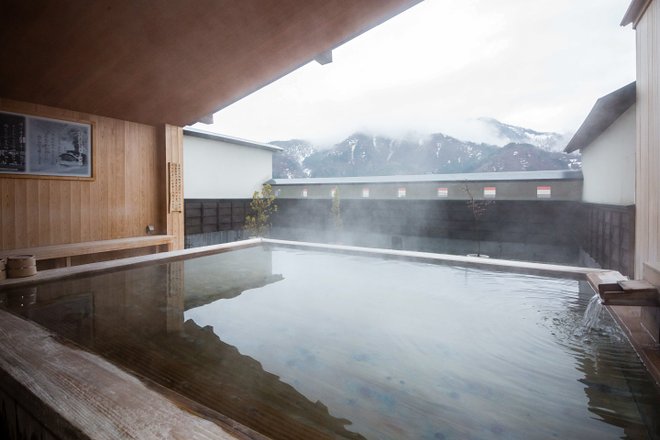 Is there anything better than a day on the slopes followed by a steamy soak? Set within the mainland's Japanese Alps, Yuzawa is a resort town famous for its ski trails and hot springs. Many baths are located at the ski resorts, but non-skiers can make use of the facilities at other hotels, public bathhouses, or even the bullet-train station, which has a hot springs bath with 106-degree-Fahrenheit water — blended with sake. Yuzawa's Echigo-Yuzawa Station also has a tasting room with sakes from more than 100 local breweries. So perhaps we should make our question: is there anything better than skiing, soaking, and sake-sampling?
Hotel Pick:
For centuries, stressed-out city folk from Tokyo have made the 60-mile trip to Hakone for its misty-mountain scenery (including the spectacular sight of Mt. Fuji rising above a serene lake), hiking, and hot springs. In fact, the Hakone village of Miyanoshita was the country's premiere resort during the turn of the last century, thanks in large part to its huge number of geothermal hot spots. Modern-day Hakone can feel overrun with tourists, but there are plenty of hidden-away bathhouses, day spas, and ryokans (traditional Japanese inns) with private baths.
Hotel Pick: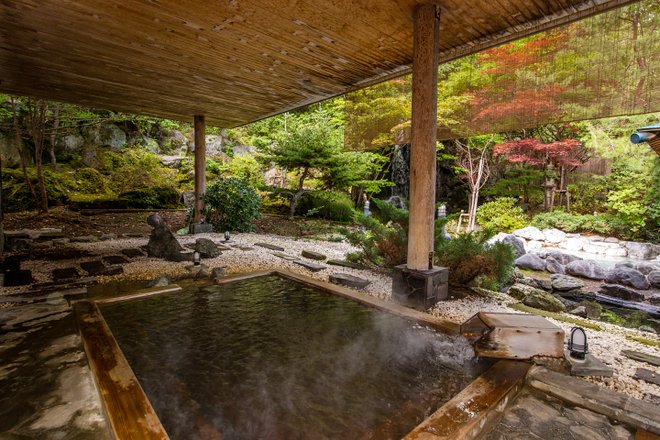 You can smell the sulphur pouring out of Noboribetsu's steam vents long before you arrive. The tiny town's variety of mineral-rich waters and steaming landscape are courtesy of Jigokudani, a volcanic valley (also known as "Hell Valley") about a five-minute walk above the bus stop. Jigokudani is a remarkable and otherworldly sight of hissing steam vents and sulphur-rich creeks surrounded by pristine green woodland. Back in town, there is a large number of bathing facilities, including private complexes at hotels and ryokans (many accessible to non-guests with day passes), and an indoor public bathhouse.
Hotel Pick:
Kinugawa Onsen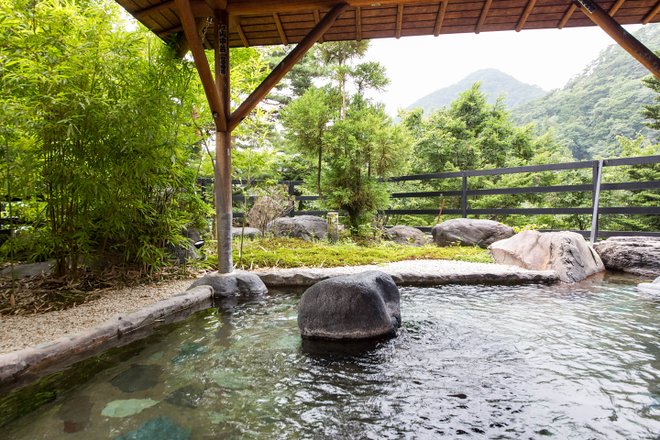 Like Hakone, Kinugawa has long been an onsen idyll for Tokyoites wanting to get out of the city. The onsen's namesake is the tranquil Kinugawa River, near Nikko. Kinugawa's 70s-era tourism boom is still apparent in the form of inelegant high-rises crowding the riverbanks, but rustic riverside inns, walking trails, and public parks help offset the somewhat blighted scenery. Of course the area's main asset is its many soaking options, from private hotel complexes to open-air, river-view bathhouses, as well as nearby hot spring destinations, like Okukinu and Yunishigawa, in neighboring valleys.
Hotel Pick: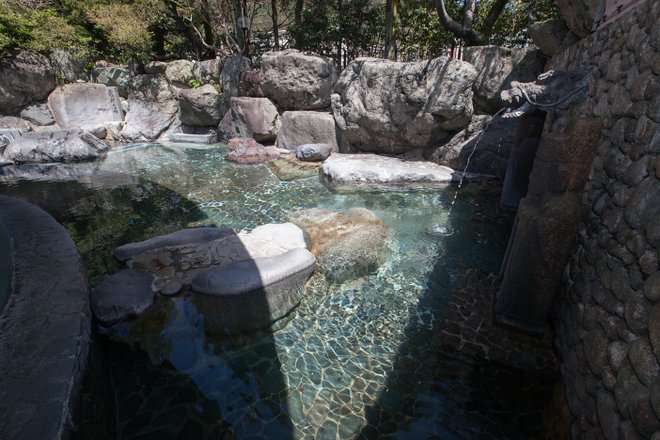 Along with Kusatsu and Arima, an onsen in Kobe, Gero is one of the oldest hot spring destinations in Japan. Don't be surprised to see visitors wandering the streets here in bathrobes; many do so as they bath-hop across the town, trying out the various foot spas and thermal springs. There is even a free open-air bath by the river that winds through the town. Between soaks, check out Gerohatsu Onsen Museum, which sheds light on Gero's 1,000-year history — and offers gorgeous panoramic views of the town's mountain scenery.
Hotel Pick:
NOW WATCH: 9 Things You Should Never Do in Japan
You'll Also Like:
All products are independently selected by our writers and editors. If you buy something through our links, Oyster may earn an affiliate commission.