Bali is known for its beautiful temples, breathtaking rice terraces, and beaches, but like all travel destinations, there are opportunities for missteps. Whether you're hoping to visit the sacred Pura Besakih temple or go surfing in Bali, there are some tips you should know ahead of time. To ensure you don't fall prey to a costly scam, we've rounded up the seven most common travel scams in Bali so you know what to look out for on your next trip here (or anywhere in Southeast Asia, for that matter).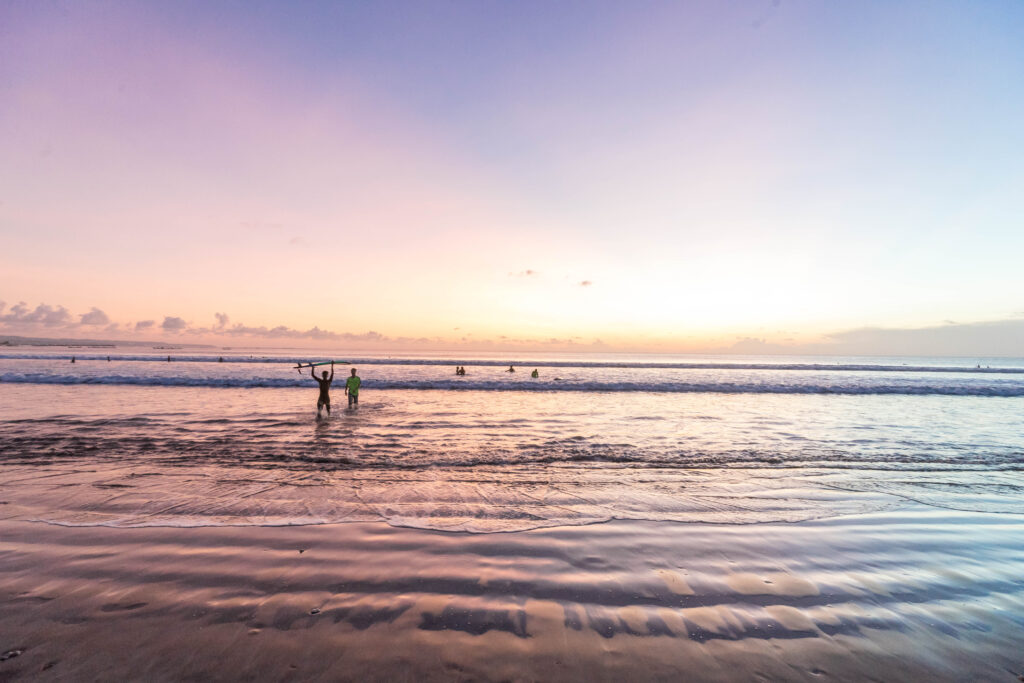 1. Currency Exchange Scam
This is arguably the most prevalent travel scam in Bali. Currency exchange booths are located throughout the island — some of these are safe while others warrant concern. In the latter camp, look out for vendors offering high exchange rates or no fees — savvy travelers know that these deals are generally too good to be true. Many people have reported that they will pocket some of your money, often by directing your focus to a calculator or your wallet after they've counted your cash out for you. As with any destination, it's wiser to exchange your cash at reputable banks, or using an ATM located in an upscale hotel, bank, or at the airport. Additionally, become familiar with the local currency so you know how much you're giving and the amount owed back to you when handing over money.
2. Taxi Scams and Uber in Bali
There are a few taxi-based scams that you might encounter in Bali. First and foremost, be sure that if you get into a taxi that the meter is on and starts running when you begin your trip. Failing to do so may result in an exorbitant bill at the end of the journey. Alternatively, you can set a price beforehand, but have a sense of how much it should cost before agreeing on a fee. The most reputable Taxi company in Bali is Blue Bird Taxi, but it's still wise to take precaution, especially as some drivers have reportedly posed as Blue Bird Taxi drivers. Keep in mind that Uber in Bali is officially banned, and the few drivers who use it — as well as their passengers — do so at the peril of local taxi mafias and syndicates (as well as local law enforcement).
3. Motorbike and Surfboard Rental Scams
Motorbikes and surfboards are both common rentals in Bali, but they can cost travelers much more than the rental fee if they're not careful. When renting a bike or surfboard, check for any damage when picking it up and make note of it to the vendor. Exercise extra precaution by taking photos when you retrieve the rental, in case the vendor claims that you've done any damage upon returning it. Some travelers have even warned of vendors secretly retrieving motorbikes when the traveler has parked them elsewhere, and then making the tourist pay for it by claiming that it's been "stolen." To avoid these issues, research a reputable bike or surfboard rental shop beforehand; your hotel is also often likely to rent both items as well (and have a far more detailed track record of user reviews).
4. Tampered Arak Scam
You'll want to exercise extra caution with this scam, as it can have serious and potentially fatal effects on your health. Tampered alcohol continues to make headlines around the world, most recently as a potential culprit in several suspicious deaths of American tourists in the Dominican Republic. Bali's version of this scam involves local arak liquor being mixed with cheap methanol, which can result in blindness or death. Tourist fatalities have been reported from this scam, so we advise steering clear of arak altogether. Even so, the danger doesn't end there. You may only want to order vodka drinks from reputable establishments, as there have been reports of vendors using arak instead of vodka to save money. For those truly concerned about their safety, buy your own imported bottles of liquor and stick to ordering beer.
5. Parking or Entrance Fee Scam
Staged outside of smaller temples or other tourist sights, scammers will approach tourists saying they need to pay an entrance or parking fee when there is none. You have a couple of options when this happens: If you're being asked for an entrance fee when you know there isn't one — or if the person is not the actual staff providing admission — simply continue along your way. For parking, you can either choose to park elsewhere or say you're going to leave — which will often cause them to lower the fee. However, if safety is a concern in either scenario, it's best to pay what's asked — chances are it only amounts to a couple of dollars at most. Keep in mind that major temples, like Tanah Lot and Uluwatu, as well as tourist attractions like Ubud's Sacred Monkey Forest, do charge an entrance fee at official booths.
6. The Free Guide Scam
Like popular tourist sights around the world, those in Bali draw not just one, but many types of scammers. These also include people offering to be free guides to travelers. However, at the end of the tour, they'll essentially demand a tip or donation for the tour or railroad you into visiting a shop selling overpriced, supposedly authentic souvenirs. If you're interested in having a guide take you around Bali and its sights, find a reputable one beforehand. Otherwise, expect to pay on-site for one of these "free tours."
7. Timeshare Scam
The timeshare scam spans the globe, including Bali. In essence, travelers are somehow informed that they've won a prize that entitles them to a free meal and tour, but they'll need to go to a certain location to claim it. After being picked up at a hotel, tourists are then taken to an often out-of-the-way location where they're given an aggressive timeshare pitch. If the traveler chooses not to purchase a timeshare, they'll almost undoubtedly have to find/pay their own way back to the hotel.
The 289-room Hotel Indigo Bali Seminyak Beach is a luxury resort just across the road from Double Six Beach. The stylish, modern decor is a highlight among guests, as is the adults-only Secret Garden Pool, beach-facing pool deck, and holistic spa. Spacious, attractive rooms have outdoor spaces, comfy beds, and swish showers. Suites add sitting areas and tubs, while villa perks and privacy are top-notch. Features consist of three restaurants serving Indonesian and international cuisines, three bars, and three pools, an elegant spa, and small beach club.
With a TSA-approved locking system, a hard exterior shell, 360 degree spinning wheels, and a USB charging port, this carry-on is built to be the last you'll ever have to purchase.
You'll Also Like:
All products are independently selected by our writers and editors. If you buy something through our links, Oyster may earn an affiliate commission.