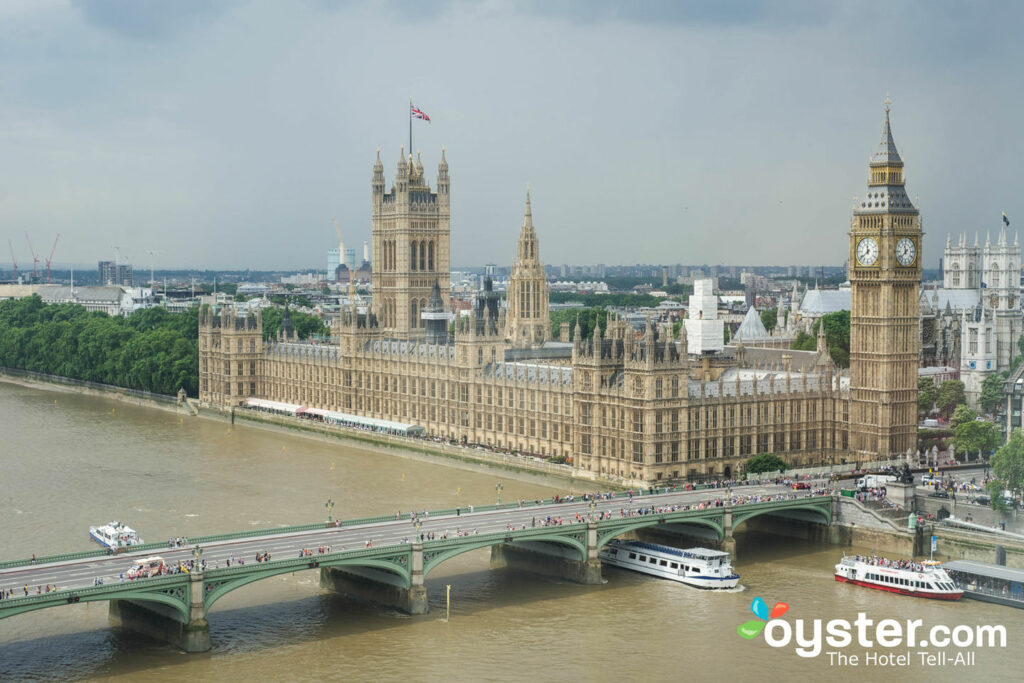 Blending the old and the new, London manages to perfectly balance its proclivity for history and tradition with a cutting-edge culture. From Tate Modern to Whitechapel Gallery, Mayfair's fine-dining restaurants to Peckham's street food, the London experience can be different for every visitor. However, there are some things worth keeping in mind, despite where you're heading. Here are 10 important things every traveler should know before visiting London to make the most of their trip.
1. Transportation is expensive, so get an Oyster card.
Opening in 1863, London's underground transportation system is the oldest in the world. To ride the Tube today, locals pay some of the highest prices in Europe (an all-day travel card costs £13.10 per day between Zones 1 to 4). To avoid shelling out a chunk of money, skip the travel card. Instead, get a pre-paid Oyster card with which you pay lower fares and can just tap in and out of trains and buses. If you're on a tight budget, use the bus whenever possible. The bus system is efficient and relatively easy to navigate, particularly with an app like Citymapper. Plus, you'll get to enjoy the street scenes during your trip.
2. The Underground is not the best way to get to and from the airport.
Unless you want to sit on a busy train, crammed between your luggage and a carriage full of commuters, forget using the London Underground to get into the city from the airport. Taking the Tube from Heathrow to King's Cross can be tempting, but the hour-long ride isn't offset by the affordability — unless you're really watching your budget. If you're traveling in a group (and not in a rush), split the cost of a return taxi. Otherwise, the rapid Heathrow Express train is the best way to go. It costs £37 return, and is a 30-minute journey to central London.
3. London is largely safe.
London has suffered from terrorist attacks and remains on constant alert, but overall, the city is a safe place to visit. The threat of violent crime is no higher here than most other large European cities — and even pickpocketing isn't something to worry too much about, provided you're sensible with your belongings in heavily populated tourist areas. As a thriving multicultural city, London is also a safe place for solo and LGBTQI travelers.
4. There's so much more to the city than the West End.
Any first-time visitor to the city will want to see the iconic landmarks, including Westminster Abbey, Houses of Parliament, and the London Eye — all located around central London. Throw in Soho, Mayfair, and Hyde Park, and you could easily stay more or less in the heart of the city for your entire trip. However, not venturing farther than the Southbank or Museum Quarter would mean missing out on plenty of cool neighborhoods. From Notting Hill to Hackney, King's Cross to Kentish Town, the small pockets of culture found farther from the West End will make your experience to the city so much more complete.
5. The parks should not be missed.
London may not be the most attractive European city in terms of unspoiled architecture and romantic boulevards, but it has some great green spaces. There's Hyde Park with the Serpentine Gallery within it, Regent's Park with the London Zoo inside it, Green Park, which sits close to Buckingham Palace, and Holland Park with its beautiful Kyoto Garden. Other top options include the hip London Fields, Victoria Park, and Hampstead Heath with its wild swimming ponds. All this to say, you can visit London and get a taste of nature without leaving the city.
6. It's legal to drink alcohol in many public places.
London is generally lenient when it comes to consuming alcohol in public. We're not advocating getting wasted on Oxford Street with some cans you've purchased from a local store, but go ahead and enjoy Pimm's in the park with a picnic or a cold beer on the Southbank by the river. Some areas have what's known as 'Public Space Protection Orders,' which are generally designed to prevent people from abusing alcohol in busy areas. However, in most of the city, sensible public drinking is allowed.
7. Tipping is discretionary, but encouraged.
In London, tipping for drinks at the bar is not required, so you can keep your cash to pay for that pricey public transport. Tipping is, however, encouraged when dining (or pretty much wherever you get table service). You'll either see a discretionary service charge added to the bill (usually 12.5 percent) or 'service not included,' in which case you can decide what to leave (usually a minimum 10 percent).
8. Most museums and galleries are free.
Even factoring in the relatively generous exchange rate, London is an expensive city. From restaurants to transportation, attractions to hotels, there's a high price for almost everything, so it's just as well that the majority of the city's cultural institutions are free. While you do have to buy tickets to see temporary exhibitions in many London galleries, including the Tate Modern, the National Portrait Gallery, Tate Britain, the V&A, the National Gallery, the Natural History Museum, and more, the permanent collection is always free of charge. Throw in the various contemporary art galleries dotted throughout Mayfair and the West End, plus quirky smaller museums, and you could spend a week or more looking at great art without spending a penny.
9. The food scene is great.
By now, the notion that British food is terrible has largely been dispelled, particularly in a place like London where so many cultures contribute to the culinary scene. If you want a full English breakfast, you can find the real deal in almost any greasy spoon or a gourmet version at many brunch spots. If you want fish and chips, avoid chain pubs and go independent, or better yet, go to a proper fish and chips shop, where you'll be served in a paper wrap and have the option of adding a gherkin, pickled egg, and mushy peas to the side. Overall, there are so many great places to eat in London, from budget options to fine-dining establishments.
10. Londoners are generally friendly.
Banish the misconception that Londoners are rude. They're a happy bunch, particularly when the sun comes out. Don't forget to say thank you and you'll be treated well. As for the mistaken belief that they dislike Americans, we would argue that it's quite the opposite, as Americans still hold a mysterious allure for many Londoners.
You'll Also Like:
All products are independently selected by our writers and editors. If you buy something through our links, Oyster may earn an affiliate commission.