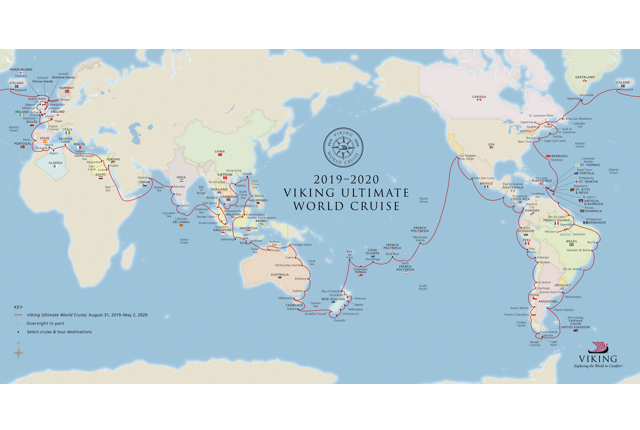 Viking Sun, a 465-stateroom vessel that accommodates 930 guests, is offering travelers the chance to check off more from their bucket list during one cruise than most people do in a lifetime. We'll let the numbers speak for themselves: The epic odyssey is slated to circumnavigate the globe for 245 days, cover 59 countries and 113 ports, and include 22 port overnights, making it the longest-ever world cruise.
Starting in London on August 31, 2019, the eight-month journey will hit dozens of vibrant cities, charming towns, and idyllic islands. Among the scheduled stops are Iceland, Greenland, a few Caribbean islands, many less-frequented South American cities (including some in Patagonia), several destinations in the South Pacific, tons of places in Southeast Asia, a few spots in the Mediterranean, and the list goes on. Oman, Jordan, and Egypt are also on the itinerary. This marks Viking's third voyage around the globe, but it's nearly twice the length of the company's previous around-the-world itineraries.
Can't skip town for 245 days? The company announced that it will also give guests the option to sail one of two shorter segments during the cruise. Viking World Treasures, a 127-day sailing from London to Los Angeles, will visit 33 countries and 61 ports ($47,995), while Viking World Wonders, a 119-day journey from Los Angeles to London, will hit 29 countries and 55 ports ($45,995). No matter which you choose, you'll receive a complimentary shore excursion in each port plus free unlimited Wi-Fi.
Even better, your temporary new home is the newest addition to the Viking fleet, and has a sleek Scandinavian aesthetic, a gorgeous infinity pool, private balconies in every cabin, and a spacious spa with a Nordic sauna and "snow grotto." Rates for the trip start at $92,990 (that's $379.55 per day), and includes business class airfare, transfers to and from the ship, all gratuities and service fees, three complimentary visa services, and free luggage shipping services.
While you wait for August 2019 to roll around, start plotting all the ways you can convince your boss to give you an extra few hundred PTO days.
NOW WATCH: 5 Destinations That Are Best Experienced on a Cruise
https://www.youtube.com/watch?v=o2b9cZJjs-Y
You'll Also Like:
All products are independently selected by our writers and editors. If you buy something through our links, Oyster may earn an affiliate commission.