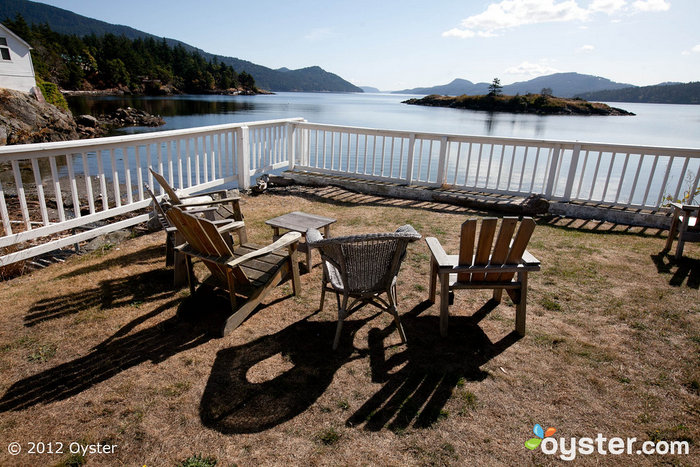 [js_single_hotel_rates_cta hotel="101765" /]
Aptly named, the Outlook Inn has stunning views of the San Juan Islands' Eastsound from almost point of the property. And a serene atmosphere is practically guaranteed as this hotel — the only full-service option on the sound — meaning quiet days strolling the local shops, galleries, and restaurants nearby. But dining on-site is nothing short of excellent at the New Leaf Cafe, which features fresh, local cuisine and also hosts a popular happy hour that wedding guests may enjoy in the days leading up to the ceremony. Couples should note that the rooms can vary greatly, but booking a suite ensures a private bathroom with a large tub, and cozy amenities such as a fireplace and a flat-screen TV. The views, on the other hand, will be gorgeous no matter which room you book.
Because the inn has such a romantic ambiance, serves up scrumptious food, and has a wedding chapel on-site, it has become a popular spot for Washingtonian wedding parties. In true inn fashion, service is always personalized. Whether you'd like to book the intimate Victorian Room, which seats up to 60 guests, or have the Outlook Inn take care of preparations and catering at the larger Oddfellows Hall located nearby, their wedding team is ready to please. You can also opt to get married in the inn's rustic chapel or, if the weather's nice, outdoors amidst the surrounding natural beauty for a relaxed, scenic ceremony. Click here to see more wedding inspired photos of the Outlook Inn »
RELATED LINKS:
All products are independently selected by our writers and editors. If you buy something through our links, Oyster may earn an affiliate commission.