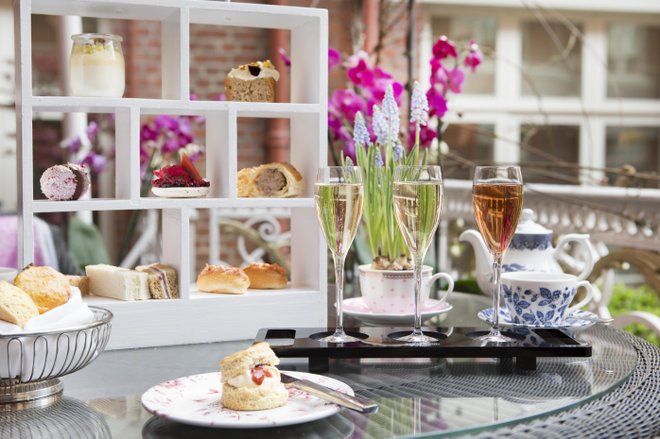 Afternoon tea and London have been synonymous since the 19th century. Nowadays, cafes, restaurants, and hotels in London offer the daily custom in both traditional and modern fashions. An utterly English indulgence, a tea service in London can include the basics of finger sandwiches and scones with clotted cream served alongside the tea, to boozy and sweet services that include champagne and a range of desserts.
I was recently in London and had my first tea experience in
the city while staying at the luxurious St. Ermins Hotel in Westminster. Part
of the Autograph Collection, the historical hotel (which was once a spy headquarters
during WWII) has a lush tree-lined courtyard from its gated entrance that can put you in a calm state after spending the day walk around the
city. Upon entering the spacious lobby, visitors can follow the sweeping
staircase up to the airy St. Ermins Tea Lounge with its classic, clean ambiance
and an outside balcony seating area overlooking the courtyard entrance for
the warmer months. While the tea lounge is only open on weekends (a host
will meet you at the bottom of the staircase and bring you up), an afternoon tea
service can be had in the hotel's lobby-adjacent library throughout the year. Popular
among both guests and locals, an afternoon tea has been designed by St Ermin's
chef, Adam Handling, the award-winning Scottish chef who also has a modern European restaurant
at the hotel, called Adam Handling at Caxton.
Convenient Hotel Pick:
The Experience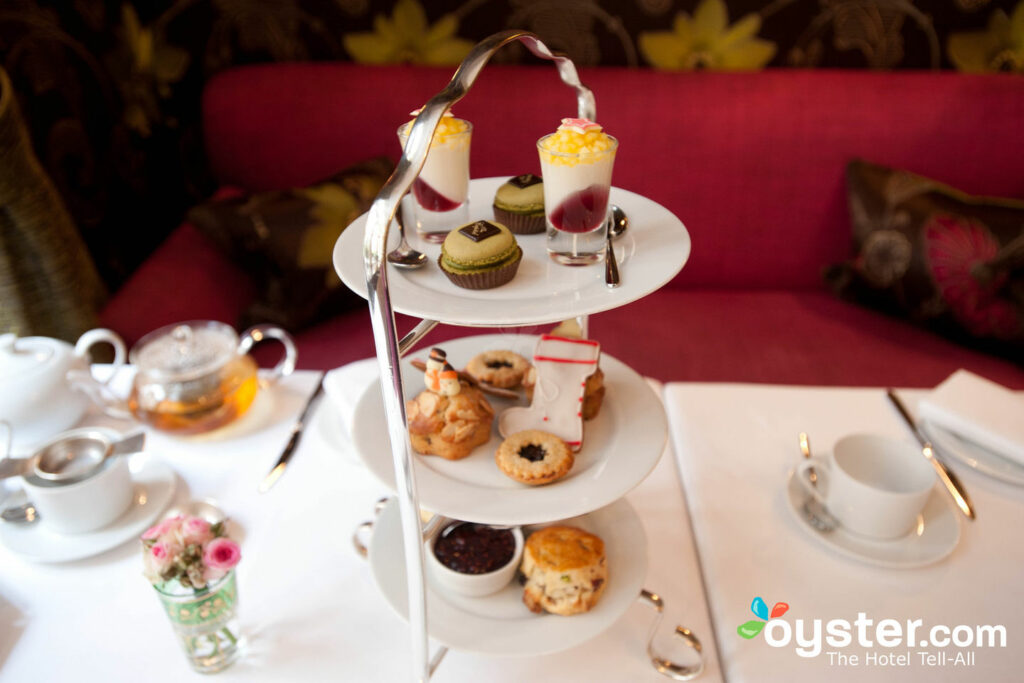 Upon being seated, you are presented with a diverse and
extensive menu of Newby of London teas. While the menu is detailed, the servers are very
helpful if you're unsure what to get. After you select the tea, it is then brought out in
a beautiful porcelain set along with a sand timer letting you and the
server know when it's ready to be poured. Alongside the tea, a glass of champagne is
brought out for each guest, which is included with the classic tea service (£29
per person), but visitors can opt for unlimited champagne for £10 more. Also
included is a selection of finger sandwiches with savory fillings (including a
very interesting pork and black pudding sausage roll), a range of delightful desserts that include
strawberry marshmallows, white chocolate with cherry ganache macarons, chocolate
and orange éclairs, and a heart of choux with tonka diplomat and strawberry jam. The freshly baked scones with homemade jam and clotted cream are brought out to enjoy with the tea when the sand timer is done. It can be a lot of food and you can feel very full just from looking at the charming open
box the sandwiches and desserts are presented in, but you are not expected to just have one tea
selection throughout the service. Pick out as many as you'd like during your reservation
and they'll come as soon you're ready for the next batch. Photos are also
allowed during the afternoon tea at the St. Ermin's — which is of course
wonderful because, well, Instagram.
Tip: With the Queen's 90th Birthday this year, there is also a new Royal Teaservice option influenced by some of the Queen's favorite dishes and to showcase the very best of British ingredients. It starts at £35 per person.
What to Know Beforehand
After
experiencing my first London afternoon tea, I felt there was a few things I
could've done differently. Luckily, from staying in the hotel two nights prior to
the tea service, I knew modern casual would work fine, but had I not, looking up the dress code would have been the first thing I would've considered. I
also would have made sure to go in with an empty stomach, and I would've sampled
more teas. While the overall purpose of afternoon tea is to indulgence and relax,
there are some ways one can master participating in the tradition. I chatted
with tea expert and specialist Kathy YL Chan for her tips on what to know and keep in mind.
On
what to know when planning on experience a tea service, Chan agrees
with me on going with the empty stomach. "Go hungry. Afternoon tea easily
doubles as a meal. Best bet is to eat a late breakfast/early lunch," she
says, suggesting that you should budget two hours at the very least for the event, and never to go to tea in a rush. "There's no point. Afternoon tea is all about the
luxury of unbothered hours in the middle of the day…such decadence!"
"[Also], it's not always about the food," she adds. "Afternoon tea is fifty percent experience, fifty percent food. The 'best' afternoon teas have
memorable savories/scones/sweets, but
sadly many places just do a decent job of the
food itself while offering an amazing atmosphere (or vice versa). Weigh your priorities when picking a venue." For
those who might be confused with the service terminology, she also wanted to clarify
that it's called "afternoon tea" not "high tea." "Many people mix this up. High tea is actually a full-on, working class
meal served at the end of the day. People
tend to think they're fancy when they call it
'high tea' but they're actually using the wrong terminology."
Types of Afternoon Tea Services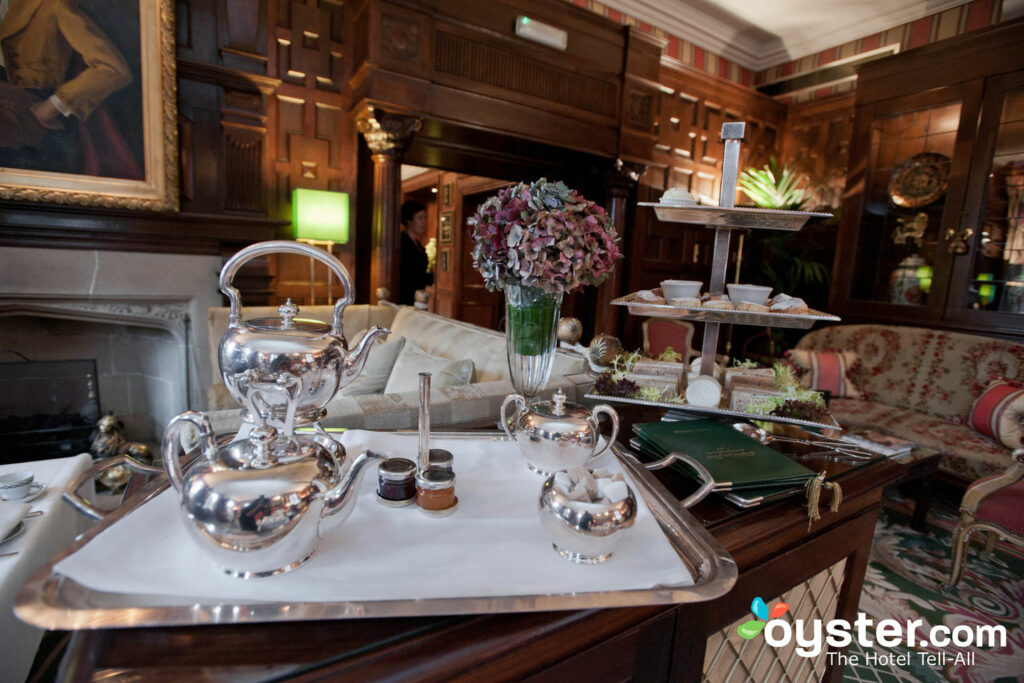 "Afternoon tea is a very ritualized event and the principles of any tea services should be the same," says Francois-Xavier Shoeffer, Director of Operations at Café Royal. Shoeffer explains that any type of tea service should include the right equipment (such as a strainer, tea pot, and creamer), perfect service, great quality of food and teas, and a combination of sandwiches, scones, and pastries.
"What will make the difference between a modern and traditional afternoon tea are the choice of teas on top of the expected classics (for example, Oscar or Celestine), the availability of other beverages on the menu (like our Riche cocktails), and most of all, the imagination of the chef to create twists on classics and offer something new and different," Shoeffer adds.
Chan further explains how the afternoon tea service types can be split between traditional and
modern. Traditional, she says,
should typically include three tiers with savories at the bottom, sweets on the
middle tier, and scones on the top tier. "The
scones should be delivered later on in
the tea, after you finish the savories, so that you can eat them warm. The Goring Hotel in London is a prime example of
classic afternoon tea.
Modern, or what doesn't fit
under the traditional model she explains, "Can include teas that are served in
courses (for example, Mandarin Oriental New York),
or any tea that is themed (like the Madhatters
Tea at Sanderson London), or veers away from the traditional offers (such as egg salad sandwiches, cucumber sandwiches,
smoked salmon sandwiches, currant scones, and lemon
tarts). Many places are now starting
to offer tea-infused cocktails to go with afternoon
tea. Classic alcoholic pairing is very good; I like it on the dry side. Any type of liquid involved that is not
champagne, still/sparkling water, or tea, goes
into the 'modern' style of afternoon tea."
"No one style of tea is better than the other, but it helps to have categorization so that you know what you're
getting into," Chan adds.
Different afternoon tea venues can also have their own different kinds of tea services. Along with St. Ermins' Classic and Royal options, the hotel offers a Gluten Free tea service. Over in Kensington, The Milestone Hotel offers a wide range of tea services as well, including traditional Afternoon Tea, a special Little Prince and Princess Tea tailored for kids (trading tea for milkshakes), and a Gentlemanly Afternoon Tea that is catered towards men and features hot pastries and a flight of ale or whiskey. The Milestone will also soon be launching a new High Tea service, offering a more substantial version of traditional afternoon tea, which mostly features hot food items.
Tip: Choose between two settings for an Afternoon Tea service, which is served daily at The Milestone. Visitors can opt for the hotel's Park Lounge, for a traditionally British environment with views of the Kensington Palace and Gardens, or the Conservatory, which offers a stylish, modern retreat with an al fresco vibe.
Convenient Hotel Pick:
What to Wear
The attire tends to be "smart casual" at The Milestone, explains a hotel representative. "Of course if you want to dress up for a more royal tea experience, you
may do so as well. In the warmer months, you also have the option of having tea
on the lawns of Kensington Gardens, which is something to keep in mind," he adds.
"Keep it
simple — that goes for men and women. Afternoon tea tends to be a colorful affair (think of all the jams/jellies
and the sweets), so clothing should
enhance but not add to the distraction. I always
go to tea in a black dress (length depends on my mood and company)," shares Chan.
Dos and Don'ts
"If you're drinking multiple
teas, make sure to start from light to dark," suggests Chan. "General order
should follow white, green, oolong, black, then pu'erh. The only exception is an herbal, which you can finish the tea
with. It's nice to end tea on a bright,
caffeinated note."
"People tend to get fixated
on the 'rules' of tea (for example, pinkies don't need to actually go up — that's silly and outdated),
but when I teach etiquette, my main rules
are make sure you don't make a mess, devour
your tea in order (savories, scones, and then
sweets), and make sure to enjoy yourself,"
she says, adding that the tea is a "success" if everyone has a good
time.
The Milestone representative adds, "Be open
to sampling a little bit of everything, from the savory tea sandwiches to the
warm scones, to the incredible desserts. Be sure not to eat much before tea time
so that you have enough room to try it all! You are also more than welcome to
take away some extra treats that you don't finish."
Related Links:
All products are independently selected by our writers and editors. If you buy something through our links, Oyster may earn an affiliate commission.