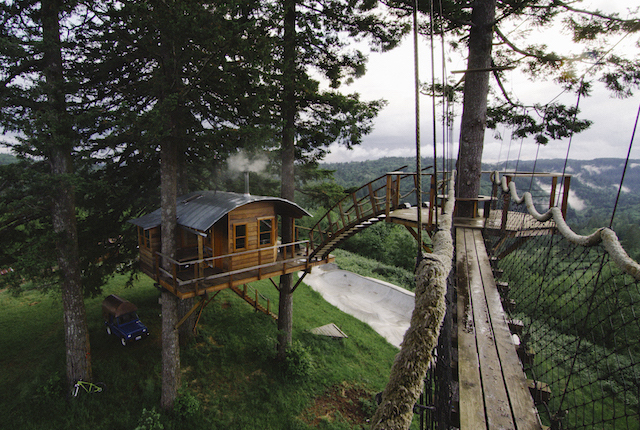 In 2011, Foster Huntington quit his successful job in New York City to live in a tree house (two actually) on the Oregon side of the Columbia River Gorge. In a few months, with the help of friends and a construction crew, Foster created his dream world, complete with treetop homes connected by swinging bridges, an on-site skate bowl, and wood-fired hot tub. Luckily, he captured the whole process on his social media accounts. And as you can imagine, it wasn't long before he became a sensation. His adventures coupled with a knack for photography has (not surprisingly) led to one million Instagram followers. So how exactly is tree house life holding up two years after living in the quasi Neverland? "Tree life is great," Foster says. "I wake up every morning hearing birds chirp and feeling the trees move with the wind. I love the remote feeling of being surrounded by wilderness here in Oregon."
https://www.instagram.com/p/BGcdqGsSFIl/
While the excitement of his venture has yet to fade, he has given up on one dream. Before setting up shop in a tree house, Foster traveled across the country and lived out of his van for three years after quitting his job. Over the years, he called a few different vehicles his home and documented the whole experience on various blogs and social media handles. During this period, he spent his time surfing, fly-fishing, camping, and basically living a nature lover's dream. He even penned the hashtag #vanlife and published a photo book called "Home Is Where You Park It."
Now that he's settled in the woods about 20 miles away from Portland, he opened up about his former life on the road. "I'll always think fondly of my time spent living in my car and exploring the country," he says. "It was an experience that I'll never forget. There are times when I see vans cruising around that make me daydream about my experiences on the road."
https://www.instagram.com/p/BHXdrB4hgkE/
He continued, "But I've also been able to do a lot of things lately that I really enjoy. I'm passionate about photography and am fortunate to be able to share what I'm up to, even when I'm out in the middle of nowhere."
Although he's living every child's (and probably some adults') fantasy, it's not all fun and games. The former fashion industry worker has taken on several projects from his tree house. He's currently working with companies like U.S. Cellular on their new #MyAnywhere campaign. Previously, he was the social media consultant for Patagonia and collaborated with a financial services company and HP computers on a series of online ads that featured his unique, off-the-grid lifestyle. If you look closely at his Instagram account, you might even spot his desktop computer, which is perfectly situated in the tree house with a hammock and daybed nearby.
https://www.instagram.com/p/BA-g1lRyFKU/
And although Foster has found his groove in Oregon, life has changed (and is still changing) over time for him. "Obviously I travel a lot less these days," he says. "It has been two years since we started working on the tree houses and it's crazy how much has changed. The project was transformative in the sense that it made me think about what's possible. It expanded my notion about what you could do with a group of friends. And it certainly made me think bigger and more optimistically about what's next."
https://www.instagram.com/p/BDldjYxSFIQ/
So what is next for the adventurer with an endless imagination and appetite for creating the unusual? "Currently, we're building a studio on the property that will house a motion control system for developing special effects for science-fiction projects," he revealed. "This will be a multi-year project and I'm super excited for the process and what will come of it."
https://www.instagram.com/p/BHDpkd-B2hp/
Foster has managed to turn the life of his dreams into a reality and hopes to inspire others to do the same. His life on the road and in the trees has taught him some important lessons. "I've learned how important it is to follow your passion and once you find it, how rewarding it is to live fully every single day," he says. "I've learned that there will always be forces pushing and pulling you in different directions and at times, it's challenging to stay focused on what you need to be happy. But it's all worth it once you find that happiness."
WATCH: 5 Years, 7 Continents — Meet the Man Who is Walking Around the World
https://www.youtube.com/watch?v=y756LRyHZo4
Related Stories:
All products are independently selected by our writers and editors. If you buy something through our links, Oyster may earn an affiliate commission.