Chances are, when you tell people that you've booked an exotic trip of a lifetime, and that it's not a safari in Africa or island hopping in Thailand, but Iran, you might be faced with a rapid-fire line of questions and comments that express surprise, confusion, or both.
After all, the second-largest country in the Middle East is no stranger to world news headlines, from the Iran nuclear deal to the ballistic missile test. It was also recently one of seven countries that was included in Trump's travel ban, which has been lifted for now. But politics aside, what is Iran really like? Travel guides highlight the country's beautiful landscape, architectural gems like Esfahan's mosques and Tehran's palaces, and heritage sites like the ruins of Persepolis. Still, the politically and culturally complex country remains a mystery to many. Even the well-traveled Anthony Bourdain said in a recent "Parts Unknown" episode, "Iran does not look, does not feel the way I'd expected." To clear things up, we spoke with a handful of travelers who visited the country within the last year or so. Here's what they had to say.
The locals are very friendly.
"Despite what one reads in the newspapers and hears on TV, Iranians are a friendly and outgoing people. We had many instances during our travels when young Iranians would approach us and ask: 'where are you from?,' 'what do you think of Iran and Iranians?,' and 'what is America like?' Many young women and school girls were particularly friendly, and asked if we liked wearing scarves. We replied by saying it was difficult to get used to having a head covering on at all times and many replied that they didn't like to wear them either." — Nicole Beattie, visited November 2016
"We would often have people come up to talk to us. We didn't do dinners with our group tour, so we were free to do what we wanted at night. My wife and I would often walk from our hotel and explore. That's when we'd talk to locals. People were very friendly and warm and overall curious about us. They would often assume we were French or German, because they get a lot of tourists from there. When you explain that you're American, they would often lead with the same question: 'what do you think of Iran and the Iranian people?' Every single interaction we had was positive. As you pass women on the sidewalk, they would say 'thank you for visiting Iran' without having said anything to them. You also have a lot of men who would put their hand across their heart as a sign of respect when you walk through places. Even when people couldn't communicate with you in English, their body language would communicate that you're welcome here." — Chris Nielsen, visited October 2016
"Many Iranians speak English, especially in Tehran and Esfahan, so interacting was easy. Iranians love tourists and are always very helpful. My visit was very relaxed and a lot of fun. Western media tends to portray Iranians as backward and hostile, and they are nothing of the kind. Iranians are well-educated, highly tech-savvy, cosmopolitan, funny, relaxed, friendly, and extremely hospitable. Whatever you think of the Iranian government, it has nothing to do with the Iranian people. They are absolutely lovely and very welcoming to visitors from all parts of the world, especially the West. [One day] we were stopped at a gas station and there was a lot of commotion and wrangling over fuel ration cards. In Farsi, I asked a truck driver standing nearby what was going on. At first, he looked at me like I had spoken Martian, but when I asked again and he understood that I was indeed speaking his language, he was all smiles. His face lit up. We chatted for a minute or so and then he climbed into the back of his truck, which was full of watermelons. He picked through them and came back with a beautiful fruit. He gave it to me as a thanks for showing him and his country respect and admiration. I'll never forget it." — Cynthia DeKay, visited May 2012 and July 2016
And separate the U.S. government from the American people.
"Because of historical hostilities between the United States and Iran, I would have thought that Iranian people would not like Americans. I found the opposite to be true—they were very curious and interested in Americans. Most of the people we met said they would like to travel to the U.S. I think part of this has to do with how people in Iran experience politics. In that part of the world, the people experienced a kind of 'arbitrary government' that was unstable and beyond their control. Even now, the people do not always feel that the results of the elections reflect how they feel or how they voted. The result of this is that Iranian people don't view their government or the politics of their country as a part of their identity the way that Americans and Europeans do. They can dislike the American government, but have nothing against the American people. I was similarly surprised when I talked to them about their feelings about Iraqi people. The Iran-Iraq war raged for eight years in the 1980s and wiped out an entire generation of young Iranian men (estimated to be about one million) with really no benefit to either side. Yet the people we talked to said they had no animus towards Iraqi people. They see the actions of the government as separate from the people. I was incredibly saddened when I heard about travel ban enacted by the U.S. government towards Iranians, and the retaliatory travel ban by Iran towards Americans. I thought of all those people in Iran who are so hopeful to visit the United States and eager to make connections to the outside world. But their opportunities are limited by arbitrary politics, completely beyond their control. I hope that they continue to see the American people as separate from the government because it makes me even more sad to think they might believe the travel ban is what most Americans want." — Esther Hui, visited April 2016
"I was surprised at how safe I felt. People in Iran are so helpful and kind to visitors. Street crime is minimal compared to other places I have traveled—even in Europe. I think Americans feel like they would be in some kind of extra danger due to the strained political relations, but I didn't feel that at all. In fact, quite the opposite—Iranians love to talk to Americans. They almost always made a point to emphasize that any political problems were between the governments, not the people." — Cynthia DeKay
Home-cooked meals are better than food at restaurants.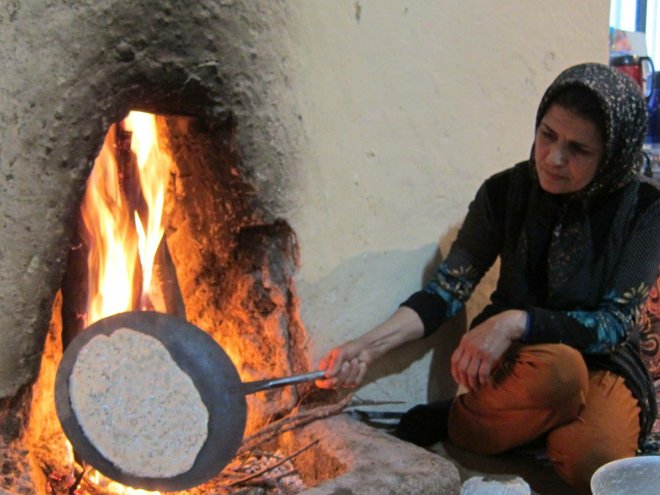 "Intrepid tours are great for interacting with locals because they plan several evenings where you are either eating dinner with a local family or even spending the night with them. There were some great things that came from this. First, the food was very good. We had heard that the best Persian food comes from people's homes, not restaurants. Our tour guide explained to us that there is not a restaurant culture in Iran, and that you cannot easily get many of the things that are typically prepared in homes at a restaurant. We had some incredible meals. The most memorable one was with the nomadic family. The matriarch of the family prepared an apricot chicken and Persian rice. She made a type of flatbread in a cast-iron pan—each flatbread was made individually over an open fire. The other thing that was great about these meals was that we could learn more about what people's lives were like. Often the older people (preparing the food) did not speak English, but their adult children would come to the meal to talk with us. It was during these evenings that I learned about Iranian politics, economy, and education; what it was like for women; how things had changed in the past 20 years; and people's hopes for the future." — Esther Hui
"My wife loves to eat when we travel—especially street food—and she was disappointed that there weren't many street food options. It also felt like every restaurant we went to had the same thing on the menu, and tasted the same. The restaurants are predetermined by the travel coordinator, so maybe they thought that's where Americans wanted to go. It's going to be a long time before either of us can eat kebabs again, though." — Chris Neilsen
It's home to ancient caravanserais.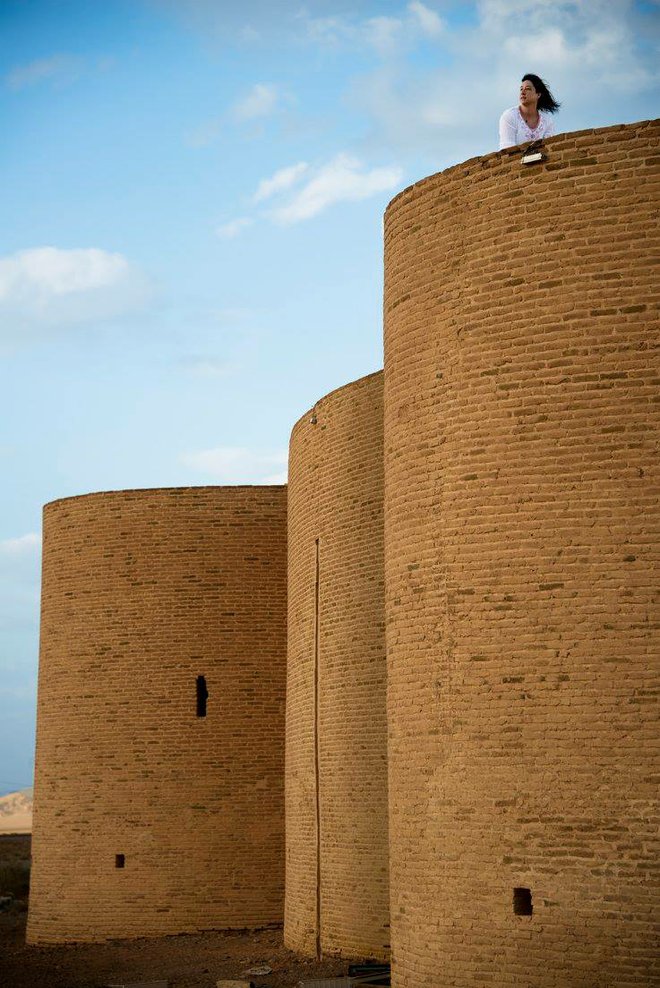 "My favorite night was the one we spent at an ancient caravanserai, which had been converted into a hotel, in the middle of the desert. Caravanserais are like medieval pit stops where you can spend the night, get food, and trade goods, while traversing the ancient Silk Road. They were spaced 60 kilometers apart. Because it was so isolated, and because the caravanserai itself was considered private property, I was allowed to be outside without a head scarf, or hijab. In Iran women must keep their head covered in all public places, including when they are in private buses (because they can be seen through the windows). I sat on the roof of the caravanserai and read my book for a few hours. The only thing I could see in every direction was sand. It was glorious." — Esther Hui
And plenty of other gorgeous highlights.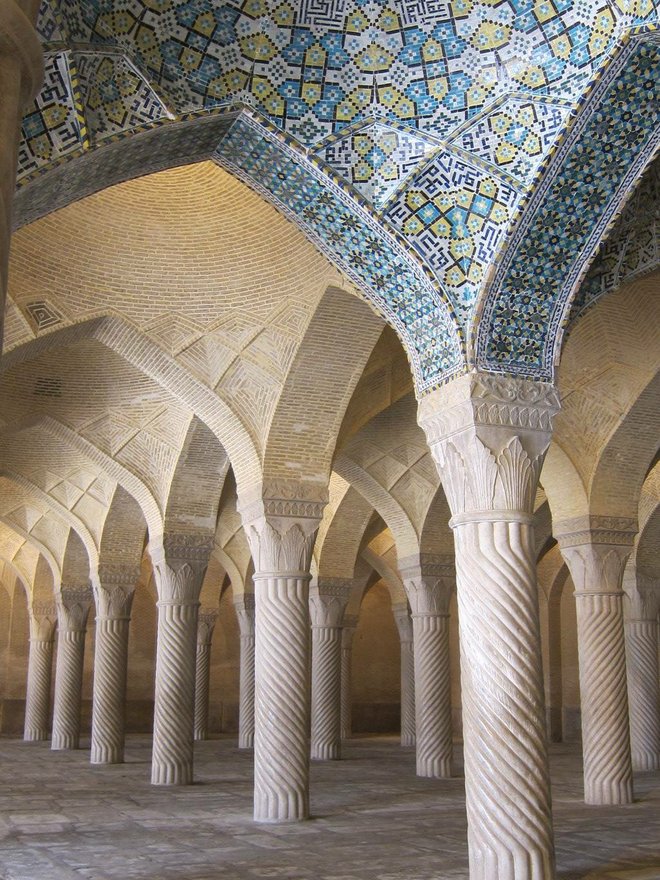 "The Ali Qapu palace and Vank Cathedral in Esfahan, the tower of silence in Yazd, Zein-o-Din caravanserai, Faloodeh-Shirazi (do not miss this frozen treat when in Shiraz—there's no better, tastier way to beat the heat!), the nature bridge (Pol-e Tabiat) in Tehran, watching the sunset from a rooftop in Yazd, and chilling on a rug eating fesenjoon (chicken and pomegranate stew) and drinking tea. I could go on forever…" — Cynthia DeKay
"From its mirror-encrusted Golestan Palace to its vast, vacant desert landscape and barren mountains, Iran's history and monuments take one's breath away. Our trip was a custom itinerary created by Corinthian Travel. Some of my favorite not-to-be-missed sights include Tehran's famed Carpet Museum. Its facade resembles a carpet-weaving loom, and inside, there's a collection dating from the third to fifth centuries A.D. One should not miss the Reza Abbasi Museum in Tehran, which has a stunning collection of Persian art dating back to the second millennium B.C. [There's also] Persepolis, the ceremonial capital of the Achaemenid Empire, with the remains of its colossal buildings and dark gray marble pillars standing in silent tribute to a glorious past. My personal favorite is the Jewels Museum, home to the Imperial Crown Jewels of Iran. Here is the most dazzling collection of tiaras, aigrettes, jewel-encrusted crowns, bowls filled with uncut diamonds, emeralds, rubies, and sapphires. A unique piece in this collection is a large globe, with its oceans made of emeralds and continents made of diamonds and rubies. Of course, the prize jewel is the Daria-i-Noor, a pink diamond weighing an estimated 182 carats. Its pink color is considered one of the rarest ever found!" — Nicole Beattie
Esfahan is not to be missed.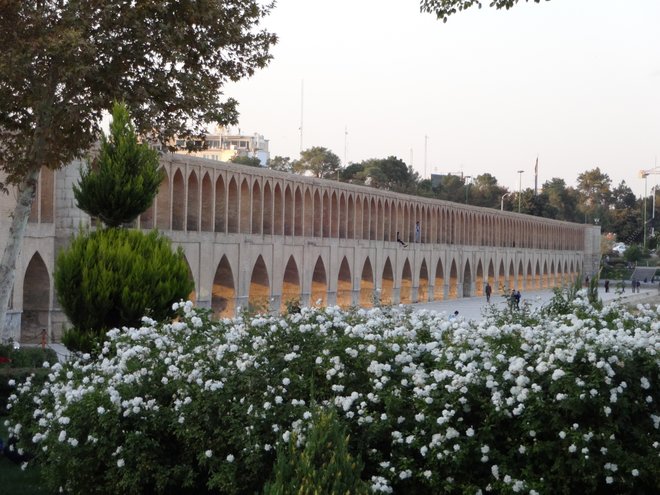 "Another highlight was the city of Esfahan. It is one of the few historical cities in Iran which was has not sustained significant damage from war, earthquakes, or the Mongolian raids in the 13th century. In addition, it was the capital of the Persian empire during my favorite architectural period, that of the the Safavids. It is magnificent. There are beautiful hotels and gardens in Esfahan. They also have a series of bridges along the river that are lit up at night. The oldest of these bridges has pre-Islamic foundations." — Esther Hui
"Esfahan was our favorite city. It's regarded as a city that has more of an artistic culture. Some of the mosques there are really cool. That's where they have some of the best blue-tiled ceilings." — Chris Nielsen
95 percent of the world's saffron comes from Iran.
"I love saffron, but have had very little of it in my life because it is so expensive. You can buy a tiny container at the grocery store for $10 and that's enough for maybe one or two recipes. What I found out on this trip is that 95 percent of the world's saffron comes from Iran. Because of the embargo, this cannot be imported into the U.S. So any saffron you buy in the U.S. comes from the other 5 percent produced outside of Iran. This is why it is so expensive! In Iran, saffron is everywhere. It is a featured ingredient in many dishes. But the surprise we came upon early in the trip was saffron ice cream. It was so unusual and refereshing. After I had it for the first time, I tried to have some every day. You could get scoops at ice cream stores and saffron ice cream sandwiches in many shops. I bought two packages of saffron in the open market which I brought back with me. They cost about $9, but both contain the equivalent of about $150 worth of saffron if I were to buy it in the U.S. I wish I'd bought more, but I was concerned it would be confiscated at customs, so I didn't want to risk it. My friend Andrew, who I traveled to Iran with, has made homemade saffron ice cream since we got back. This is a wonderful treat." — Esther Hui
There's anti-American propaganda, but Iranians aren't anti Americans.
"We only saw anti-American propaganda twice—and once was at the embassy in Tehran, which everyone knows about. We were in the public square in Esfahan and saw some propaganda on banners. Iranian people would see us taking pictures of it and come up to us. After talking to them, you'd learn that they see it a different way. Iranians often told us that they love America, American people, and the culture, but just don't understand American policy. They would say they don't understand what the American government is doing and why they don't like Iran. Other countries are good at separating people from policy, so it was a relief to hear them say that. It was weird to be standing under these propaganda banners, and hear them say 'that doesn't mean what you think it means. We don't think of it that way.' That was an interesting takeaway." — Chris Nielsen
Women have to wear headscarves.
"Every woman was wearing a headscarf. It still seemed to be very conservative in that way. Women had to cover up the whole time they were there. Guys just had to wear long pants." — Chris Nielsen
You can visit a mosque, even if there's a prayer going on.
"You are free to go in the mosques, even if prayers are happening at the time. We were in one mosque where 50 men were praying. We were in the corner, and it was fine, which surprised everyone. We thought none of us would be able to stay in there. Iranian women have to go to a different area, but they allowed our whole group to be there." — Chris Nielsen
The process for getting a visa can be tough.
"To get our travel visa, the first thing we had to was submit was an application and resume—we did this through our tour. Then, you have to submit your passport to the Pakistani embassy in D.C. (they have a desk for Iran tourism there). Once they clear you, they put your visa in your passport and send it back to you. You have to pass through their application process." — Chris Nielsen
"I had wanted to go to Iran for over 10 years. I am generally very interested in the Middle East, but Iran is not an easy place to get to. It's expensive, the visa process is complicated (because of recent events, Iran is currently not issuing visas to Americans at all), very few tours go there, and sometimes the political climate makes it difficult. I tried to plan a trip there five years ago, but things were not stable. Ironically, I opted to go to Syria instead, because at the time, it was considered safer. The planning for this trip started eight months in advance, and there was a lot of stress leading up to it, because I worried at any moment something would happen to keep us from going. Even when we got off the plane in Tehran, we were pulled aside by the border control because we were Americans, and I had a moment of panic. But Iran did not disappoint in any way. It was everything I hoped it would be. The food was very good and the sights were incredible. This includes ancient ruins (Persepolis), architecture in the cities from the past few hundred years, and the beautiful mosques. My friend Andrew and I both bought Persian rugs in Esfahan. I treasure these memories and experiences. I had dreamed for so long of going there and I feel it is unlikely I will be able to go back." — Esther Hui
Editor's note: U.S. citizens can travel on a visa, but need to go with a group tour or private guide. Obtaining a visa can also be a challenge. It's advised to start the process months in advance. Travel itineraries must be approved before being issued a visa, but your tour operator or agency will guide you through the process of submitting an itinerary and visa application.
Keep in mind that the U.S. has a travel warning for Americans headed to the country. It's important to note that possession of a valid Iranian visa will also not guarantee entry into the country. Iranian authorities have prevented a number of U.S. citizen academics, scientists, journalists, and others who have traveled to Iran from leaving the country, and in some cases have detained, interrogated, and imprisoned them on unknown or various charges. U.S. citizens can find more information here.
Iran has also stated that it would prevent U.S. citizens from entering the country as a retaliation to President Trump's travel ban against Iran and six other Muslim-majority countries. We recommend checking the U.S. Department of State website for any updates when planning a trip.
You might experience color shock.
"Overall, there was a lack of color, starting from the architecture and buildings to cars and people's dress. There are very muted tones, so a lot of browns, blacks, and grays. Iran's been in a pretty significant drought, so all the river beds we encountered were dry. Vegetation seemed very brown. That was something we all noticed right away. At a certain point, that begins to see like the norm until we flew back to Seattle, which is obviously very green. When we came back to Denver, it was fall and there were a lot of colors—it was a shock to the system." — Chris Nielsen
Tehran has changed quite a bit in the last two years.
"To give you a little background about myself, I was born in Tehran and lived there for 23 years. I left the country for graduate school in United States. I went back to Iran after being away for over two years. When I went back, I was surprised to see how much Tehran had changed in just two years. Iran, especially Tehran, is developing so fast. On every street, you see new construction and development. I was surprised by the number of new highways, bridges, parks, and high-rises. I had missed so much—it was like I hadn't been there for 10 or 15 years." — Ali Shahabi, visited August 2016
There's always more to see.
"[If I went back], I would want to see the crown jewels at the Treasury of National Jewels in Tehran. It is only open for a few hours a day, a few days a week. Unfortunately, we weren't able to make it when they were open. There are supposedly some breathtaking crowns and beautiful emerald necklaces. I was disappointed to miss this." — Esther Hui
"There are so many things I still want to see in Iran, but if I have to choose one, it would have to be visiting the Caspian Sea and the lush, mountainous landscape that borders it." — Cynthia DeKay
"I would be really interested to see how the landscape looks when they're not in having a drought. You could see the potential of how beautiful it could be if things were green and if there was actually water. They have a lot of water features—botanic gardens and hotels are often trying to showcase water—but when you're there during a drought, it's limited. The second thing I'd like to do is go into someone's home and see what a typical home looks like. We weren't able to do that. That's one experience I feel like we missed." — Chris Nielsen
You'll Also Like:
All products are independently selected by our writers and editors. If you buy something through our links, Oyster may earn an affiliate commission.