Paris is a great year-round destination, and while many travelers think spring is the best time to visit, the City of Light has plenty of excellent festivals and activities worth checking out throughout the year. Here are but a few of our favorites in each season.
Spring
It's hard not to love Paris in the springtime, when the dark grisaille of winter lifts to reveal blue skies and blooming flowers across the city's many green spaces. Weather can be a bit rainy and brisk in early spring (expect temperatures in the 50s), but it's moderate enough for many and a big upside is fewer crowds. In terms of events, The Paris International Marathon is held annually on a Sunday in April and features a route that passes alongside iconic streets and monuments, including the Champs-Elysées, the Louvre, and the Place de la Bastille. Springtime events include La Nuit des Musées, which is held annually on the third Saturday of May. During this time, all of the city's museums stay open through the night and are free for all visitors.
Le Printemps des Rues is another can't-miss springtime event, particularly for lovers of the arts. Held over a weekend in late May, this annual arts festival occurs across multiple Right Bank venues and includes concerts, dance performances, street art workshops, and public theatrical performances. Electronic music fans should consider checking out Villette Sonique, held over the last weekend of May in the sprawling Parc de la Villette in the 19th arrondissement. (Incidentally, the park is also home to Cité des Sciences et de l'Industrie, Europe's largest science museum, along with an IMAX theater, a music museum, and an enormous concert venue, Le Zénith.)
Summer
Paris is great in the summer, though the occasional heat wave later in the season can make taking the metro uncomfortable. It also happens to the be high season, so expect lots of crowds. But June and July have plenty of great events, and in August, you may notice an absence of locals—traditionally, the French take their summer vacations this month and residential parts of the city can feel like ghost towns, with shops shut down for the holidays and a lack of traffic and pedestrians.
Summertime is kicked off in Paris with the annual Fête de la Musique, a celebration of music with concerts held in bars, clubs, concert halls, and public spaces throughout the city. Tour de France, arguably France's best-known sporting event, takes place in July every year and culminates at a finish line at the Champs-Elysées in Paris. France's national holiday, Bastille Day, also falls in the summertime (on July 14, to be exact) and features all sorts of events, including an Air Force plane show, a military parade along the Champs-Elysées, and fireworks set behind the backdrop of the Eiffel Tower.
From mid-July to mid-August, Paris hosts the annual Cinéma en Plein Air (open-air cinema), featuring a rotation of free feature-length films on a big screen, right in the expansive Parc de la Villette. For those who can't make it to the beach, the banks of the Seine are transformed into beaches, courtesy of the mayor's office, through an initiative called Paris Plages (Paris beaches). These faux beaches are designed to replicate the real thing and come complete with sand, parasols, and even a floating swimming pool (since swimming in the Seine is neither allowed nor advisable).
Autumn
When it comes to bang for your buck, autumn is arguably the best time of year to visit Paris. While there isn't as much going on in terms of events as some of the other seasons, autumn provides a good blend of decent weather along with fewer crowds. Art lovers should try to be in town for the annual Nuit Blanche, which literally translates to "white night," but is slang for "all-nighter." Held on the first Saturday of October, this annual celebration of the arts features all sorts of concerts, sound and light shows, theatrical performances, exhibits, and installations. If you end up in Paris later in season, you might find yourself celebrating the annual release of Beaujolais nouveau wine (held on the third Thursday of November). Wine cellars, bars, and restaurants across Paris offer tastings, special menus, and live music in celebration of the new wine's arrival.
Winter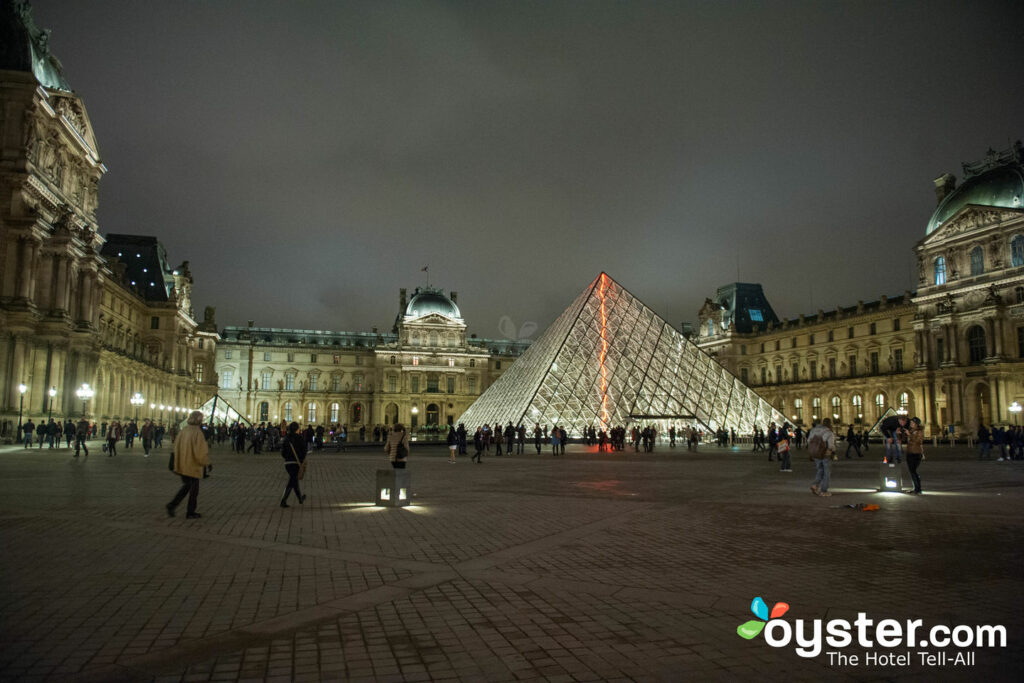 While winters in Paris can be cold and dark, the spirit of the city is livened up considerably with Christmas markets, holiday lights, and ice skating rinks. Almost every arrondissement has its own Christmas market, and while most have a few things in common—including handicrafts, holiday food, and plenty of mulled wine—a few have their own special themes. There's a Norwegian-style Christmas market near the Place de la Concorde with a focus on Scandinavian fare, and a vintage-themed alternative held in the Marais. There are also markets at Notre-Dame Cathedral, Saint Germain des Prés, and right on the Champs-Elysées. For those who prefer pretty lights to shopping, popular streets and avenues, including the Champs-Elysées, Faubourg Saint-Honoré, and Avenue Montaigne, have some of the city's best "illuminations," as they're known locally. And if ice skating is your thing, the city offers a few excellent seasonal rinks, including one at the Hotel de Ville (City Hall) in the center of Paris. There's also a rink on the first level of the Eiffel Tower that stays open through mid February.
NOW WATCH: A Time-Lapse of the Eiffel Tower in Paris
https://www.youtube.com/watch?v=7xtUD6LUhZw
You'll Also Like:
All products are independently selected by our writers and editors. If you buy something through our links, Oyster may earn an affiliate commission.