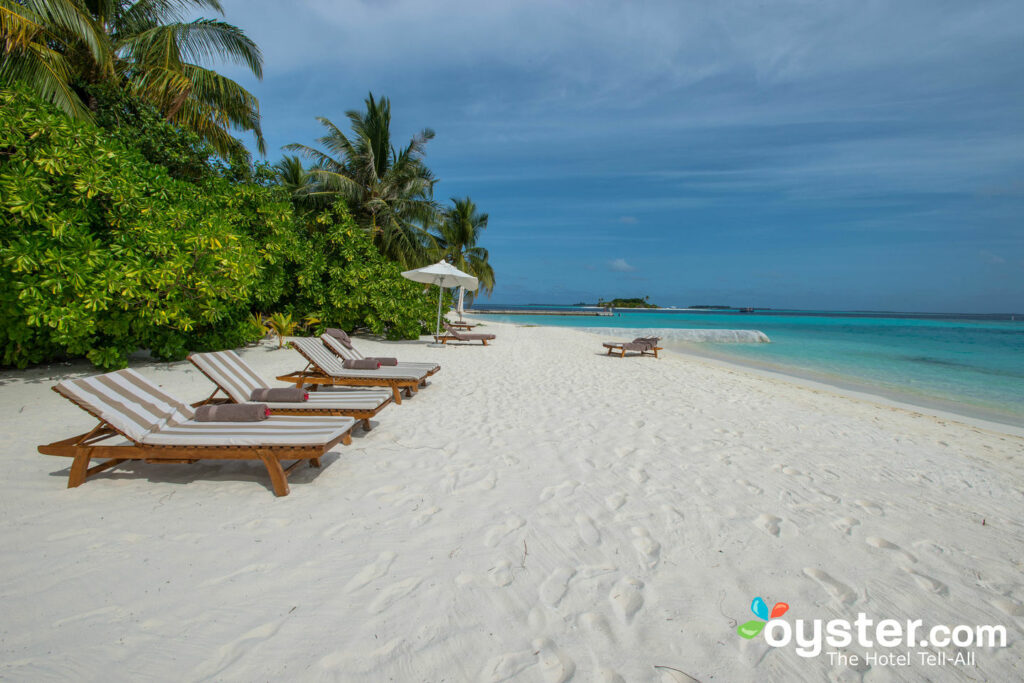 Beach vacations are the best kind of vacations. Who can argue with sun, sand, water sports, or relaxing on a lounger with a cold drink and a book? Packing for a beach trip takes a little extra planning, but bringing the right gear ensures that you can focus on the most important thing: having fun. Read on for our tips on the nine most important items to pack for a relaxing and memorable trip to the beach.
Sun protection is serious business and sunscreen is a step that definitely shouldn't be skipped at the beach. Banana Boat's line of spray sunscreen works well for getting those hard to reach spots on the back, and it's easy to touch-up squirming kids with a quick spritz. It absorbs into the skin quickly, which means that less sand is likely to stick to every square inch of your skin.
Bring your music with you to the beach. This portable speaker has a 15-hour battery life and is both waterproof and shockproof. Bluetooth capability allows users to connect to their playlists or streaming services on their phones. Create a beach mix and get grooving!
Public safety announcement: Do not bring glass to the beach! Instead, check out these reusable (so much better for the environment than disposable) wine glasses that have a stem designed to be stuck in the sand, so they're virtually spill-proof. Plus, they float! How genius is that?
Instagram has been taken over by adorable novelty floats and we think everyone should get in on the action. It's fun! This giant pink flamingo float should be good for all the likes.
Flight 001 is known for their thoughtful travel gear and their Beachware Packing Beachbag Tote is no exception. It's heavyweight nylon material conceals odors and repels sand, while an interior panel separates the bag into two compartments. The bag is designed to fold neatly into a zippered pouch, so storing it in the off season is a breeze.
A pop-up beach tent is a wise investment for those who regularly hit the beach and want to ensure shade. The Pacific Breeze Easy Up Beach Tent is lightweight, easy to set up and take down, and looks like a great place to take a post-swim nap.
It's amazing how quickly a smartphone battery drains at the beach. After all, you're likely using your device for taking pictures, streaming music to your portable speaker, and sending location pins to your friends so they can find you on the sand. That's why we love this solar charger that harnesses the energy of the sun to keep your phone charged.
You don't have to wear makeup to appreciate the cleansing capabilities of a makeup remover wipe. These Cetaphil wipes are extra gentle and will instantly remove sunscreen, sand, and salt from your face and hands — leaving you fresh and clean.
If you're one of the few people who haven't already devoured all four of Elena Ferrante's Neopolitan Novels, now is the time. The riveting books about two friends and rivals growing up in Naples after World War Two will be made into an HBO series next year.
NOW WATCH: 7 Surprisingly Affordable (and Amazing) Beach Destinations
https://www.youtube.com/watch?v=PiqOpzjoI9k
You'll Also Like:
Oyster.com is a participant in the Amazon Services LLC Associates Program, an affiliate advertising program designed to provide a means for sites to earn advertising fees by advertising and linking to Amazon.com.
All products are independently selected by our writers and editors. If you buy something through our links, Oyster may earn an affiliate commission.