Let's play a game of "would you rather." Would you rather stay in a cute boutique in Istanbul or a dated (but canal-side) hotel in Venice? A historic country estate in Ireland or a stylish, woodsy hotel on the fjords in Norway? Everyone's preferences are different, but one thing is for sure: Not every destination around the globe will deliver the same level of accommodations for your travel dollar. That's why we decided to launch a new series to expose just how much bang for your buck you're actually getting on your trip. It may change your mind about where to go next...and you may even find yourself packing your bags for somewhere unexpected -- but totally awesome, and affordable! This week, we're taking a look at what you can get in cities across Europe. The price: $250/night. The dates: October 10th through 17th. And we're off!
Which hotel would you choose? VOTE ON FACEBOOK or let us know in the comments section below!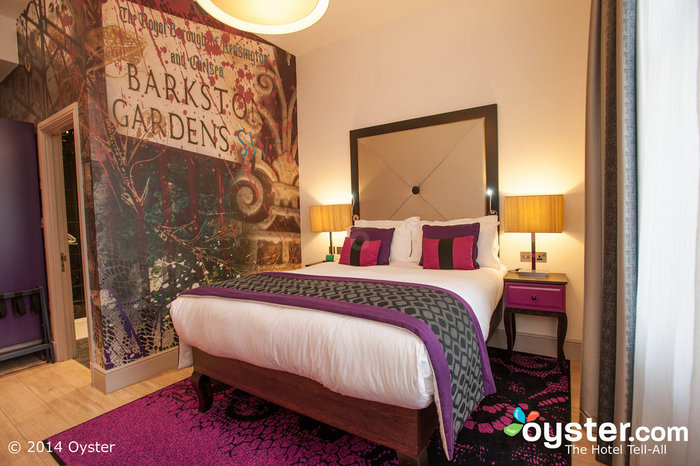 This is one of the trendiest Indigo properties anywhere, with bold, stylish decor and a quirky theme that's inspired by Victorian manor houses (which this hotel once was) and French boudoir style. Each floor is themed after a different color (think: lime, teal, or fuchsia), and the hallways are lined with portraits of Lordships and Ladyships. There's not a lot to dislike, although the hotel's address isn't the major selling point — the location on the west edge of Kensington is accessible (via the nearby Earl's Court tube station), but there's not a lot within walking distance.
The Hotel Rialto Venezia is a mixed bag. On the one hand, the location is superb: The hotel overlooks the Rialto and the Grand Canal in the San Marco neighborhood of Venice. Many would stay here for that reason alone. But the rooms, despite some traditional charm (like patterned wallpaper and Murano chandeliers), could use a bit of updating. A plus? About a third of them offer canal views. There's a fee for Wi-Fi and the elevator does not reach all floors, but you'll be hard-pressed to find a similar deal at a four-pearl property in this pricey city.
This understated, sophisticated hotel has a healthy dose of classic charm. Think muted tones, historic prints, checkered marble tile floors, and in the restaurant, dramatic stone vaulting. The location in the Gothic Quarter is near plenty of shops and restaurants, and within walking distance of most tourist sights. Just note that the central location can translate to street noise in some of the rooms.
This cool, 45-room boutique hotel has charming upscale rooms with country-chic decor (toile prints, powder blue walls, and white wood furniture and bedding), and each has a wall mural depicting a different person or place in Lisbon's history. The location is within walking distance of the water and Bairro Alto, known for its cobblestone streets and lively nightlife. It may be just over our $250/night budget, but those $10 are well worth it.
Hotel Ibrahim Pasha is one of the most charming boutique hotels in Sultanahmet, with an unbeatable location just off the Hippodrome. The cozy lobby and library both have wood-burning fireplaces — a real treat in the cooler months — and the roof terrace has a jaw-dropping view of the Blue Mosque and the Bosphorus. The free breakfast is perfectly adequate if not as extensive as the offerings elsewhere, and free tea and coffee are served all day upon request. Standard Rooms are diminutive but adorable, with flat-screen TVs, iPod docks, robes, Molton Brown toiletries, and rainfall showerheads.
Sheen Falls Lodge is arguably the top hotel in County Kerry. The 300-acre estate belonged to the Marquess of Landsowne in the 18th century, and the hotel — opened in 1991 — feels like a country manor house. It has a stunning setting on both Kenmare Bay and Sheen River, which has, as the name suggests, gentle tumbling waterfalls. The 66 rooms have classic country decor — crown molding, cheerful prints (plaids and florals among them, in moderation), and soft yellow walls; all but one have water views. Estate activities range from clay pigeon shooting to fishing to tennis, and more traditional luxury hotel features include a lovely indoor pool, spa, and small fitness center.
The 121-room Fretheim Hotel is the main hotel in tiny Flam, a village that's the jumping off point for a number of fjord cruises. The property has a rich history — it dates back to the late 19th century — and the common spaces have charm to spare. Rooms, however, are a mixed bag; 80 percent have basic mid-range decor, while the rest are higher-end. (American Wing Rooms are contemporary, while Historic Wing Rooms — though lacking TVs for added authenticity — are lovely and quaint.) The hotel makes the most of its unique, naturally beautiful location with soaring glass windows in the lobby and restaurant that frame the steep surrounding mountains.
RELATED LINKS:
All products are independently selected by our writers and editors. If you buy something through our links, Oyster may earn an affiliate commission.