There are a million ways to celebrate during the holiday season, but here at Oyster, it's not a holiday unless we're traveling -- no surprise there, huh? Exploring a new city (or rediscovering a familiar one) is especially exciting during this oh-so-festive time of year. White lights twinkle, snow flurries fall (or the sun shines bright if you're in Vegas), and the holiday spirit fills everyone with cheer (bare with us -- we can't help but get a little cheesy this time of year). So our gift to you this holiday season, as part of our bang for your buck series, is this fabulous list of hotels in cities across our great nation. The price: $200/night. The dates: December 6th through 13th. And we're off!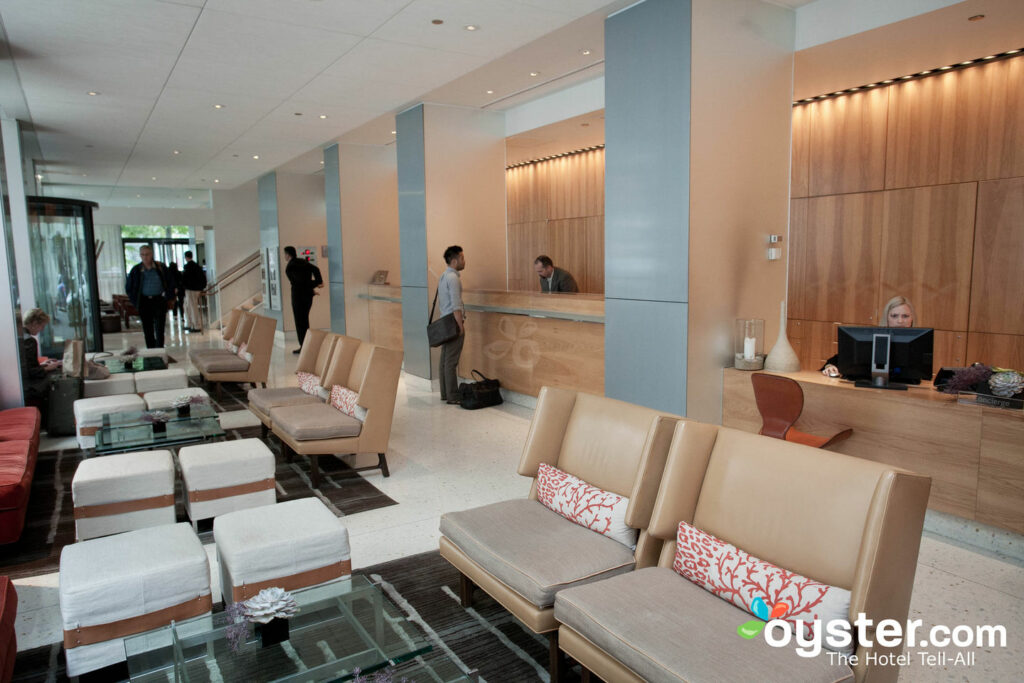 One of Chicago's most sophisticated hotels, The James is stylish, sleek, and at times a bit quirky. Its fabulous location in River North, mere steps away from the Magnificent Mile, means guests won't have to travel far to reach popular tourist attractions and tasty restaurants (David Burke Primehouse is conveniently located on-site). Rooms are white and minimally decorated, but still maintain a sense of warmth. For one of Chicago's most luxurious hotels, The James is an outright steal at $210/night…especially considering its sister property in New York is asking an incredible $492/night for the same week.
After the completion of an $80 million renovation, the former THEhotel at Mandalay Bay is now the Delano Las Vegas. For guests seeking a quieter holiday stay in Vegas, the Delano is low-key enough for relaxation but still close enough to the excitement and amenities of the Strip. Gorgeous decor can be found throughout the hotel: plush white, suite-style rooms, striking desert art installation in the lobby, and a swanky bar. The downside? Some guests complain that the hotel's pillows are too firm…so soft pillow seekers may want to look elsewhere.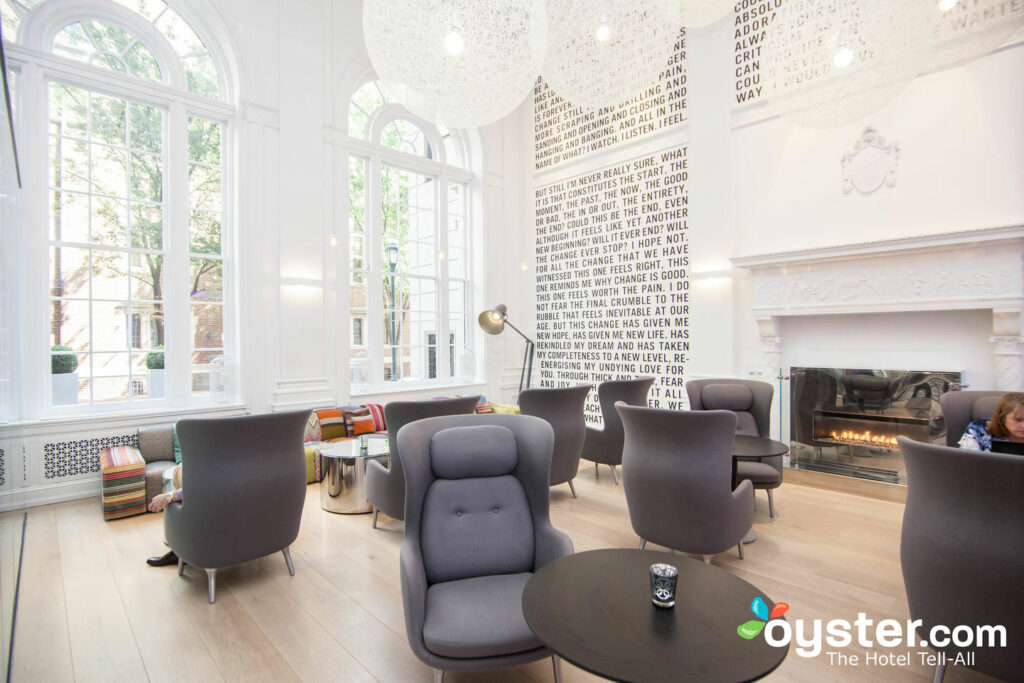 Built in 1926, the Radisson Blu Warwick Hotel Philadelphia is a national historic landmark. Though the exterior dates back to yester-year, however, the interior decor is completely refreshed with bright, open spaces and a contemporary design. Rooms are spacious, with bright pops of color and Philadelphia-themed decor (yes, including Rocky posters). The Radisson is located in Center City, close to other hotels, Independence Hall, The Philadelphia Museum of Art, and Rittenhouse Square Park. Though there is a well-equipped fitness center, there is no pool — which, while not much of a problem in December, might not appeal to guests visiting in the summer.
If you've ever wondered what Southwestern minimalism looks like, you'll have to check out Santa Fe's Hotel St. Francis. The 81-room upscale boutique is housed in a historic building and pays homage to the simple, uncluttered life of Santa Fe's patron saint, Francis of Assisi. Sleek gray and white rooms are warmed by original hardwood floors and local artisanal furniture. The hotel is home to a fine-dining restaurant serving New Mexican-inspired cuisine, and is conveniently located two blocks from Santa Fe Plaza. There is no pool or whirlpool, so if a pool is a priority, check out the similarly priced Inn and Spa at Loretto.
After a recent renovation, The Colonnade Hotel feels warm and welcoming, thanks to a richly hued lobby with dark woods and bronze accents. Rooms are spacious, and feature floor to ceiling windows that actually open (we know!). The Colonnade's Back Bay location can't be beat, and the views from Boston's only rooftop pool are truly incredible (though the pool deck is closed during the winter months). There is an affordable French brasserie on the premises, but don't expect to order room service past midnight.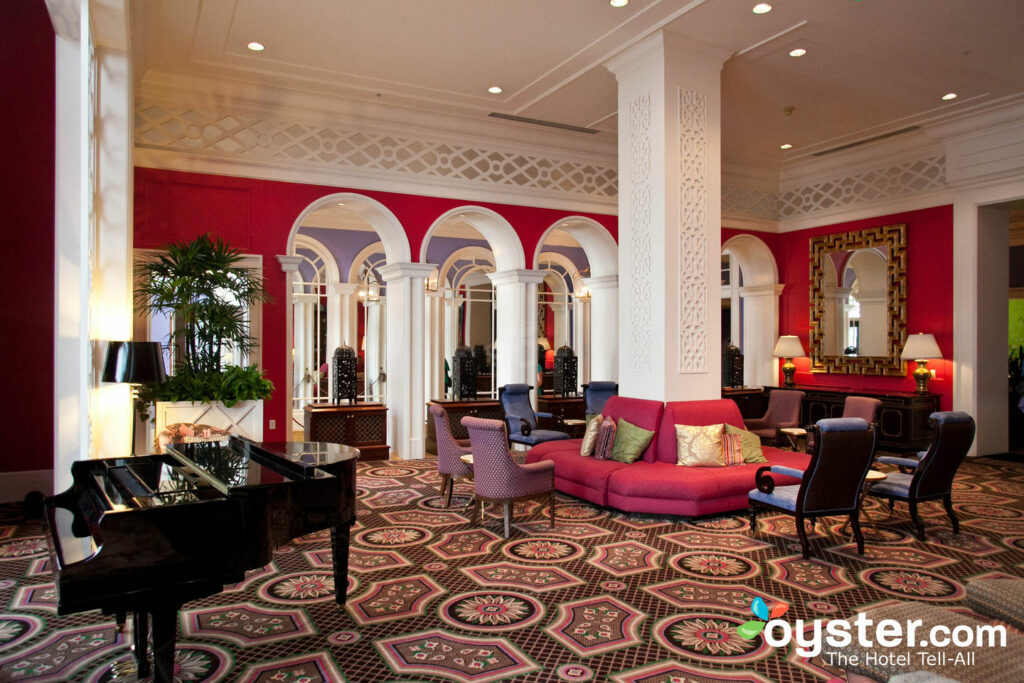 Walking through the doors of the Hotel Monaco Portland — a Kimpton Hotel feels a bit like Alice's journey through Wonderland. Atypical hotel colors — purple, fuchsia, and candy apple green — bring a hint (well, really more than just a hint) of whimsy to the guest rooms and common areas. In keeping with Kimpton's quirky reputation, the hotel offers guests some offbeat freebies, like painting easels at cocktail hour and an in-room gold fish for guests who might like a companion during their stay. All in all, the Hotel Monaco has a great downtown location as well as a solid on-site tavern, and it's pet-, kid-, and eco-friendly.
Like most W hotels, the W Atlanta Downtown is a place to see and be seen. A neighborhood hot spot with a rooftop infinity pool and chic bar, the W is all about upscale sophistication. The lobby is tastefully funky, the Bliss Spa is luxurious, and the popular BLT Steak restaurant attracts a posh nightly crowd. Rooms are swanky and sexy (some features, like the open bathroom, may not appeal to families), and feature dark woods with gray and purple hues. Despite having floor-to-ceiling windows, however, rooms are dark and extras like Wi-Fi and valet parking are on the pricier side.
The old saying "never judge a book by its cover" certainly holds true at The Dupont Circle Hotel. Passing by the drab 1940s exterior, one might never know that inside lies a handsome hotel. Rooms deliver more than the expected, in both comfort and amenities, where minimalist furniture and gray marble are contemporary without being outright trendy. With a lively bar scene downstairs, an unbeatable central location in Dupont Circle, and solid service, The Dupont Circle Hotel offers luxurious amenities for an unbeatable price.
Tell us which you'd choose in the comments section below!
RELATED LINKS:
All products are independently selected by our writers and editors. If you buy something through our links, Oyster may earn an affiliate commission.