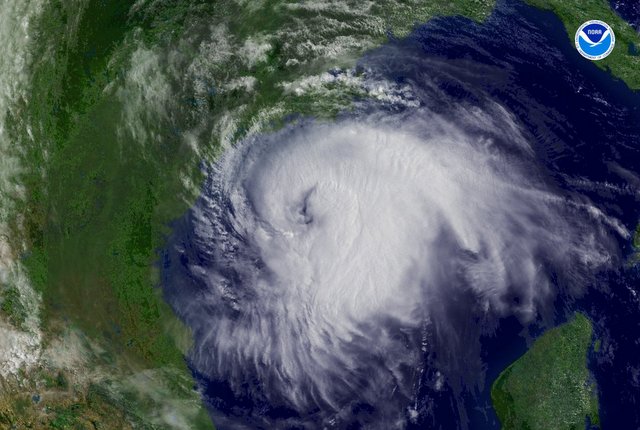 Currently a Category 4, Hurricane Matthew has thousands of travelers with upcoming trips to Florida scrambling to cancel flight reservations and hotel bookings. Of course, those who planned ahead by taking precautions such as purchasing travel insurance and tracking the storm are probably in the best shape as far as getting their money back, but most airlines and hotels have policies in place to assist those who are forced to cancel or reschedule trips due to inclement weather. But what about the vacationers who were already in spots like Haiti, Cuba, and the Dominican Republic when Matthew hit?
The most important thing to do when you're in a destination impacted by a hurricane is to follow the instructions of the local government. Often, this information is provided via the staff of the hotel where you're holed up. So if you're on vacation and a hurricane strikes, here are the things you need to know about your hotel and how it's going to handle the situation. It's best to get these questions answered right when you check in (or -- even better -- beforehand).
1. Does it have a hurricane policy?
Most hotels in hurricane-prone destinations such as the Caribbean, Mexico, and Florida have hurricane policies in place; after all, they want to encourage travelers to visit during the off-season, and so are willing to offer assurance via the options of re-bookings, refunds, etc. As Jim Hutton, Chief Security Officer of , explains, "There doesn't seem to be a steadfast yardstick that holds hotels accountable on how much they need to cater to customers' needs in the event of such emergencies. Although, based on brand reputation, it would be safe to assume that to some extent the big name hotels will have medium to robust contingency plans in place in order to deal with any potential fallouts that result from either man-made or natural disasters."
The vast majority of these policies address the situation of when a hurricane prevents a traveler from reaching his or her destination; for example, hotels comprising the Bahamian Hotel & Tourism Association allow travelers to either rebook their vacations or cancel their reservations at no cost if they are kept from the destination due to a hurricane.
Frequent travel Sean Brown says, "Hotels are very flexible with leaving early, especially due to hurricanes. I've never been charged penalties and have received refunds on prepaid stays if changes due to hurricanes… In 2012, I was in the path of Hurricane Isaac while in New Orleans. My hotel allowed me to leave early without penalties."
Hurricane-prone Westin properties do not grant full refunds, but instead allow guests to rebook their travel within one year, waiving any additional fees.
Harder to find are the hurricane policies that address compensation in the event that a guest's vacation is affected by a hurricane during his or her stay, whether it means leaving right ahead of a storm or getting stuck in the vacation destination — but they do exist. Hard Rock Cancun offers certificates to guests who choose to leave early in the amount of unused nights, allowing them to rebook the property at another time; Palace Resorts honor the same policy. Beach View in Barbados has a similar policy as well, although the certificate only applies to re-bookings from July 15 to December 15.
2. Does it have an evacuation plan?
As has been the case with Hurricane Matthew, mandatory evacuations can mean that vacationers are required to relocate ahead of the storm. Sometimes, the government issues these announcements with enough fair warning that travelers can return to the airport and catch the final flights home. In this case, it's important to know if your hotel will provide proper transportation to do so, as cabs will likely be few and far between and public transportation may shut down. The Sheraton Puerto Rico Hotel & Casino has this included in the property's hurricane policy.
If an evacuation is issued after airports close, be sure to check in with hotel staff about transportation to local shelters. Most will, and should, provide it — or will assist guests in finding government-sponsored transportation. As traveler Azure Hawton Grayot recalls of her visit to Hotel Riu Palace Las Americas: "I went through hurricane Emily in 2005 while visiting Cancun… We were evacuated to a Mexican High School Gymnasium two hours inland from our hotel by bus."
Some hotels do not have evacuation plans, and it can lead to near-disaster. That's why Scott Hume, Director of Security Operations at Global Rescue, encourages travelers to "have [your own] plan. Follow local evacuation routes and know your destination." And as Hutton advises, "If you're being told to evacuate an area, you should certainly do so. Hurricanes cause massive damage to structures, and even the strongest of buildings have been reduced to rubble with storms of this category. People who evacuate or plan to evacuate should also consolidate and transport important personal documents (deeds, wills, passports, titles, etc.) to safeguard them from damage or loss."
3. Does it have a plan for riding out the storm?
Of course, there are numerous cases where guests get stuck in the hotel and have to ride out the storm there. If this happens, Mark Simoes, a Travel Advisor with Balboa Vacations, emphasizes the importance of listening to hotel staff for directions, as they will likely have a plan in place for such an occurrence.
During 2014's Hurricane Odile, Simoes says that many hotel guests in Cabo were moved to interior ballrooms; this not only ensures that all guests receive pertinent updates and information, but that they will also be protected from flying glass, as hurricane-force winds can easily break windows.
Some hotels in hurricane-prone destinations, such as Belize's Xanadu Island Resort, are prepared with dome buildings designed to ward off high winds and back-up generators. But this is not always the case.
4. Will staff be on hand to assist?
Hotel staff in hurricane-prone destinations are almost always trained to assist guests in the event of a hurricane, whether that means tracking the storm, leading an evacuation, or shuttling guests to the safest area of the hotel and providing them with water, food, and information. It never hurts, though, to confirm this upon check-in, especially considering recent reports that staff at a property in Cuba abandoned the hotel as Hurricane Matthew approached; worried guests posted videos documenting the storm.
Watch: 5 Caribbean Islands That Are (Almost) Hurricane-Free
https://www.youtube.com/watch?v=g9nkW__bAHk
Related Links:
All products are independently selected by our writers and editors. If you buy something through our links, Oyster may earn an affiliate commission.