To check or not to check a bag – that is the question. While both sides have staunch supporters, there are pros and cons for each. No matter which you actually prefer, it doesn't change the fact there are rules — weight limits, size limits, and fare restrictions — that will ultimately dictate what you'll have to do with your bags. We've taken all of that into account (and more) and put together a handy guide to help you figure out whether you should check your bag or carry it on. Happy travels!
Cabin-Sized Bags on Most Flights: Carry It On
Most major airlines allow passengers to carry on bags that fall within 22 x 14 x9 inches. If you're bag is bigger than this (or if the airline's allowable size is smaller), you're going to have to check it. The good news is that you will likely also get to bring on a personal item, which usually maxes out as a regular-sized backpack or a large purse. Remember to check what kind of aircraft you're slated to fly in, since the actual size of overhead bin space varies from model to model. If you're on a small hopper plane (you know, the older planes with a single row of seats on one side and two-seaters on the other), save on checked luggage fees and bring a regular-sized carry-on bag — they'll likely check it at the gate, meaning you will drop it off and pick it up in the gangway.
Our Favorite Carry-On: The Carry-On from Away
With 360° spinner wheels and an interior space with the capacity to hold up to 40 lbs, the sleek design isn't the only reason these bags sell like hot cakes. Looking for something a little larger? Take a step up from your traditional carry-on size with Away's roomy Bigger Carry-On.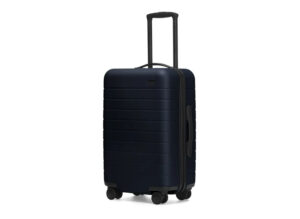 Traveling on a Restricted Fare: Depends
It wasn't that long ago when every plane ticket included at least one piece of free checked luggage. Despite massive uproar from passengers, most airlines have done away with this basic right (we see you, Southwest; thank you for keeping this perk alive and well). Perhaps the public's quick adjustment to this loss helped spawn Basic Economy, a ticket class that strips away flying privileges to their core, including removing access to overhead bin space. If you are flying on a Basic Economy fare, you'll only be able to bring a small bag that fits under the seat in front of you. It'll cost extra for any additional carry-on or checked luggage. Unless you're ready to fly with just a personal item under the seat in front of you, it's worth checking the price for a normal Economy fare for the same flight. It's often less than the fee for luggage. Plus, if you're dead set on checking a bag, this new, cheaper fare might actually save you money since you can put the difference toward your checked bag fee.
Long Layovers or Multiple Legs of Travel: Check It
If your journey involves long layovers and/or several plane changes, you're probably going to want to check your luggage. Trust us, it beats lugging it around the airport for hours, and being bag-free can be a lifesaver when delays leave you running to catch a connecting flight. Not having to babysit your suitcase can be a blessing in disguise. The only exception is if you do end up missing any of your connections, your bag may struggle to reach the final destination at the same time as you. Still, our advice is to pack a backpack with all of your essentials and a change of clothes should your bag go astray. When push comes to shove, long travel days are infinitely better when you have less to lug around and worry about.
International Flight: Depends
When it comes to international flights, it gets a bit trickier. Pros for checking your bag include a hassle-free flight day (or days) and lighter travel experience. On the flip side, if you check your luggage, there's always the possibility it'll get lost, plus it means you'll have to collect your bag(s) once you land (this can be a huge con for a bleary-eyed traveler who has just crossed several times zones and still needs to clear customs and border control). A solution? If you can fit your luggage into a manageable carry-on suitcase, do it. Skipping the extra wait time when you land and knowing that all your stuff has arrived with you is priceless.
Overweight Bag: Check It
Once upon a time, there were no weight limits for carry-on luggage, but today, most airlines have a maximum weight of 15 to 22 pounds. True, many airlines won't actually weigh your carry-on bags before boarding, but flight attendants and gate agents may size up each piece. A friendly reminder: These weight rules exist for a reason — the overhead bins can only hold so much weight. If you don't have a luggage scale on hand, a good rule of thumb is to never carry-on a suitcase that you can't easily lift up into the overhead bin yourself. If you can't lift it, check it.
Contains Valuables or Fragile Items: Carry It On
This feels like a no-brainer, but it is still worth noting. If your luggage contains valuables (think medicine, electronics, priceless-to-you items, or breakables), either bring them onboard in a smaller bag or carry them on in your main suitcase. Leaving fragile or valuable items in your checked luggage is a gamble, as there are plenty of opportunities for your luggage to be opened and trifled with, banged around, or lost in transit. Avoid any potential fiasco by simply bringing bags with valuables or breakables onboard. Otherwise, do the math; if your item is easily replaceable and equal to or less in value than the cost of checking a bag, consider putting it in your checked luggage.
Liquids Over Limit: Check It
Another no-brainer, but a must-say for anyone returning home with that souvenir bottle of booze, perfume, or even some local hot sauce. The 3-1-1 rules still apply, so even if you procure your lovely liquids abroad and pass through security in a different country, if you've got a connecting flight back in the States, you're likely going to land and have to go through security again. If they catch you with liquids over the limit, they are going to force you to check your bag or toss your beloved item, which can be a huge time-sucking pain. Save time and stress and check any bags that have liquids over the 100 ml. limit.
Our Favorite Travel-Size Option for Liquids: 4-Pack from Amazon
The innovative design of these travel bottles keep them leak proof and easily squeezable for a no-spill, no-waste vacay.
A Bag Containing Items Like Lighters, Aerosol, and More: Check It
If you're planning on packing aerosol, booze that's over 140 proof, lighters or lighter fluid, baseball bats (or other blunt items that could be used as a weapon), sharp objects like box cutters or knives, or any of the forbidden items on this list, you're going to need to check your bag. These guidelines and rules are meant to keep items commonly or easily used as weapons out of the cabin.
More Travel Items We Love
For info on these editor-selected items, click to visit the seller's site. Things you buy may earn us a commission.
You'll Also Like:
All products are independently selected by our writers and editors. If you buy something through our links, Oyster may earn an affiliate commission.