Throw a dart at a calendar and you'll likely find a pleasant time to visit Mexico, a country that's three times the size of Texas. Unlike some other vacation destinations, Mexico, which features a varied terrain and is divided by the Tropic of Cancer, doesn't have four, clear-cut seasons. Instead, its seasons are differentiated by the rainy and dry times of year. May through September brings the rainy season, while the dry time of year begins in October and lasts until April. So what's the best time to visit? That depends on where you're heading. From early December to March, visit the and break out your binoculars to watch the humpback whales. Or in the fall, join the painted calaveras (skulls) in 's Day of the Dead parade. Below, we break down where to go and what to do depending on the time of year you're visiting.
December – March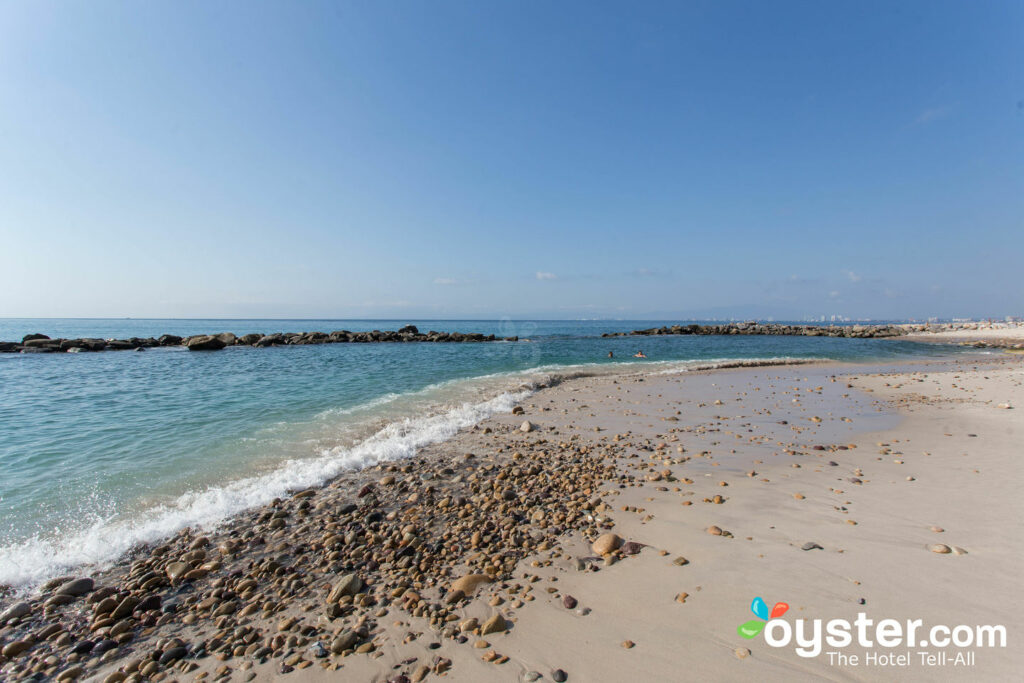 Where to Go: Those who want to escape winter's cold, snowy weather should flock to Puerto Vallarta. Here, the temperatures are comfortable — 70 to mid-80 degrees. (Evenings are cooler, between 60 and 70 degrees). The weather is mild even in January, the coldest month of the year. After all, sits nearly on the same latitude as the Hawaiian islands. Visiting Puerto Vallarta during the winter also means you'll miss the rainy season, which runs from mid-June to mid-October. The bad news? Tourists begin their voyage here in November, so it's high season and hotel rates are pricier this time of year.
What to Do: Puerto Vallarta, a resort town that overlooks the Bahia de Banderas, has become increasingly popular for turtle watching and dolphin tours. The bay also attracts whale watchers from mid-December through March. Snorkeling, scuba diving, and sunbathing can also be found at the nearby Sayulita and Bucerias beaches.
Folks can also venture into the Zona Romantica to see Church of Our Lady of Guadalupe, which was constructed starting in 1903. The church bells ring through the city in early December for the Feast of Guadalupe. As the night goes on, wander to the bars and nightclubs on the El Malecon promenade. Four stone arches mark the Los Arcos Amphitheater on the south end of the promenade, where you'll be treated to free live music on the weekends. There's also more to see at the Los Muertos Pier, which was redesigned by architect Jose de Jesus Torres Vega and features a colorfully-lit sail design.
If you can find it, you'll be charmed by the Isla Rio Cuale, a small island that sits in the River Cuale. Sure, it might be a bit of a tourist trap, but the walking bridges are fun to cross. Plus, you'll find bargain handicrafts and souvenirs here, if you're in the mood to barter.
Where to Stay:
March – May
Where to Go: Is it cliche to go to Cabo San Lucas for spring break? Perhaps. But you'll get over that fact once you arrive at this location, which sits on the southernmost point of Baja, California. Between March and May, temperatures range from the high 70s to mid-80s. It's also the driest time of the year (the highest rainfall is seen from August through September). In March, people indulge in food and booze for the Carnaval celebrations held the weekend before Lent. But note: This is a high tourist season and hotel prices will reflect that.
What to Do: Situated between between Playa del Amor and Playa del Divorcio, the jagged, eroded rock formations jutting out of the water at Land's End is an unforgettable sight. Sea lions also often hang out in the area. Keep in mind, however, that the spot can only be reached by water taxi and swimming can be dangerous since the currents are rough.
Where to Stay:
June – August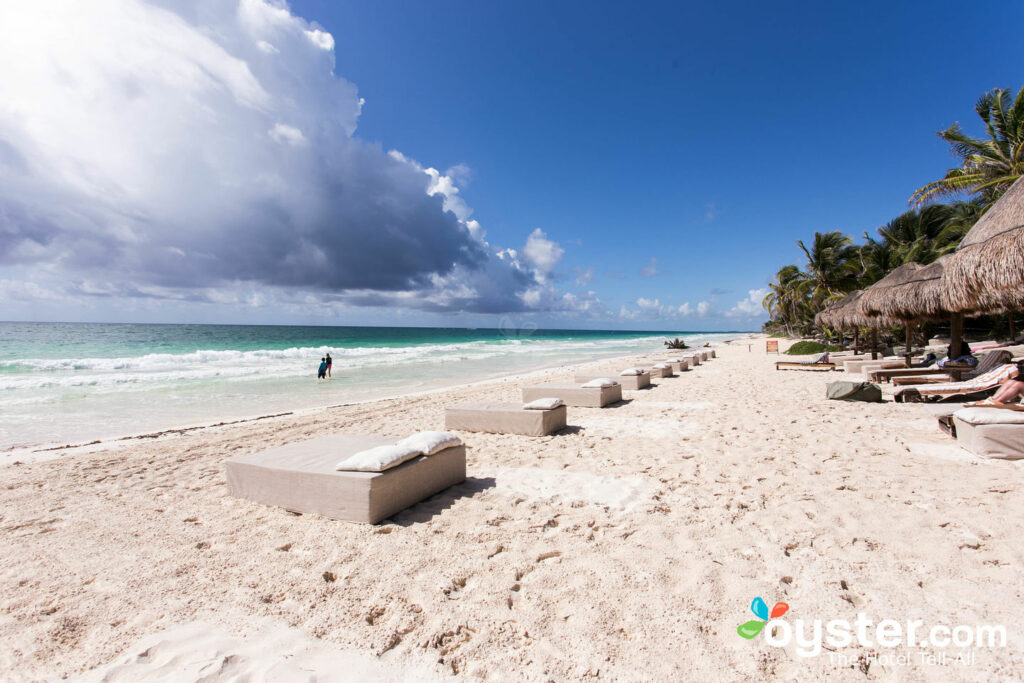 Where to Go: Tulum, which is located on the Caribbean coast of Mexico, is known as much for its turquoise waters as it is for its Mayan ruins that date back to 1200 A.D. This jungle location gets hot and, yes, there are mosquitos, especially during the rainy season, so come prepared. July through October is also hurricane season (September is the wettest month of the year). Count on it pouring, but (knock on wood) the rain should ease up. The silver lining? You'll avoid the crowds typically seen in the winter and save on your hotel stay.
What to Do: Tulum is the only Mayan city built on a coastline. While the ruins here are smaller than Chichen Itza, the destination's coastal location and well-preserved structures don't disappoint. This site was used to trade turquoise and jade and is protected by a limestone wall. Inside the wall lies El Castillo (The Castle) and Temple of Frescoes, which contains interesting 13th-century frescoes. After sightseeing, follow the pathway to the beach and take a dip in the Caribbean.
Where to Stay:
September – November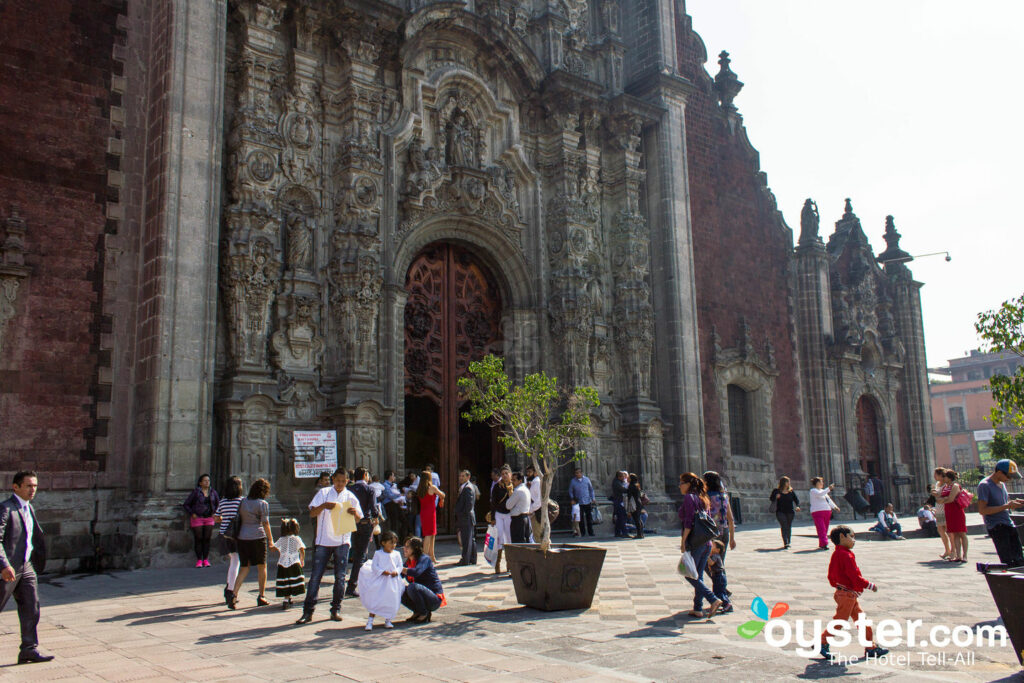 Where to Go: To call Mexico City busy is an understatement. The country's capital is packed with 16 boroughs and more than 20 million people. On the plus side: the weather is typically pleasant. In fact, it always feels like spring here, even during the traditional fall months. That's due to the city's geographical location on a plateau, which is more than 7,000 feet above sea level. June to September tend to be the rainiest months, while November to February is the driest (and coldest) time of year.
What to Do: Dia de los Muertos (or Day of the Dead) is a time when Mexicans honor their loved ones who have passed. This year also marked the first Dia de los Muertos parade. During the day, floats were decorated in marigolds, revelers donned skull makeup, and thousands celebrated in the main square of Zocalo. Interestingly enough, the whole shebang was inspired by the opening scene of the James Bond film "Spectre." And although the unconventional take on this holiday wasn't welcomed by everyone, organizers hope to make it an annual celebration in early November.
While in Mexico City, check out La Casa Azul, a cobalt-painted house where artist Frida Kahlo was born and lived out the last days of her life with her husband, Diego Rivera. Today, it's a museum that features her art and personal belongings as well as other Mexican artists' works. Located in the suburb of Coyoacan, this attraction can often get crowded. To see even more art, head to the Palacio de Bellas Artes, where Kahlo's open casket was on display for her vigil in 1954.
Where to Stay:
Related Stories:
All products are independently selected by our writers and editors. If you buy something through our links, Oyster may earn an affiliate commission.