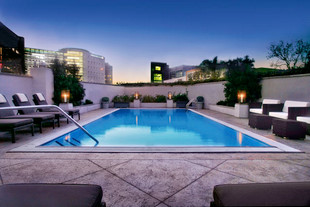 Orbitz.com launched a new ad campaign on Friday that claims "When you Orbitz, you know." According to the ads, you should research your vacation with Orbitz so that you can know what to expect when you arrive at your hotel. The television ads began on Friday, and print ads will pop up starting this month as well.
But consumers should be wary of this new campaign, as the exact opposite of its claim is true — especially when it comes to Orbitz's photos. The photos used on Orbitz often look nothing like the reality that awaits our undercover hotel reviewers when they arrive at hotels.
"Orbitz's product is part of the problem the ad highlights, not the solution," says our CEO Elie Seidman.
Our reviewers take hundreds of photos at each hotel they visit, so the proof is in our pudding. As the above photo comparison shows (see more comparisons below), the photos used on Orbitz are often misleading to consumers. In the case of the Sofitel Los Angeles, Orbitz displays a photo that conveniently leaves out the looming Macy's department store. All too often the marketing photos on Orbitz, like the image of the Sofitel Los Angeles above, are enhanced, manipulated, staged, cropped, or cleverly angled.
Our fearless leader Elie sums it up best. "The gall of Orbitz's new ad is that it describes the customer problem and implies that Orbitz solves it. But as these 'Photo Fakeouts' of Orbitz photos show, Orbitz is a part of the problem it claims to solve, and self-evidently not the solution. Their ads, while funny, ring hollow and Orbitz and their ad agency BBDO New York need to be taken to task for this."
Most travelers know what it's like to be disappointed (or even shocked) when arriving at a hotel for the first time, which is why Oyster.com was started — to help vacation planners see the truth before they book. Our professional reviewers travel to hotels, stay undercover, and take hundreds of photos that remain unaltered, all to ensure that consumers can see the hotel reality before they decide where to stay.
The Orbitz ad campaign is at least an exaggeration of what you get on Orbitz, if not worse.
Below we're showing you how the hotel photos found on Orbitz match up against the real photos that our photographers took out in the field. Just a quick glance shows that apparently "when you Orbitz," you actually have no idea what you're in for.
For more surprising photo comparisons, check out our full Photo Fakeout series, which calls out photos found on hotel websites and sites like Orbitz.
When we arrived in Jamaica, we found that the big bed shown on Orbitz turned out to actually be two beds pushed together. Not a nice surprise for a couple arriving in Negril for a romantic getaway.
The Hard Rock Hotel and Casino isn't a bad choice for those visiting Las Vegas, but this marketing photo found on Orbitz shows a serene Beach Club scene that belies what unassuming guests will find going down every Sunday during the Rehab pool party.
This hotel is close to the U.S. Captiol, but not nearly as close as this marketing photo from Orbitz would have you believe.
This building overlooking the azure sea does exist at the Holiday Inn, but it's not where you'll find the cardio machines (nor hunks on stationary bikes, for that matter).
All products are independently selected by our writers and editors. If you buy something through our links, Oyster may earn an affiliate commission.