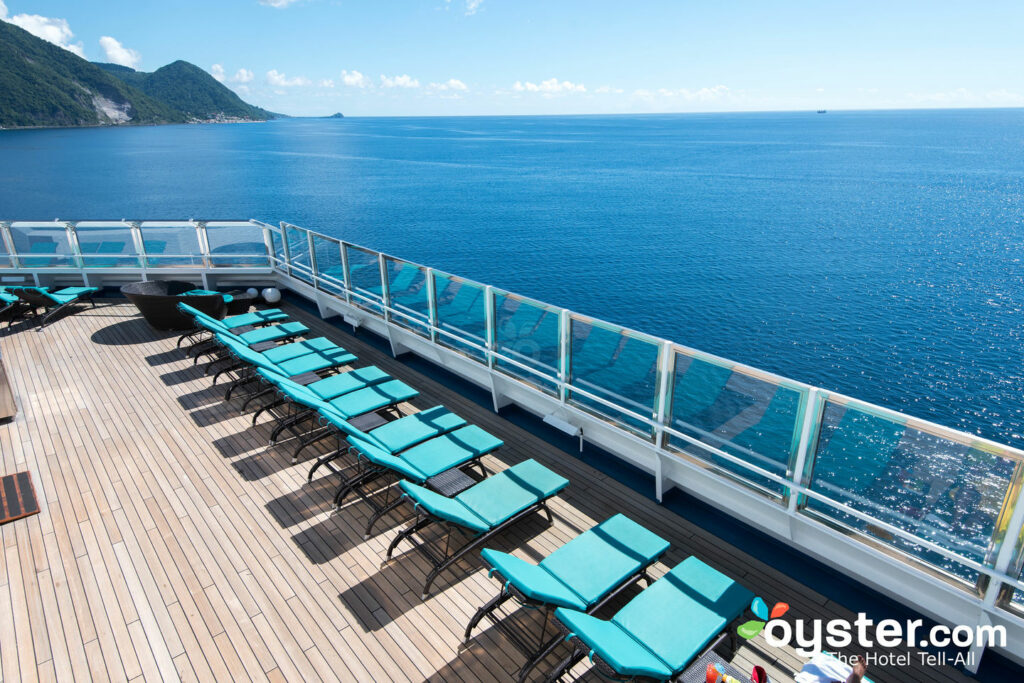 Cruising is popular for travelers of all ages, as it has a similar experience to an all-inclusive resort -- dining, drinks, and entertainment are all generally included -- with the added benefit of sailing around to visit different locations. Some sailing destinations and cruise ships are geared toward party-minded young adults, while others are suited to vacationing families and retired folk. With that in mind, we've broken down where you should set sail in your 20s, 30s, 40s, and beyond. Read on and bon voyage!
Your 20s: The Caribbean
Whether you're celebrating your 21st birthday, planning a pre-wedding trip, or simply want an escape from your first post-college job, a cruise to the Caribbean offers the ultimate party setting. The length of a Caribbean cruise can range from a weekend to one to two weeks (or longer), allowing cash-strapped young adults to afford a fun, warm-weather vacation with tasty rum punches in hand. Cruise lines like Carnival particularly appeal to 20-somethings with fun activities, entertainment all day and night, all-inclusive dining (and sometimes drinking), and plenty of spots to swim and sunbathe. Stick to a Bahamas cruise for short getaways, or ships hitting up lovely islands such as Antigua and St. Thomas for longer trips.
Our Cruise Pick: Four-Day Bahamas Itinerary on the Carnival Liberty
Your 30s: The Mediterranean
Your bank account is probably a little healthier in your 30s, so spending money on a longer cruise is a bit easier. A great option, then, is cruising the beautiful Mediterranean, stopping at raved-about cities. There are several routes and length options to choose from, but top port cities include Rome, Barcelona, Venice, Cannes, and Corfu. Party-minded travelers may want to ensure the lively Greek island of Mykonos is on their itinerary, while romancing couples may prefer to hit up the charming, cliffside town of Amalfi. If you weren't able to study abroad in college and gallivant across Europe, now's your chance to see some of the continent's most well-known spots.
Our Cruise Pick: 10-Day Mediterranean Dream on the Koningsdam
Your 40s: Galapagos Islands
If you want to use summer vacation to travel with the kids, or are skipping Christmas with the in-laws to have your own adventure, the Galapagos Islands are the perfect bucket-list destination for your 40s. The islands became famous from Charles Darwin's "On the Origin of Species," and are home to numerous endemic species that aren't found anywhere else in the world. Additionally, a whopping 97 percent of Galapagos land area is considered a national park, and the sights of sea lions, sea turtles, and hardened lava flows will delight passengers of all ages.
Our Cruise Pick: Seven-Night Galapagos Northern Loop on the Celebrity Xploration
Your 50s: European Rivers
So you've had your boisterous European trips and now are looking for something quieter. Enter: river cruises. Many of these cruises sail along the Danube or Rhine Rivers, on river boats that provide an elegant alternative to huge ships (think 95 staterooms versus over 2,000). Stopping at ports like historic Budapest, culture-packed Vienna, and the fortified city of Nuremberg, Germany, these river cruises sail to lesser-visited, but no less charming European cities. Passengers will get to see medieval towns, striking scenery, interesting museums, and ample cafes.
Our Cruise Pick: 15-Day Grand France sailing on the Joie de Vivre
Your 60s: Australia and the South Pacific
If you don't live near Australia, it'll likely take a while for you to get there. But once you're retired, or not responsible for getting kids to school on time, you'll be able to take a longer vacation and set sail around the breathtaking South Pacific — where the cruise clientele is generally older. Some nine-night sails stick around Australia, while an 18-night cruise runs from Maui to Sydney, stopping at the famous islands of Bora Bora and Tahiti. We recommend upgrading to a balcony cabin for this sail. Port stops allow travelers to visit Pearl Harbor, hike Hawaii's stunning landscape, snorkel Bora Bora's stunning coral reefs, explore the Auckland Art Gallery in New Zealand, and tour the Sydney Opera House. And if you are retired, why not tack on a few days at the beginning and end of the journey?
Our Cruise Pick: 18-Night Tahitian Treasures Cruise on the Celebrity Solstice
Your 70s and Beyond: Alaska
After years of touring other countries, Americans (and citizens of other countries) may discover in their 70s that they still have a lot of the United States left to see. One place that's great for exploration by ship is Alaska, thanks to its glacier-filled landscape and abundant water-based wildlife. Alaskan cruises are especially popular with the 70-and-over crowd, given that the ships range from small luxury options to big-name vessels, and entertainment is often geared toward adults. Passengers can sit on their balcony while sailing, and sign up for excursions to salmon farms, dogsledding sights, whale watching points, and the Saxman Native Village featuring totem poles made by the indigenous Tlingit people.
Our Cruise Pick: Seven-Night Inside Passage (With Glacier Bay National Park) on the Ruby Princess
You'll Also Like:
All products are independently selected by our writers and editors. If you buy something through our links, Oyster may earn an affiliate commission.