Tuscany is a place where every single stereotype checks out: the glorious Renaissance cities, the medieval villages hovering on hilltops, the rolling countryside that looks washed in a golden glow. There's a reason why Tuscany has been a source of inspiration to travelers and artists, from Dante and Chaucer to Anthony Bourdain and Aziz Ansari. Here, we map out our favorite destinations in Tuscany, whether legendary or under-the-radar.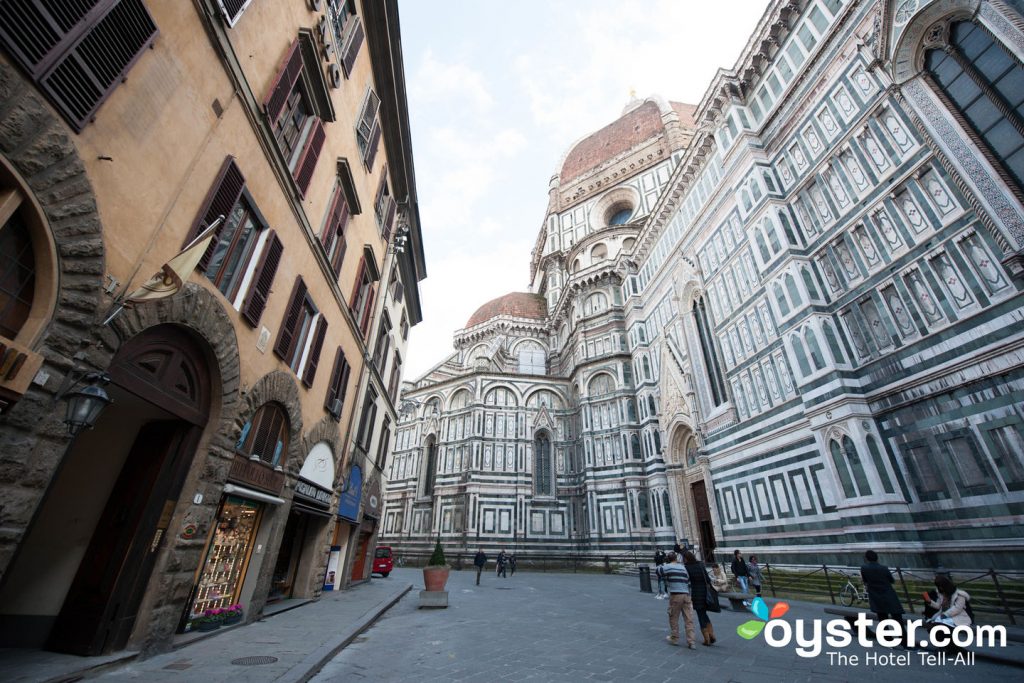 Florence swirls with Renaissance art and architecture, traditional Italian ways of life, and a bohemian spirit. Tuscany's capital and crown jewel, Florence is one of Italy's most beautiful cities — more compact and less gritty than Rome. While the sprawl of Italy's capital is legendary, Florence is one of the most pedestrian-friendly Italian cities, with nearly all of the main tourist sites — the iconic Santa Maria del Fiore (better known as the Duomo; climb to the top for a real thrill), Michelangelo's "David" at Galleria dell'Accademia, the works of Botticelli and Leonardo da Vinci at the Uffizi Gallery, and the Ponte Vecchio, the gold-laden bridge dating back to the 1300s — located within short walking distance from each other.
Piazza della Signoria is a popular tourist hub, near the 13th-century Palazzo Vecchio and many hotels, like the regal Portrait Firenze and the petite San Firenze Suites & Spa. The elegant and lively Piazza della Repubblica is a pedestrian square surrounded by historic cafes, including Caffe Giubbe Rosse, a long-time meeting place for famous artists and writers. Near the square are Hotel Spadai, a modern hotel in a classic palazzo-style building, and , a 12-room hotel in a Renaissance palace built for the wealthy Vecchietti family. Across the Arno are the splendid Pitti Palace, Piazza San Felice and Casa Guidi, and the strikingly somber Basilica di Santo Spirito. Hike up to Piazzale Michelangelo for an unreal view of the terra-cotta-tiled city and green hills rippling in the distance. The scenery is intoxicating; for more, consider staying in the neighboring town of Fiesole, high above Florence. There, villas like Belmond Villa San Michele and Villa Fiesole Hotel offer terraced gardens with panoramic views of the cityscape and the monumental Duomo.
But most visitors want to experience the stir of the city. It seems like there are wine bars, coffee roasters, cheese shops, mom-and-pop trattorias, gelaterias, and humble bread bakeries tucked into every Florentine corner. At Mercato Centrale, the iron-and-glass food hall and marketplace in the San Lorenzo neighborhood, you can devour a plate of fresh spaghetti with black truffle cream sauce — plus a glass of red wine — at 10 a.m., should you so desire. Shopping ranges from the upscale Bottega Veneta and Salvatore Ferragamo temples (the Museo Ferragamo is worth the small admission fee) to hidden-away flea markets, bargain-friendly leather-goods street stalls, and long-established paper shops. The traditional leather studio at the church of Santa Croce and Officina Profumo-Farmaceutica di Santa Maria Novella — a palatial 600-year-old pharmacy near the main train station — are incomparable combos of commerce and traditional craftsmanship.
The impossibly charismatic Siena is one of the most visited Tuscan hill towns. Inside the medieval city walls is the centro storico (historic center), a UNESCO World Heritage site filled with car-free cobblestoned lanes, restaurants, shops, and attractions like the green-and-white Siena Cathedral and its Biblioteca Piccolomini, the imposing Palazzo Pubblico (Siena's town hall from the 13th century), and Piazza del Campo (the town's main square and the site of the famous annual Il Palio horse races). In the heart of it all is the Grand Hotel Continental, a luxury hotel set in a lovingly restored Renaissance palazzo — originally a wedding gift from Pope Alexander VII. Keep in mind that much of Siena's old city is pedestrian-only, so it is easy to navigate on foot, but parking can be difficult and expensive. Staying at a hotel just outside the walls, like Hotel Santa Caterina, makes it easier to keep a car for day trips to the area's ancient walled hill towns, like , Volterra, and i.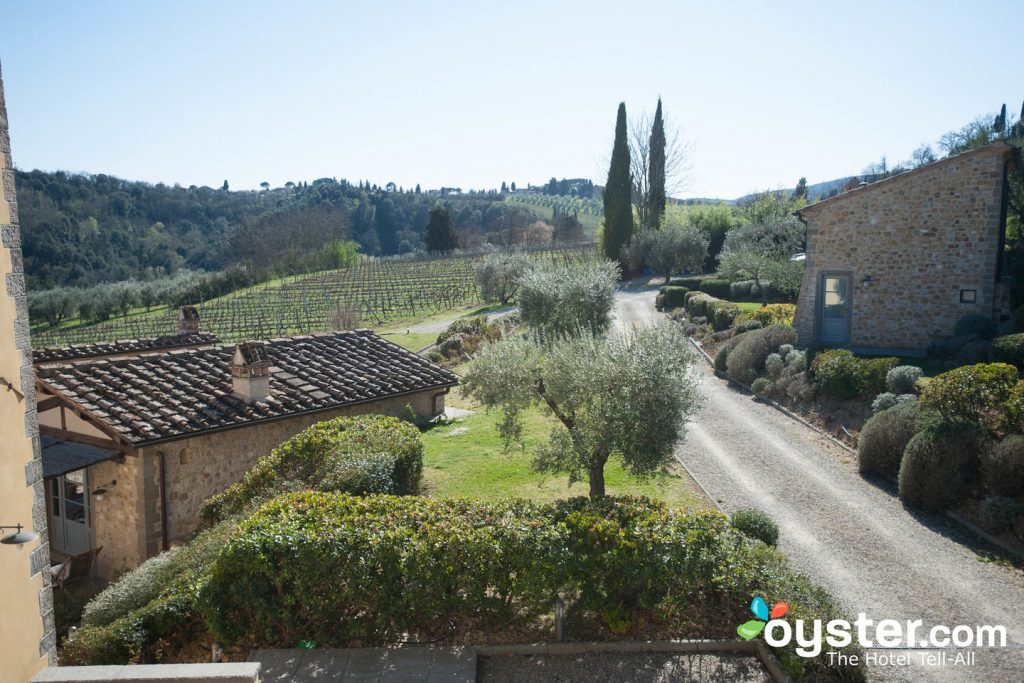 One of the joys of visiting Siena is the journey through Val d'Orcia, the quintessentially Tuscan region of vineyards, cypress-dotted countryside, and age-old stone villages. This is the Tuscany of "The English Patient," "Gladiator," and exhilarating Alfa Romeo sports-car commercials. About a one-hour drive southeast of Siena is Pienza, one of Tuscany's most enchanting villages and a mecca of Italian Renaissance architecture. (Stream season two of "Master of None" if you want a preview of how lovely this place is.) Pienza's main street is a narrow cobblestone lane lined with shops, restaurants with terrace seating, and small hotels, like the 12-room La Bandita Townhouse, which is housed in an old convent. The road leads to Pienza's piazza and its Renaissance cathedral. Cars are prohibited from entering the center of Pienza, but there are parking areas immediately outside the town's walls.
Speaking of cars, the 15-minute drive between Pienza and the idyllic Tuscan village of San Quirico d'Orcia is one of the most scenic drives of the region. Soak it all in at Agriturismo Cretaiole di Luciano Moricciani, a farm property in the countryside, or continue on to Hotel Palazzo del Capitano, a UNESCO site inside an ancient palace in San Quirico d'Orcia's central medieval neighborhood.
The region is world-famous for its wines — the cellars of Montepulciano and Montalcino are a 20- to 30-minute drive away from Pienza. All throughout the medieval hillside town of Montepulciano are wine shops (sampling the Vino Nobile is essential), fine restaurants, and well-preserved Renaissance buildings. But perhaps there's no better place to delight in local wine than the hilltop town of Cortona, whose nearly 2,000-foot elevation provides tremendous views of the area (you can even see Lake Trasimeno, the site where the Hannibal's army conquered the Romans in 217 B.C.).
The region is specked with natural thermal pools, like the hot springs in Rapolano Terme, Chianciano Terme — revered by the Etruscans going back to the fifth century B.C. — and Bagno Vignoni, whose huge thermal pool was visited by Saint Catherine of Siena in the 14th century. A five-minute walk from the ancient village is Adler Thermae Spa & Relax Resort, an all-inclusive with its own thermal indoor and outdoor pools, plus 180-degree views of Val d'Orcia's farms and olive trees. Fonteverde Tuscan Resort & Spa, a three-minute drive outside of the thermal village of San Casciano dei Bagni, also takes advantage of its geothermal location, offering seven different spa pools. Like Adler, the scenery surrounding the Fonteverde is absolutely stunning and features nothing but green hills with cypress trees rising and falling toward the horizon, and fields of flowers popping up in the spring.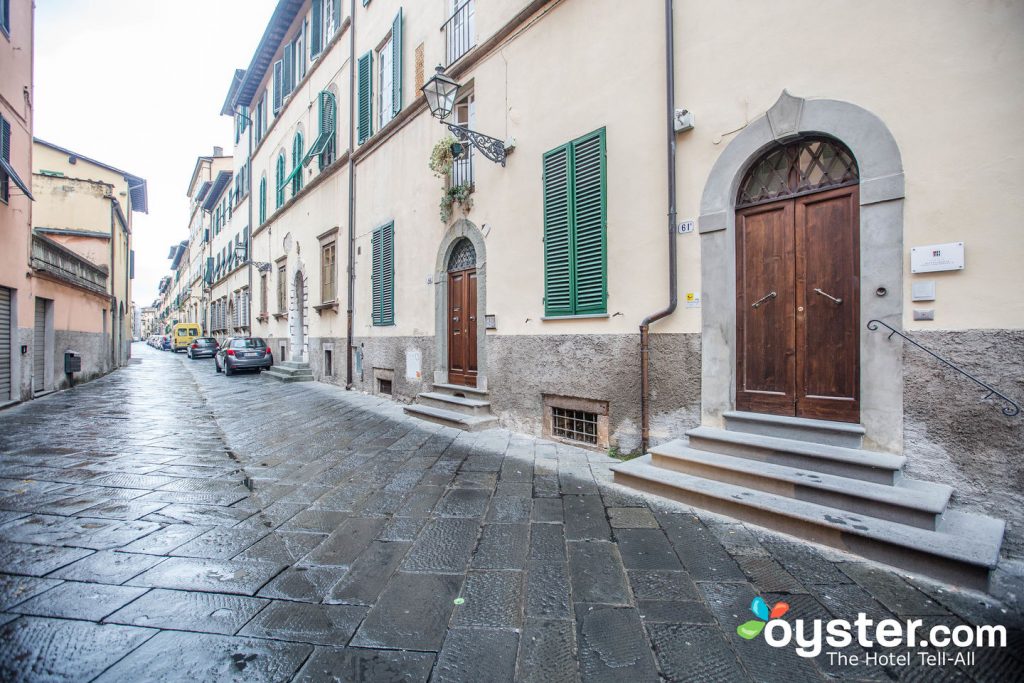 Renaissance-built fortified walls encircle the city of Lucca, a beautiful knot of pale yellow stucco facades, clay-colored tile rooftops, and old bell towers. Lucca was established by the Etruscans, colonized by the Romans, and conquered by Napoleon — so there is a lot to take in here. Start on the Passeggiata delle Mura Urbane, a pedestrian promenade along the top of the city's 16th- and 17th-century ramparts. Then, descend into Lucca's tangle of cobbled streets, where you'll find medieval churches with ornate columned fronts (like the lovely Duomo di San Martino, whose construction started in the 11th century) and picturesque plazas (like Piazza dell'Anfiteatro, an ancient Roman amphitheater surrounded by medieval homes and contemporary restaurants and stores). Hotel Ilaria, comprised of a former stable and a 14th-century tower, is located on a stone-paved street along a narrow canal that offers gorgeous views of the city. Ilaria is a one-minute walk from Villa Bottini, an exquisite 16th-century mansion and garden, and a 10-minute walk from Palazzo Pfanner, the 17th-century home of a noble merchant family.
Or, travel 30 minutes east to Montecatini Terme, an achingly pretty hilltop town and an even bigger spa destination than the thermal villages near Siena. Grand open-air spa centers were built around Montecatini Terme's many thermal springs, and fountains streaming fresh spring water can be found on the streets, in the public squares, and around the spas. As a major spa tourism site, Montecatini Terme is loaded with shops, restaurants, sports facilities, and hotels. We love the contemporary and upscale Hotel Montecatini Palace and the sweet and simple Smart Hotel Bartolini.
North of Lucca, the Serchio Valley forms some of the most magnificent landscape that you'll find in Tuscany, if not all of Italy. The setting feels timeless and remote — there are winding country roads, dense forests, mountain vistas, and more come-hither medieval villages, like Barga and Castelvecchio Pascoli. Best of all, the area's natural splendor is uninterrupted by tides of tourists.
To the west is Tuscany's Versilia region, on the Ligurian Sea. Seaside destinations like Forte dei Marmi, the gay-friendly Marina di Torre del Lago, and Viareggio offer long stretches of sandy beaches outfitted with beach clubs and other facilities. For nearly two miles, Viareggio's promenade rolls along the shore with designer boutiques, cafes, and restaurants. (Grand Hotel Royal, a 1900s Art Nouveau icon, overlooks the seafront scene.) But our favorite Versilia destination may be Pietrasanta, a coastal town that combines Lucca's history and charm with the area's natural beauty. Founded in the 13th century, the town features medieval churches, 16th-century palazzos, and a golden-sand marina that's thought to be one of Italy's finest beaches.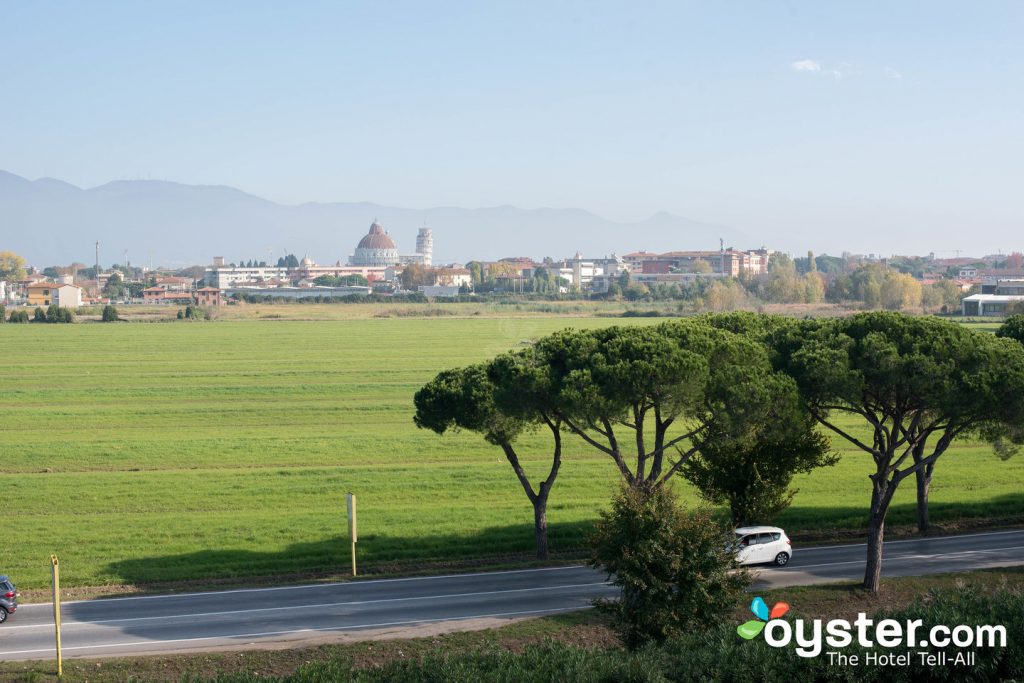 Go ahead and overload your camera roll with pictures of Pisa's most famous attraction. We won't stop you, but we do ask that you then break away from the Leaning Tower and its herds of snap-happy tourists. Stroll along the winding Arno and stop at the tiny Santa Maria della Spina, a Gothic church from the early 1200s. Turn on Corso Italia, Pisa's main commercial thoroughfare, then stray off course down side streets and through small plazas. Pisa's central streets are girded by beautiful marigold and peach buildings with green wooden shutters, arched doorways, and wood-beam cornices peeping overhead.
Make time for University of Pisa's Botanical Garden. Founded in the mid-1500s, this is one of Europe's oldest university-run botanical gardens, and is home to ancient magnolia and ginkgo trees, an 80-foot camphor tree, and a 200-year-old Virginia oak. A block from the garden is L'Ostellino, one of the top-rated places to eat in Pisa. The rustic, brick-walled spot serves giant paninis stuffed with meats and cheeses, plus Italian wines and beers. If you want to stay the night, we recommend Bologna Hotel Pisa, a 15-minute walk across the river from the gardens. The upper-middle-range hotel is located on a narrow, busy street in the center of Pisa, right between Stazione Pisa Centrale, Pisa's nearly-150-year-old train station, and all of the main attractions.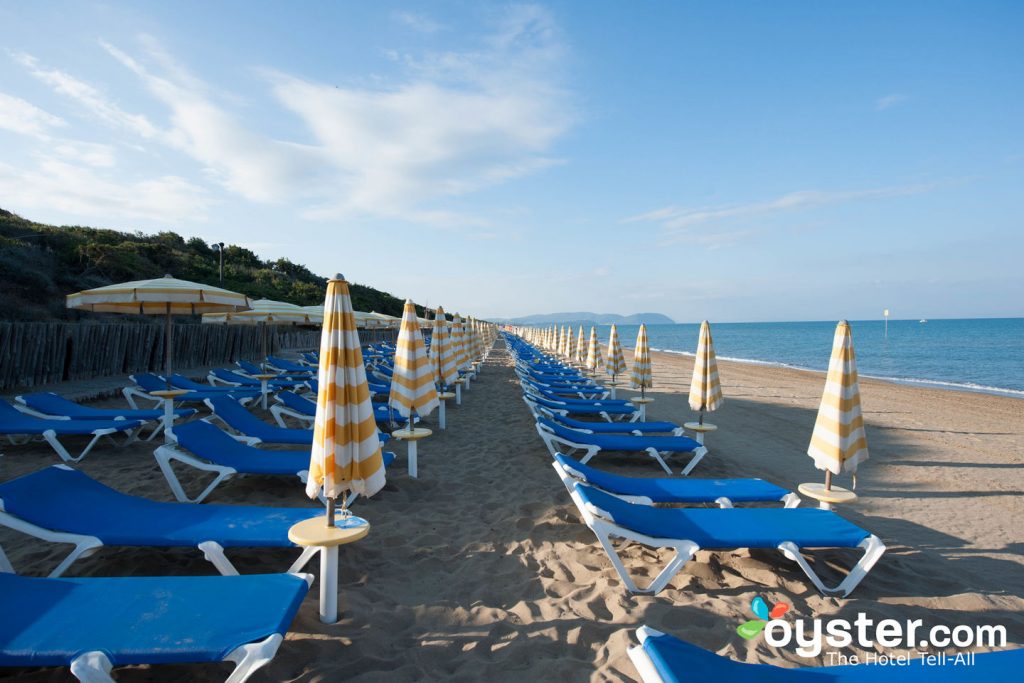 An hour-long drive south of Pisa brings you to one of the most popular summer destinations on the Tuscan coast — the seaside town of San Vincenzo. Here, the marina is filled with yachts; streets are lined with swanky boutiques, restaurants, and bars; and wide sandy beaches are fringed by native underbrush and shady pine trees. About a 15-minute walk from the beach is the family-friendly camping village of Park Albatros, which is surrounded by a large pine forest and offers bungalows, mobile homes, and camp sites connected by tree-lined pathways.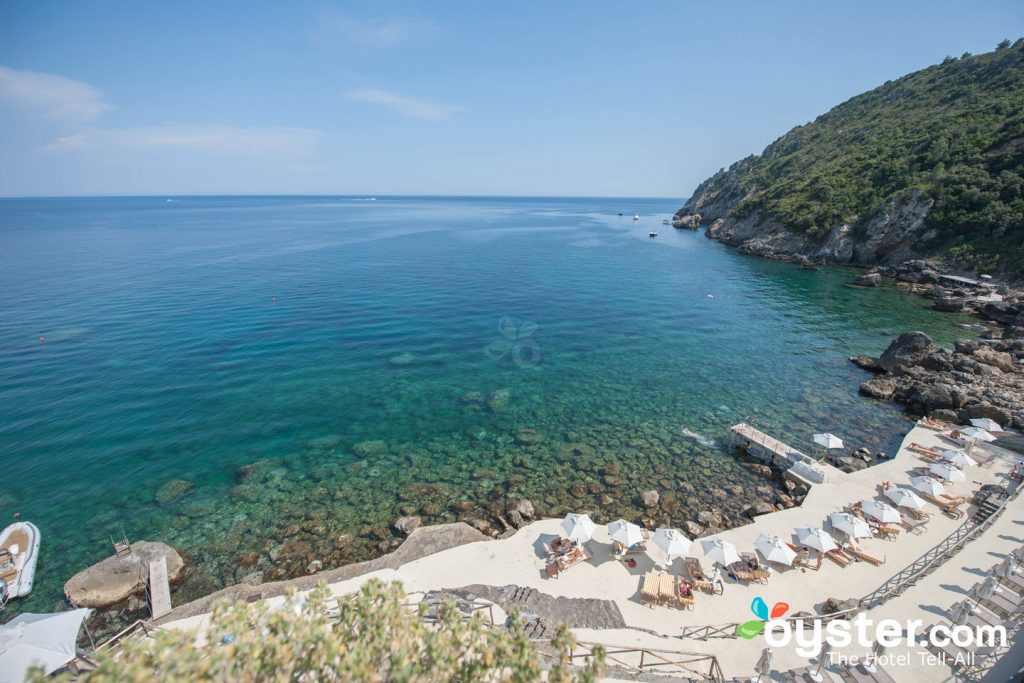 Tuscany's southernmost province is all about natural beauty and quaint exploration. This under-the-radar area beckons with its pine forests, rivers, lakes, vineyards, fields of sunflowers and poppies, and historic settlements, such as Saturnia. Like Chianciano Terme, this spa town's thermal springs were used by the Romans and Etruscans. Hotel La Fonte del Cerro is one of the closest places to stay to not only the Saturnia spa complex, but also the Cascate del Mulino, the (free) steamy outdoor waterfalls fed by the same sulfurous spring waters as the spa. The waterfalls are a short drive from the township, where the 12th-century Santa Maria Maddalena and Roman gates dating to 2nd century B.C. deserve a visit. The picture-perfect town of Pitigliano contains several Etruscan ruins and a Renaissance-era fortress; more exquisite examples of medieval architecture are on show in Sorano, an ancient town clinging to a stone hill above the Lente River.
Monte Argentario — surrounded by the Tyrrhenian Sea, but connected to the mainland by two long sandbars — is known for its olive trees, villas, migratory birds, and mountains. On Monte Argentario's southeast corner is Porto Ercole, a picturesque 16th-century port town that has become a major upmarket tourist hub with bars and restaurants. Il Pellicano is one of the area's classiest hotels (past guests include Charlie Chaplin and Henry Fonda), plus there are a good number of budget-friendly vacation villages, like Resort Capalbio and Argentario Camping Village, nearby on the mainland. About a 75-minute drive north of Monte Argentario is Castiglione della Pescaia, an ancient sleepy fishing port with practically year-round beach weather and a promenade along the beach — which, like Marina di Pietrasanta, is considered one of Italy's best. In addition to restaurants with tasty seafood and small bars, the town's biggest attraction is the medieval fortress that looks down over the village.
Just north of Castiglione della Pescaia is Punta Ala, a small, eclectic enclave of crumbling medieval ruins, expensive shops and restaurants, and a sprawling golf course. The island of Elba is due west in the Tyrrhenian Sea and visible from the beaches and higher hills. From Punta Ala, it's a 25-minute drive to the small town of Follonica, where culture thrives in the form of old churches, art museums, and architecture. Follonica is also a starting point for several Tuscan tours to medieval villages and wineries.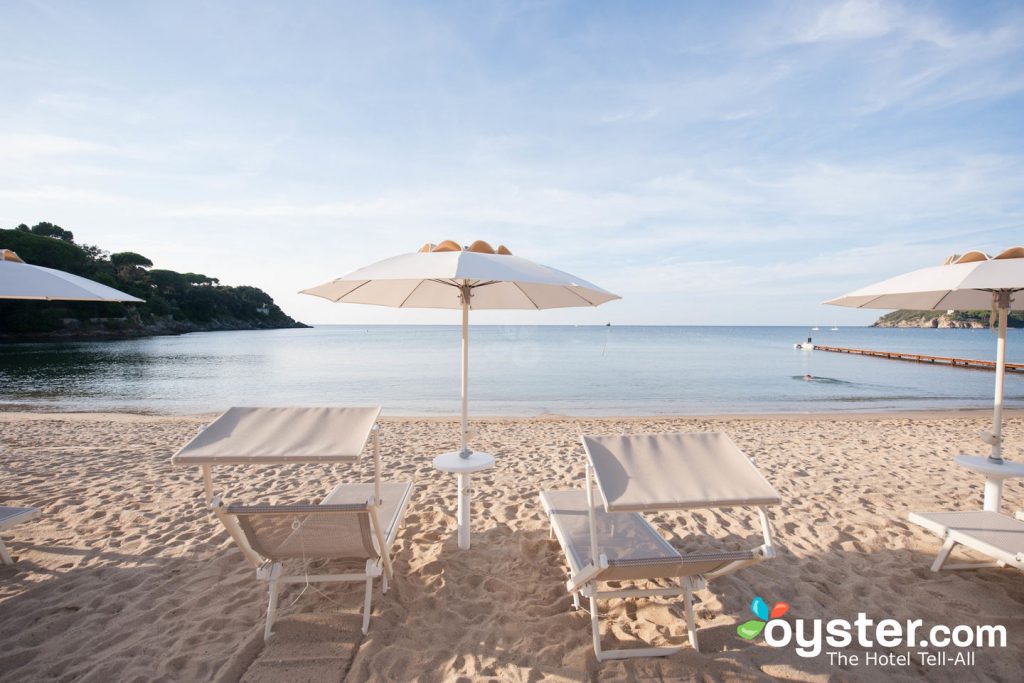 Off of the Grosseto coast in the Tyrrhenian Sea, Elba is Tuscany's take on an island paradise. This is a world of sandy coves, lively port towns, tumbling mountains, and fields flecked with Mediterranean scrub.
Portoferraio in the north is Elba's main ferry port town, and about a 20-minute drive east along the bay is the fishing port town of Marciana Marina. The latter has a pedestrian-friendly atmosphere and a popular weekly outdoor market, though its pebbly coastline is less suited for suiting up and taking a dip. For swimming, continue on about 30 minutes to the east to Sant'Andrea, one of Elba's best-known beaches, or all the way to Fetovaia in the far southwestern part of the island. Fetovaia's beautiful sandy bay is one of the longest in Elba, but keep in mind that it can get very crowded in the peak season.
Back in Portoferraio, La Biodola's 500 yards of golden sand makes it one of Elba's most popular beaches, but it can also get very crowded in the summer. Hotel Hermitage practically holds the reins of Biodola Bay, with a private beach on the western part. On the southeast peninsula, about a 30-minute drive from Portoferraio, is the beautifully preserved Etruscan town of Capoliveri. Offering plenty of eateries and small shops, the inland town is a popular shopping and nightlife destination, as are the seaside villages of Porto Azzurro in the southeast, Marina di Campo in the south, and Procchio in the north. In the summertime, Procchio is at its liveliest, with plenty of shopping, restaurants, and live music.
Those more interested in nature and trekking should visit the small hamlet of Patresi, about 50 minutes from Portoferraio port. The area is one of the wildest on the island, with cliffs, beaches, nearby mountains, and gorgeous views of Corsica and Capraia.
You'll Also Like: