Hitting the road or hopping on a plane can be exciting, but it also comes with a lot of stress. There's packing, getting to the airport on time, dealing with traffic and delays, drawing the short stick when it comes to seating options, and body clocks that often get out of whack. That's exactly what happened to me this past summer when I decided to fill every waking moment with travel.
I'll admit, I'm one of those people who gets the travel bug if I don't go somewhere every six or so weeks. I constantly need a change of scenery, even if it's a quick trip upstate. So, when I was pushing the three-and-a-half-month mark of no trips, I went a bit nuts with the planning.
First up was a cruise around the Mediterranean, where I led meditation classes for a week, followed by a two-night trip to Denver, where I spoke at a conference. Then, I made my way over to Portland, Oregon for the Fourth of July, where I ate five meals a day, and lastly, headed down to Rio for the Olympics, where sleep wasn't on the itinerary. While I am immensely grateful for each and every one of these experiences, I was also extremely tired.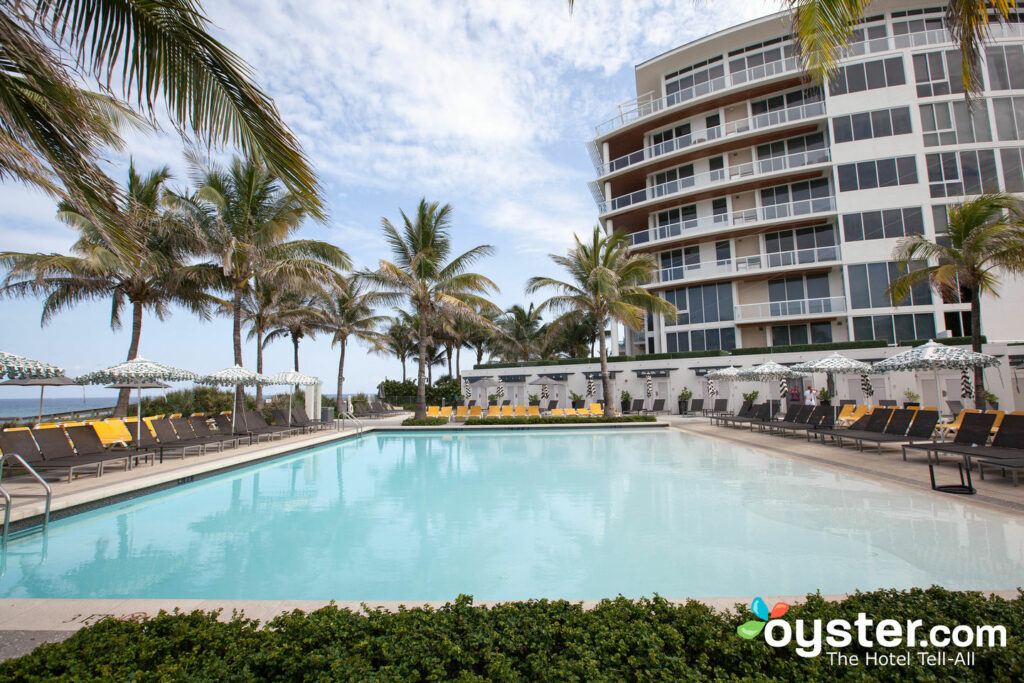 The time spent traveling to and from airports and working non-top while on the road caught up to me by mid-August. My back was sore, my skin broke out, and I had a tension headache that wouldn't go away. Although I chose this, I needed to reset and reboot before autumn set in. So what did I do? I planned another getaway. Before you throw your arms up in the air, hear me out. This trip was going to be different — I would spend my days sleeping, eating healthy, exercising, and doing absolutely nothing.
To avoid another long-haul trip, I opted for a destination that's all about relaxing: Boca Raton, Florida. My husband and I booked a two-day stay at Boca Beach Club, an oceanfront hotel that's perched on a half-mile stretch of private beach. Translation: it's quiet enough to fall asleep to the sounds of the Atlantic. The property also has two fitness centers, multiple restaurants with health-conscious menus, and a top-rated spa — all the necessary ingredients for a true escape.
To get into vacation mode, we did the unthinkable: put away our computers and cell phones. Studies show that six out of 10 employees have conducted some work on a recent vacation. And a Framingham Heart Study found that men who didn't take a vacation for several years were 30 percent more likely to have a heart attack.
Once we got over the discomfort of disconnecting, we made an effort to relax. And what better way to do that than by eating? We chowed down on some delicious fish tacos and guacamole before heading back to the room and taking a nap. I couldn't remember the last time I napped in the middle of the afternoon.
Food and sleep — we kept it to the basics. We took advantage of the fact that we had time and a beautiful location on our hands, so we splurged for the romantic panoramic dinner. The next morning, we indulged in sunrise yoga. For us, it was something out of the ordinary, romantic, and the perfect activity to kick off a day of other healthy activities. We wrapped up by 7 a.m. and were at the pool two hours later, ready to take another short nap. The afternoon was filled activities like walking on the beach, chatting, and hitting the gym. Typically, our workouts are squeezed in the morning before work or after leaving the office, so it was a nice change of pace to exercise together. And before dinner that evening, we decided to catch up on a little grooming like haircuts and manicures (I even convinced my husband to get his first one ever). Then, it was on to another delectable dinner before calling it a night.
On our last day, we went all out — in relaxing. This was our spa day. We opted to try the ritual bath experience, followed by a couple's massage to make sure we were 100 percent blissed out by the end of this marathon de-stress weekend. The 50-minute bathing experience was unlike anything I've encountered before. You go from an aroma room to a personal tub in a Turkish hammam-like setting, followed by a shower that feels like you're getting sand blasted. Next, you're transported into another tub, where water is steadily dumped on your back for an aquatic massage. The whole experience ends in a communal whirlpool. Needless to say, all the visible wear and tear on my skin from months of traveling had been scuffed away. The hour-long massage took care of my muscles, releasing the tension that had built up from carrying luggage and unsuccessfully sleeping on planes.
At lunch, in our robes, we looked at each other with a smile that said "we did it." We were stress-free and feeling refreshed. Getting on the plane later that night didn't have the same sting as the flights earlier this summer. And when we awoke the next morning in our New York City apartment, the world was a little easier to handle. All we needed was a vacation from our vacations.
Related Stories:
All products are independently selected by our writers and editors. If you buy something through our links, Oyster may earn an affiliate commission.