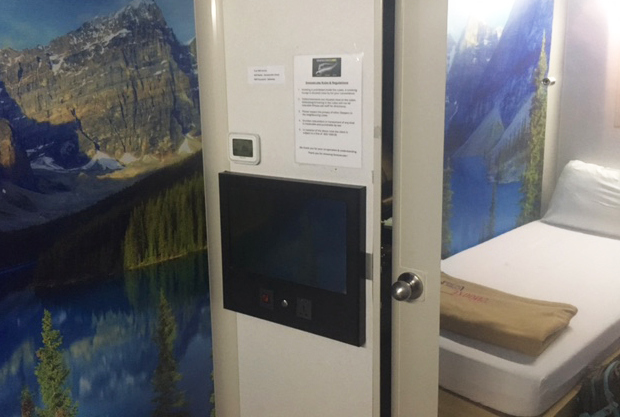 I've always wondered what it would be like to be able to sleep on command. As a frequent traveler, passing out at the exact moment I'd like to is easily the one super power I would pick if had the chance.
I rarely sleep soundly on the road, and I'm constantly looking for new ways to fight jet lag. I've tried natural sleep aids and teas, neck pillows, meditation, weird sleeping positions, white noise -- all without much luck.
Until recently (and probably because my frequent travel partner is a very skilled airplane sleeper) I thought I was largely alone in my struggle to catch some shuteye in any new place. But many people have this problem -- sleep researchers have found that the left side of the brain remains somewhat awake for the first night's sleep in an unfamiliar spot. I learned about this common behavior -- dubbed the "first-night effect" -- around the same time that I booked a long-layover nap in one of Dubai International Airport's Snooze Cubes. I wanted to find out if airport napping, my newest sleep solution, was doomed from the start. And a 24-hour return trip from Sri Lanka seemed the perfect time to test the theory.
Experts say sleep depth in a new place is markedly interrupted because half the brain is on "night watch" mode. Knowing that I'd be exhausted from 14 days of exploring Sri Lanka with Intrepid Travel and the first of two lengthy return flights, I wondered if for once my body would give in and take the four-hour nap opportunity. A 12-hour flight to Boston loomed -- would my instinctive left brain let me sleep?
Related Link: How to Survive a Long-Haul Flight
The answer turned out to be yes -- but only because the conditions were right. Airport napping is a science worthy of perfecting: It's ideal for those layovers that are too long for lounges yet too short for hotels -- but it's not quite luxurious enough to go into without some handy accessories.
With the right information and a little planning, here's how a Snooze Cube can vastly improve your long-haul flying experience.
What Is a Snooze Cube?
Snooze Cubes are similar to the nap spaces in other airports, like Munich Airport's Napcabs and Tokyo Narita's Nine Hours. They're makeshift rooms that are larger than nap pods, but much smaller than a hotel room — Dubai Airport also has its own hotel. Just big enough to fit a twin bed and your carry-on luggage, a Snooze Cube is one in a row of about a dozen separated by thin, stopgap walls. Wallpaper depicting clouds and waterfront views are pasted above and around the bed. The space includes a touch-screen computer for entertainment or accessing the internet, an outlet to charge electronics, plus a thermostat and lighting controls.
I booked my stay ahead of time. Single Cubes are $20 per hour (75 AED, see XE.com for conversion rates). Snooze Cube accepts walk-up reservations if space is available, and has two storefront locations in Dubai's DXB, located in terminals one and three. Double Cubes are available for $27 per hour if you're traveling with a friend. The rooms and sheets are very clean, although the space is tiny and not sound-proof. I checked in upon arrival with the desk attendant, who showed me to my Cube right away.
"Enjoy your nap," he said in a hushed tone as he shut the door.
You Might Also Like: The Craziest Things That Are Supposed to Cure Jet Lag
Time It Right
Snooze Cubes are only worth a stop if you have enough time. A minimum stay of two hours is required, and you'll need enough time to find the storefront, plus plenty of cushion to get to your gate after you wake up. DXB is the world's busiest airport in terms of international visitors, and terminal three is the largest airport terminal in the world. It took me 45 minutes to get to my final gate after waking up.
Six hours was more than enough to nap without worrying about cutting it close to my flight. I arrived at DXB at 9:00 p.m. local time, and my flight boarded at 3:00 a.m. This meant napping from 10:00 to 2:00, giving myself time to find Snooze Cube and my departure gate.
Related Link: 10 Tips for Tight Airport Connections
Trust the Attendant
All that time for napping is worthless if you're not actually going to sleep. While I was hesitant about the first-night effect going into the Snooze Cube, my half-alert brain still got some much needed rest while my body was still on Sri Lanka time. This was mostly thanks to one very reassuring attendant.
I arrived at the nap station pretty disheveled — thinking I was late for my reservation thanks to the local time difference, and ready to lay down after a cramped four-hour flight. I confirmed I'd be leaving in time for my early-morning departure, and wondered how I'd ever get to sleep despite the amount of anxiety that was roiling inside me. The attendant seemed unfazed and let me know that the staff makes sure each person leaves by the time their reservation is up. I watched another attendant knock on a Snooze Cube door until the traveler emerged, rubbing her eyes and setting out for her gate. Paired with my level of exhaustion, it was enough for me to get to sleep after about 45 minutes of counting sheep.
Use White Noise
Snooze Cube walls are thin. So thin I could hear my fellow nappers sneezing and the staff changing sheets. To drown out background noise, I opted for a white-noise soundtrack that still allowed me to hear my wake-up call when it came at the door. My left brain definitely stayed vigilant, but I only woke up once to check the time—which didn't negate the benefits of those few hours of sleep I so badly needed.
Apps like White Noise provide relaxing soundtracks that range from waves crashing to an air conditioner humming, or just simple static. Choose one that relaxes you and use headphones that will let you sleep comfortably, like SleepPhones. Your phone alarm will interrupt the sound to wake you, and the attendant can give you some extra peace of mind.
More Travel Tales: What Happens When a Girlie Urbanite Is Dropped Into Remote Alaska
Save the Sleep Aid for the Plane
It's sometimes wise to rely on natural sleep aids like melatonin, anti-histamines, and valerian root to help you fall and stay asleep — but napping is not the time for them. This is especially true if you use stronger sleep medications or prescriptions like Ambien that are meant to keep you asleep for hours.
Even without any sleep aid, I woke up groggy from jet lag and eager to splash water on my face. Sleep-aid haze is much stronger. At best it would make navigating an already busy airport more difficult — at worst you could wind up debilitated by the need to sleep, and miss your flight.
Related Link: 10 Tricks for Sleeping Well on the Plane
Sleep Safely, and Wake Up in Another World
The best part of my Snooze Cube experience was easily the ability to sleep in a locked room with my bags as protected as I was. Nodding off at the gate with my luggage is near-impossible for me, and unwise in general because an unconscious person is a thief's easiest target. There's also an added threat for women traveling alone, anywhere in the world. But, no matter who you are, you're unlikely to get any decent sleep if you brain is on higher alert than it would already be in the safe confines of a Snooze Cube.
Arriving to a largely empty DXB and departing from a bustling one was an added bonus to my overnight nap. I got to see the airport transform, and appreciated the impressive space much more after my well-needed nap. DXB comes alive very early, and features a health club, spa facilities, a zen garden, lounges, and upscale shopping — if you have the time to wander before your flight.
More from Oyster.com:
More from SmarterTravel:
Read the original story: Booking an Airport Nap: What It's Really Like to Use a Snooze Cube by Shannon McMahon, who is a regular contributor to SmarterTravel.
All products are independently selected by our writers and editors. If you buy something through our links, Oyster may earn an affiliate commission.