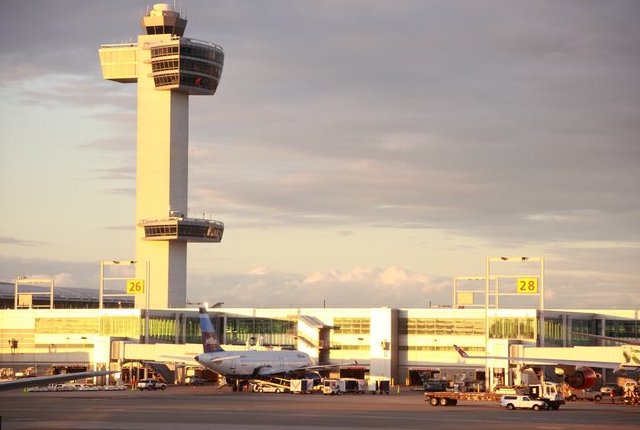 New York governor Andrew Cuomo announced plans today for a $10 billion renovation of New York City's John F. Kennedy International Airport as part of his bigger initiative to improve infrastructure in New York state. The airport is one of the busiest in the United States, serving 60 million passengers in 2016—and that number is expected to rise to 75 million by 2030, and 100 million by 2050. But for many travelers, the experience at JFK is less than ideal. The airport ranks 59th on Skytrax's 2016 list of the world's best airports, falling well behind facilities in other major metropolises like Tokyo (Haneda is ranked third), London (Heathrow is eighth), and Dubai (26th). So how will JFK stack up to competitors after the proposed changes? Here, we compare amenities found at the number one airport in the world, Singapore Changi, to Cuomo's proposed improvements, to help evaluate if this renovation will truly make JFK world-class.
Hotels
In its present state, JFK has zero hotels attached to its terminals, and the closest accommodations are about a mile away, accessible by car or hotel shuttles. Cuomo highlights the conversion of the iconic Eero Saarinen–designed TWA Terminal into a 505-room hotel (which is expected to open in 2018, to the delight of weary travelers). At Changi, however, there are multiple hotel options connected directly to the terminals, from the five-star Crowne Plaza to the Ambassador Transit Hotels that are housed within the terminals themselves (rooms can be rented in blocks of six hours for those pesky long layovers—AND, as a bonus, you don't need to go through immigration and customs to get into a comfy bed).
While the TWA Flight Center Hotel will be a welcome addition to JFK, the airport will have to add even more accommodations to challenge Changi and other top-ranked airports.
Transportation
There are two aspects to airport transportation: Getting to the airport itself, and transferring between terminals. There are limited mass transit means to get to JFK. From Manhattan, you must take the subway to Queens, then transfer to the AirTrain at Jamaica or Howard Beach. If you're coming from Brooklyn or Queens, you might also be able to take a bus. The only other alternatives are a taxi (more than $50 from Manhattan) or your own car (congested roadways originally designed to handle far less traffic often lead to hours-long jams). Changi has similar means of transportation, but there are two significant differences—traveling to the airport by train from downtown Singapore does not require a transfer, and cabs are much cheaper ($20–$35, on average, to travel roughly the same distance as between JFK and Manhattan). Cuomo proposed two options for improving JFK's transportation: redesigning the stations where passengers transfer trains and boosting AirTrain service, or "exploring the feasibility of a one-seat rail ride to JFK." While upgrades to the existing infrastructure would create a more aesthetically pleasing experience for travelers, it doesn't erase the transfer. A one-seat rail ride would be a great improvement, but "exploring" options, as Cuomo proposes, could take years. Just look at the Second Avenue subway line.
As for transferring between terminals, JFK only has one option between its six hubs—the aforementioned AirTrain. Traveling between terminals is free, but in the past. Cuomo did not address inter-terminal transportation very specifically, but he noted that the older buildings should be redeveloped or relocated and the new buildings expanded in order to improve interconnectivity. Changi also has a train connecting its three terminals, but travelers have the option of stretching their legs and walking between them.
If Cuomo's plan does result in a one-train commute and improved connections between terminals, JFK might indeed be greatly improved.
Amenities
Visit JFK's website and you'll see that services and amenities currently include charging stations (thank goodness), baggage storage, and pet relief areas, among other options. And when it comes to shopping and dining, not each terminal is made equal. Passing through Terminal 5? Sip wine at Bar Veloce, which has brick-and-mortar locations in Manhattan, and pop into Japanese retailer MUJI for some light shopping. Stuck in Terminal 2? Enjoy Wendy's and a Best Buy vending machine. Good thing the chicken nuggets are delicious.
Meanwhile, at Changi, flyers can enjoy multiple gardens (that are home to everything from cacti to water lilies to sculpture trees to butterflies—yes, there are live ones), a rooftop pool and hot tub, a full service spa, a gym, a 24-hour movie theater, 350 shops, 80 dining options, and the world's largest slide in an airport, to name a few amenities. Need we say more?
Cuomo's improved amenities proposal for JFK sounds a bit generic. He'll add "fine dining, duty-free shopping, best-in-class retail, and conference and meeting room facilities." Enough to topple Changi? Not quite. But if he throws in an even bigger slide than Singapore's, maybe we'll reconsider.
You'll also enjoy:
All products are independently selected by our writers and editors. If you buy something through our links, Oyster may earn an affiliate commission.