Whether you're too lazy to trek outside and find a restaurant or simply prefer to treat yourself to a decadent stack of pancakes while sitting atop a fluffy bed in a plush bathrobe, hotel room service has always come to the rescue. But what if we told that you that the silver platter, breakfast-in-bed amenity might soon be a thing of the past? Turns out, Hilton Hotels recently cut off their guests and announced the end of room service at its flagship properties. Even worse, other hotels are rumored to phase it out, too.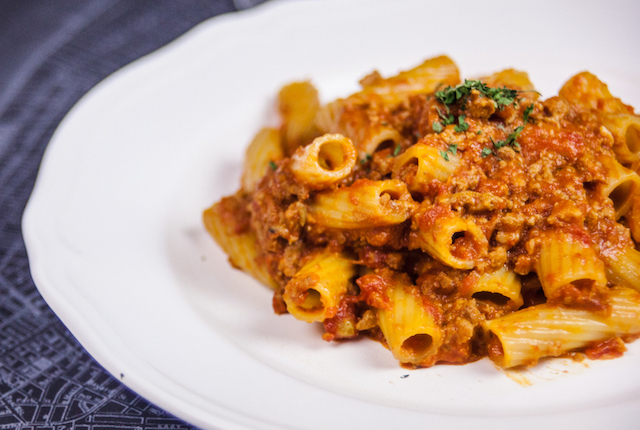 "Since its dawn, room service has always been a loss leader for hotels," says Premtim Gjonbalic, a guy who's made it his mission to reinvent room service as we know it. "For a large, 2,000-room hotel like the Hilton, that loss can total in the millions. The combination of labor costs and perishable inventory can be an overwhelming headache for hotel properties."
But before you go and mourn the end of the beloved dial-and-deliver service, turn your attention to Butler Hospitality. Dubbed the Uber of room service, this text-message based company is putting a modern twist on the age-old source of sustenance. Gjonbalic, the company's founder, plans to fill the void for limited-service properties that lack a restaurant by offering on-demand, in-room dining.
Plus, it's just as easy as the room service you know and love: simply pick up the dining menu by your bedside, text your food and drink order to a number provided on said menu, look out for a confirmation receipt, and await its arrival at your doorstep. According to Gjonbalic, orders typically arrive within 30 to 40 minutes from the time the order is placed. Deliveries are made starting with breakfast (7 a.m. to noon) and lunch and dinner are available through 11 p.m.
And don't expect to find flimsy omelets and a soggy burger and fries either. Butler's curated menu items include quick bites like jumbo shrimp, entrees like chicken parm using free-range fowl, desserts like a New York-style cheesecake, and even beers to wash it all down.
Currently serving nearly 1,000 rooms in New York City's Financial District at properties like Aloft, Fairfield Inn, Hampton Inn, and Holiday Inn Express, Butler has plans to launch in more hotels soon. This week alone, they're serving an additional 2,000 rooms.
"It's a win-win. Properties will no longer be tethered to an on-site kitchen, which has long been a losing proposition for their bottom line," says Gjonbalic. "Hotels enjoy the competitive advantage at no additional cost. And guests can enjoy fast, delicious room service at an affordable price with convenient payment methods, such as to the room." This is all a roundabout way of saying go on and stay in bed for a little longer.
Related Stories:
All products are independently selected by our writers and editors. If you buy something through our links, Oyster may earn an affiliate commission.