Barcelona is a city steeped in culture and rich in history. Art is more than just a scene here: It's a heritage, which comes as no surprise since this city is where Salvador Dali and Picasso would meet for lunch and forever cement their friendship. Okay, so now we've covered the cultural bases -- onto the shopping! When it comes to a European shopping expedition, Barcelona delivers without a doubt. Check out our shopping guide to Barcelona below before flexing that plastic!
Paris has the Champs-Elysees — and Barcelona has Passeig de Gracia. Along this shop-lined street, you'll find all the usual suspects of international luxury shopping such as Chanel and Gucci, but there are plenty of brands and stores that are unique and distinctly Spanish. International brand Zara has plenty of stateside locations, but none compare to the huge flagship Barcelona store. Not only does it have the hip fashion you would expect, there's also housewares. It also offers affordable shopping compared to its high ticket neighbors, but everyone can afford to drool over the spectacular turn-of-the-20th-century architecture that populates the iconic Passeig de Gracia.
Where to Stay: El Palace Hotel
The Palace oozes elegance and old-world charm. Housed in an early 20th-century building a few blocks from the Gothic Quarter, the hotel is popular among well-heeled families, couples, and business travelers. The property boasts a Michelin-starred restaurant, Caelis; car service to the airport and major attractions; and a small but modern fitness center. The exclusive spa features the only Temazcal sauna in Spain, Anne Semonin products, and traditional treatments.
Budget-Friendly Option: Petit Palace Museum
This 61-room hotel, part of the tech-savvy Petit brand, is a no-frills but contemporary choice located in Barcelona's city center, a few blocks from Plaza Catalunya. There isn't much to the property (it lacks any outdoor space — a rarity for Barcelona) but it's a good value, especially for families. Rooms are starting to show wear and tear, but high-tech amenities such as flat-screen TVs, iPod docks and laptops help compensate.
Where to Shop for a Mall-Like Experience: El Corte Ingles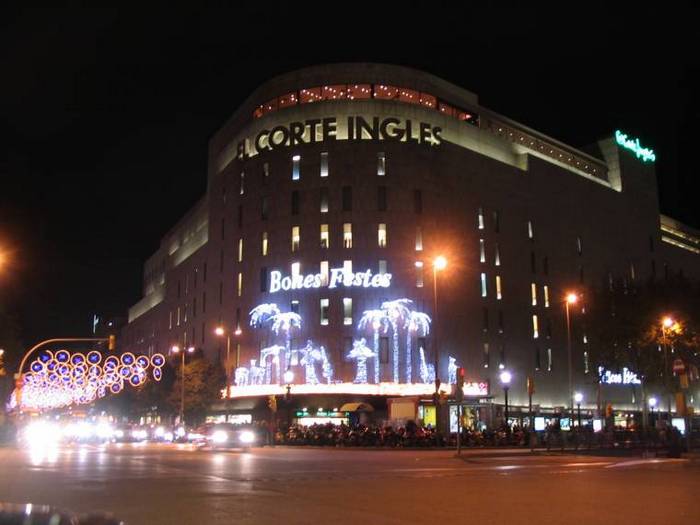 Photo Credit: Visiter Barcelone
No one travels thousands of miles for something they could see at home, but a touch of familiarity is nice. El Corte Ingles literally translates to "The English Cut." A visit to this nine-story mammoth department store gives you everything you love about a mall with a satisfying Spanish-style experience. There's plenty of shoes, clothes, makeup and gourmet eats. It's a one stop shop located right on Placa de Catalunya. It also gives you something to do while the entire city takes a four hour nap, as it stays open during siesta.
Where to Stay: Hotel Catalonia Catedral
This modern 71-room hotel sits quietly on a quaint residential street in the Gothic Quarter, conveniently located near great shopping and dining as well as many tourist attractions. The decor is similar to many others in the area — minimalist and sleek, with lots of gray and white. Better than most, though, is the rooftop pool, which is large and attractive with nice lounge seating as well as comfy round chairs.
Budget-Friendly Option: HCC Montblanc
This hotel, part of the Spanish HCC chain, has an extremely central location right by the Placa de Catalunya. It's not the trendiest property, but the clean and basic accommodations, plus a piano bar and small outdoor pool, make the hotel a great value for the area.
The shopping in Placa di Pi in the Gothic Quarter can be a tad generic, but it makes up for it with fantastic medieval architecture. During a quick walk through the labyrinthine of side streets, shoppers can find plenty of unique vintage shops and antique stores. Even if you don't love espadrilles, stop by La Manual Alpargatera, the famous espadrille store. It's been in the Gothic Quarter for over a century and boasts famous customers such as Salvador Dali and even icons of modern fashion like Jean Paul Gaultier.
Where to Stay: Hotel Barcelona Catedral
Hotel Barcelona Catedral is a contemporary find in the city's Gothic Quarter, where winding streets and narrow alleys lead to distinctive Roman-style buildings. The hotel features clean lines, and is adorned in whites, tans and slate grays throughout. Cozy rooms have soft lighting, with modern lamps that cast a twisting, branch-like glow against the walls. Each room is equipped with modern amenities, and the bathrooms are clean and spacious.
Budget-Friendly Option: H10 Raco del Pi
Housed in a renovated 18th-century building in the heart if the Gothic Quarter, this is a solid mid-range pick for those who want to explore the city on foot. The no-frills rooms are clean and contemporary, with bright red accent walls, modern artwork, and flat-screen TVs. But mattresses are hard, and though bathrooms are spotless, some guests complain about the sudden changes in water temperature. There's little in the way of amenities, but the hotel does feature a few nice freebies, including a welcome glass of cava, coffee and snacks in the lobby, and free Wi-Fi.
Where to Shop for Unique Finds: El Raval
Raval is full of antique shops and vintage stores with local, indie brands. It's a much more wallet-friendly shopping experience than the Passeig de Gracia, and hosts a fabulous Independent Design Market over the weekends.
Where to Stay: Barcelo Raval
This sexy, modern hotel has a chic black-and-white lobby (dotted with splashes of color) with funky lighting, Jetson-esque seating, and an interesting ceiling fixture that lends a space-age feel to the hotel. The same vibe continues in the modern rooms, equipped with flat-screen TVs, iPod docks, and open bathrooms. But the real highlight of the rooms is the view of the city that is revealed upon drawing back the remote-controlled curtains — this view can also be enjoyed from the rooftop bar and patio as well, where binoculars and telescopes are set up for extra viewing pleasure.
Budget-Friendly Option: Eurostars Ramblas Boquiera
The Eurostars Ramblas Boqueria is one of the more budget-friendly options from the Eurostars brand. This 55-room hotel has modern and attractive decor with clean lines and wood floors. The color scheme is white, black, red, and grey, and common spaces feels clean and modern. Rooms are on the small side but do offer wall-mounted flat-screen TVs and minibars. Each room also has a small balcony or terrace.
Check out Oyster's page on Google+
To learn more about Lonni Delane, visit her on Google+.
RELATED LINKS:
All products are independently selected by our writers and editors. If you buy something through our links, Oyster may earn an affiliate commission.