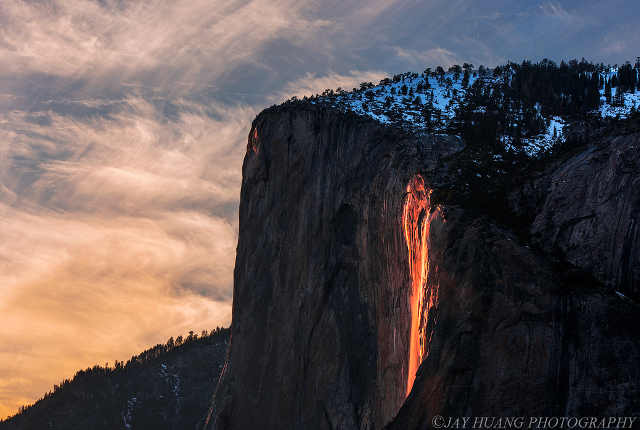 For just a few weeks a year, the sun and the earth align perfectly to create one of the most striking optical illusions in nature. At California's Yosemite National Park, Horsetail Fall at the El Capitan rock formation is illuminated by a beam of light at sunset, making it seem as if lava, not water, is cascading down. The effect is, appropriately, dubbed a "firefall." "The waterfall is bigger than it has been in a long time due to all the rain and snow we have received," National Park Service spokesman Scott Gediman Which means that this year, there's a flood of unbelievable photography. (Discover some of the surreal photography on ) But if looking at the phenomenon on a screen isn't enough, consider heading out to Yosemite to see it in person. Just be sure to follow these tips!
Visit during the second half of February. It's the only time the event occurs, and it only happens for about 10 minutes each evening.
Check the weather. If there's no sun, there's no firefall.
Be prepared for a long wait. Gediman noted that some photographers camp out at the prime viewing location, the El Capitan picnic area, as early as 9 a.m. He suggests visitors bring plenty of food and water, as well as a change of clothing, as the weather can change drastically over the course of a day.
Call the 24-hour hotline (209-372-0200) to check road conditions in the park. This year, heavy rains have made the roads difficult to traverse.
Bring a long camera lens and a tripod. Sure, you can snap a pic on your iPhone, but for the best shot, be sure to bring the right camera equipment to shoot a distant landscape in low light.
Where to Stay
You'll Also Like:
All products are independently selected by our writers and editors. If you buy something through our links, Oyster may earn an affiliate commission.