Everyone has that friend: It's 95 degrees and sunny -- the middle of July -- and he or she is already posting a countdown to Christmas on social media. Instead of unfollowing that person, pass along this convenient little list of hotels that celebrate the holiday year-round so he or she can cure the holiday itch whenever it starts to come -- even in the summer months. From quaint kitsch in Tennessee's Great Smoky Mountains to an adult-only love hotel in Japan, these four destinations are bound to please anyone looking for a little holiday joy at any time of the year.
Tucked into Tennessee's scenic Great Smoky Mountains, The Inn at Christmas Place has been celebrating Christmas 365 days a year since 2007.
Expect plenty of evergreen garlands, shiny ornaments, and towering trees
throughout the distinctively Bavarian-style hotel. The hotel's Pigeon Forge location is
a major family-fun destination in the eastern part of the state, with sights like Dollywood
and Great Smoky Mountains National Park all within a quick drive.
With singing Santa Claus concerts on select nights, a towering glockenspiel that
elaborately rings throughout the day, and an outdoor pool with a waterslide, it
may be hard to convince the die-hard Christmas fan to ever leave.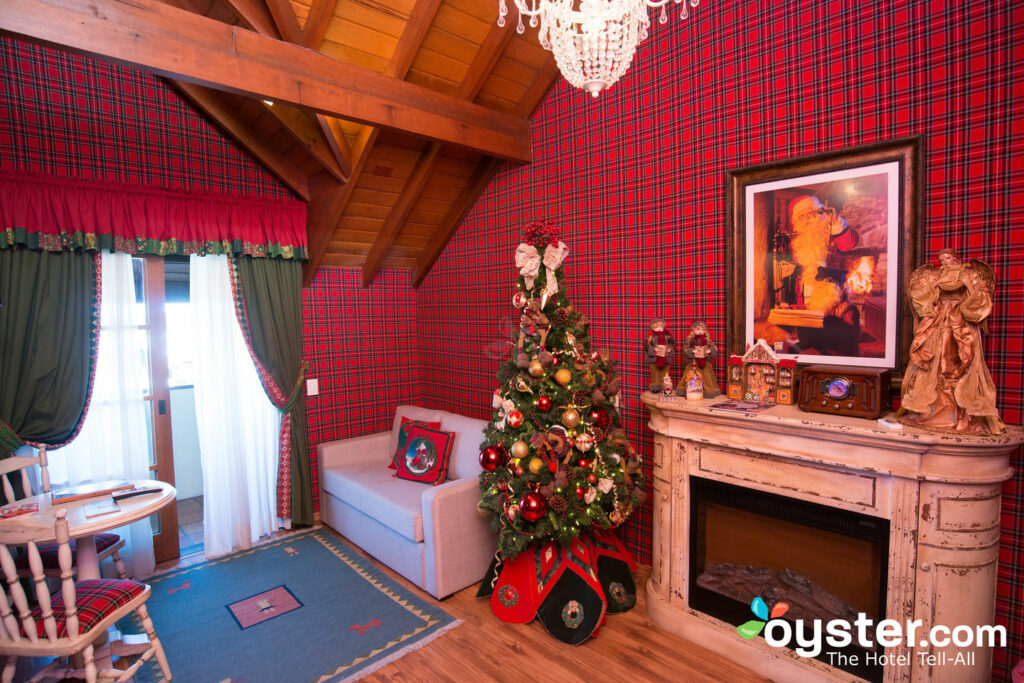 When those of us in the Northern Hemisphere think of Brazil,
we immediately think of beaches, Carnival, sunshine, samba, and caipirinhas.
But for Brazilians, the town of Gramado is a mountain retreat that draws
thousands throughout the year, particularly during the holiday season when Christmas
festivities are in full swing. While Hotel Casa da Montanha has tons of cozy antique charm, it only has one Christmas Suite that's coveted by
holiday addicts. The room is decked out in tartan plaid wallpaper, antiqued
furniture, pitched wooden ceilings, portraits of Saint Nick, and plenty of
tchotchkes; even though it might be warm outside (Christmas takes place during Brazil's late spring), fantasies of snowmen and
hot chocolate won't be far away after spending a night in this room.
3. Santa's Lakeside Cottages; Santa Claus, IN
Home to Holiday World — an amusement park with a special
Christmas section — Santa Claus, IN bills itself as "America's Christmas
Hometown," and might just deserve the title. Santa's Lakeside Cottages offers
some of the best lodging in town when it comes to homey comforts and keeping
the holiday spirit alive. These stand-alone cottages include rustic
hardwood furniture and Christmas-tree quilts on beds, while Santa statues are scattered throughout the property and kids can play by the Elf Pond. Christmas decor
is tasteful and subtle here — meaning guests' eyes won't glaze over from staring at an explosion of plaid — and there's a playground, fire pit, and grills for families
craving yuletide cheer all year round.
4. Hotel Chapel Christmas; Narita, Japan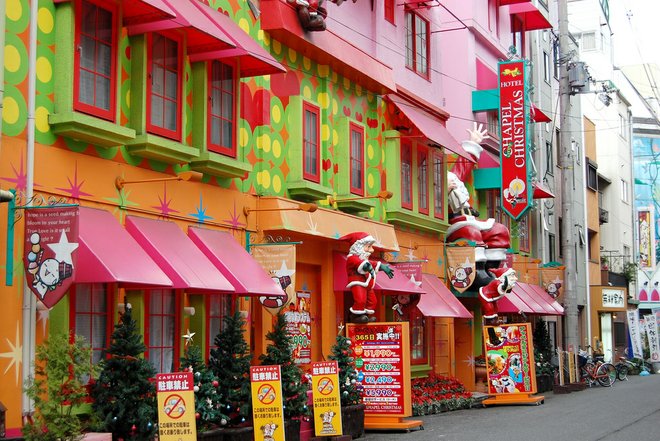 This hotel's name may inspire visions of saintly churches, but don't take the kids to this naughty-and-nice love hotel in
Narita, just 10 minutes away from one of Tokyo's international airports. This multi-colored Christmas cartoon wonderland is exclusively meant
for trysts between consenting adults. Japanese love hotels grew in popularity
throughout the 20th century, and today they play a major part in the
Japanese economy. Ranging from the utterly austere to the anime-clad, many come
complete with everything one might need for a few hours of fun — whips and
chains, anyone? Interactions between staff and guests are kept to a minimum
and discretion is a big deal here. At Hotel Chapel Christmas, expect to see red and
green linens next to leopard-print upholstery; portraits of Santa Claus
side-by-side with massaging chairs — it's that
kind of place, after all.
Related Links:
All products are independently selected by our writers and editors. If you buy something through our links, Oyster may earn an affiliate commission.