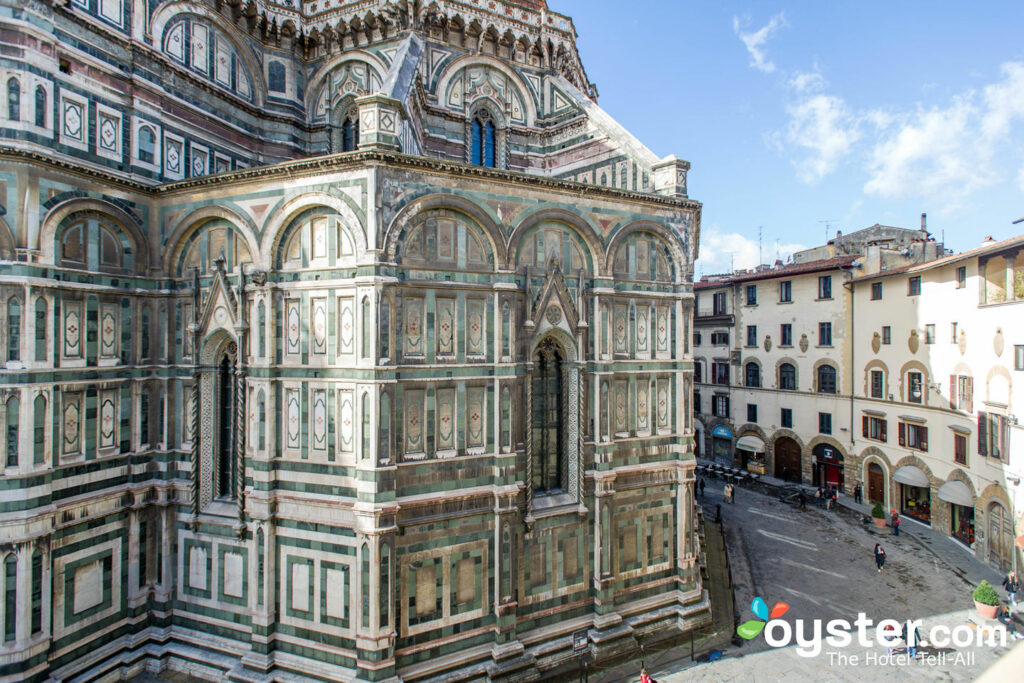 Florence, a city that's known for its food -- pizza, pasta, gelato -- is prohibiting tourists and locals from pausing and snacking on some of its most popular sidewalks, roads, and doorsteps in the historic center. Effective September 4, the ordinance impacts streets near the Uffizi Galleries and the Palazzo Vecchio, including Via de' Neri, Via della Ninna, Piazzale degli Uffizi, and Piazza del Grano. This new rule is designed to curb litter and crowding in high-traffic areas. (More than 10 million tourists visit Florence each year.) The price to pay for enjoying a stracciatella cone on the street? Up to a €500 (or $581) fine. To serve as a reminder, local businesses are even posting signs in English and Italian that read: "Respect residents, traders, and workers of this street."
But there's some wiggle room, so that you can still enjoy that slice of pizza while sightseeing. According to The Local, the regulation is enforced during peak lunch and dinner times (noon to 3 p.m. and 6 and 10 p.m., respectively). However, if you have your sights set on noshing anywhere, anytime, plan a trip after January 6, when the ordinance is reportedly scheduled to remain in effect until, though it could be extended.
And if you think you're having déjà vu, you're absolutely right. Last year, Mayor Dario Nardella put forth an initiative to deter tourists from snacking and littering outside major attractions, like the 13th-century Basilica of Santa Croce. "The churches aren't restaurants; they are religious and cultural sites," he said then, Conde Nast Traveler reports. For the most recent regulation, the mayor stated, "If tourists behave in Florence as they would at home, then they will always be welcome, especially if they want to try our gastronomic specialties."
You'll Also Like:
All products are independently selected by our writers and editors. If you buy something through our links, Oyster may earn an affiliate commission.