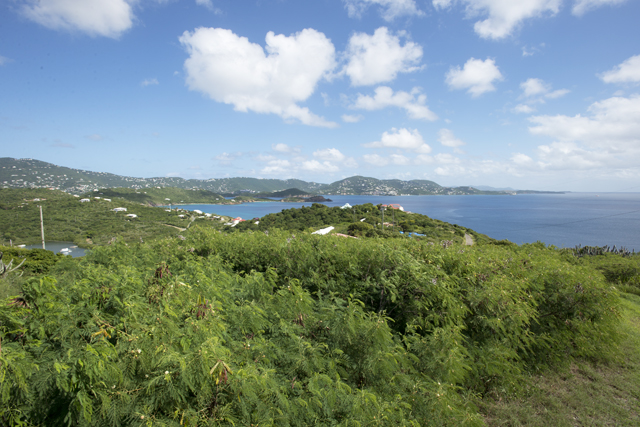 Here at Oyster, we're constantly expanding our coverage of hotels all over the world -- and sometimes that means sending our expert hotel investigators to destinations we only just realized existed! For example, Oyster investigator Mary just discovered
Water Island
, a beautiful little Caribbean locale just off the coast of
St. Thomas
. And fortunately for us (and you!), when she's not busy shooting hotels, Mary
chronicles her trips
on her blog,
A Wandering Reader
.
So now it's your turn to explore this hidden gem through her lens!
A gorgeous, remote island just off of St. Thomas, Water Island is known for its rugged beauty and spectacular views. With a population of barely 200, the island has no hotels, taxis, gas stations, shops, or a main town. There are only a handful of restaurants, so it's a good idea to buy groceries in St. Thomas before coming over. Most visitors get around by renting a golf cart and driving it around the island.
At almost 500 acres, Water Island is the smallest island in the main USVI chain, which also comprises St. Thomas, St. John, and St. Croix. The island is accessible by a short, eight-minute ferry ride from St. Thomas's Crown Bay Marina, a five-minute drive from the airport. The ferry is six bucks if you have a suitcase, and folks are plenty happy to help you into and out of the ferry. You can easily do a day trip from St. Thomas, but if you have the opportunity to spend a few days here, do it!
The Vibe
Water Island was special and unique because of the lovely folks I met (both locals and travelers) who had a deep appreciation for the island, its remote nature, and natural beauty. The island is laid-back and friendly — everyone knows each other and routinely participates in community events such as potlucks, movie nights, and cookouts on the beach. Water Island is also very safe; most folks don't lock their doors.
Where to Stay
I visited the island to review the Virgin Islands Campground, which I loved. It's more "glamping" than actual camping — there are bungalows, a large shared kitchen, and even an apartment if you want to be fancy (I stayed in the apartment). There are also vacation homes and eco-cabins around the island that are available for rent.
What to Do
Although it's a small island, there is still plenty to do! As one person told me, you can do everything or nothing at all – it lacks the pressure you might feel at a larger destination or resort. The island has all the outdoor water sports you'd find in any tropical area including great snorkeling, diving, sailing, and kayaking.
The main attraction of Water Island, Honeymoon Beach is set in a gorgeous cove with plenty of shade, two beach bars/grills, and views of sailboats. On the east side of the island, Limestone Bay is a rugged and secluded beach where you can dive and snorkel.
Built as part of the US's defense strategy during World War II, Fort Segarra is an uncompleted underground fort. You can still explore the tunnels and the area offers beautiful island views.
Also, ruins from plantations from the post-colonization era are considered of great historical value to Water Island. Note that both Fort Segarra and the plantation ruins aren't organized, operating museums, rather, visitors are welcome to explore these sites on their own.
You Might Also Like: The Most Adorable Beach Towns in the U.S.
All products are independently selected by our writers and editors. If you buy something through our links, Oyster may earn an affiliate commission.